If you're in the market for an all-purpose ultrabook this year, the Zenbook S 13 from Asus should be on your list.
This is a 13-inch ultrabook built on current-gen Intel or AMD hardware, with specs going up to a Ryzen 7 6800U processor with 16 GB of LPDDR5 memory and fast gen4 storage on the AMD side. Add in a 16:10 OLED touch display and a 67 Wh battery in a sub-1.1 kilos chassis, and this is going to be hard to beat this year, especially if it maintains the competitive pricing of the previous AMD ZenBook 13 models (here's our review of the Ryzen 7 5800U configuration).
This article gathers my first impressions of the 2022 ZenBook S13 series, based on this unit that I've had around for the last few weeks.
Update: Our full review of the ZenBook S 13 UM5302 series – Ryzen 7 6800U model – is available here. Over here you'll also find our review of the convertible ZenBook S 13 Flip model. And here's our review of the 2023 ZenBook S 13 UX5304 update.
Our sample is a preview unit, though, and I can't, for now, get into exact details on the performance and overall capabilities of this Ryzen 7 6800U implementation. I will reference our other 2022 AMD platform reviews, though, and briefly extrapolate on what you should realistically expect in this ultra-compact design, which runs at a more limited power envelope than something like a ROG Flow X13 or the larger ZenBook 14 models. We'll get to that in a bit.
A full review should be available in the next couple of weeks, and I'll update here once that's published.
For now, here's a specs sheet of this laptop, and further down, we'll touch on the important aspects to consider here.
Specs – Asus Zenbook S 13 UM5302
| | |
| --- | --- |
| | Asus Zenbook S 13 UM5302TA |
| Screen | 13.3 inch, 2.8K 2880 x 1800 px, 60 Hz, OLED, glossy, touch, Samsung SDC4172 panel |
| Processor | AMD Rembrandt 6000, up to Ryzen 7 6800U, 8C/16T |
| Video | AMD Radeon 680M |
| Memory | 16 GB LPDDR5-6400 (soldered) |
| Storage | 1x M.2 PCIe 4.0 x4 SSD (Samsung PM9A1), single M.2 2280 slot |
| Connectivity | Wireless 6E (Mediatek MT7922), Bluetooth 5.2 |
| Ports | 3x USB-C 3.2 with data, video, charging; audio jack |
| Battery | 67 Wh, 65W USB-C charger with quick-charging |
| Size | 297 mm or 11.68" (w) x 210 mm or 8.29 (d) x 14.9 mm or 0.59" (h) |
| Weight | 2.4 lbs (1.08 kg)+ .49 lbs (.22 kg) charger + cables, EU version |
| Extras | white backlit keyboard, glass NumberPad, HD webcam without Hello, finger sensor in the power button, stereo bottom speakers |
Design and construction
The 2022 ZenBook S 13 series is available in various colors and with revamped design lines.
The major aesthetic update happens on the lid, where the ASUS branding and concentric circles have been replaced with a minimalistic Asus monogram logo and a simpler finishing.
Our unit is the Aqua Celadon color, and the other three variants are called Ponder Blue, Vestige Beige, and Refined White. Fancy names, and beautiful diversified colors. I like how the keyboards are also color-matched with the overall theme. Not all of these might be available in your area, though.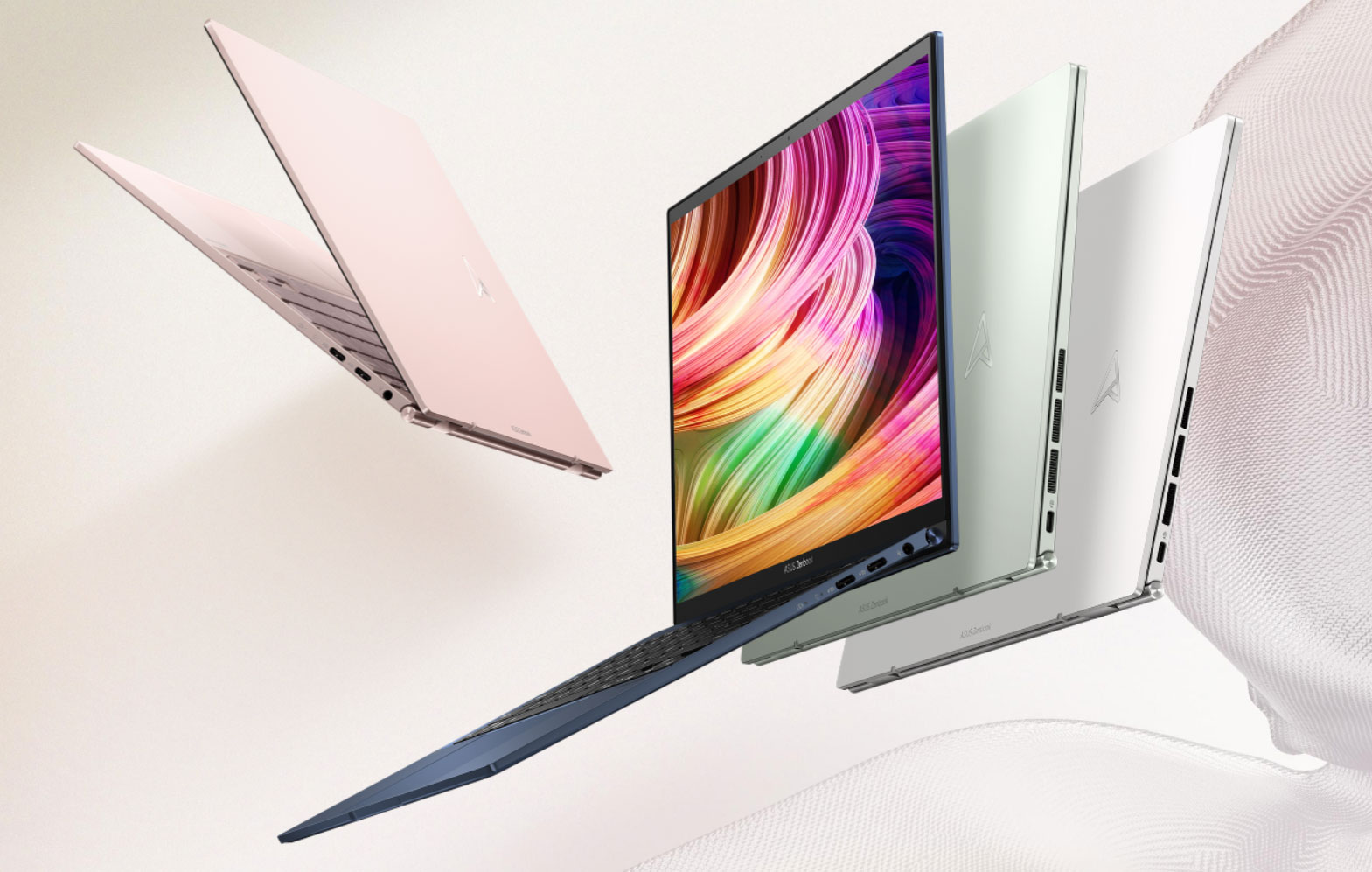 The laptop is compact, thin, and lightweight, at just under 1.1 kilos for this unit that I have here. It also feels well made, and I haven't noticed any squeaks or creaks when using it. I like the matte rugged texture of the finishing on this color version; it gives good grip and doesn't show any smudges. Plus, even the grey keys do a good job at hiding smudges.
This series is still an Ergolift Hinge design, but the cooling has been updated by moving the radiator to the left side, so the hot air is no longer pushed into the screen.
Asus have also updated the hinge mechanism, allowing for the display to go flat to 180-degrees, which is a must-have for me on a versatile ultraportable.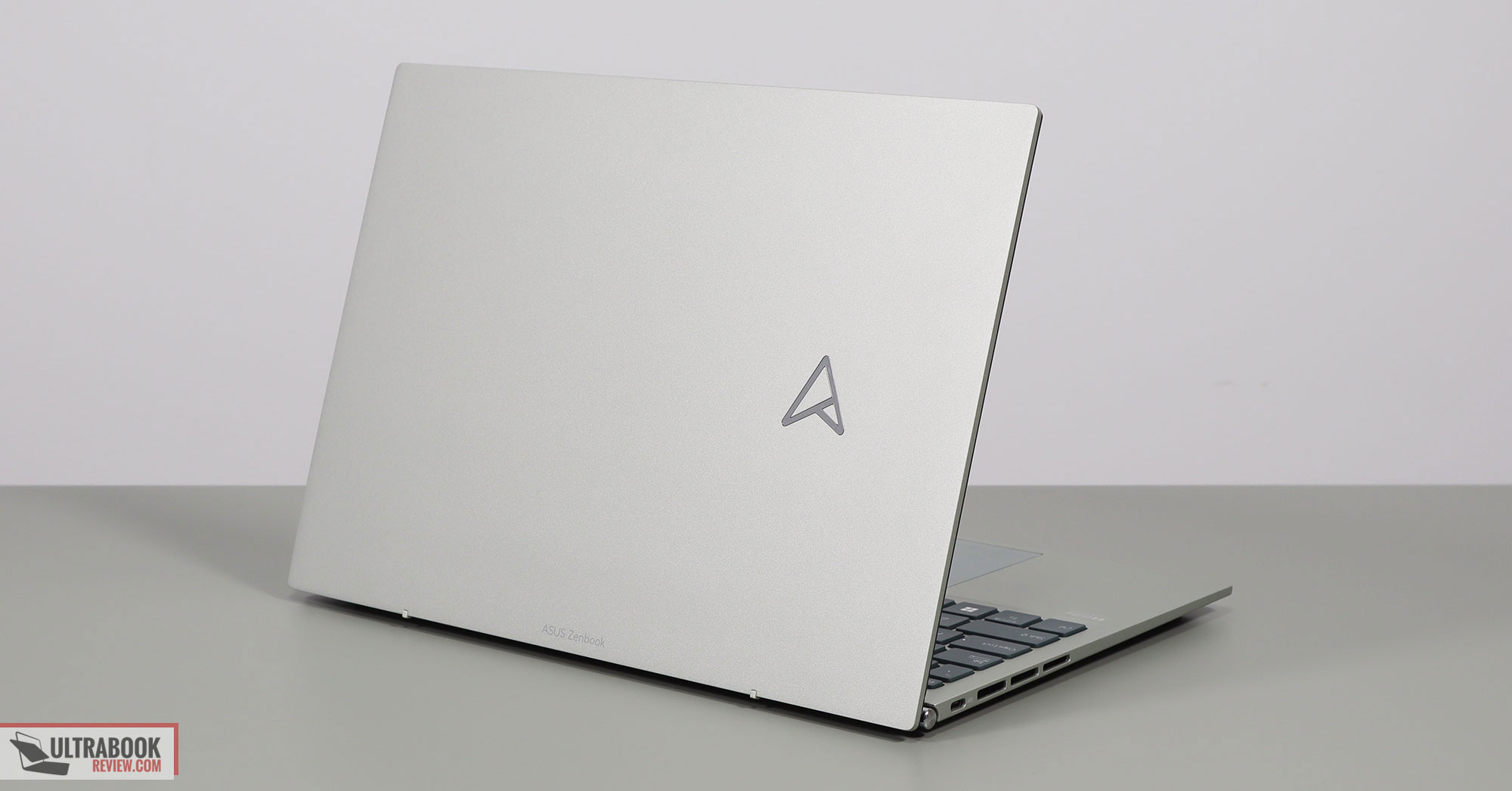 The IO is minimalistic, though. You're only getting USB-C ports here, all of them with data, charging, and video. There's one on the left and two on the right, so you can conveniently charge this on either side. There's also an audio jack on the right, and the status LEDs are also placed on this edge.
Overall, this is a solid ultrabook design. It's not ultra-compact, as a result of implementing a 16:10 display with still some bezels at the top and right, as you can tell from the picture down below where I have this next to my old XPS 13 (btw, a review of the 2022 XPS 13 series is available here). It's lightweight and portable enough, though, especially considering it doesn't compromise on ergonomics and practicality, aside from the fact that it doesn't offer full-size ports. Adapters will be bundled, though.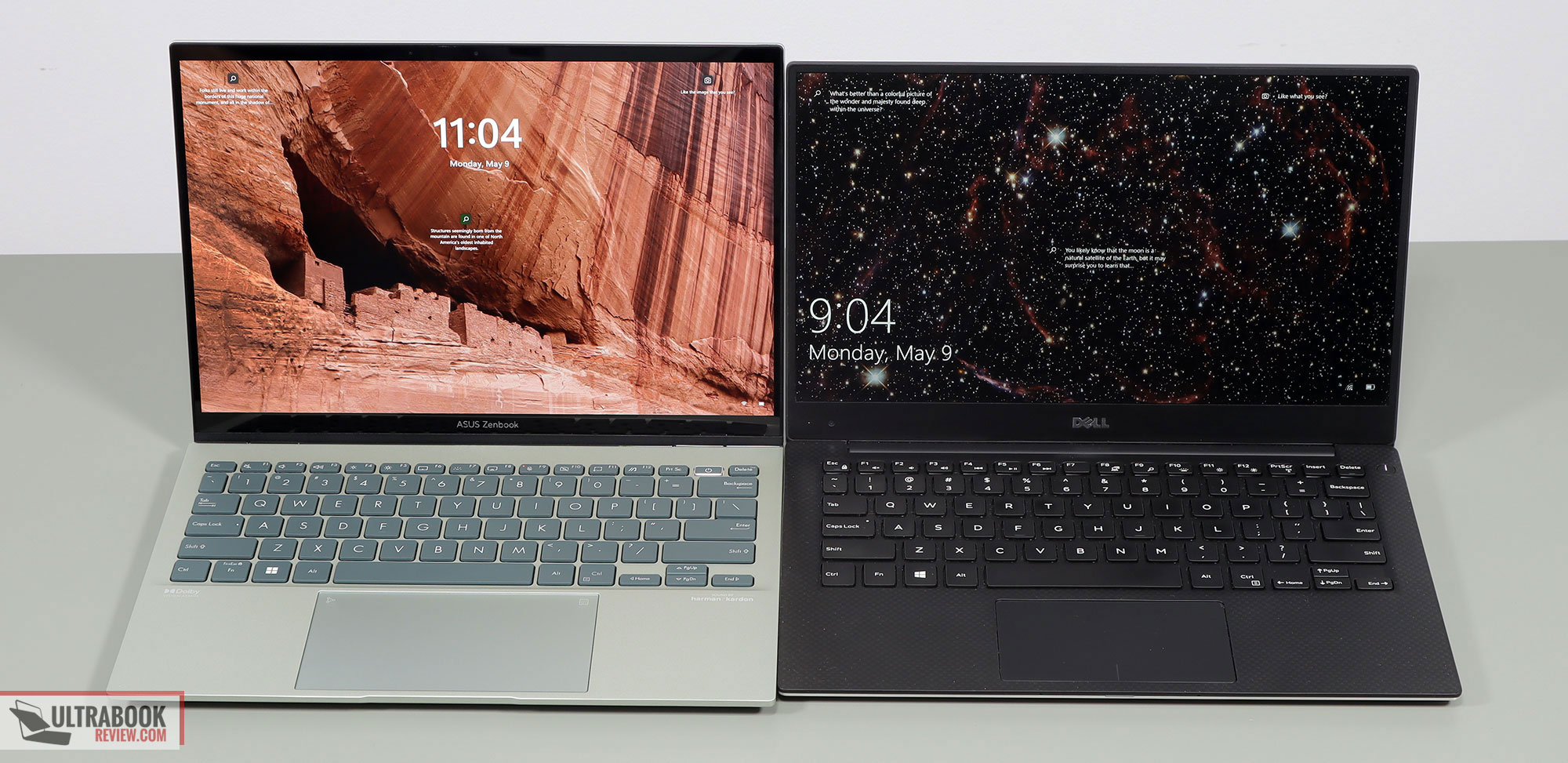 And here's how this compares to the mid-sized 2022 ZenBook 14 series, with a similar design and 16:10 panel. It's smaller, but not by a lot.

Inputs and Screen
Unlike the previous ZenBook 13 generation that only implemented a miniaturized keyboard layout, the 2022 S13 generation gets a proper keyboard with full-size 16 x 16 mm keys. In fact, the keyboard and the clickpad are identical on the 13 and 14-inch 2022 ZenBooks.
The typing experience is just right and the feedback is even firmer than on most other ultraportables. The keys are white-lit, and the contrast is excellent with the grey keys, but the uniformity of the backlighting system leaves somewhat to be desired in this early sample. I'd expect it to be addressed on the final models, though.
The clickpad is spacious and made out of glass, just like on all the other modern ZenBooks. It works fine and dubs as a virtual NumberPad if needed.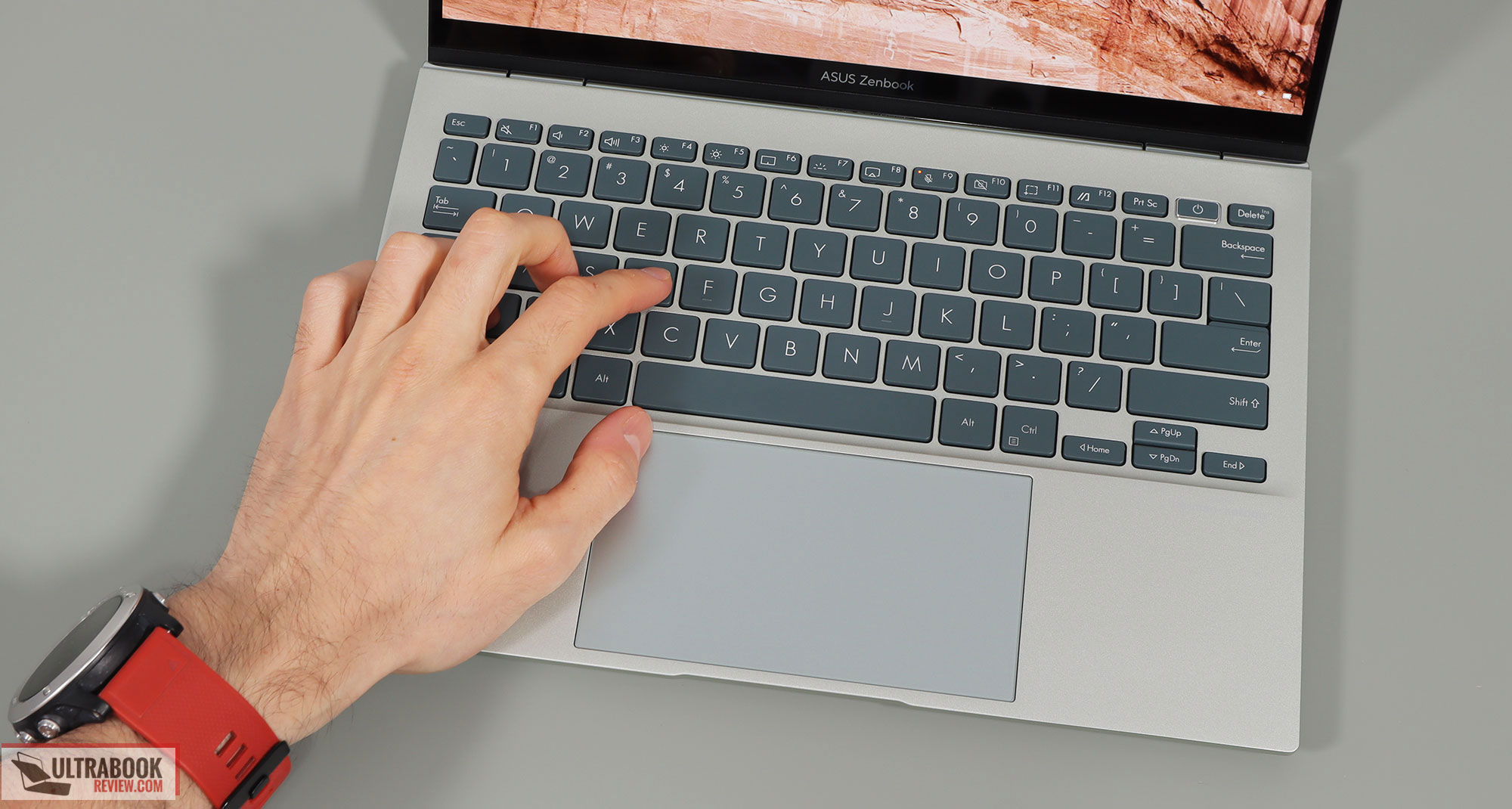 As far as the screen goes, this lineup is only available with a 13.3-inch 16:10 OLED panel, the newer-generation Samsung option with 2.8K resolution, 600-nits of peak brightness, HDR500 support, and 100% DCI-P3 color coverage. This is a beautiful all-purpose display and supports touch and pen input as well, as an option. That means you're also getting variants with a glossy non-touch screen.
Just make sure you understand the particularities of OLED panels on laptops, and that the full-panel brightness is only around 400-nits for the non-touch variant and 350-nits for the touch model, so this is not going to be ideal in bright light environments, where the glare of the glass-covered screen adds into the mix.
I'll also mention that there's still that graininess effect on white backgrounds on the touch variants of this display, as on all the OLED touch displays offered by Asus these days. However, because of the higher density of this 13-inch 2.8K panel, that's not as easily observable as on the 14-inch or 15-inch models. The image is clearer on the non-touch models, as the graininess is a side-effect of the touch layers used by Asus, and not something associated with the OLED panels.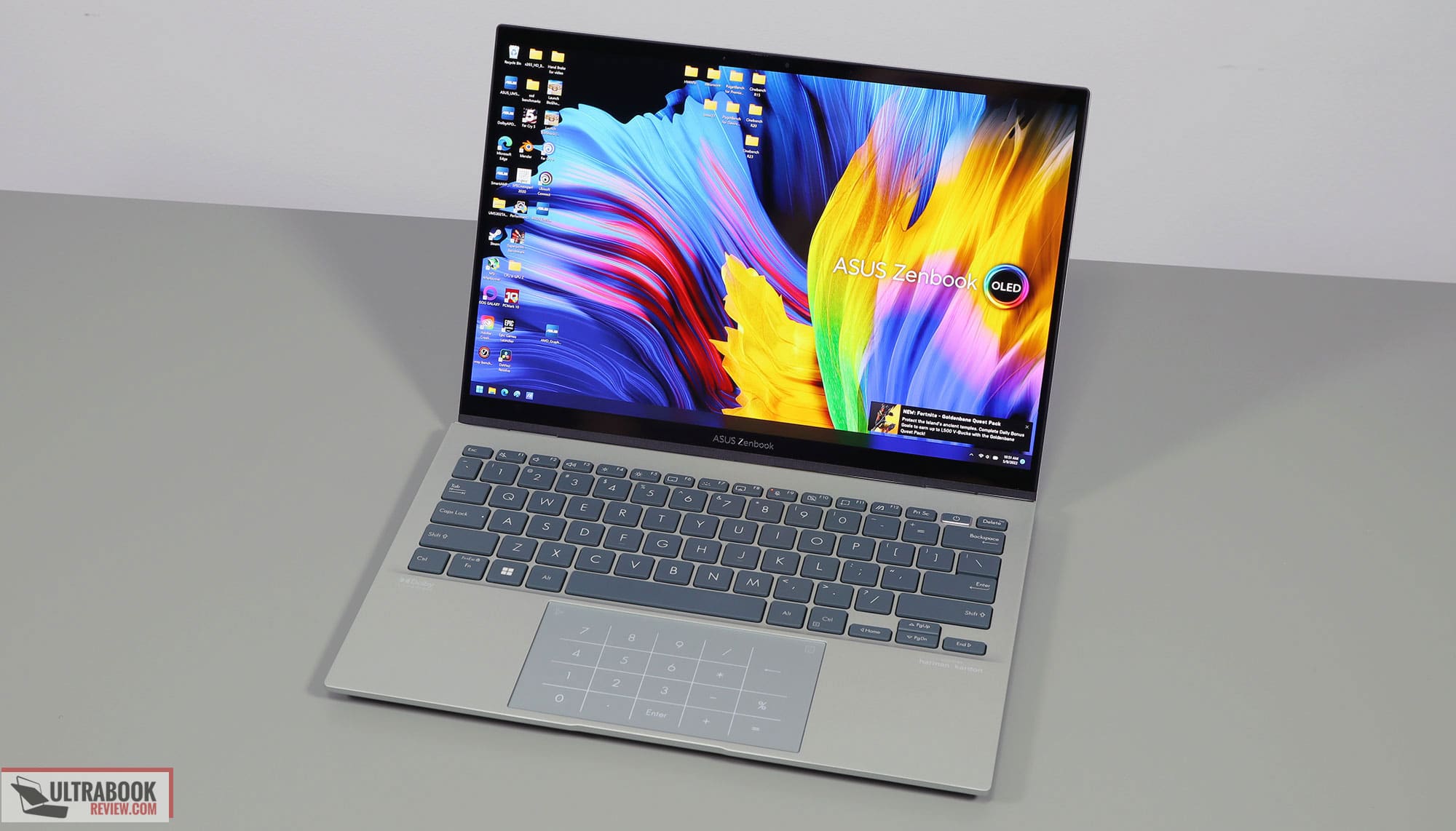 Hardware and daily use
This unit is the top-specced configuration of the Asus ZenBook S 13, code name UM5302TA, with an AMD Ryzen 7 6800U processor and Radeon 680M graphics, 16 GB of LPDDR5-6400 memory, and a fast 1 TB gen4 SSD.
This is a pre-release sample, so we can't get in-depth on the performance analysis that we normally cover in our reviews.
Update: I'm working on the final review and it should be online in the next couple of days. In the meantime, if you have any questions, get in touch in the comments section at the end of this article.
Most of the components are soldered, except for the SSD and WiFi slot.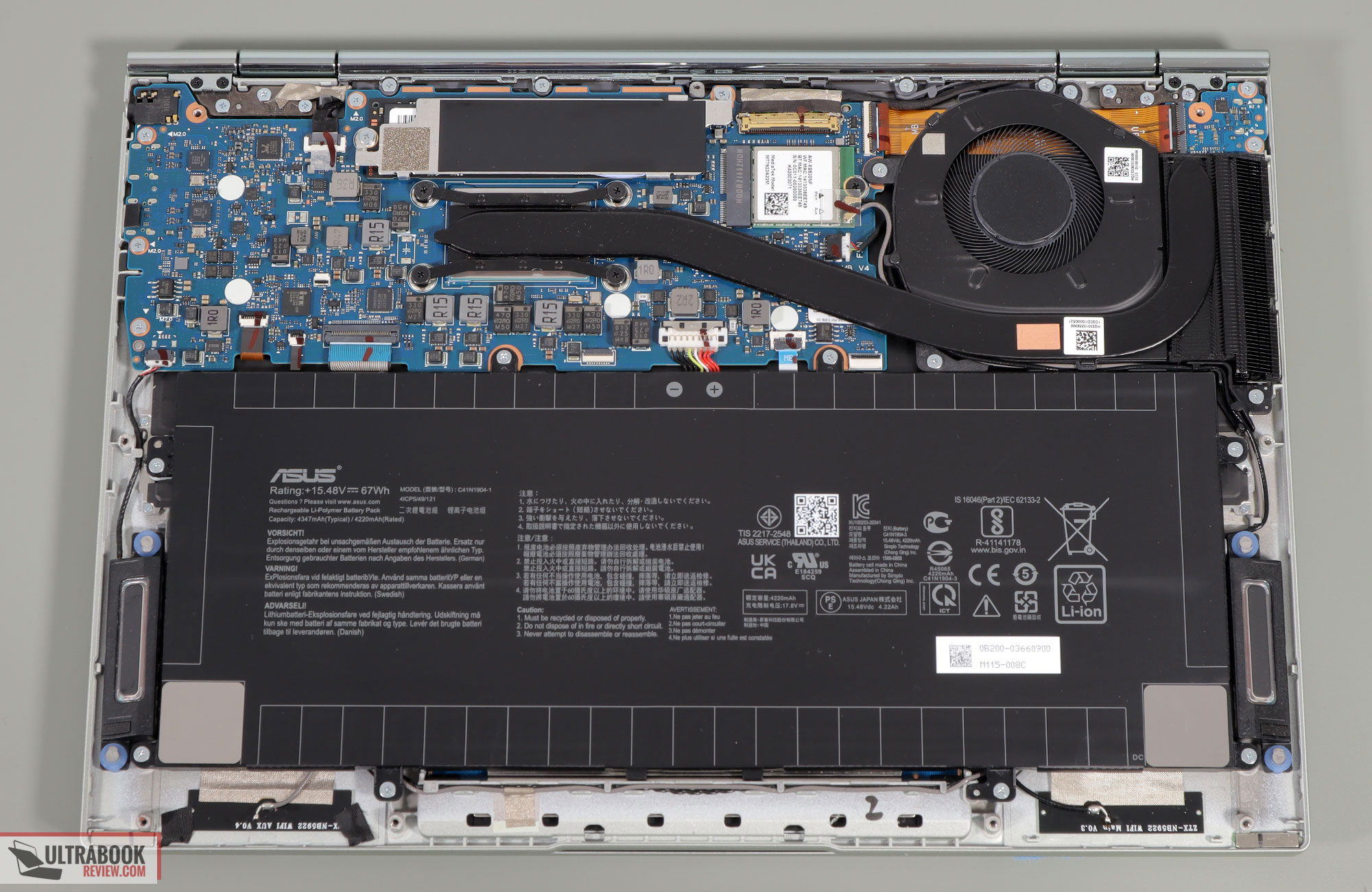 I can tell you that this is a lower-power implementation of the AMD hardware, as expected from an ultraportable design. I wouldn't expect it to run at more than 25W sustained in demanding loads. For comparison, the 2022 Intel-based ZenBook 14 runs at 30W sustained on the Performance mode, while the 2021 AMD-based ZenBook 13 ran at sub 20W sustained.
The Ryzen 6000 AMD hardware is highly-efficient and is going to perform well even in this kind of power envelope. It won't run at full blast in multi-threaded loads such as the Cinebench loop, but it should offer around 80% of what the platform would be capable of in a higher-power design (which would only be possible in a thicker, heavier, and/or larger laptop), based on our previous tests of Ryzen 6000 platforms.
One of the major selling points of the Ryzen 7 6800U platform is the integrated RTDNA2-based Radeon 680M graphics chip. We've tested the iGPU at several power levels, and concluded that the AMD platform requires 45+W of sustained power in order to deliver the maximum potential performance in GPU-heavy loads and games, and it only returns 70-80% of its potential in a 25W design. Knowing that, we can properly adjust our expectations for this laptop.
Even in that case, though, the Radeon 680M configuration can still outmatch an Iris Xe Intel chip at similar power, and by a fair margin. The 12th-gen Core P hardware available on the Intel side is surely snappy in IPC and single-core performance, but the GPU capabilities trail the AMD Radeon side by a fair margin, and so does the efficiency per watt.
And that's one more reason why this AMD configuration should be on your list: runtimes on battery. There's a 67 Wh battery on the ZenBook S 13, which is impressive for a laptop of this size and weight, and our early tests show 10-12 hours of video streaming on a charge and 5-8 hours of daily multitasking.

Some initial conclusions
We'll know more once we get a final review unit with the finalized BIOS and software. We'll be able to have a better picture of the power settings, overall performance, and the noise/thermals of this configuration. Based on what I'm seeing so far, this ZenBook S 13 is going to be an excellent ultrabook, quiet and efficient with daily use, and a competent performer for its class when needed.
I'm not entirely happy with Asus pushing their OLED panels so aggressively, though, and no longer offering any IPS options. This OLED screen sure looks awesome, but I'm mostly using my laptop outside when traveling, so I preffer an anti-glare matte finishing, as well as the hassle-free experience of a proper IPS panel. The other potential deal-breaker for me is the USB-C-only IO, as I preffer having at least access to a USB-A port without requiring an adapter. The previous ZenBook 13 offers a USB-A port and a full-size HDMI, but this 2022 model does not.
Still, if these aren't bothering you and you are in the market for a versatile 13-inch ultraportable, then the Asus ZenBook S 13 UM5302 could be the one for you.
Update: Update: Our full review of the ZenBook S 13 UM5302 series – Ryzen 7 6800U model – is available here.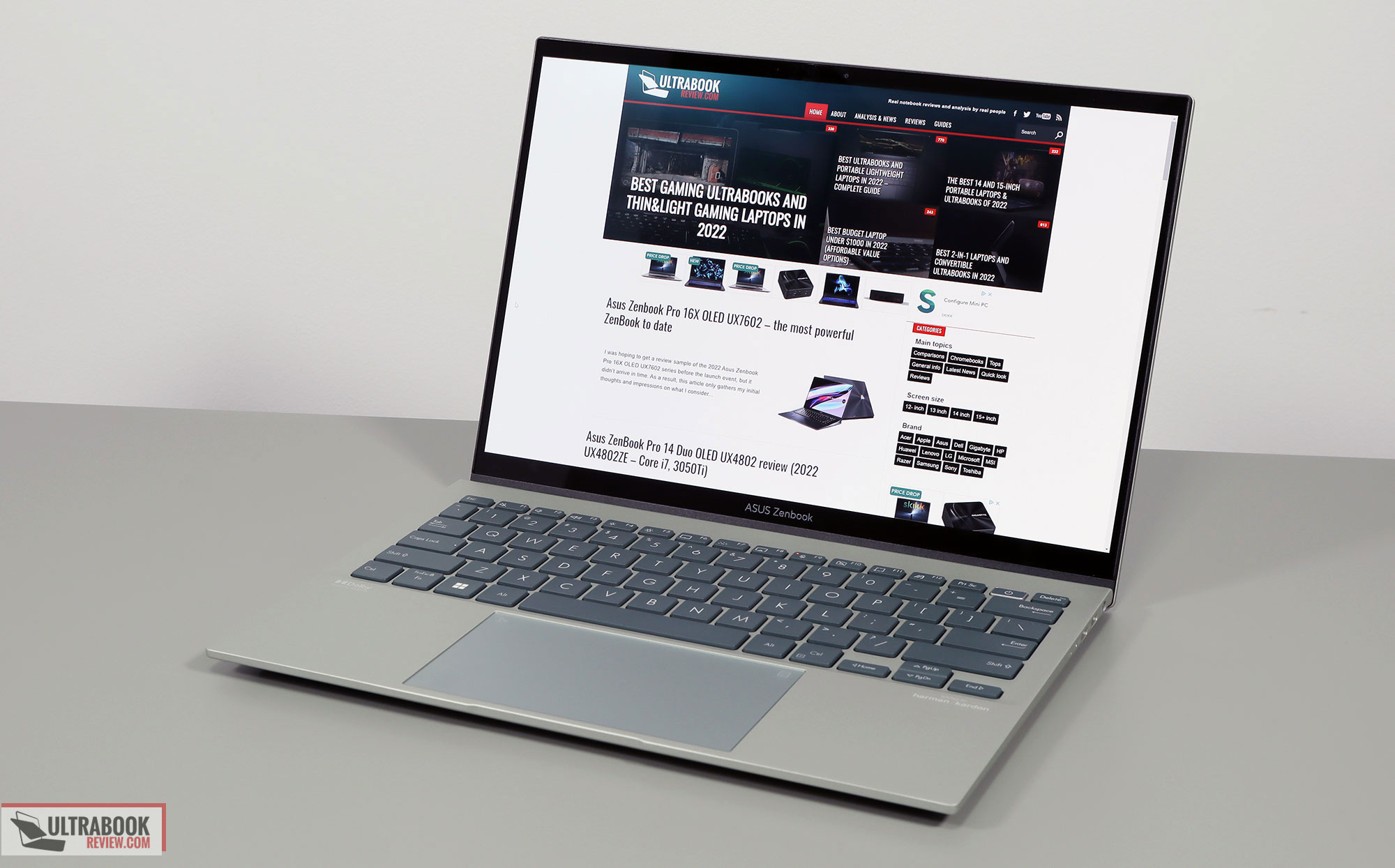 Disclaimer:
Our content is reader-supported. If you buy through some of the links on our site, we may earn a commission.
Terms
.