Those of you familiar with the site know that I own and use a Blade 15 Advanced as my everyday driver, but I've also spent time with and reviewed the Blade Stealth and, more recently, the updated Blade Pro 17.
As I stated at the beginning of the Blade Pro article, I wanted to put up together a different article that compares Razer's two gaming laptops directly.
Given the similarities between the two, I think opting for one over the other might be a tough call for some, so I wanted to make clear the differences since I have them both on hand right now.
Full disclosure, I own the 8th gen CPU and RTX 2080 version of the Razer Blade 15, and have reviewed the 9th gen and RTX 2060 variant of the Razer Blade Pro 17, and you can find my in-depth impressions on both in the linked article.
Before we get to the short summary of the two lineups, here's also a quick specs sheet.
| | | |
| --- | --- | --- |
| | Razer Blade 15 Advanced | Razer Blade Pro 17 |
| Screen | 15.6 inch, 1920 x 1080 px, IPS equivalent, 144 Hz, matte | 17.3 inch, 1920 x 1080 px, IPS equivalent, 144 Hz, matte |
| Processor | Intel 8th  and 9th gen Core i7 CPU, hexa-cores | Intel 9th Gen Core i7-9750H CPU, hexa-core 2.6 GHz (4.5 GHz boost) |
| Video | Intel HD 630 and up to NVIDIA GeForce RTX 2080 Max-Q with 8GB GDDR6 VRAM | Intel HD 630 and NVIDIA GeForce RTX 2080 Max-Q with 8GB GDDR6 VRAM |
| Memory | 2× DIMMs | 2x DIMMs |
| Storage | single M.2 slot (ships with Samsung PM981 drive) | dual M.2 slots (ships with Samsung PM981 drive) |
| Connectivity | Intel Wireless AC 9560, Bluetooth 5.0 | Intel Wireless AX200, Bluetooth 5.0 |
| Ports | 3x USB-A 3.1 gen2, 1x USB-C with Thunderbolt 3, HDMI 2.0, mini-DP, mic/earphone, Kensington Lock | 3x USB-A 3.1 gen2, 2x USB-C(1x Thunderbolt 3, 1x 3.2), HDMI 2.0, LAN, SD card reader, mic/earphone, Kensington Lock |
| Battery | 80 Wh, 230 W charger | 70.5 Wh, 230 W charger |
| Size | 355 mm or 13.98" (w) x 235 mm or 9.25" (d) x 17.8 mm or .70" (h) | 395 mm or 15.55" (w) x 260 mm or 10.24" (d) x 19.9 mm or .78" (h) |
| Weight | 2.1 kg (4.63 lbs) | 2.75 kg (6.06 lbs) |
| Extras | individually lit RGB keyboard, large clickpad, HD Windows Hello webcam, front-facing stereo speakers | individually lit RGB keyboard, large clickpad, HD Windows Hello webcam, front-facing stereo speakers |
Design, build and keyboard
These two laptops share similar builds and design lines, with thick unibody aluminum frames and a rectangular form-factor. They also both get a glowing Razer logo on the list, not something I prefer, but I was able to get past the inconvenience with a skin from DBrand on my 15-inch model.
Just to get some stuff out of the way, the keyboard and trackpad are identical.  I swapped back to my Razer Blade 15 for the last portion of the Blade 17 review and my experience is the same with both.  The only thing that might make a difference for some people is the fact that the palmrest is bigger on the Pro model, and can make the experience a little more comfortable for those of you with large hands.
The Wifi module, webcam and SSD are pretty much the same as well, so nothing to contrast with those.  But the Razer Blade Pro does have an extra M.2 slot, unlike the 15" version, which only has one. I particularly found the single M.2 to be one of my few pain points of getting the RB15, but I resolved it by just getting a 2TB SSD. With the Pro, it's going to be cheaper to add up more storage, with options for more affordable SATA drives used next to a fast NVMe system drive.
The Razer Blade Pro also has "pro" features such as a memory card reader and an Ethernet port.  It even has an extra USB-C port on the left side.  These are things that might be important enough to justify the 17" as your choice. But as far as all the other connectivity goes, the experience is pretty much the same.  The only thing my Razer Blade 15 has that the Pro doesn't is a single miniDP port.
As far as handling goes, the Razer Blade 15 is far lighter and easier to carry around with one hand.  It's also smaller and more portable.  Now that I'm back to using it again after using the 17-inch model for a while, I'm appreciating it's form factor more and more. Not that the Razer Blade Pro is too big, by any means, it is about the size of your typical 15" laptop from only three years ago. What you'll actually feel is the increase in weight, as the Blade 17 is significantly heavier than the 15" version, which might put some of you off.
Screens
The screens are nearly the same, but I like the screen on the Razer Blade 15 a little better. For starters, what bothers me most on the Pro model is the pixel density, with pixels being too obvious to me on a 17" FHD panel. I could get used to it, but keep in mind that up until my RB15, I was on an 8 year streak of using 17" screens that were either QHD or 4K.  So the step down is very obvious to me.
The only other notable difference in the screens is the slight brightness shift when using the Pro version at certain screen angles.  This is hardly worth mentioning though because you're very unlikely to use your screen at these angles, and the image is still sharp.
However, while the Blade Pro 17 is only available with this 144 Hz FHD screen option, the Blade 15 is available with either a 240 Hz FHD or a 4K 60 Hz OLED panel, one catering to gamers and another to creators.
Update 12/16/19: Both 15″ and 17″ models now offer 144Hz and 240Hz FHD screens as well as 4k.  The Razer Blade 15 has a 4k OLED display, while the top model Razer Blade 17 has a 120Hz 4k IPS screen.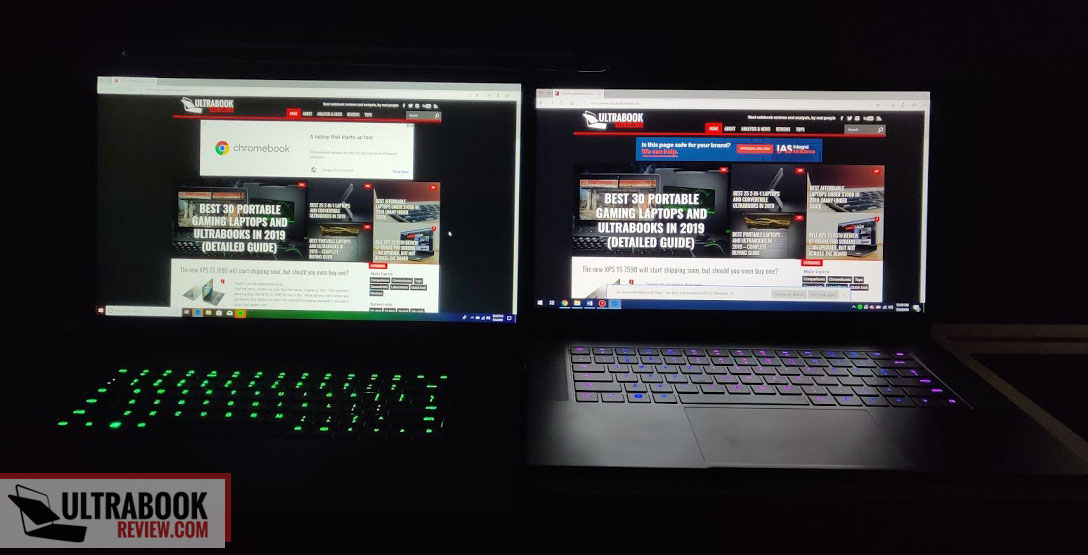 Hardware and configurations
As far as the CPU and GPU are concerned, there's little to no difference, as both models have the same exact options. The Pro is however only available with 9th gen processors, while the Blade 15 can still be found with 8th gen CPUs, alongside the updated i7-9750H variant. I was also expecting to see the 100W variant of the RTX 2080 chip inside the Pro, just like on the 17-inch Asus ROG Zephyrus GX701, but it's still the 90W version from the 15-inch model, as far as I can tell. That means that the only specs difference is in the addition of that extra M.2 SSD slot on the Pro model, already mentioned earlier.
The other relevant point is in the fact that the Razer Blade Pro is a thicker and larger device, with more fans and a bigger heat sink, so it should dissipate heat better in games and other demanding loads.  You can see in my thermal readings on both models (in the reviews, and in the pictures below) that the Pro does appear to do this, although I've had different configurations of the two, so we're not exactly comparing apples to apples here. It's also worth adding that the fans in the Pro spin significantly louder on the Max CPU/GPU settings in Synapse, yet both units can run fairly quiet on the Balanced profile.
Speakers and battery life
With regards to audio, the Razer Blade Pro's speakers are a little louder, but the Razer Blade 15's speakers have a fuller sound.  Realistically, I'd take the RB15 speakers because of the fuller sound, but louder speakers are more necessary on the RBP since the fans are louder.
The last thing I could compare is the battery life.  The Razer Blade 15 is clearly the winner in this category, as it has a bigger battery and has more efficient components.
So that's about all I can compare.  The way I see it, people would be more apt to choose the Razer Blade Pro if they insist on a bigger screen, more connectivity or a second M.2.  But if you're looking for more portability and better battery life, the Razer Blade 15 is the way to go.
The Blade 15 also has a significant price-advantage on its side, of $300 to $500 based on the GPU configuration, not to mention that you can find early-2019 8th gen based version of the Blade 15 for even less, and that alone could be decisive in your decision.
In fact, Razer asks a fairly steep premium for the Blade Pro 17, and there's not that much to justify it. Yes, you get one more M.2 slot, more ports and a 17-inch screen, as well as lower temperatures and most likely slightly improved performance in demanding loads with the higher tier configurations, but the 15-inch model compensates with a more portable form-factor, better screen options, improved battery life and quieter fans, all for a few hundreds of dollars less.
As for me, if both these models were available at the beginning of the year and I had to choose all over again, I probably would have went with the Pro (but waited for a good discount), since I prefer 17" screens and knew I would have liked the form factor ( I was a GS73 owner and the new RBP is far smaller).  But now that I have actually used the Razer Blade 15 for so long, I think I made the right choice.  I'm on the go a lot these days, so battery life and portability is more important to me than in the past. But truth be told, I could live with either and be just fine.
Hope this helps in deciding.  And if you have any more questions, please feel free to ask.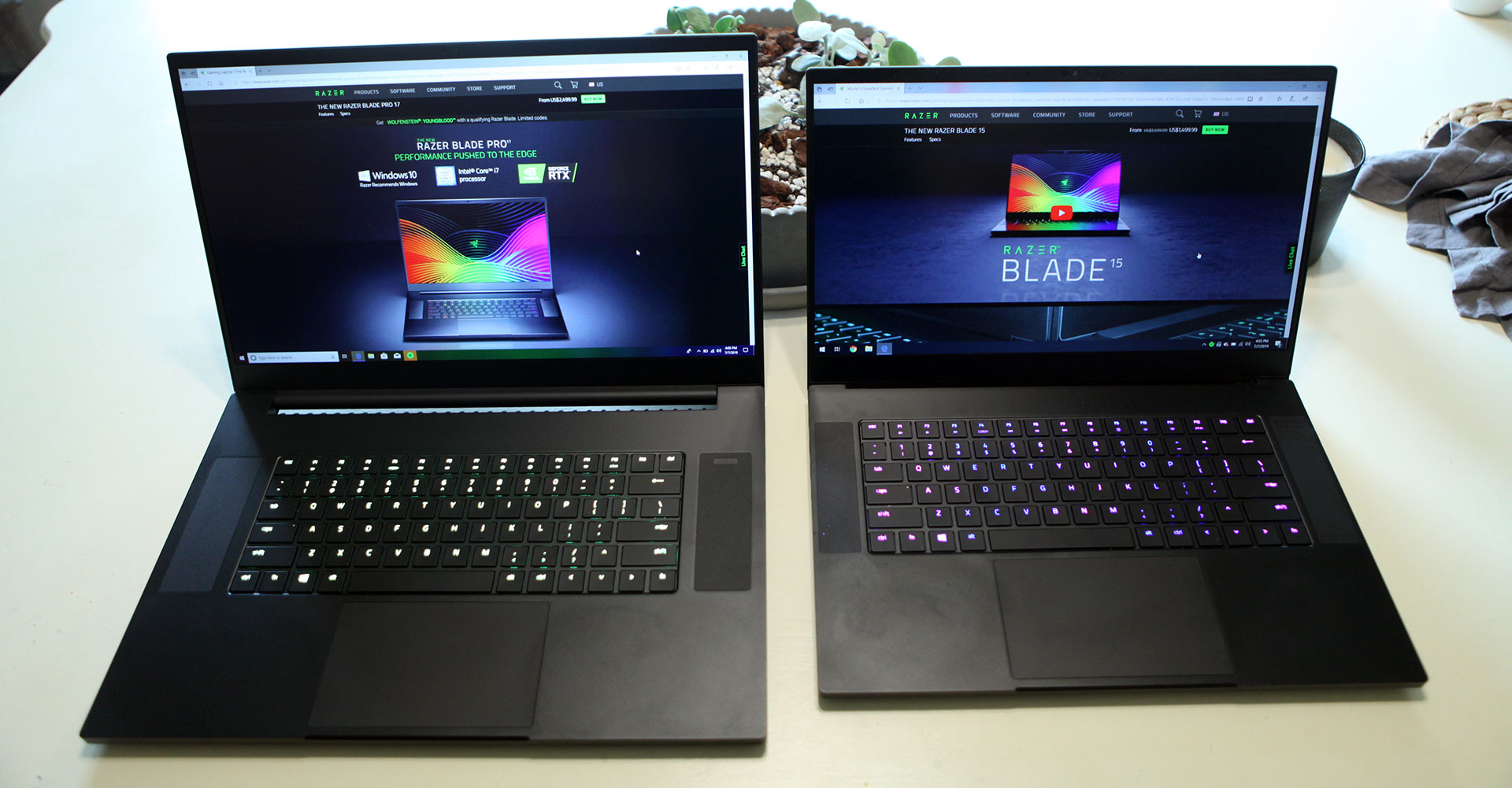 Disclaimer:
Our content is reader-supported. If you buy through some of the links on our site, we may earn a commission.
Terms
.