The 15-inch Lenovo Yoga 720 started turning heads as soon as its specs were released: a quad-core CPU with a Nvidia GTX 1050 in a 14.33 x 9.5 x 0.74-inch package? An aluminum chassis? No stupid colors or gaming design elements? No giant bezels? Convertible? Thunderbolt 3?
Is the 15-inch Lenovo Yoga 720 too good to be true?
As perhaps one of the first people to receive the 720, I've had a couple of days with it and I'd like to share my impressions. I know a lot of people are interested in the Yoga 720 as an alternative to the Dell XPS 15, and that's just the way I've been assessing it for myself.
Without further ado, let's get into my first impressions and benchmarks of the device.
Here are the specs:
Lenovo Yoga 720-15
Screen 
15.6-inch, 1920 x 1080 px (optional upgrade to 3840 x 2160 px), IPS matte
CPU
up to Intel 7th-gen Core i7-7700HQ
GPU
NVIDIA GTX 1050 (2GB DDR5)
RAM
8GB DDR4 on-board (supports up to 16GB)
Storage
256GB (supports up to 1TB PCIe NVMe SSD
Camera
720p
Battery
72 WHr
Ports
1x USB-C/Thunderbolt 3, 2x USB-A 3.0, 3.5mm headphone/mic combo, Fingerprint reader
Size
14.33 x 9.5 x 0.74 inches (364 x 242 x 19mm)
Weight
4.4 lbs (2.0 kg)
Lenovo also offers a more portable version of this laptop, with a 13-inch screen and Core U hardware, which we reviewed here in case you're interested in it.
As of 2018, there's an updated version of this laptop, the Lenovo Yoga 730-15, with 8th gen Core U hardware, GTX 1050 graphics, a smaller 52 Wh battery, as well as a significantly more affordable price. You'll find all about it from our detailed review.
Exterior and design
The first impressions you'll get of the Lenovo Yoga 720 is that it's a little heavy, and the aluminum finish is very smooth, like worn Onyx. It's only 4.4lbs according to Lenovo, but—perhaps because you're expected to flip it around in your hands and use it as a tablet occasionally—it seems a bit more than that.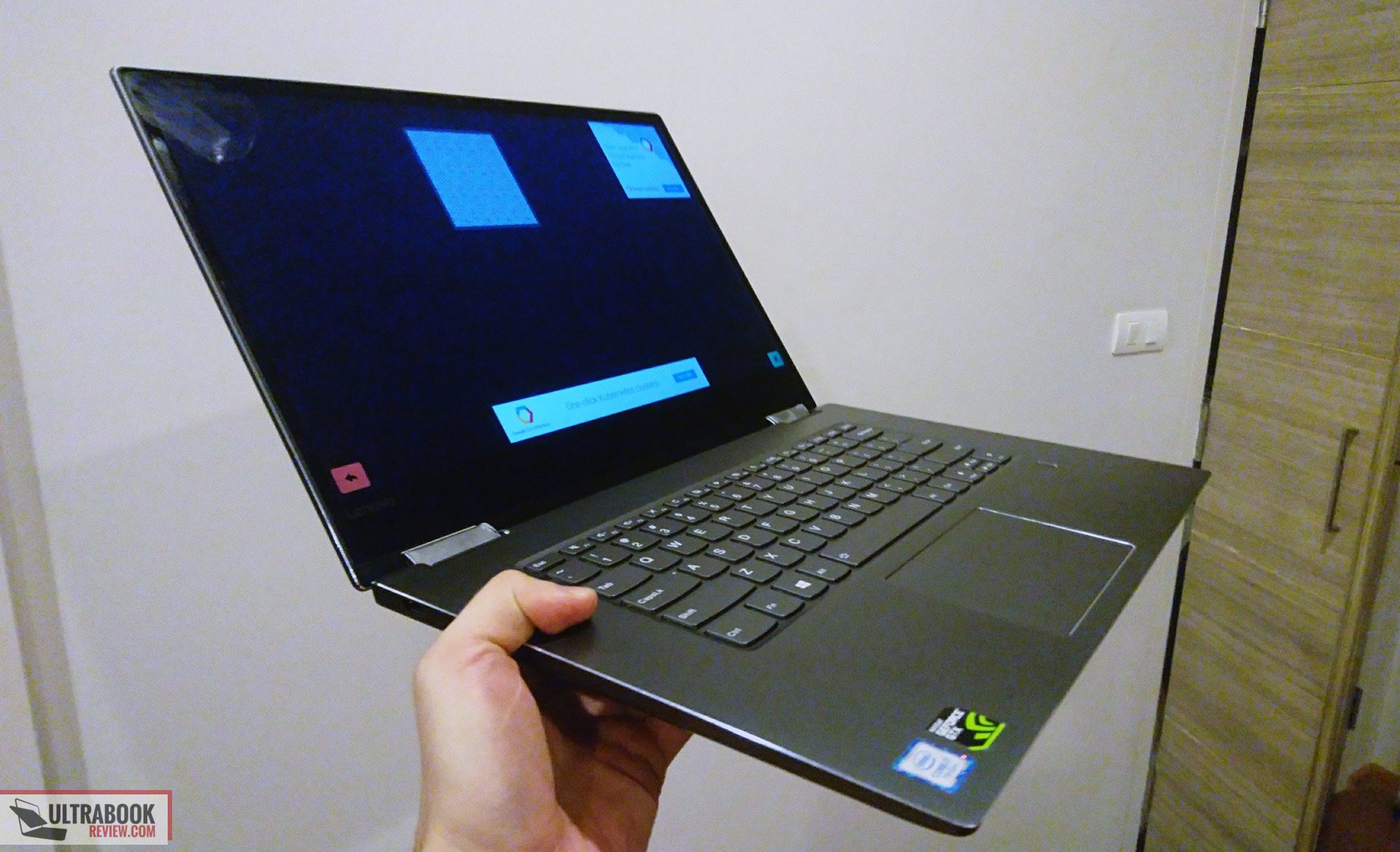 The overall finish is smooth and comfortable in the hand, while the beveled edges around the trackpad and fingerprint are nice accent touches. It feels solidly constructed and not at all fragile (as you would hope a 15-inch convertible that costs north of US$1200 for the base model would be). It is slightly (but noticeably) larger than the XPS 15, yet it also doesn't feel quite as premium and well put-together. Stacking them on top of each other, you can see the Lenovo is a few millimeters bigger in each dimension.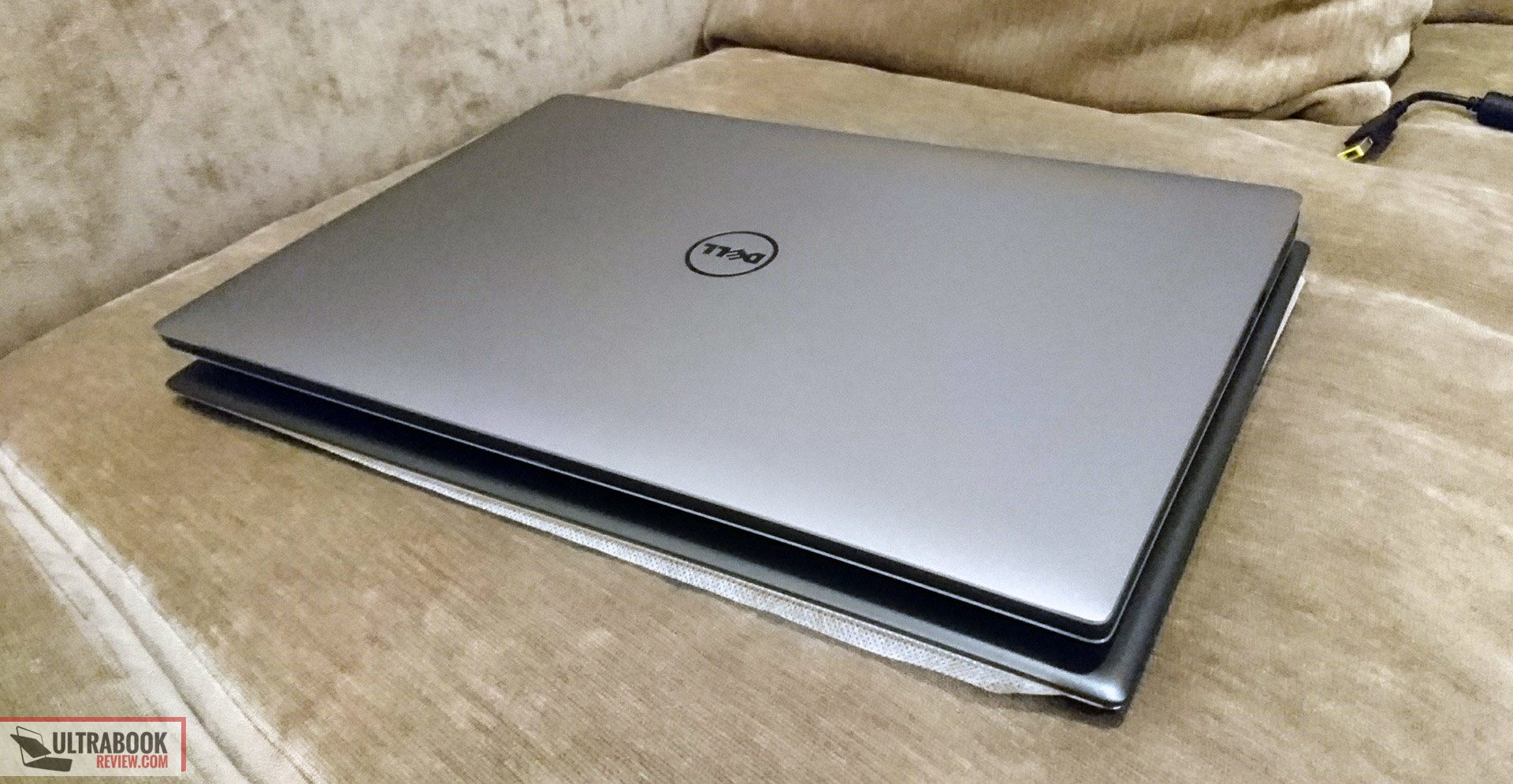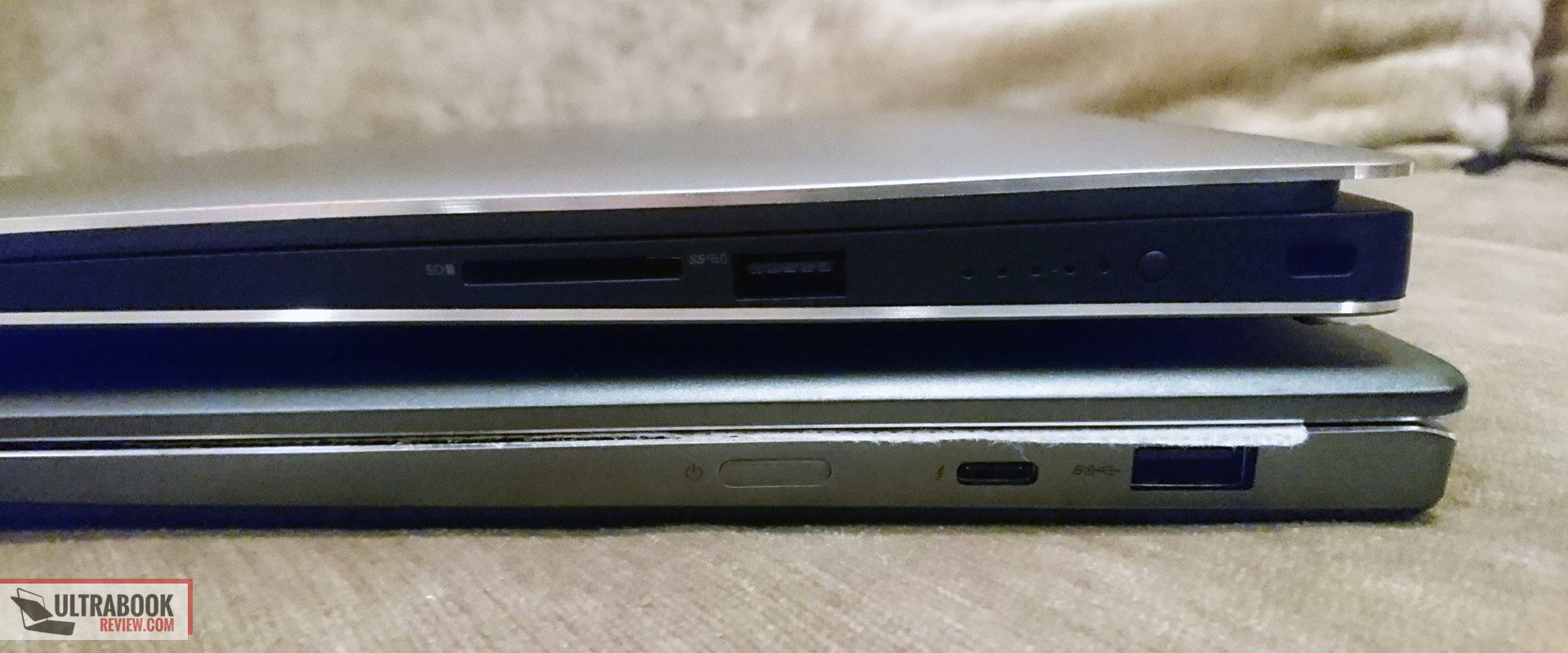 It doesn't seem to pick up fingerprints anywhere near as much as its contemporary, however.
Where the XPS 15's design is sharp and angular in parts due to its layered aluminum/carbon fiber/aluminum sandwich construction, the Yoga 720 feels distinctly more round and smoother in the hand. Whether this is a plus or not is up to your taste, but for me I preferred the more solid look and feel of the XPS 15.
Keyboard and touchpad
The keyboard is one area where the Yoga 720 is clearly head and shoulders above the XPS 15. The keys are more solid, have no wobble, and travel slightly deeper than the XPS 15's. I don't have an exact measurement, but I would guess 1.4-1.5mm compared to the XPS's 1.3mm.
The other clear area of superiority here is the design of the fingerprint scanner. Unlike the XPS's implementation, this one seems well designed into the chassis and is always easy to see and find with your finger in dim lighting.
Some other notes for keyboard aficionados: Lenovo has swapped the Fn and Ctrl keys to a "standard" arrangement (generally these are reversed on Lenovo laptops in comparison to most others). There is a function key toggle setting in the sparse BIOS, but not much else (there is an option to disable the dedicated Nvidia GTX 1050, however). All in all, the keyboard is very much a strong-point of this machine when comparing to the XPS.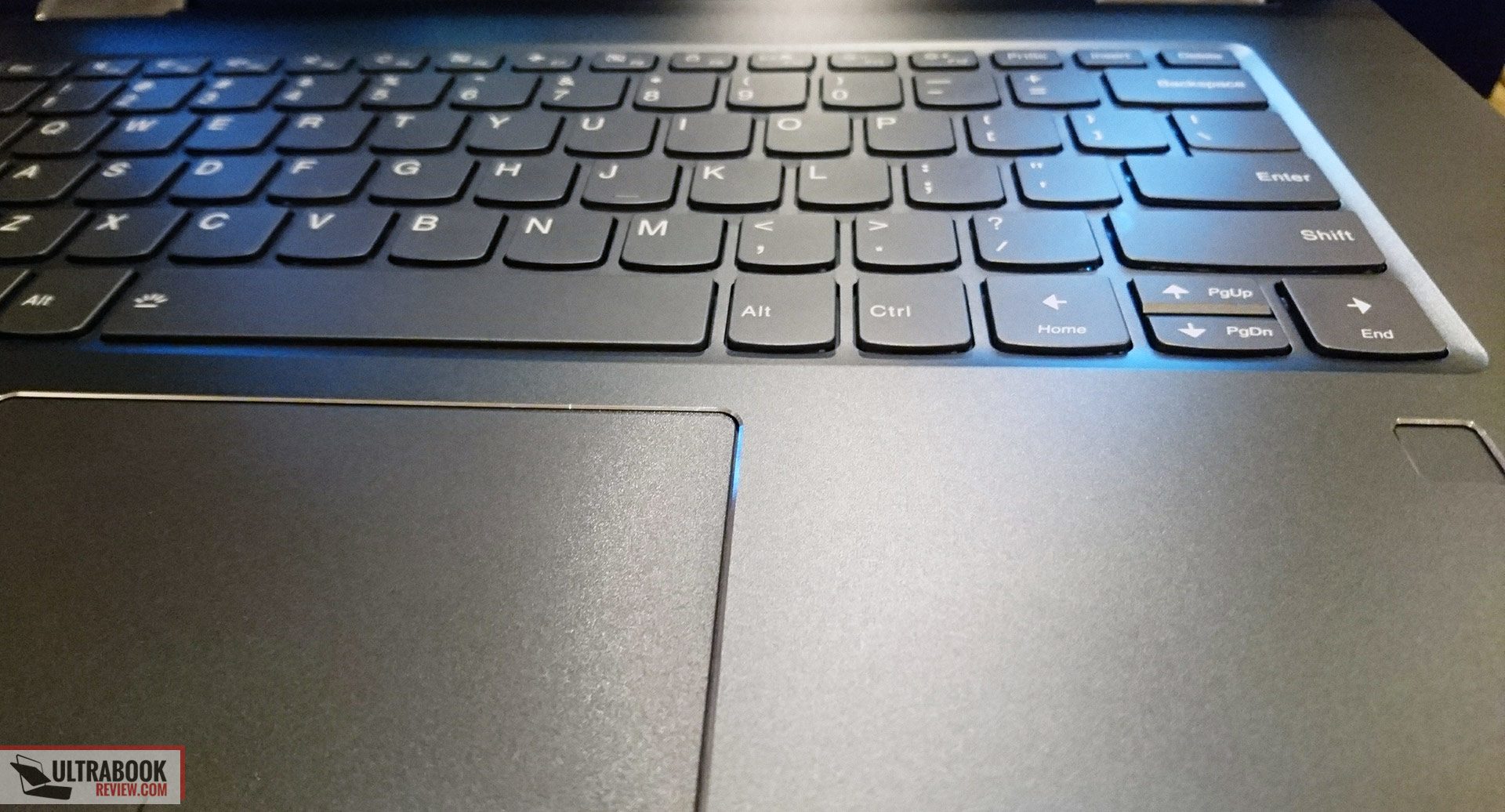 The touchpad, however, is a different story. Although it uses Microsoft Precision touchpad drivers, it is an all-around bad experience. I'm not sure if my unit was defective, but nearly every other gesture was not recognized, and the cursor would fail to respond frequently (I tried turning off the palm-check to no avail). The touchpad also has a very floaty feeling, making the mouse feel imprecise even when it does function. Hopefully Lenovo will get their act together and fix up the show-stopping experience that is the trackpad.
Screen
The unit I received had the FHD (1080p) screen. Although there is a 4k option, I feel that the smart money is on the FHD due to the relatively limited 72WHr battery. The XPS 15 gets about 7-8 hours of battery life with a 96WHr battery and the UHD screen, so it's reasonable to expect the Yoga 720's battery life will be roughly 25% less. By my calculations, that will give most users between 4-5 hours of battery life with the 4k display—but we should wait and see what the real world numbers end up being.
Back to the FHD screen, it is underwhelming. There is a fair amount of backlight bleed, but worse than that, I had a stuck (lit) pixel in the upper left corner.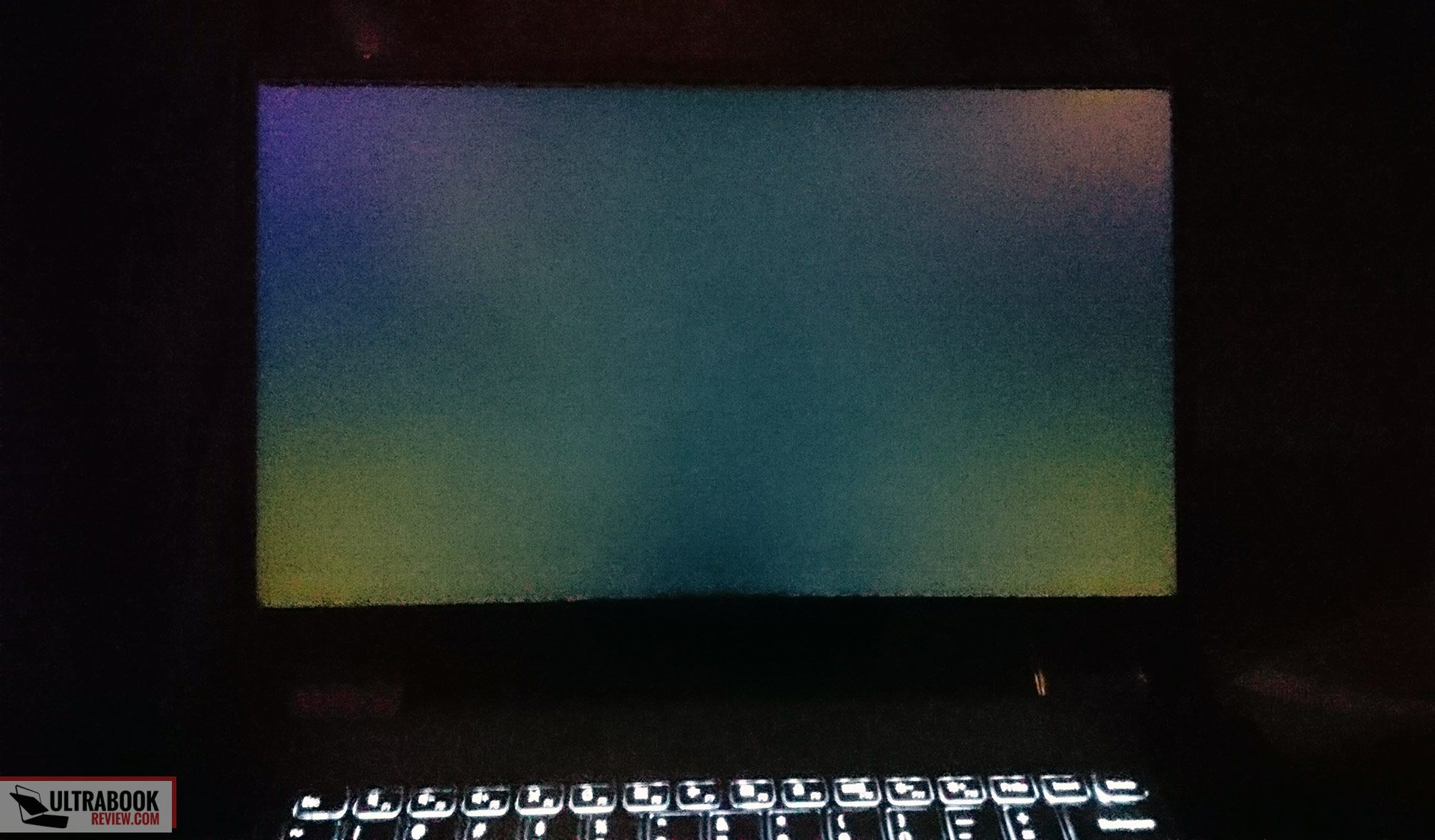 Quality control issues aside, the display seems quite average. It doesn't get anywhere near as bright as the UHD or FHD screens on my XPS 15s, and has some color wash-out when viewed from off angles. The contrast and color gamut, although not quantified with a colorimeter, are subjectively inferior to both the UHD and FHD displays on the XPS 15. Combined with the glare from the highly reflective Gorilla Glass, it is a definite weak point and contributes to the whole machine feeling less premium as a result.
Since some people complain of IPS ghosting on the XPS 15 displays, I also ran some tests with testufo. If you're sensitive to response times, I can tell you that the Yoga needed a pixel spacing of 42 for the trail of the moving blocks not to touch, while my FHD and UHD XPS 15s needed about 58 and 56, respectively.
Performance
I was able to run enough tests and benchmarks on the Yoga 720 to get an idea of its performance and thermals, as well as determine if there is any throttling of the CPU or GPU.
My first test was Geekbench 4.0's "Compute" benchmark. I set the power plan to "High Performance", but it seems that the Yoga didn't feel like going above 3.0GHz for most of the time. As a result, the score was significantly lower than the XPS 15 (which scores around 4600 and 13,500 on single-core and multi-core, respectively). I updated the BIOS and all other available drivers before running the benchmarks, so I'm not sure if this is a bug or an intentional reduction in performance.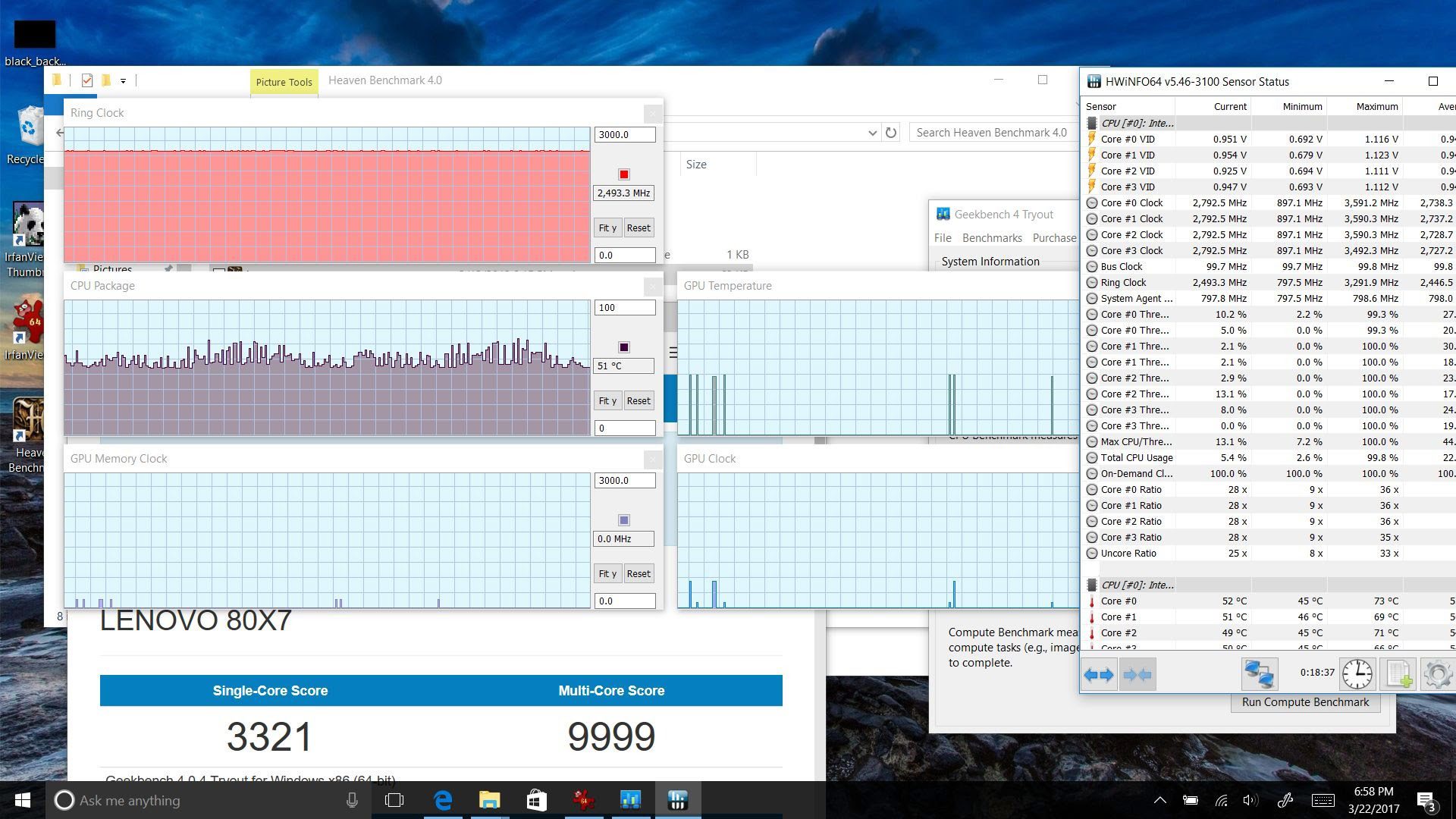 Next, I ran the Unigine Heaven benchmark on "basic" preset, for a solid score of 2695. As can be seen in the graphs below, the GPU keeps its clocks very well, despite a toasty temperature above 80C. The CPU, however, still seemed intent on not turbo-boosting much.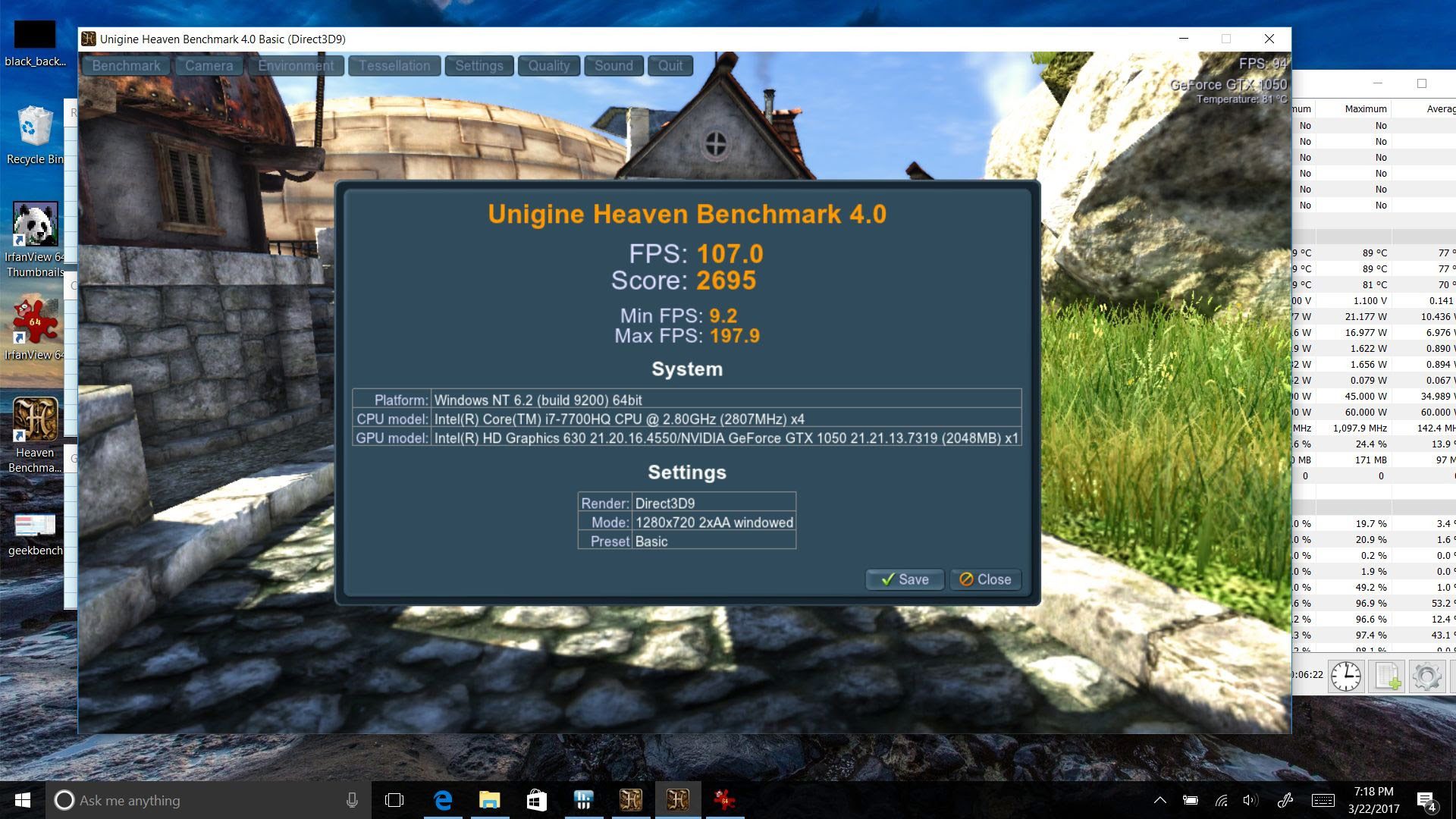 I saw no indications of GPU throttling after running the Unigine Heaven benchmark on a loop for 30 minutes, though both the CPU and GPU got rather hot. These temperatures should be improvable with an undervolt and a repaste, however.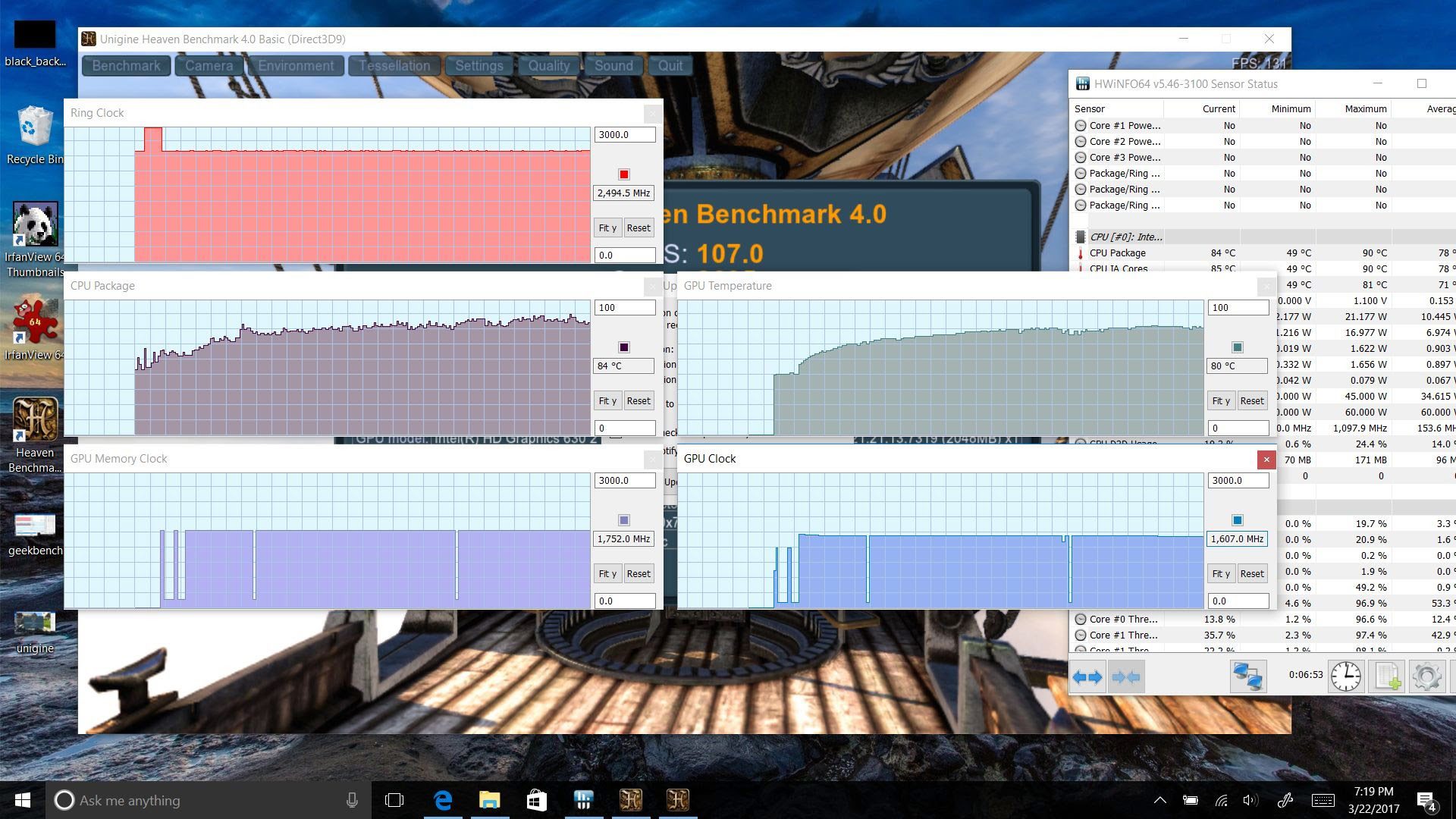 The Yoga 720 did not fare so well on the Fire Strike benchmark when compared to the XPS 9560. Both the CPU and GPU scores are roughly 1000 points below where the XPS typically scores, leading to an overall score about 500 points below the average.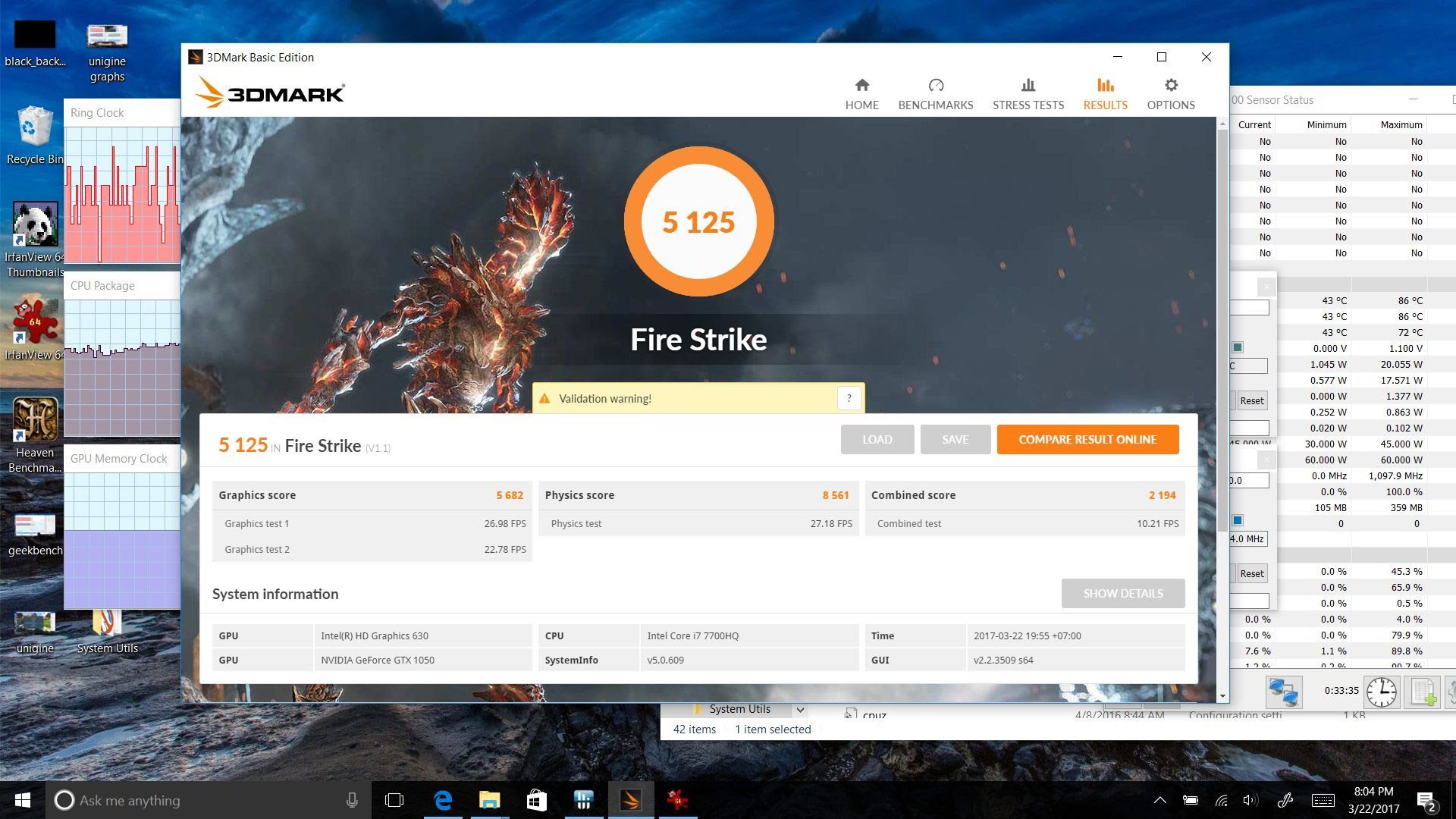 As you can see in the graphs below, the CPU is not operating as fast as it should. The PL1 limit, visible in the window on the right, appears to have been limited to 30W. This indicates some level of VRM throttling on the CPU. I would expect an undervolt to solve this, however, as an undervolted i7-7700HQ will almost never hit 30W even under maximum load.
Finally, I took a look at the Thunderbolt 3 port. I know a major reason many people are interested in the 15-inch Yoga 720 over the XPS 15 is because the XPS 15's Thunderbolt 3 port is not connected on all four lanes. Regrettably, it seems that the same is true for the Yoga 720.
Pricing and availability
The Lenovo Yoga 720 is currently "temporarily unavailable", according to Lenovo's website. I'm not sure if this is due to the issues I mentioned here, or if it's just a supply issue. According to previous announcements from Lenovo, it is expected to hit brick and mortar stores in early April for around US$1250 and up. Given the current unavailable status of the Yoga 720, this may be subject to change.
Wrap up
I expected a lot from the 15-inch Yoga 720, but I came away a bit disappointed. Defects aside, perhaps I expected too much for a machine significantly cheaper than a similarly configured XPS 15.
The build quality I would describe as "good enough", but is still a notch below the XPS. The screen is something that I could live with as someone who is not working in digital or print imaging, but it may be a deal breaker for others. The two-lane PCIe for the Thunderbolt 3 is a big disappointment, however, and I think that will turn away a lot of people who were looking at it as an alternative to the XPS 15. The floaty and frustrating trackpad was something that also made the machine difficult for me to imagine using as a daily driver: it is something immediately noticeable and consistently jarring for the duration of its use.
In conclusion, if you're looking for a convertible XPS 15-style device, I would recommend holding off on buying this for a few months and see if firmware updates and improved production can solve the issues I experienced.
Disclaimer:
Our content is reader-supported. If you buy through some of the links on our site, we may earn a commission.
Terms
.