Last year Lenovo unveiled the ThinkPad X1 Nano, their smallest and lightest member of the ThinkPad X family, and we've reviewed it in this detailed article.
At under 1 kilo / 2.2 lbs in weight and without sacrificing much on practicality or features, I found the X1 Nano to be an excellent ultrabook and travel companion. However, while snappy with daily use, it couldn't properly handle serious multitasking or occasional demanding workloads, as it was only built on a low-power Intel Tiger Lake platform, and that's changing as of 2022 with the Thinkpad X1 Nano gen 2.
Lenovo kept the compact format, the 16:10 display options, and the standard ThinkPad features offered with the initial X1 Nano, but updated the specs, thermal module, and internals in order to fit a significantly more capable Intel Evo Alder Lake P28 processor inside, as well as a slightly bigger battery. All these while still keeping the total weight under 1 kilo.
Update: Our detailed review of the Lenovo ThinkPad X1 Nano gen2 is available here.
Update2: In the meantime, the Lenovo ThinkPad X1 Nano gen3 is coming in stores in the first half of 2023, with 13th-gen Intel hardware and hopefully an increase in sustained performance and efficiency. Here's our review of the Lenovo ThinkPad X1 Nano gen3.
Here's a specs sheet of the 2022 ThinkPad X1 Nano next to the 2021 model, and we'll touch on a few more aspects further down.
2022 Lenovo ThinkPad X1 Nano gen 2 – review
2021 Lenovo ThinkPad X1 Nano gen 1 – review
Screen
13 inch, IPS, 16:10, 2K 2160 x 1350 px, 450-nits, 100% sRGB
matte non-touch or touch variants
13 inch, IPS, 16:10, 2K 2160 x 1350 px, 450-nits, 100% sRGB
matte non-touch or touch variants
Processor
12th gen Intel Alder Lake-P U28 , 14C/20T
Intel Tiger Lake Core i7-1160G7, 4C/8T
Video
Intel Iris Xe, 96 EUs
Intel Iris Xe, 96 EUs
Memory
up to 32 GB LPDDR5 (soldered)
up to 16 GB LPDDR4x-4266 (soldered)
Storage
M.2 PCIe gen4 SSD – M.2 2242 slot
M.2 PCIe gen3 SSD (WD PC SN530) – M.2 2242 slot
Connectivity
Wireless 6E with Bluetooth 5.2, optional CAT4 or CAT16 LTE
Wireless 6 (Intel AX201), Bluetooth 5.1, optional CAT9 LTE
Ports
2x USB-C with Thunderbolt 4, audio jack, optional nano SIM
2x USB-C with Thunderbolt 4, audio jack, optional nano SIM
Battery
49.6 Wh, 65W charger
48 Wh, 65W charger
Size
293 mm or 11.53" (w) x 208 mm or 8.19" (d) x 16 mm or 0.63" (h)
293 mm or 11.53" (w) x 208 mm or 8.19" (d) x 16 mm or 0.63" (h)
Weight
from 2.13 lbs (.97 kg) + .7 lbs (.32 kg) charger and cables, EU version
2.1 lbs (.94 kg) + .7 lbs (.32 kg) charger and cables, EU version
Extras
white backlit keyboard, FHD IR camera and quad mic array, finger-sensor, up-firing stereo speakers
white backlit keyboard, HD IR camera and quad mic array, finger-sensor, up-firing stereo speakers
I've already covered the design, ergonomics, inputs, and the screens of the X1 Nano series in my detailed review, so you should check it out for more details on what to expect, since those have not changed in any way on this 2022 update.
In a few words, this laptop is highly portable and ultra-light, excellent for office work, school, or traveling. The 2022 update is a little heavier than before, but still starts at under 1 kilo for the base model with the matte screen, and a little over 1 kilo once you add in the touch display and the optional 5G connectivity.

I don't really like that they brought back the fiber-carbon texture finishing for the lid with this generation, I've always preferred the look and feel of the soft-black ThinkPad lids and I hope that's still going to be at least an option here. In all fairness, though, the fiber-carbon texture does a better job at hiding smudges and should age a little better, repelling scratches and dents more successfully. I just don't like the looks.
At the same time, The Nano X1 remains a 13-inch notebook so it's up to you if this screen size is adequate for your needs, plus you'll have to accept some of the compromises associated with a laptop this small. Two mostly come to mind: the keyboard is a little more cramped and shallower than on larger ThinkPads, and the IO is USB-C only, and that means you'll require adapters for peripherals or some sort of USB-C docking unit in your office/home.
You'll also have to accept that the two USB-C ports are placed on the left side, and not spread on both sides, which would be more convenient for charging in certain situations.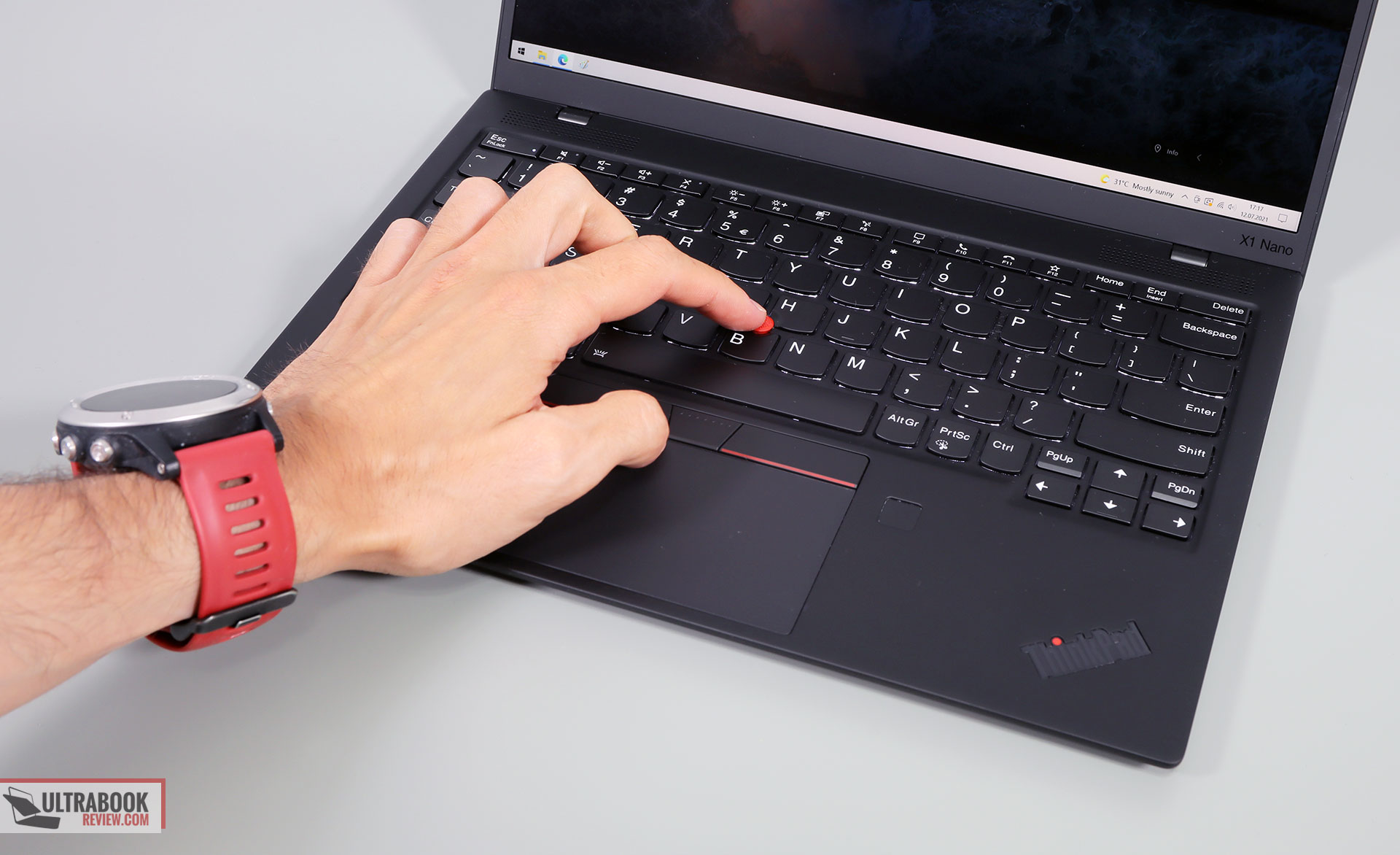 Those aside, though, the Lenovo ThinkPad X1 Nano could well be the definition of the modern ultrabook.
Now, as I mentioned already, the previous generation ran on a power-limited Tiger Lake i7-1160G7 platform, capable of only up to 13W of sustained power in demanding loads. That translated into limited performance in sustained activities, but also comfortable temperatures and quiet fan noise.
With the 2022 generation, Lenovo bumped the hardware to the newer Intel Alder Lake platform, with options for up to a P28-series 14Core/20 Thread processor, which bundles in DDR5 memory support and faster PCIe gen4 storage, as well as slightly higher-clocked Iris Xe graphics than with the X1 Nano gen1.
All these will translate into snappier daily use and significantly improved abilities in demanding loads, especially if the system is indeed capable of maintaining 28W of sustained power.
I am curious how Lenovo we're able to pull out this higher-power implementation in this slim chassis,  with still what looks like a minimalist thermal design with a single fan and radiator – I'd expect this to have been updated from the gen1 Nano, but I can't tell for sure in what way. I'm also curious about the impact on the thermals and noise levels.
At this point, we'll have to wait for the reviews to properly judge this platform update, but right now I'm skeptical about this being able to run at 28W sustained with video editing, programming, or even light gaming, and rather expect the P28 Core processors to be slightly power/thermal limited compared to beefier implementations. Nonetheless, even if this ends up running 15-20W sustained, it will still be a massive update from the previous generation, due to the multiple architectural differences between the two hardware platforms.
The good news is that most manufacturers are implementing the Alder Lake U15 and P28 platforms right now in their products, and there should be plenty of options to go through. Lenovo themselves are also updating the 14-inch ThinkPad X1 Carbon and X1 Yoga 2022 generation to Alder Lake P28, alternatives to consider if you're aiming for a little more performance headroom in only a slightly larger and heavier chassis. Other interesting alternatives could be 2022 Dell XPS 13 Plus (reviewed here), the HP EliteBook DragonFly, or the Asus ExpertBook B9.
One other aspect I'm looking forward to properly testing is the efficiency of the Alder Lake hardware here. The 2021 X1 Nano delivered 5-6 hours of daily multitasking and up to 10 hours of light use and video streaming on a single charge, and I'm hoping the hybrid design of the 2022 Intel hardware to beat that. Lenovo also slightly bumped the battery size to 49.6 Wh, up from the 48Wh battery in the 2021 Nano.
The laptop still charges via a 65W USB-C charger with fast charging abilities.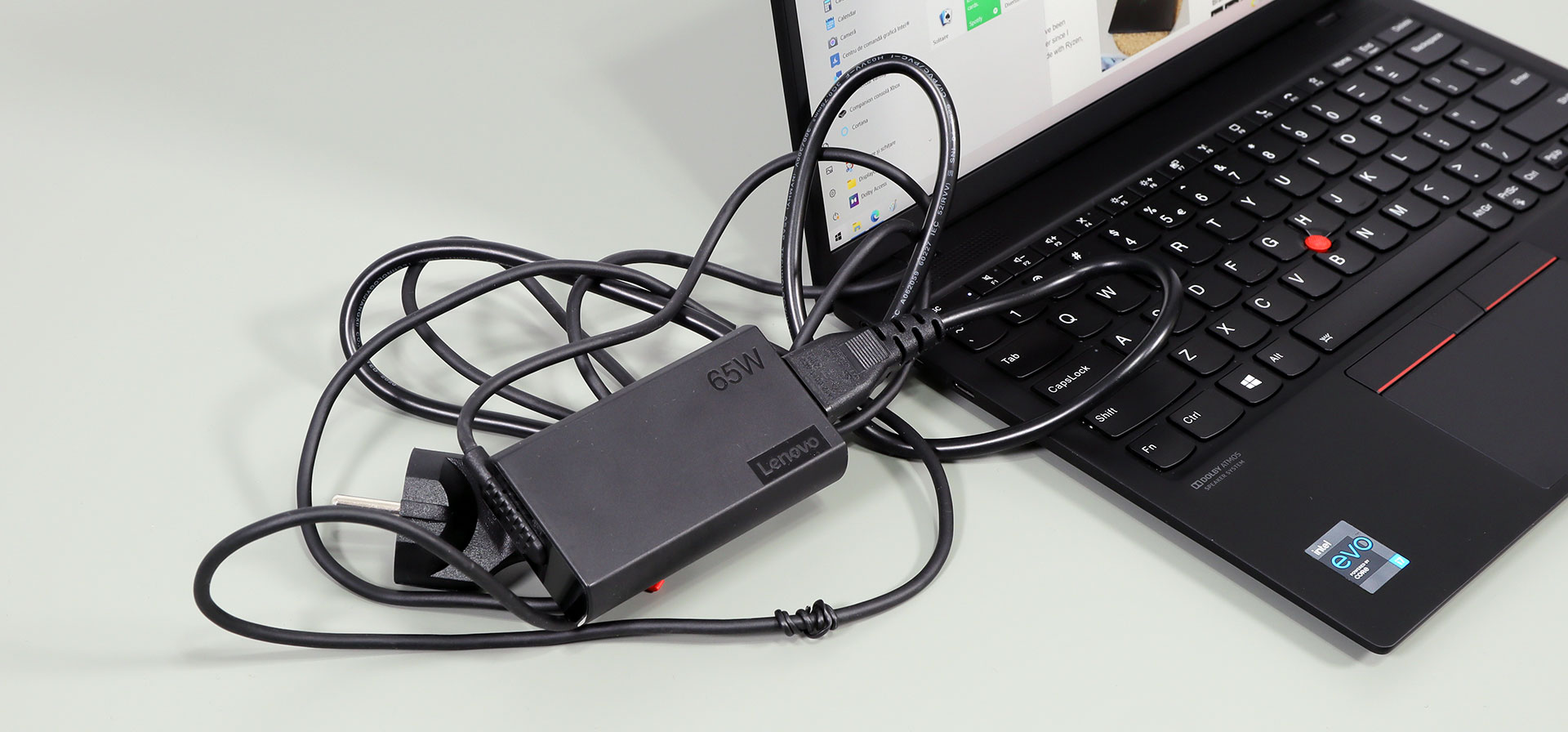 Bottom point, we'll most likely know what to expect from the Alder Lake mobile platform by the time this 2022 ThinkPad X1 Nano will be available in stores, as it's scheduled for somewhere in Q2 2022, with a starting price of $1650+. The steep pricing should come as a surprise, given this is a premium ultra-lightweight series. Lenovo do run plenty of sales, so you'll be able to snag one for a good discount later in the year, if patient enough.
Look for our review in the months to come, and in the meantime, let me know what you think about this Lenovo ThinkPad X1 Nano 2nd gen update. I for one am excited about the performance boost, but I'd like to know more about how Lenovo were able to balance the higher-power hardware with the thermals, noise levels, and efficiency in this design, before jumping on it.
Disclaimer:
Our content is reader-supported. If you buy through some of the links on our site, we may earn a commission.
Terms
.