I've already covered the Asus Zenbook 14X in several different articles such as this one on the 14X UX5401 Intel-based series and this one on the 14X UM5401 model built on AMD hardware, concluding that this chassis is one of the better balanced ZenBook designs of all times, but also pointing towards the hardware updates scheduled for early 2022, as potential game-changers in performance and efficiency.
As expected, Asus have announced they are updating the early-2022 Zenbook 14X models with Intel Alder Lake full-power hardware on the Intel side, and I'd expect a Ryzen Rembrandt 6000 update on the AMD side as well.
In this article, we'll quickly go over the Alder Lake updates, and especially over a Special Edition that will be available for this series, called Space Edition. This is not a review, just a first look and a handful of early impressions, as our sample is not running on finalized hardware or software and I was not allowed to benchmark it in any way. Look for an updated review in the next few weeks.
Now, for the most part, this Space Edition model is a cosmetic redesign of the standard 14X variants, meant to commemorate 25 years from the launch of the Asus P series of laptops that were used in those days on the MIR Space Station, the precursor of the ISS that's in orbit today.
Update: Over here you'll find our full review of the 2022 ZenBook 14X Space Edition model built on a 12th-gen Intel Core i9 platform, and our review of the regular 2022 ZenBook 14 models is also available here.
Internally and functionally, the Zenbook 14X Space Edition is thus nearly identical to the regular 14X, but it gets a different design enriched with all sorts of space-themed elements and morse codes, as well as decorated with a geeky secondary OLED display on the lid. Add in a special box and a handful of included stickers and accessories, all for a 150-200 USD/EUR premium over a standard 14X. That's not much, but at the same time, this is not an exclusive limited-edition bundle and will be widely available for everyone interested.
Specs – Asus Zenbook 14X UX5401
Asus Zenbook 14X UX5401ZAS Space Edition
Screen
14.0 inch, 2.8K 2880 x 1800 px, 90 Hz, OLED, glossy, touch, 550+ nits, Samsung SDC4154 panel
Processor
Intel Alder Lake 12th gen, up to Core i9-12900H, 6C+8c/20T
Video
Intel UHD, 96 EUs
Memory
up to 32 GB LPDDR5-4800 (soldered)
Storage
1x M.2 PCIe 4.0 x4 SSD (Samsung PM9A1), single M.2 2280 slot
Connectivity
Wireless 6E (Intel AX211), Bluetooth 5.2, Ethernet with included USB adapter
Ports
1x USB-A 3.2 gen1, 2x USB-C 3.2 with Thunderbolt 4, HDMI, microSD card reader, audio jack
Battery
63 Wh, 100W USB-C charger with quick-charging
Size
311 mm or 12.24" (w) x 221 mm or 8.7" (d) x 16.9 mm or 0.67" (h)
Weight
3.17 lbs (1.44 kg)+ .88 lbs (.4 kg) charger + cables, EU version
Extras
white backlit keyboard, glass NumberPad, HD webcam without Hello, finger sensor in the power button, stereo bottom speakers,
special edition box and accessories
This UX5401 series is exclusively based on Intel 12th gen full-power Core H processors (options for Core i5-12500H, i7-12700H, i9-12900H) with Iris Xe graphics, but other hardware variations will also be available for the 2022 14X lineup.
Update: Over here you'll find our full review of the 2022 ZenBook 14X Space Edition model built on a 12th-gen Intel Core i9 platform.
Update: Here's our coverage of the updated 2023 Asus ZenBook 14X series.
Space Edition design particularities
This ZenBook 14X Space Edition variant is similar in size and overall characteristics to the standard models, with an all-metal construction, a 16:10 touchscreen, full-size inputs, an Ergolift hinge design, and the IO and hot-air exhausts placed on the left and right edges.
Unlike on the standard 14X versions, Asus went with a titanium-gray color scheme here and a finishing that feels somewhat rougher to the touch, both on the lid and on the main chassis. It looks good, and it does a very good job at hiding smudges and potential scratches. Just to be clear, the laptop is still made out of pieces of aluminum, not of titanium alloys, just coated in what Asus calls the Zero-G Titanium finishing.
There are also a handful of space-travel inspired elements, with a representation of the MIR Space station on the left or the arm-rest, various morse code messages on the arm-rest and on the lid, a handful of engravings and markups on the back as well, plus that ZenVision mini display. I'll let you discover the easter eggs and morse-code messages by yourselves, it sure brought back some childhood memories having to decode morse signs after so many years. Ad Astra Per Aspera!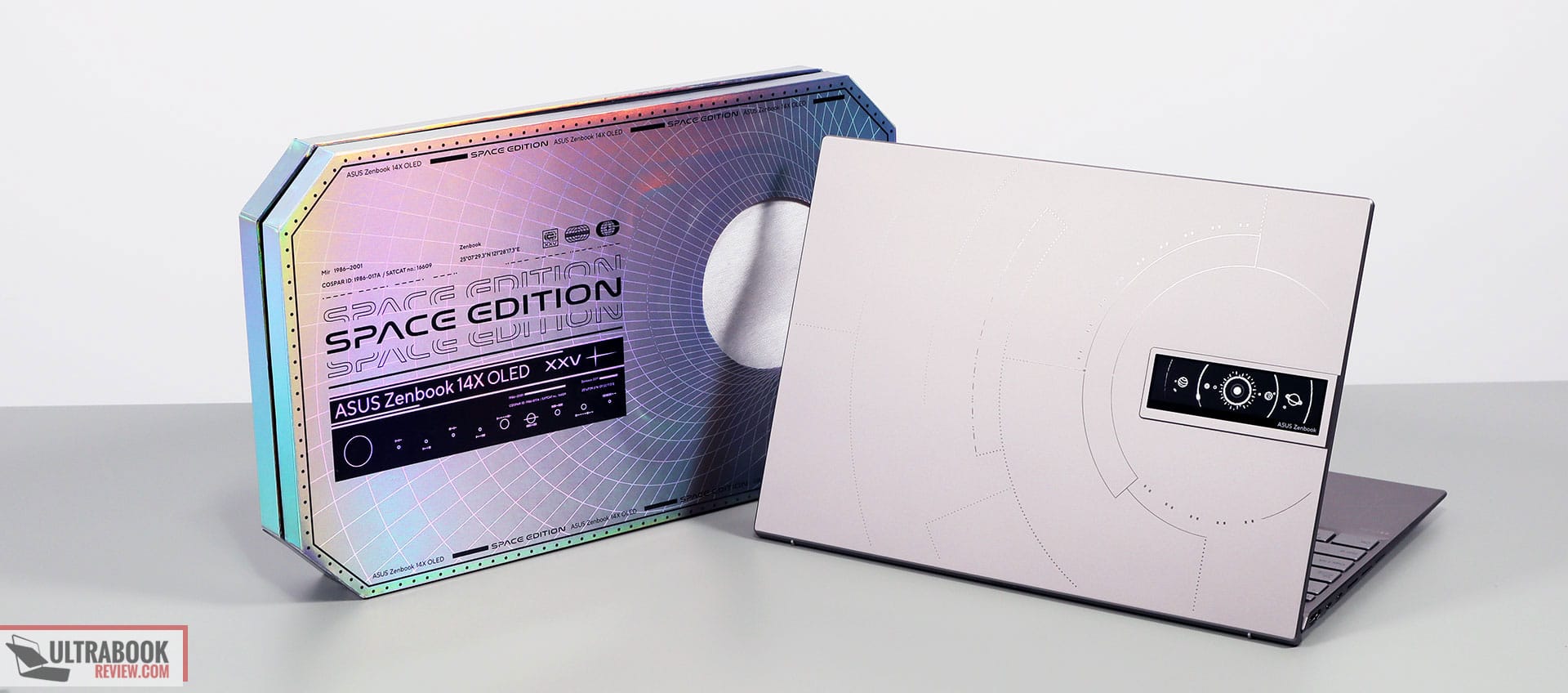 The ZenVision display is a 3.65-inch P-OLED panel with 256 x 64 px resolution and 150-nits of brightness, in order to have a minimal impact on the battery life.
It can be customized through a special interface in the MyAsus app and display a couple of animations, QR codes, or text messages. It sure is unique and geeky and most likely a potential conversation starter, but with limited use, and something that will probably fade away for you after a little bit.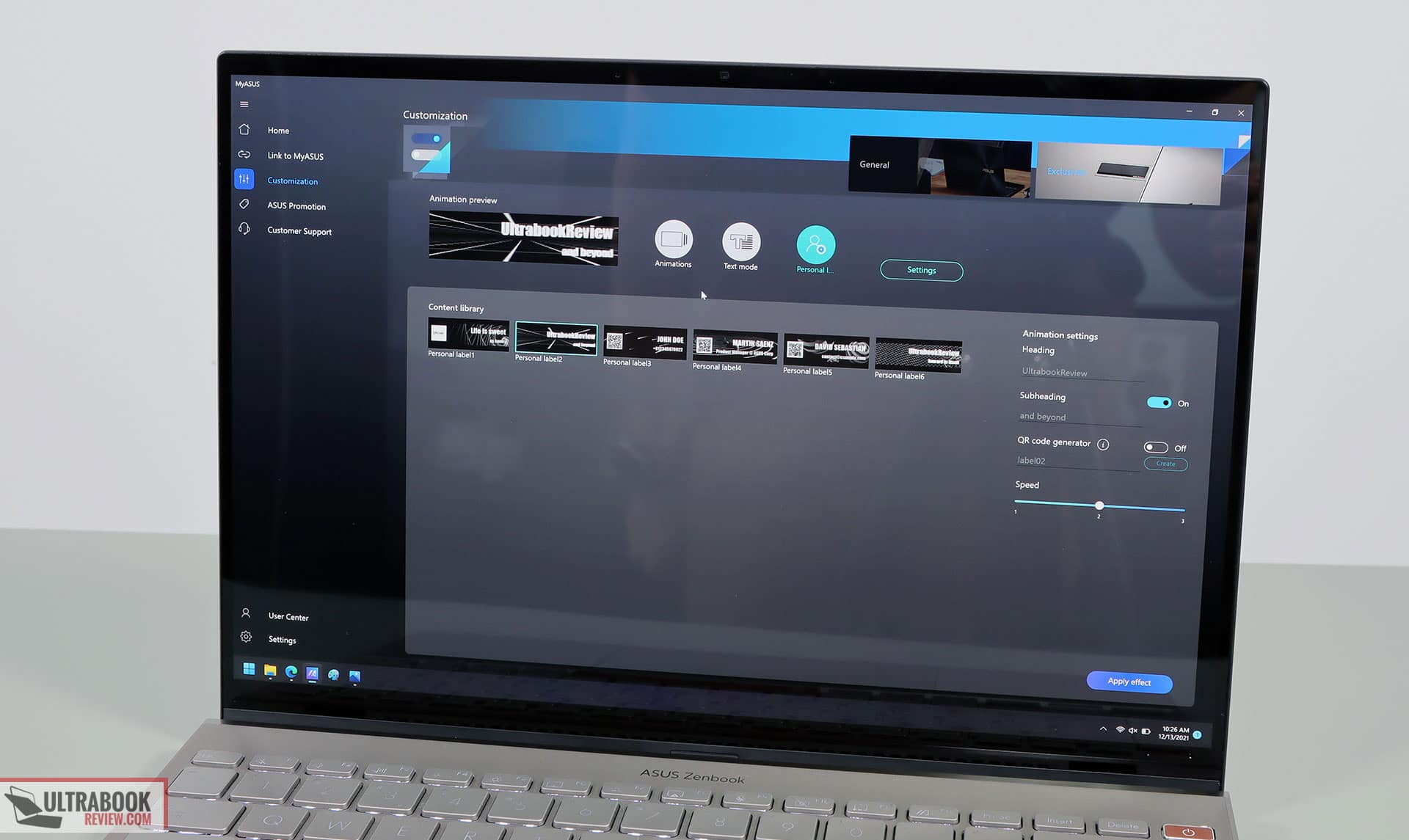 Asus put special effort into the Unboxing experience with this Space Edition as well, creating a custom cardboard box and including a handful of accessories and stickers. The secondary box that houses the included charger and dongles also acts as a potential stand, at least in theory. In practice, it provides little grip for the laptop and covers the intakes, at least based on my little time with this early sample.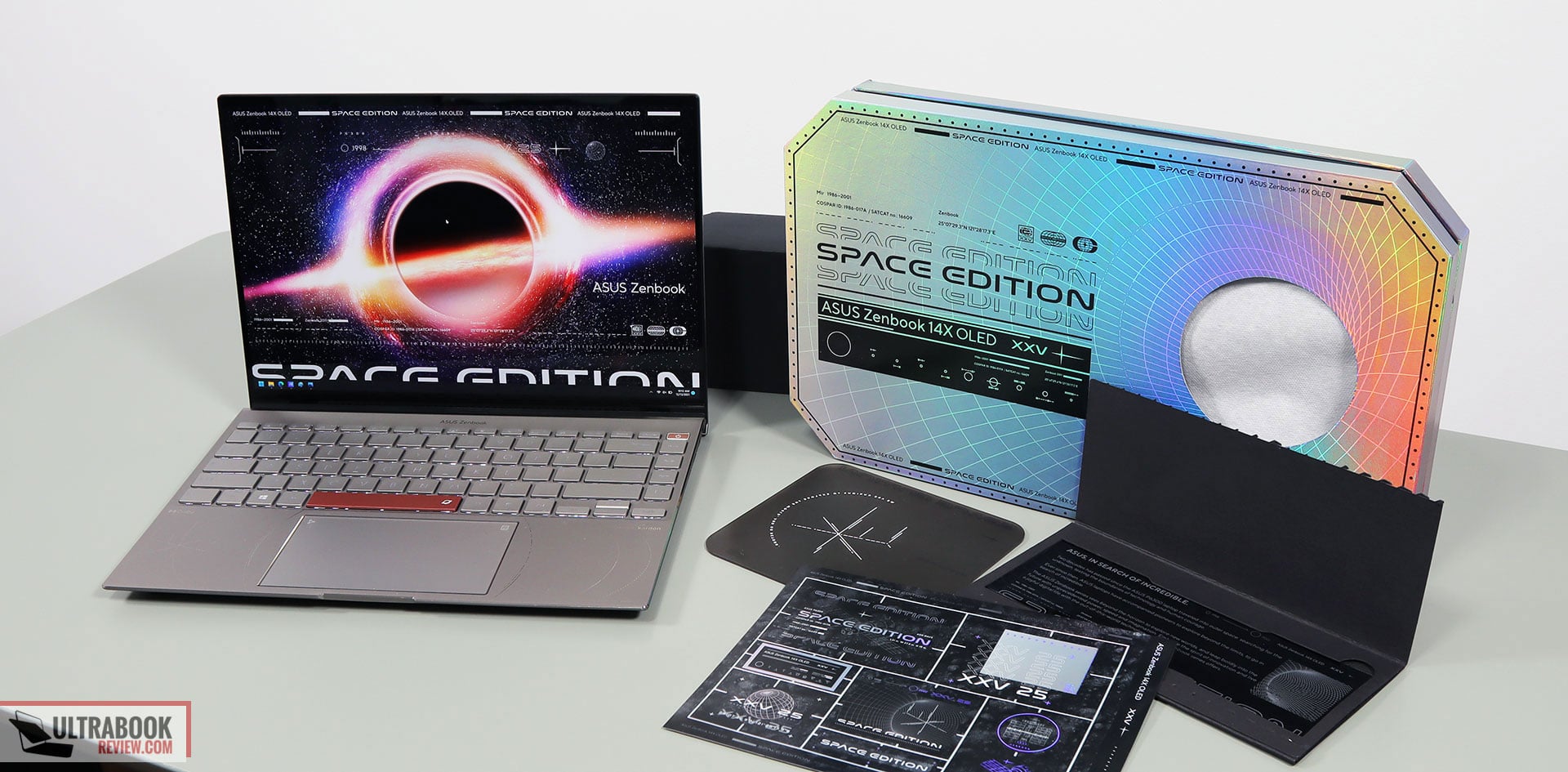 Other than that, the Space Edition 14X is identical to the standard 14X ZenBooks already tested, but with a few changes.
Number one, the screen no longer goes back flat to 180-degrees, but only to about 155 – not sure what caused this change? At the same time, though, Asus updated the panel that will be offered with the Space Edition 14X – it's still 2.8K, OLED, and touch, but brighter at 550nits of brightness at the max setting.
Of course, OLED panels on laptops come with their share of advantages (the blacks, contrast, rich colors, and low blue light emissions) and potential quirks (flickering at lower brightness settings, image retention, black/gray image artifacts). Up to you to do the research and decide on a potential purchase. From what I can tell right now, the Space Edition will only be available with OLED panels, unlike the regular ZenBook 14X models that might also get IPS choices in some regions.
One other aspect to mention here is that Asus implemented a keyboard that color-matches the overall titanium design of this series. It looks good and the finishing feels alright to the touch, but at the end of the day, this implementation is still a mix of gray keycaps with white illumination, the kind that offers little contrast and poor visibility in some situations.
Add in the fact that a fair bit of light creeps from underneath the keycaps, and we end with a keyboard that feels less practical than the black keyboard available on the standard ZenBook 14X models.
The clickpad, on the other hand, while also color-matched with the overall design, performs just the same as on other ZenBooks, and is one of the better you will get in a Windows ultrabook these days.
Alder Lake hardware
Asus are updating the Intel variants of their ZenBook 14X to Alder Lake Core H hardware in the first part of the year, as well LPDDR5 memory and PCIe 4.0 storage.
Expect a Core i9-12900H processor with 32 GB of RAM 1-2 TB of SSD storage on the top configurations, with still Iris Xe graphics on most variants, and perhaps some Nvidia MX550/MX570 configurations at some point later in the year, as updates of the current ZenBook 14X UX5400 series.
Update: Over here you'll find our full review of the 2022 ZenBook 14X Space Edition model built on a 12th-gen Intel Core i9 platform.
With Alder Lake hardware, these ZenBooks are far more capable in demanding multi-threaded loads than the current generations built on the Tiger Lake H28 platform. We're looking at up to 14 Cores and 20 Threads of processing power, so 2 to 2.5x the performance in sustained loads, as well as improved single-core performance and superior efficiency, thanks to the generational increase in IPC and the Big.Little design with the two types of Performance and Efficiency Cores, as explained in this guide on Alder Lake laptops.
I can't share any of my performance and benchmarks findings from this early prototype, but I'll tell you that much: this is a notable hardware update, unlike most of the other Intel launches of recent years. Paired with the competent thermal module, the big battery, and the permissive power profiles capable of 35-40W of sustained power in taxing chores, this early-2022 14X generation is going to be on many maps.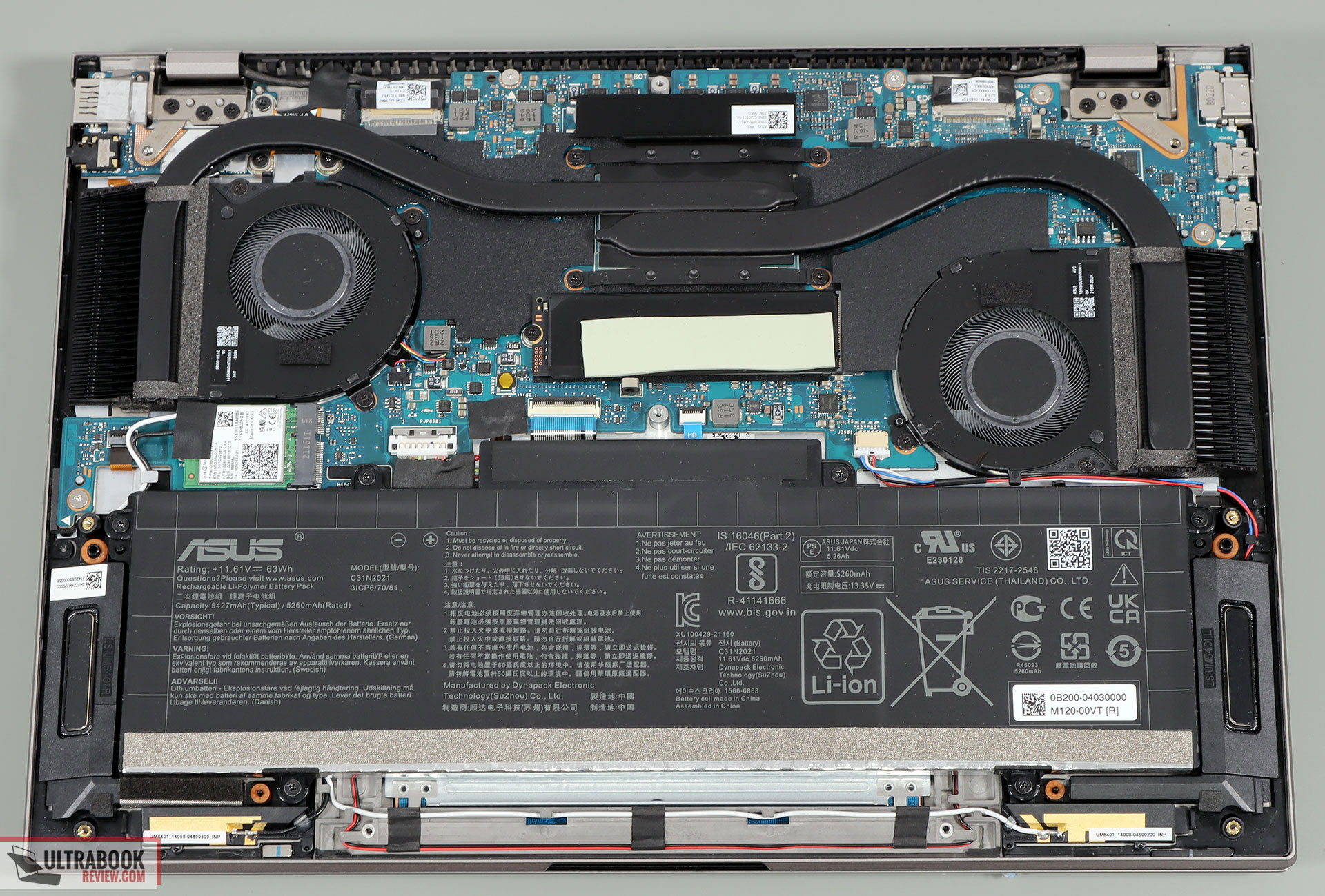 Look forward to our reviews for a full picture of what to expect from this series.
Some early final thoughts
I'm excited about Alder Lake hardware in the ultrabook space in the next few months, as I expect Intel to catch up with AMD and become a competing force in this segment once more. And given how most of the premium designs are still Intel exclusive, we'll end up with many more compelling performance ultrabooks to choose from.
As for the ZenBook 14X in particular, this is the best ZenBook chassis available so far, and one that will greatly benefit from the Alder Lake hardware.
Finally, as far as the Space Edition 14X goes, I do like most of its unique design particularities and could consider it over a regular model, if the price is right. At the same time, I'm not fond of the titanium-gray keyboard and if the screen ends up not being able to go back to 180-degrees on the retail models, something the regular ZenBook 14X that I reviewed can do, that would be a deal-breaker for me.
I understand the potential appeal of paying a premium for the space-inspired design and to some extent even for the accessories/box offered with this Space Edition model, but not if it affects the laptop's practicality with everyday use.
What do you guys think?
Disclaimer:
Our content is reader-supported. If you buy through some of the links on our site, we may earn a commission.
Terms
.