Value for money is where the Acer Nitro 5 series stood up in all the recent years in comparison to the competition, and is what helped it top the best-selling lists in the mid-range performance and gaming notebook segments in many regions.
That's not changing in any way with the 2021 Nitro 5s, instead, Acer have updated these models with the latest hardware specs available to date from Intel, AMD, and Nvidia. In fact, the Acer Nitro 5 is one of the very few series that doesn't leave any of the newly announced hardware platforms on the side.
Design and build wise, these 2021 Nitros are identical to the previous generations: plastic builds with black/red color scheme, mid-sized formats, 15 or 17-inch screen sizes with various types of lower-end and mid-tier panels, and alright thermal designs.
Instead, the 2021 models are all about the hardware updates. One one side Acer offer a pair of Nitro 5 AN515-56 (15-inch) and AN517-53 (17-inch) models based on an Intel Tiger Lake H35 platform, with Nvidia GTX graphics chips, up to 32 GB of DDR4 3200 MHz memory, M.2 + SATA storage and a 144 MHz 3ms screen with 300-nits of brightness and 100% AdobeRGB colors.
Update: Our detailed review of the 2021 Nitro 5 with AMD hardware and RTX 3080 graphics is available over here.
Update2: In the meantime, Acer offer updated models in this segment, with the Acer Nitro 16 and Nitro 17.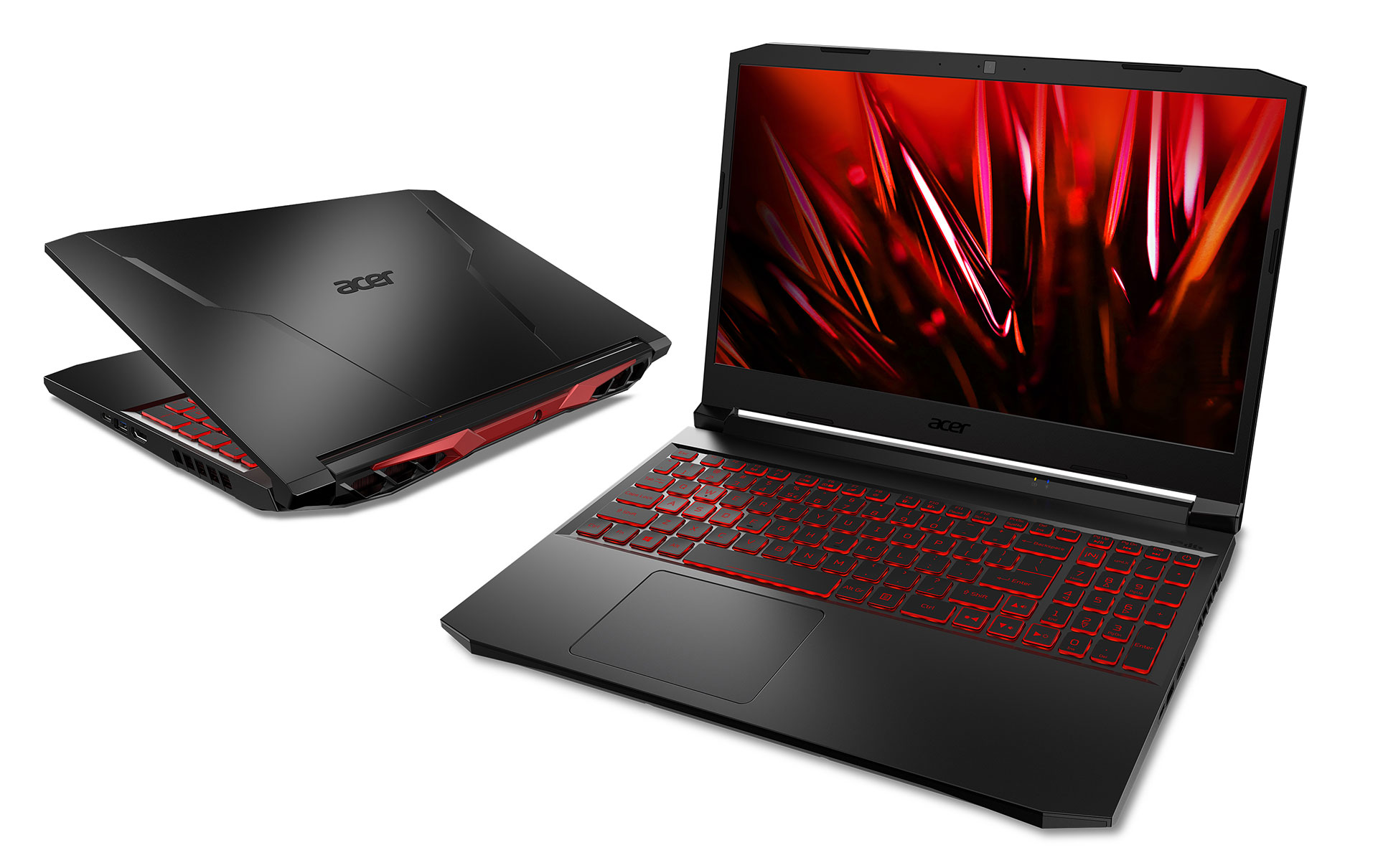 Tiger Lake H35 is a quad-core platform normally meant for portable gaming products, due to the lower TDP of 35W and reduced number of cores compared to the 6Core Intel H processors in the 2020 Nitros, so a rather surprising choice for the full-size Nitro 5 chassis. Thanks to the high clocks and solid IPC improvements over Comet Lake, though, the platform makes some sense in an affordable all-day laptop with gaming abilities, which is what most buyers expect from a Nitro.
Bit curious about those GTX chips, though, as Nvidia has yet to announce any GTX 3000 GPUs, and I sure hope we're not talking Ampere GTX 1650Ti/1660Ti on a 2021 model. Acer haven't provided much information on this aspect, so we'll update once we know more.
We do know these Nitro 5 models based on Intel hardware are expected in Europe and Asia, starting at 999 EUR. They might not make it to North America, though.
The AMD based Nitro 5s are probably going to attract a lot more attention than these Tiger Lake H35 models, as Acer announced specs up to a Ryzen 7 5800H processor and Nvidia RTX 3080 graphics, paired with the newer QHD 165 Hz 3ms and FHD 360 Hz 3ms screens. I have to admit that's totally unexpected, we've yet to see this kind of hardware on Nitros before. In fact, this sort of top specs on a budget Nitro 5 chassis doesn't make that much sense to me, for a couple of reasons.
First off, I highly doubt these Nitros can thermally cope with this sort of hardware, which requires complex thermal designs, that kind normally available on higher-tier models in the Predator series. Unless these are more than just a spec bump, and instead a complete internal revamp, at least on those top-tier configurations. Then, these specs are expensive and I'm not sure how many potential buyers would be interested in specs alone, without a premium design or keyboard or some of the other features available on premium laptops. There might be a market out there, though, but I'm still circling back to concern number one. We'll see.
Specs aside, the AMD Ryzen models seem identical to the Intel variants mentioned earlier, as well as all the Nitro 5 configurations from 2020. Here's one of our detailed reviews, if interested in more details.
From what we know so far, the AMD-based Ryzen models AN515-45 (15-inch) and AN517-41 (17-inch) are expected in February in Europe and North America, starting at $749 for the 15-incher and $849 for the 17-incher, but at the same time 1300 EUR for both in Europe. The base configuration includes a Ryzen 7 5800H 8C/16T processor, RTX 3060 graphics, and a 512 GB of SSD. Those US prices must be wrong and I'd take them with a lump of salt, or perhaps we're looking at lower-tier starting configurations there. Either that, or these are going to be excellent buys over there. Something's oddly fishy about this press release and I'm waiting for updates.
What do you think?
Update: Our detailed review of the 2021 Nitro 5 with AMD hardware and RTX 3080 graphics is available over here.
Disclaimer:
Our content is reader-supported. If you buy through some of the links on our site, we may earn a commission.
Terms
.