You'll find a bunch of 49″ ultrawide 32:9 monitors on the market, but none like Samsung's brand new Odyssey CTG9 2020.
That's because this gets a 5K QLED VA panel with 240 Hz refresh rate and 1 ms response time, HDR1000 and an unusual 1000R curvature.
As you can tell from the pictures below, the Odyssey G9 actually wraps around the user, covering nearly your entire line of sight. That means it's going to occupy a lot of room on your desk and will require you to constantly move your head left and right, which might prove fatiguing with daily use. Gaming, on the other hand, is where this monitor would create an immersive experience unequaled by other existing options.
Samsung also made sure to implement RGB lightning to back that up, with a futuristic light glowing rear core on the back (perhaps inspired by the Iron Man). This supports RGB and can be customized and tweaked to each own's liking.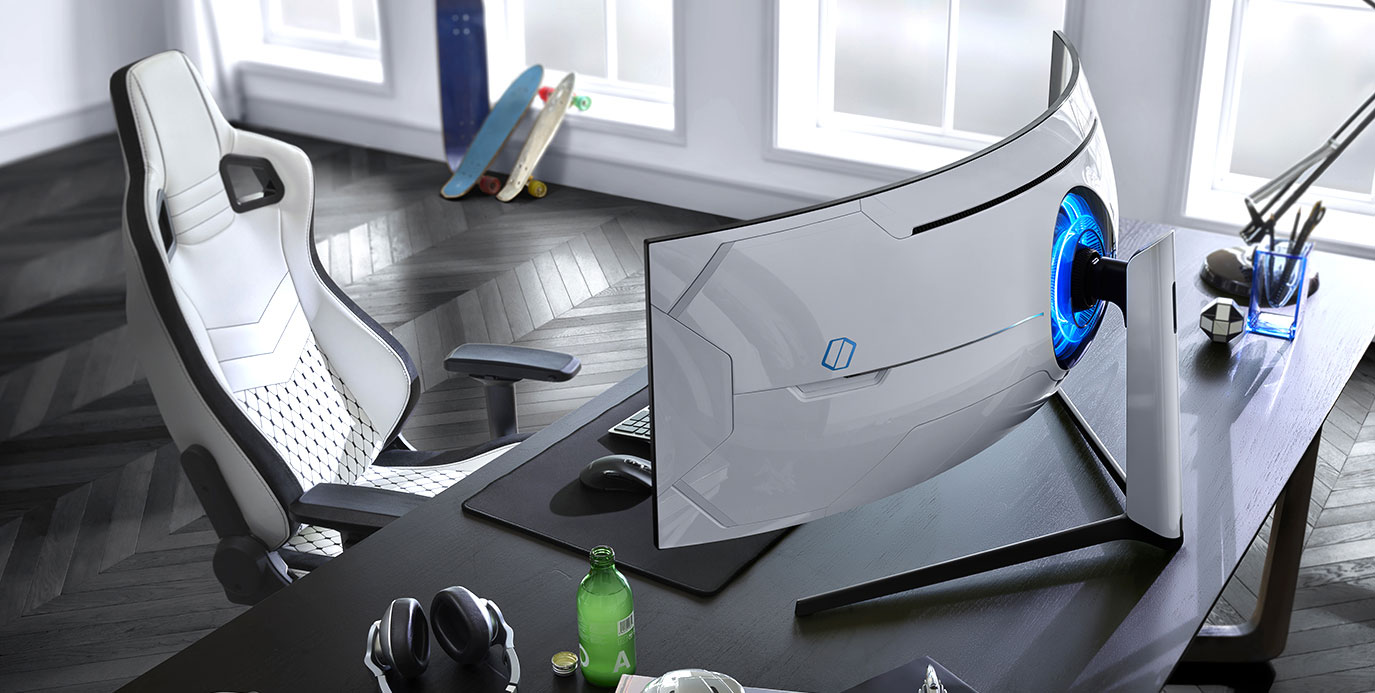 You might have noticed that Samsung is trying to build a gaming-oriented Odyssey brand. So far it included a handful of gaming notebooks, and has now gotten a set of gaming monitors on the side, with the 49″ Odessey G9 and a handful of smaller 32 and 27-inch Odyssey G7 models, with 1440p 240 Hz QLED panels.
Back to the Odyssey CTG9, here are its main characteristics:
49-inch QLED (Quantum Dot LED) VA panel with 32:9 aspect ratio;
1000R curvature;
5120 x 1440 px resolution;
typical 600-nits brightness with up to 1000-nits peak brightness and support for HDR1000;
10bit color via DisplayPort;
240 Hz maximum refresh rate and down to 1 ms response time (with Overdrive);
AMD FreeSync and Nvidia GSync compatible;
2x DisplayPort, 1x HDMI 2.0, 3x USB 3.0,
Stand with height, tilt; VESA 100 x 100 wall mount.
As expected, the G9 implements a VA panel with a Quantum Dot color layer. Opting for a VA panel allowed for the fast refresh rate and response times, while the Quantum Dot layer ensures punchy, vivid colors. However, VA panels have limited viewing angles, and hence the image degrades when viewed from the side, but perhaps the increased curvature might actually help with it.
This is not, however, an option designed for color-accurate work, as it does not cover the whole AdobeRGB or DCI-P3 gamuts. That doesn't mean it can't be used for photo/video editing, though, as it's still rated at around 85% AdobeRGB. Overall, though, the Odyseey G9 will primarily excel in games and if those are not on the menu, you will get better value and ergonomics with some of the other ultrawide monitor options.
Samsung hasn't yet put a number of the Odyssey CTG9, but I'd expect it to be North of 1500 USD. The monitor is scheduled for late-Spring, early-Summer 2020, so we'll find out more about it by that time.
For comparison, existing 49″ 5K monitors are different in at least one way:
LG LG 49WL95C-W – 60 Hz IPS panel, 3800R curvature, 10-bit color (8-bit + FRC), 70% AdobeRGB, HDR10, available for $1300-$1400;
Dell U4919DW – 60 Hz IPS panel, 3800R curvature, 10-bit color (no FRC), 75% AdobeRGB, HDR10, available for $1300-$1400;
Samsung CRG9 – 120 Hz VA panel, 1800R curvature, 8-bit color, 82% AdobeRGB, HDR400, available for $1300-$1400;
Philips Brilliance 499P9H – 60Hz VA panel, 1800R curvature, 8-bit color, 90% AdobeRGB, HDR400, available for $1100-$1200;
Most options get 60 Hz panels, so they are not ideal for games. Samsung's CRG9 QLED monitor is the only alternative, but with half the refresh rate of the newer version, wider curvature and 8-bit color. The Philips option is more affordable than most other and can be a good all-rounder if you're willing to live with its narrow viewing angles. On the other hand, the Dell and LG options based on similar IPS LG panels get much wider curvatures, wider angles and 10-bit color, so are better suited for office and creative work.
Samsung Odyssey G7 32/27-inch WQHD alternatives
If the CTG9 is just too much or too expensive for you, the more down-to-earth Odyssey G7 models might be more up to your liking.
Available in 32 and 27-inch sizes, these also get QLED VA panels with 240 Hz Refresh rate and 1 ms response time, but slightly dimmer brightness of around 350-nits with peaks to HDR600. They are also 16:9 screens with WQHD 2560 x 1440 px resolution. Surprisingly, though, they get the same 1000R curvature, which I'd reckon might feel rather weird at this size.
Much like the G9s, the Odyssey G7 monitors are also scheduled for Q2 2020, with pricing to be communicated at a further date. Unlike the G9s, though, which gets a white back, the G7s are only available in black.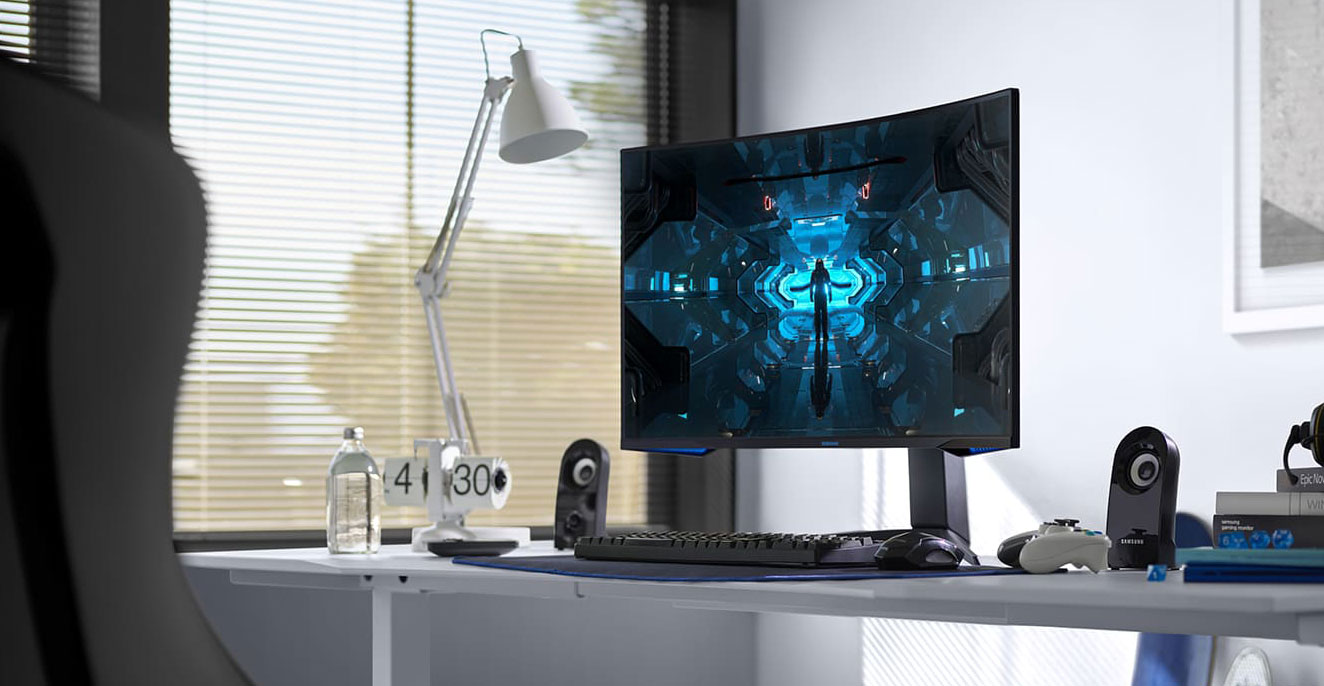 Via Samsung
Disclaimer:
Our content is reader-supported. If you buy through some of the links on our site, we may earn a commission.
Terms
.