Dual-screen and foldable notebooks are expected to blossom in the next years, and Lenovo is among the first to announce a foldable ultrabook with the ThinkPad X1 Fold, a follow-up of the folding X1 prototype they briefly presented in 2019.
Update: As of 2022, there are a few other modern foldable laptops to consider, such as the gen2 Lenovo ThinkPad X1 Fold or the Asus ZenBook 17 Fold OLED. More are coming in the following months.
Expected in stores around Summer 2020, the variants unveiled at CES 2020 showcase the final product's design and capabilities, while also providing a glimpse into the near-future of foldable PCs.
For what is worth, Lenovo has experimented with dual-screen models in the past with the Yoga Book series, but this time the ThinkPad X1 Fold actually gets a full-size flexible 13-inch OLED display.
Lenovo's approach is similar to Samsung's on the Galaxy Fold, with the screen folding on the inside and protected by the exterior case when the device is closed. Unlike the Fold, though, this is a larger product built on Intel hardware and runs Windows 10X, as well as the entire suite of supported apps. Windows 10X is Microsoft's Windows 10 variation optimized for dual-screen devices.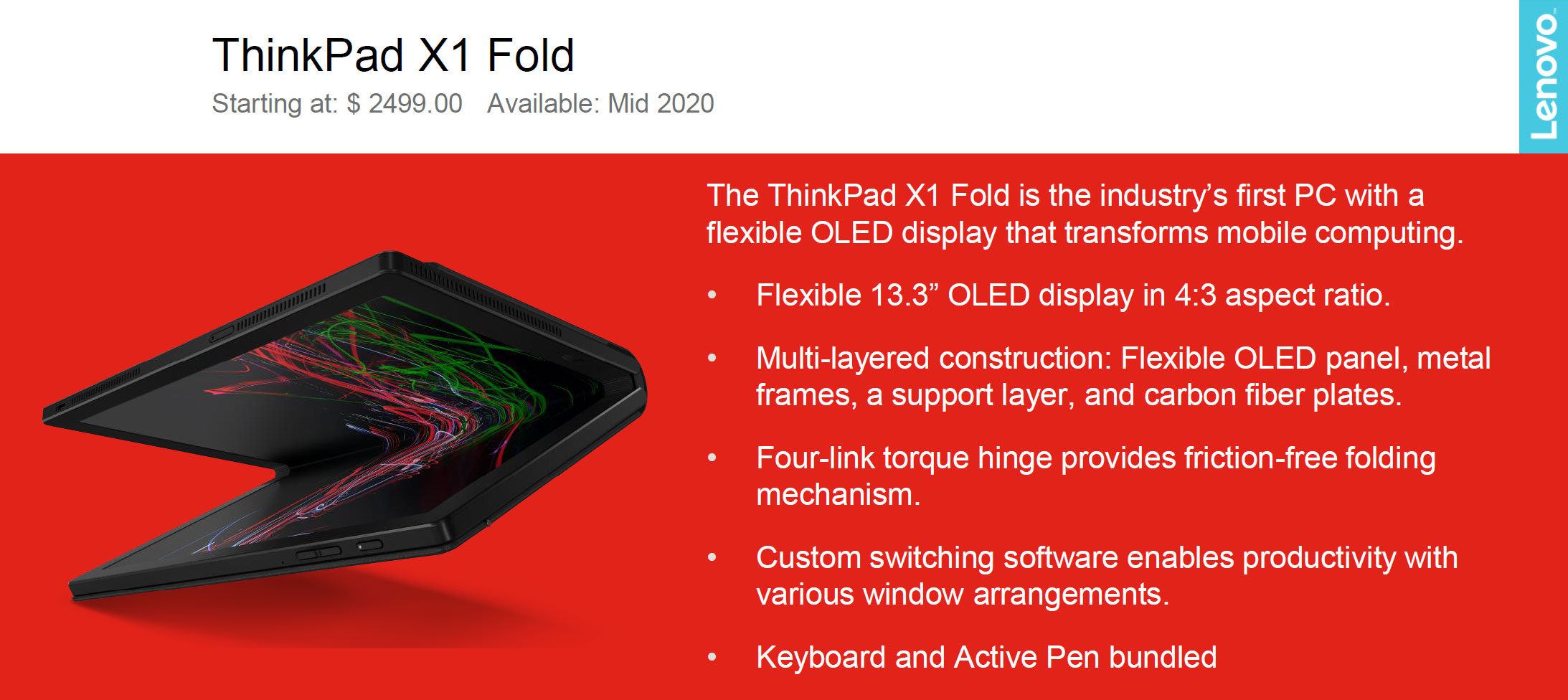 Lenovo ThinkPad X1 Fold
Screen
13.3 inch, 4:3, 2048 x 1536 px resolution, Flexible OLED, touch, 300 nits, 95% DCI-P3 gamut
Processor
mobile Intel Core with Hybrid Technology
Video
UHD Gen 11 Graphics (integrated)
Memory
up to 8GB LPDDR4x-4267 (soldered, dual-channel)
Storage
1x M.2 2242 mm PCIe x4, up to 1 TB
Connectivity
Intel WiFi 6 AX200, with Bluetooth 5.0, optional Qualcomm X20 4G or X55 5G mobile broadband (from July 2020)
Ports
1x USB-C gen2, 1x USB-C gen1, SIM tray
Battery
50 Wh, with Rapid Charge
Size
Unfolded: 300 mm or 11.81″(W) x 236 mm or 9.3″(D) x 7.8 mm or .3″(H) (11.5 mm or .45″ with Leather Cover)
Folded: 158 mm or 6.22″(W) x 236 mm or 9.3″(D) x 27.8 mm or 1.1″(H)
Weight
from .99 kg / 2.2 lbs
Extras
5MP camera and IR, stereo speakers, Leather Cover, Active Pen and Mini Fold keyboard included
You can have a quick look at an early prototype of the X1 foldable PC in the video below, and we'll update with a more recent video when available.
Folded and Unfolded, Laptop or Tablet
Unfolded, the X1 Fold is a 13-inch tablet PC with a 4:3 OLED touchscreen, so it somewhat looks like an iPad Pro, just larger and chunkier. Fairly thick bezels flank the screen on all sides, and the panel is recessed into the frame, so the two sides of the display don't get in contact when folding the device.
It's interesting that from what I've seen so far, there's no noticeable crease in the middle of the screen with the device completely unfolded, like on the Galaxy Fold, so nothing to take away from the daily-use experience.
Lightweight metal alloys and carbon fiber are used for the outer case, so the X1 Fold does not compromise on the build quality and durability that potential buyers would expect from a ThinkPad. Just to keep this pampered, Lenovo bundles a leather sleeve for the X1 Fold, which not also serves for extra protection and improved grip, but also acts as a stand while using the device in tablet mode.
As far as reliability goes, the hinge mechanism and the flexible display are major potential weak points with such a design, and time will tell if Lenovo nailed the design or the X1 Fold will struggle with the same issues that foldable smartphones have run over in 2019. The official literature mentions the extensive research, development and durability testing that led to the current hinge and screen design, but as I said, users' experience will eventually decide if they were successful or not.

When open, the X1 Fold makes for a solid content-consumption machine, whether movies or browsing and social media. It's fairly heavy, though, at 2.2 lbs, so not as comfortable to hold in hands as a regular tablet, and that's where the integrated kickstand comes in handy.
The screen supports touch and works with an included Wacom Active pen for inking and drawing, if that's something you're interested in.
The list of bundled accessories also includes the Mini Fold keyboard, a Bluetooth keyboard that can be used stand-alone or placed on top of the Folds lower half of the screen, mimicking a regular notebook keyboard. A tiny one with tiny keys, but still infinitely better than typing on a touchscreen.
The keyboard is secured with magnets in its slots and can be stored inside the device when folded. It charges wirelessly while stored.
That aside, as a notebook, the X1 Fold feels much like a 10-inch mini PC, as half of that 4:3 13.3″ display is about a 16:9 10″ screen. That's small, but usable.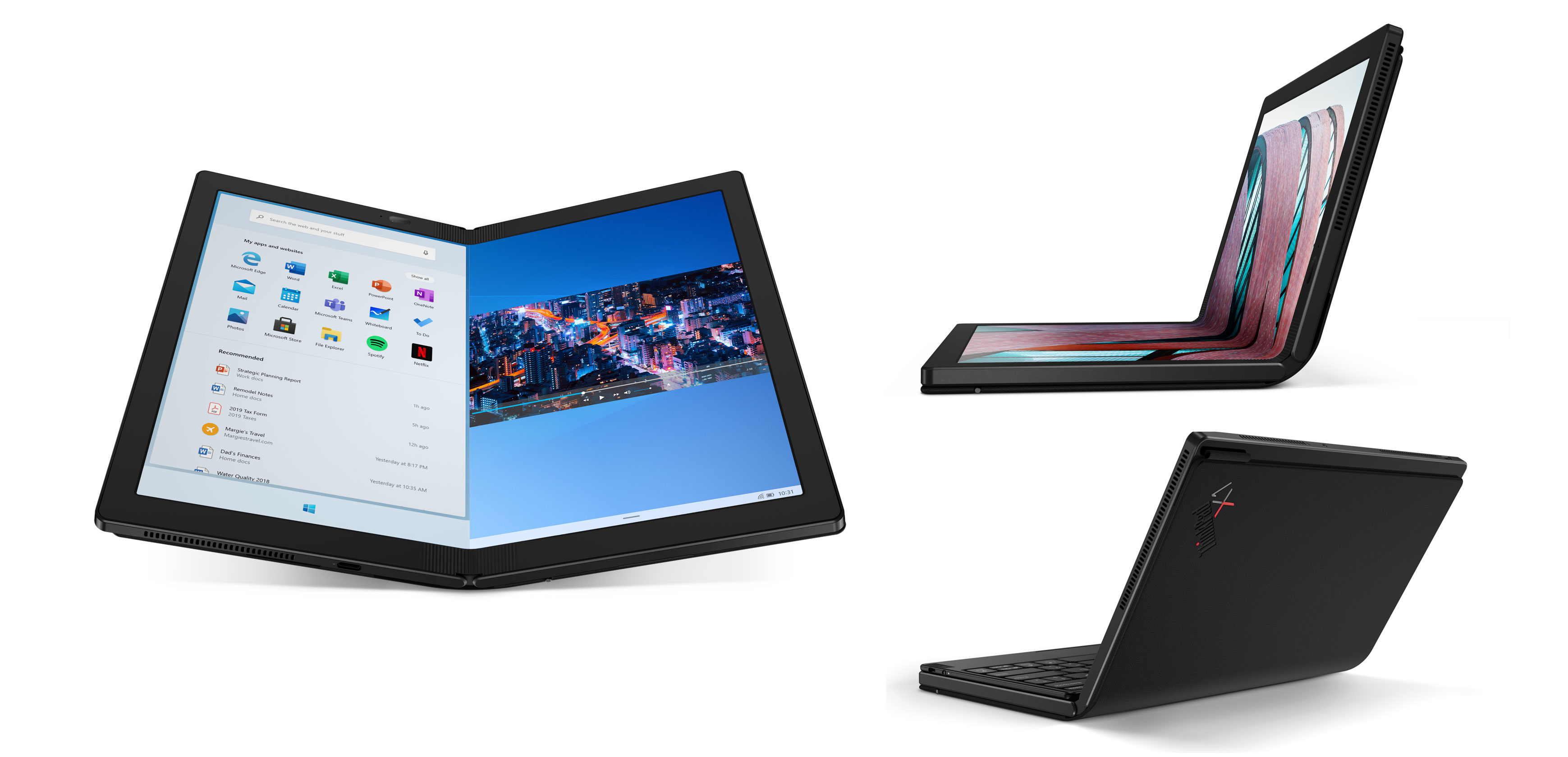 Of course, you can also use both halves of the screens in laptop or tabled mode independently, as Windows 10X allows to multitask in two independent screens at the same time.
Hardware platform
As far as the hardware goes, details are still scarce for now, but the X1 Fold is based on a mobile 10nm Intel Core platform with Intel Hybrid technology, up to 8 GB of fast LPPDR4X memory and up 1 TB of storage through an upgradeable M.2 2242 SSD. Lenovo were also able to squeeze in a 50 Wh battery inside this notebook, with USB-C charging and QuickCharge functionality, that will replenish a significant part of its capacity in under one hour.
Finally, connectivity hasn't been neglected. The IO is based entirely on USB-C ports, but you get Wireless AX, Bluetooth 5, LTE Cat 20 and 5G LTE in a future update. I can't see a headphone jack though, so we'll need to update on that. There is, however, an IR camera with Hello support.
I also can't tell for now whether the X1 Fold is based on a fanless hardware platform or use a fan-based thermal module. The case shows a handful of air grills on the top and sides, which could suggest fans, but I sure wouldn't want noisy fans on such a product and am rooting for passive cooling.

Bottom point, I'm hyped!
The Lenovo ThinkPad X1 Fold is going to be an expensive and tight-niche product, scheduled for $2499 US at launch, so definitely not for everyone. It's also going to be a first-gen product with potential quirks and issues, but at the same time it's a first glimpse into future laptops of the next few years, so I can't wait to get my hands on it for a final review when it will be available.
Disclaimer:
Our content is reader-supported. If you buy through some of the links on our site, we may earn a commission.
Terms
.