Asus are aggressively pushing their newer series of business-oriented laptops called ExpertBook. ExpertBooks have been available for a few years now, but mostly as premium options with the B9 9450 and B9 9400 models that we've covered here on the site in the past.
As of right now, though, there's a much wider range of ExpertBook laptops on their way to stores all over the world, with entry-level, mid-range, and premium variants.
We'll most likely cover some of these in our future reviews, but for now, I've got to spend some time with two pre-release samples of these 2021 ExpertBook models and wanted to share some early thoughts on them with you.
These two are the ExpertBook B5 B5302 series, a compact clamshell laptop with a 13-inch 16:9 matte display, and the ExpertBook B7 B7402, a higher-tier convertible notebook with a 14-inch 16:10 screen and a few extra features not available on previous ExpertBook models.
Here's a specs sheet of the two, and we'll get into some details further down.
Specs – Asus ExpertBook B5 and Flip B7
Asus ExpertBook B5 B5302
Asus ExpertBook Flip B7 N7402
Screen
13.3 inch, 1920 x 1080 px, 16:9, IPS, matte, non-touch, 300-nits or 450+ nits panels, with 100% sRGB or
OLED 400-nits with 100% DCI-P3
14 inch, 1920 x 1200 px, 16:10, IPS, matte, non-touch, with 400-nits and 100% sRGB
2560 x 1600 px panel also available
both with ASUS Private View
Processor
Intel Tiger Lake, up to Core i7-1165G7 CPU, quad-core
Intel Tiger Lake, up to Core i7-1195G7 CPU, quad-core
Video
Intel Iris Xe
Intel Iris Xe
Memory
8/16 Gb onboard and 1x DIMM, up to 48 GB DDR4-3200
2x DIMMs, up to 64 GB DDR4-3200
Storage
2x M.2 2280 PCIe x4 slots (WDC PC SN530)
1x M.2 2280 PCIe x4 slots (Samsung PM9A1)
Connectivity
WiFi 6 Gig+ (Intel AX201), Bluetooth 5.0, GbE (Intel I219-V) via included adapter
WiFi 6 Gig+ (Intel AX201), Bluetooth 5.0, GbE (Intel I219-V) via included adapter, optional LTE
Ports
1x USB-A 3.2 gen2, 2x USB-C with Thunderbolt 4, HDMI 2.0b, micro HDMI (with Lan adapter), mic/headphone, Lock
2x USB-A 3.2 gen2, 2x USB-C with Thunderbolt 4, HDMI 2.0b, micro HDMI (with Lan adapter), miniDP, SIM Slot, Smart card reader,  mic/headphone, Lock
Battery
33 to 66 Wh, 65W SUB-C charger
63 Wh, 65W SUB-C charger
Size
309 mm or 12.17" (w) x 211 mm or 8.29" (d) x 16.9 mm or 0.67" (h)
320 mm or 12.6" (w) x 234 mm or 9.21" (d) x 17.9 mm or 0.7" (h)
Weight
from 2.2 lbs (1 kg) to 2.6 lbs (1.25 kg) + .53 lbs (.30 kg) charger and cables, US version
3.26 lbs (1.48 kg)+ .53 lbs (.30 kg) charger and cables, US version
Extras
white backlit keyboard, spill resistant, NumberPad, finger sensor in the power button, HD webcam with physical cover, stereo speakers
white backlit keyboard, spill resistant, NumberPad, finger sensor in the power button, HD webcam with physical cover and IR, stereo speakers
Design and construction
These two are similar in design and choice of materials, with dark-blue magnesium alloys used for their construction and clean looks, with subtle branding elements. I also appreciate how Asus pushed the status LEDs and the power buttons on the sides on both these laptops, which means there's no pesky light in your line of sight when using these laptops at night.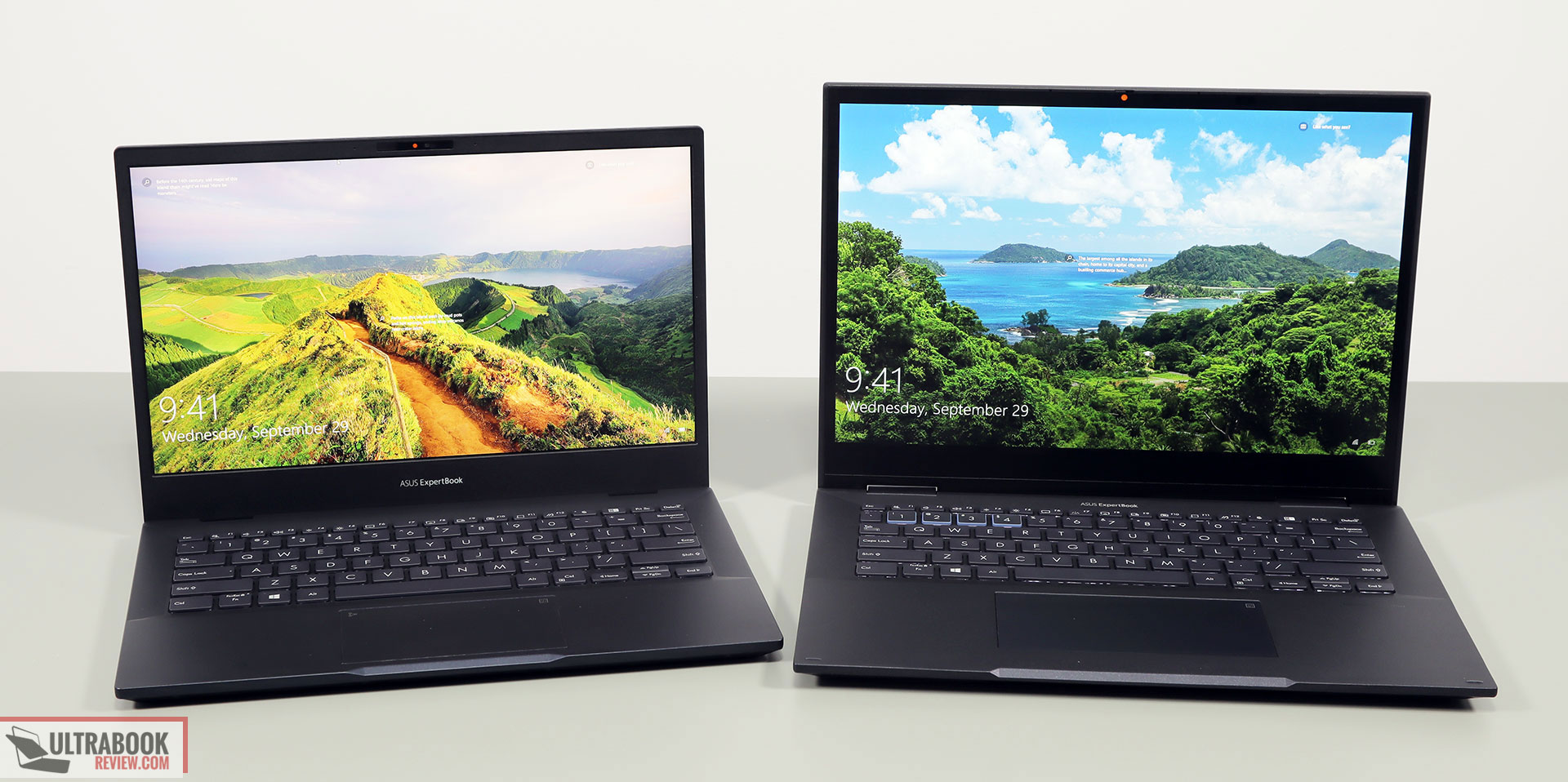 Both meet MIL standards for reliability and durability, both feel nice and grippy to the touch, and I'd also expect both to fend of smudges and scratches well over time.
The ExpertBook B5 is pretty much a budget B9, with a clamshell form-factor and a matte display that goes back to 180-degrees, plus a versatile selection of ports on the sides. It's a bit bigger than the B9, though, as you can tell from the thicker bezels, but is also smaller and lighter than the B7 Flip, starting at just under 1 kilo for the base configuration, but going up to 1.25 kilos for the model with the bigger battery, 2x SSDs, and full RAM.
The ExpertBook Flip B7 is a larger and heavier laptop. Our configuration is a top-specced version with the 63 Wh battery, 2x RAM slots, and 1x SSD, and weighs almost 1.5 kilos. This is also fairly large in comparison to other modern 14-inch laptops, as you can tell from the ample arm-rest and thick bezels all around the display, and this format might ruin the series for some potential buyers.
Asus compensates for the size of the B7 Flip with an extra selection of ports on the sides, including miniDP, a Smart Card reader, and a SIM slot as addons from the IO of the B5, paired with a more complex internal design that allows for 2x memory DIMMs, 2x SSD slots with RAid support, a larger battery and a thermal module that can cope with the hardware platform at higher power settings.
Last, but definitely not least, the extra weight of the B7 Flip is also explained by the convertible form factor and the addition of a touchscreen, with a layer of protective glass on top and yet still an anti-glare finishing, ideal when using the laptop outdoors or in bright light.
Inputs
The keyboards on these two are almost identical, with a basic layout that doesn't include a NumPad or extra column of Function keys, but well-spaced full-size keycaps for the main deck, with 1.5 mm of travel and fair feedback response. I've only used them sporadically for this preview, and they seem to be close in how they feel to the keyboards available on current-generation ZenBooks.
The B7's keyboard is backlit on all versions, but on the B5 illumination seems to be optional, so beware of it missing on the basic configurations. Both keyboards are also spill resistant.

The clickpads differ on these two, with a smaller one on the B5 and a larger one on the B7. Both act as secondary NumberPads, but in different ways, as illustrated here. Both are also glass surfaces and perfectly adequate for daily use, swipes, gestures, and taps.
As for biometrics, both models get a finger-sensor incorporated in the power button that's placed on the right edge, and the B7 also gets an IR camera at the top of the screen, alongside the webcam. Btw, both webcams are HD and rather poor quality, but with physical Privacy covers.
Screen
The ExpertBook B5 is available with matte IPS screen options or a glossy OLED variant, all of them non-touch. The OLED is most likely the Samsung panel already available on the ZenBook 13 OLED, and a versatile panel as long as you're OK with the shortcomings (and the pros) of an OLED panel on your laptop, and the glossy finishing.
What we have on our sample is the base 300-nits IPS screen with 100% sRGB colors.
The Flip B7, on the other hand, is available in two anti-glare touch options, with a choice between two 16:10 panels with either FHD+ or QHD+ resolution. Ours is the FHD+ option.
Both B7 screen variants come with a technology called ASUS Private View, which is a privacy layer designed to prevent visibility from wide angles. I've never been a fan of this sort of layers, as I feel they interfere with how the colors and contrast shift when looking at the screen off-axis, but I guess they can be useful in certain environments. Unfortunately, I don't think this feature is optional, so you either like it or you'll have to go with a different product.
Hardware and daily use
Both these ExpertBooks are Intel exclusive, built on Tiger Lake 11th gen platforms at this point. The B5 tops at the mainstream Core i7-1165G7 processor, while the B7 tops at the marginally higher-clocked i7-1195G7 CPU.
Furthermore, because of the more advanced thermal design of the Flip B7, this one is capable of running the Core i7 processor at 28W sustained power in demanding loads, while the i7 on the B5 only runs at around 19W sustained on our sample, both on their Performance profiles. Take these findings with a grain of salt for now, though.
Another important difference between these two is the fact that the B7 supports up to 64 GB of memory in dual-channel, with 2x DIMMs inside, while the B5 can only go up to 48 GB of memory (and 32 GB on dual-channel), as it offers 8/16 GB RAM on board and a single DIMM for expansions. On the other hand, the B5 offers 2x M.2 SSD slots with RAID 0/1 support, while the B7 offers a single M.2 SSD slot. 2x storage or upgradeable memory are not something you will normally get with modern ultrabooks, especially as compact and lightweight as the B5.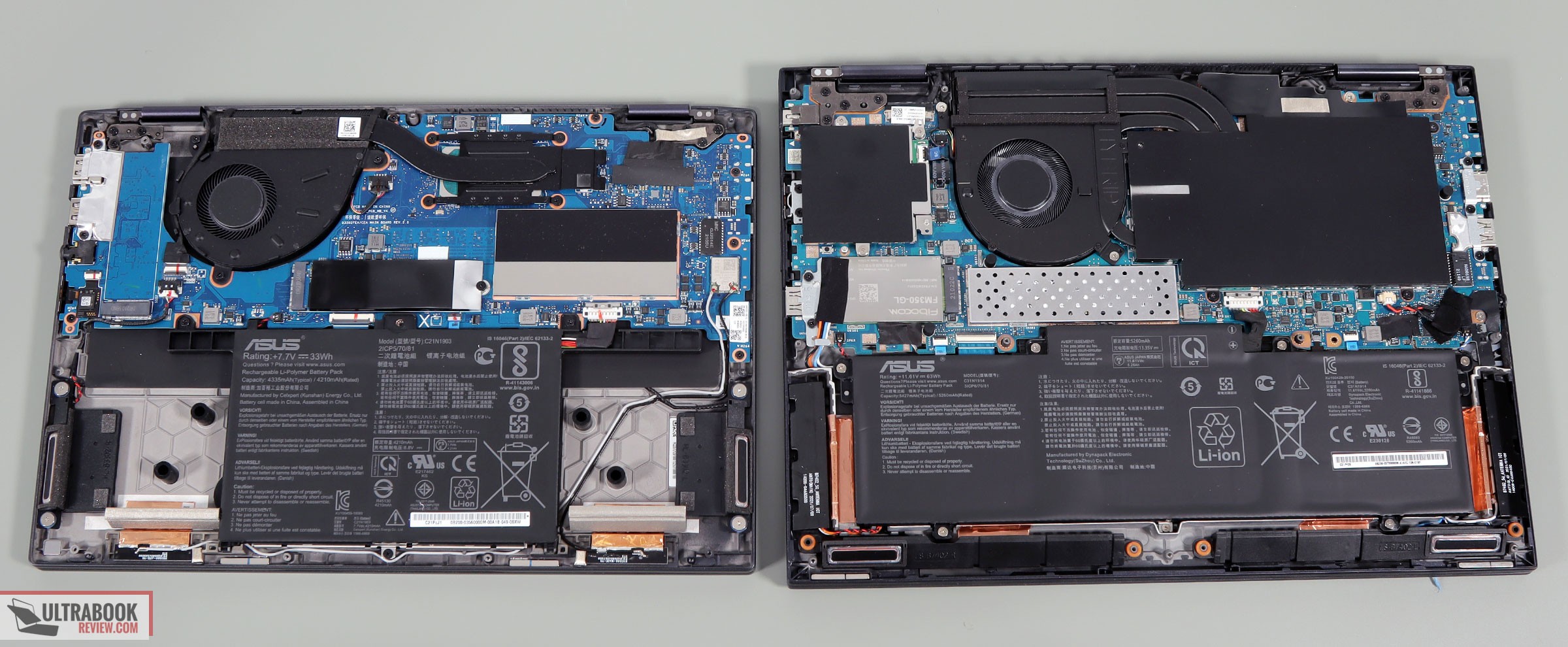 I'm not going to cover the performance or any other tests in this preview, as these samples here are not retail units and are running on early immature software. They did perform well in the few tests that I ran on them, though, especially the i7-1195G7 in the Flip B7, of course, within the capabilities on this Tiger Lake Intel platform.
Seeing how well the B7 performs, one would also argue for a more versatile AMD Ryzen-based variant on the B7, but that's not available at this point.
I'll also add that the B7 design also does a better job diverting the hot air onto the back of the laptop, while the B5 with its Ergolift hinge design still pushes most of the exhausted air into the screen. We'll test the impact in our future reviews.
Furthermore, as particularities of these business-oriented ExpertBook laptops, they offer features such as TPM 2.0, biometrics, BIOS and SSD password protection, a Kensington Lock, and some extra software that's not available on ZenBooks.
Before we wrap this up I'll also add that the B5 is available with either a 33 or 66 Wh battery, much like the ExpertBook B9 models. Our configuration is 33Wh and lasts significantly less on battery as a result. In comparison, the 66 Wh battery B5 model is roughly.1 of a kilo heavier, but will last twice as long on a charge.
The B7 is only available in a single variant, with a 63 Wh battery, so no compromises here. It can go for 5-8 hours of daily multitasking and 10+ hours of video on a charge. Both models ship with 65W USB-C chargers and support fast charging.
Oh, and the B7 also offers better significantly better speakers than the B5.
Some final thoughts
I don't know whether Asus plans to tackle the B2B (business to business) segment with these products or rather target professional users looking for a versatile, durable, and clean-looking portable laptop for work, but either way, they're going to have a hard time competing with the heavyweights of this class, the Dell Inspiron, HP EliteBook and Lenovo ThinkPad lineups, listed alphabetically.
It's going to take them more than pretty much flawless products in their niches to switch potential buyers towards their new brand, as buyers shopping for these sorts of products are usually picky and brand-affiliated. Asus would also require better quality-control and post-sale services than the kind they can offer with their consumer products, once more, in order to match and be able to compete with what the other brands do in this class.
Nonetheless, I route for competition at any level, as competition eventually leads to better products for us to buy. Having spent time with the top-tier ExpertBook B9s and now the Flip B7 and the mainstream B5, I feel that Asus are on a fair track to potential success with these products. But as mentioned already, they need to get all the other boxes checked up and be able to compete with the bigger brands in pricing, availability, and configurability as well.
I'm looking forward to properly reviewing some of these ExpertBooks in the future and tell you more about them. In the meantime, though, I'd like to hear your thoughts on this series and whether this niche of professional business laptops is one that Asus can successfully tackle or not?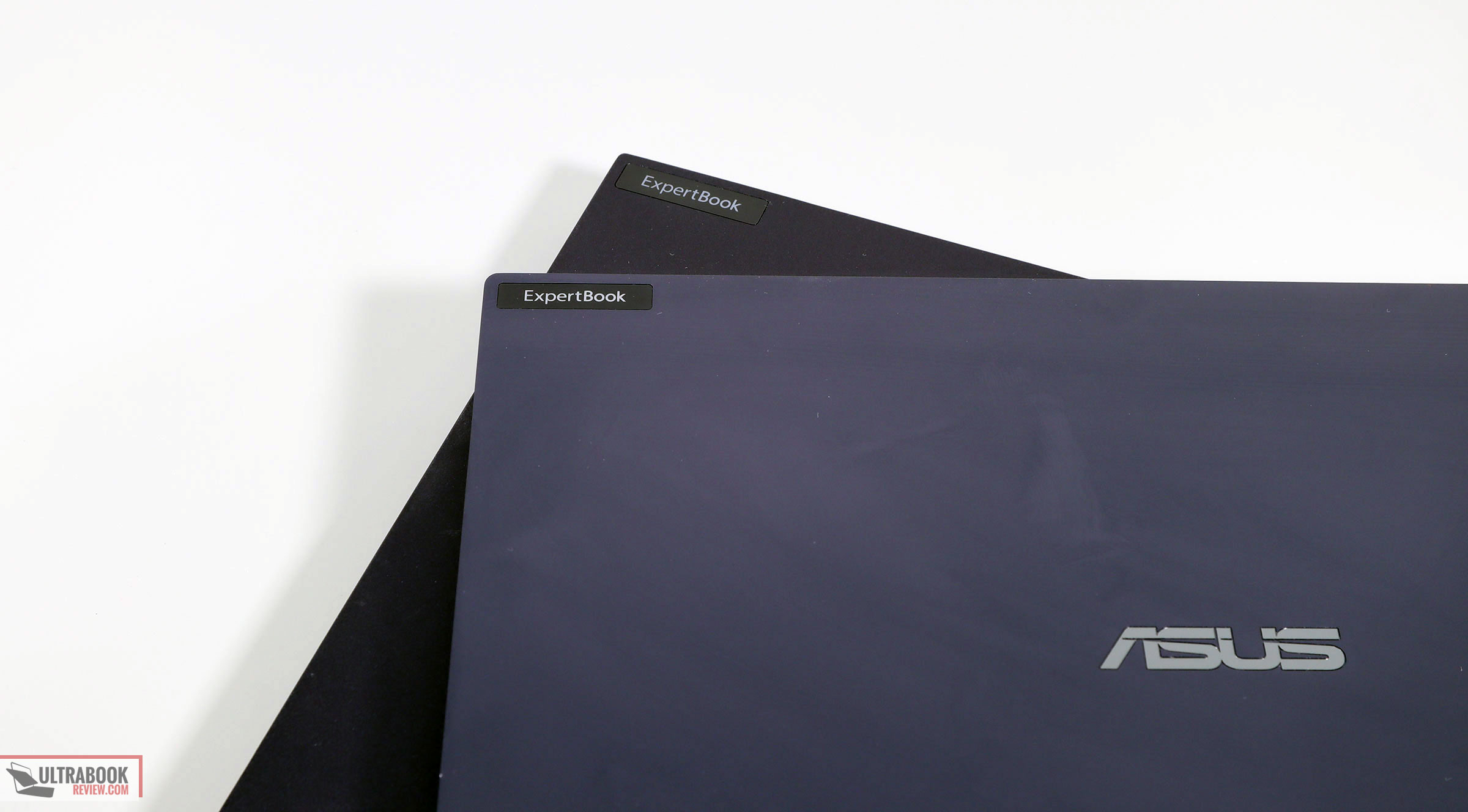 Disclaimer:
Our content is reader-supported. If you buy through some of the links on our site, we may earn a commission.
Terms
.