Special Edition laptops seem to be popular these days as we've seen them pushed by many OEMs. Most of them were gaming notebooks, though, but Asus took a different approach with a Special Edition version of their 2021 ROG Zephyrus G14, developed in collaboration with Alan Walker (the electronic music DJ).
So this product is pretty much a redesigned Zephyrus G14 available in a specific configuration and bundled with a set of merch and accessories.
I've already reviewed the 2021 Zephyrus G14 series in a separate article, so if you're interested in the overall worth of these notebooks, you should go over that in-depth article first. Reviewing this SE variant all over felt superfluous to me, so in here I'll just go over the particularities of this Alan Walker Special Edition version and what it offers over a standard G14 in order to justify the price premium Asus asks for it. Hopefully, this article will help you figure out the value of this bundle.
Ok, so this series is only available in a single configuration as far as I can tell, code name Zephyrus G14 GE401QES; it pairs the AMD Ryzen 9 5900HS processor with the Nvidia RTX 3050Ti dGPU, 16 GB of RAM (8 GB onboard + 8 GB DIMM), 1 TB os SSD storage and the QHD 120 Hz screen.
Now, it's up to you whether the 16 GB of memory are a limiting factor or not (you can upgrade to 24 GB, but only 16 GB will work in dual-channel); to me, it would have made more sense to get a 16+16 GB configuration here, as this notebook is supposedly oriented towards music production and general creative work, where the extra amount of memory might have helped.
This aside, the 3050Ti dGPU is not an ideal match for the QHD screen. As shown in our review, this entry-level Nvidia GPU is rather suited for FHD gaming, and will struggle to some extent at QHD resolution. On the other hand, you're probably not going to look into this Special Edition G14 for gaming anyway, and for daily use or creative work, the 3050Ti might suffice. Again, up to you and your needs, but I would have preferred the 3060 here.
That QHD screen is awesome for sure, sharp, uniform, and color-rich, at 100% DCI-P3 gamut coverage. No complaints there. You'll find more about it in our review.
Specs aside, the exterior design is what sets this Alan Walker series apart from the standard Zephyrus G14 models.
The images included here show that Asus have redesigned the lid and ROG badging for this Special Edition model, but also the keyboard and clickpad. Those are aesthetically customized, not functionally.
In fact, functionally and ergonomically, this Special Edition G14 is identical to the standard models, with a single exception: this is thinner than the normal laptop with the Anime Matrix display, at 17.9 mm for this one vs 19.9 mm for that normal design.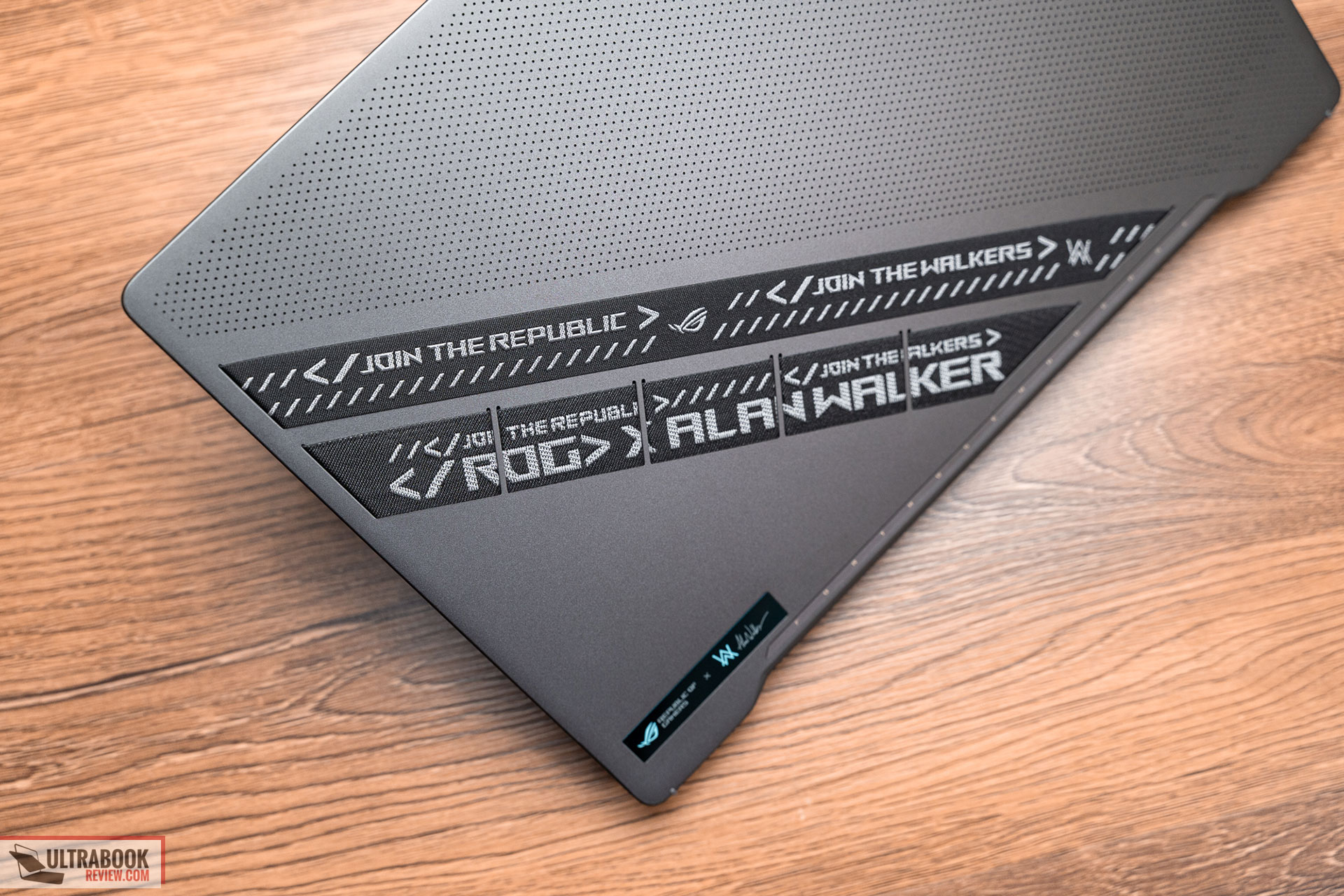 Overall, I like the interior and colored keycaps, but the lid is a bit too much for me with all those graphics and textures, and I rather prefer the cleaner design of the dark-gray standard model. I've also included a picture of that one above, for comparison.
The Anime Matrix array of LEDs has also been revamped for this Special Edition model, with the mini LEDs now being blue, not white, like on the standard edition. Furthermore, there are a couple of unique Anime Matrix effects included here, a custom AW boot-up animation and a new boot sound effect "created by Alan Walker", if that's something that you'd be interested in. And I guess you should be if you're interested in this model.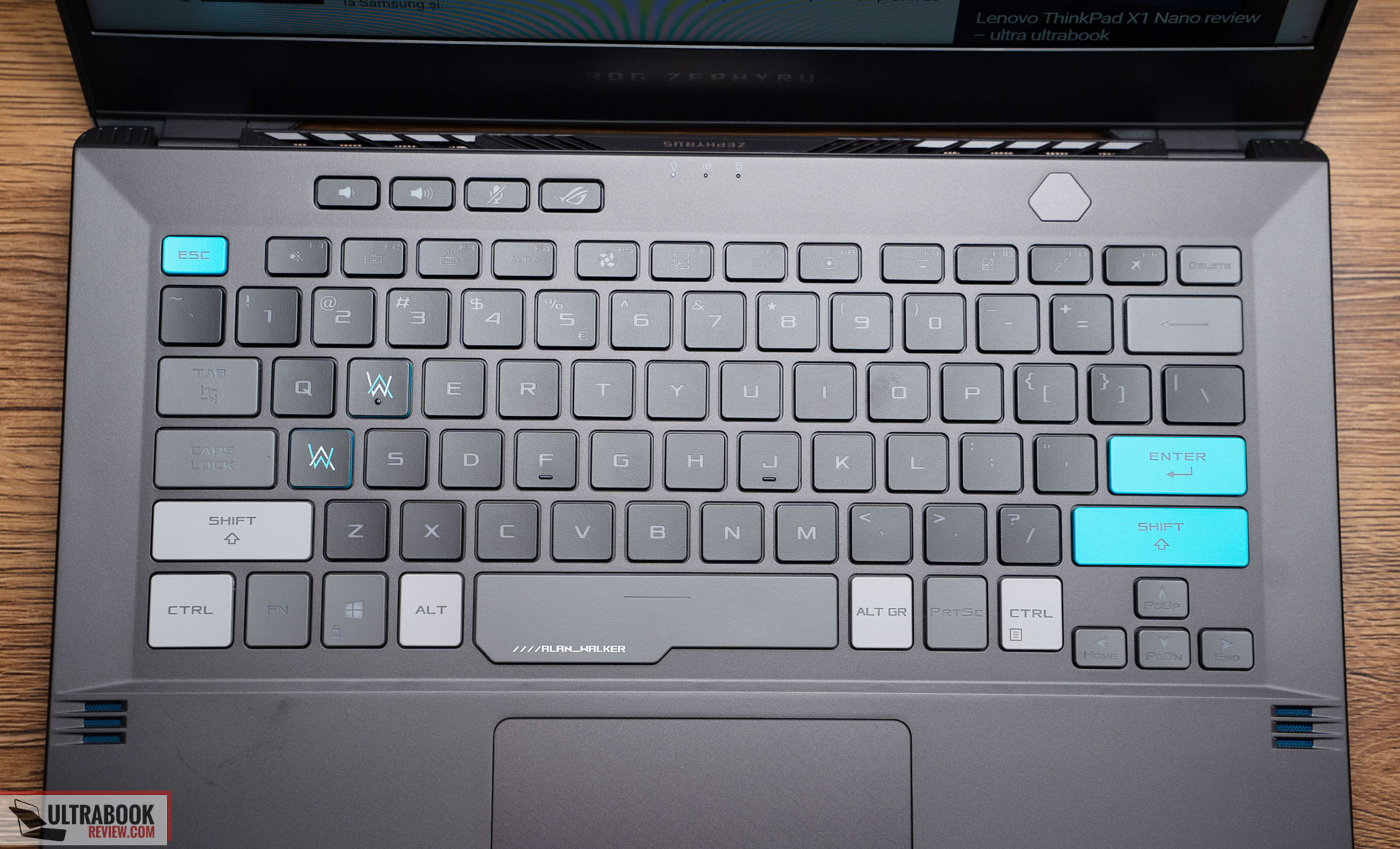 This Special Edition G14 also bundles a few extras that you're not getting with the standard G14, illustrated in the picture down below. Those include a branded protective sleeve, a baseball-style hat, and a pair of socks (?!?), but also what Asus calls the ROG Remix accessory.
This is a plastic deck the connects to the laptop via USB-C and integrates a handful of capacitive areas and buttons, that you can press to add in effects over a piece of music that's playing on the computer. For that, Asus also bundles a ROG remix software that allows you to select the played track and customize the effects. These two combined let you remix your own songs and act as a DJ.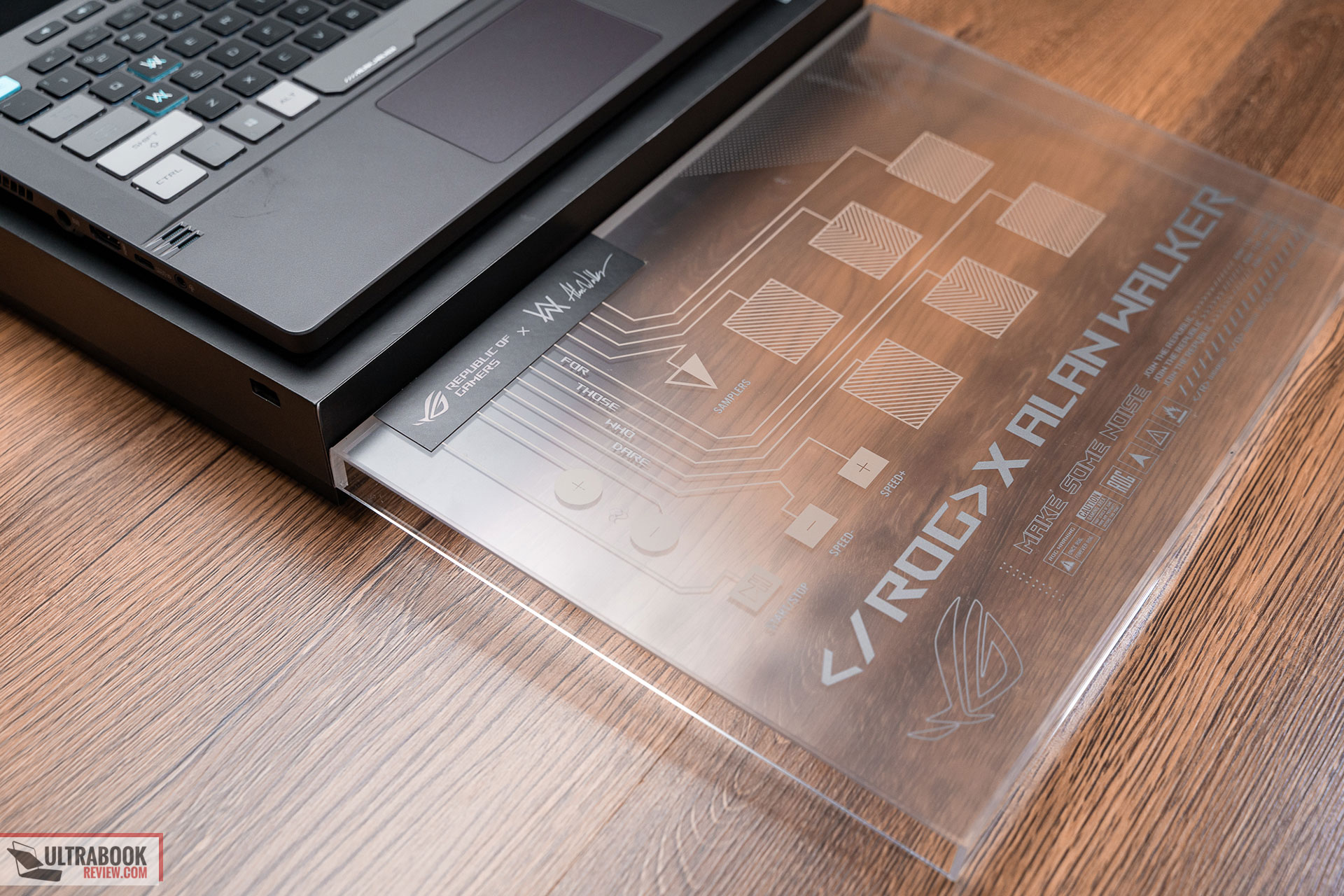 Doug's a DJ in his spare time and I'm reaching out to hear his thoughts on this. What I'm curious is whether Asus were able to further improve on the DPC latency we noticed in our review when multitasking on this laptop; even if the DPC latency was OK with light use and better than on most Intel laptops, it was still not perfect with heavier loads, so I hope they looked into it, since this series is so heavily marketed for music production.
Also, the clip down below better details the ROG Remix accessory and its use.
Down below, I've also added a clip of a good walk-through of this Alan Walker G14 series (from Tom the Tech Chap), with more details on the effects and an interview with Alan Walker himself.
All in all, this entire Alan Walker Edition of the Zephyrus G14 should really rub you the right way to justify getting it. The MSRP price is set at $1999, which is a hefty premium over the standard 3050Ti versions of the Zephyrus G14. In fact, that kind of money would get you the standard G14 with 32 GB of RAM and the 3060 dGPU and QHD screen.
Sure, you're also getting the Ryzen 9 processor and the QHD screen here, the Anime Matrix display, the custom design, and the extras bundled with the actual laptop, but you must be an Alan Walker fan to justify getting this product, and I can understand why this would appeal to some of you. I'm not into electronic music, so pardon my lack of enthusiasm. Perhaps if this was a Pink Floyd Special Edition… I'm getting old, I know…
Anyway, I'd love to hear what do you guys think about this Alan Walker Special Edition ROG Zephyrus G14 GE401QES? Yey or Nay?
Disclaimer:
Our content is reader-supported. If you buy through some of the links on our site, we may earn a commission.
Learn more.