Lenovo are aiming for a slight rebranding of their thin-and-light series of consumer laptops in the first part of 2020, starting with a Lenovo Yoga Slim 7 lineup.
They're still not making it easy for us to tell between their different lines, consumers, though, as this same series will be sold as Lenovo IdeaPad 14/15 in North America, so they continue to have two different naming schemes for the same products, one for the US/CA and another for the rest of the world.
Naming aside, this Yoga Slim 7/IdeaPad 14-15 series includes standard clamshell notebooks with a thin-and-light build and 14/15-inch displays.
Update: Our full review of the Lenovo Yoga Slim 14 is available over here.
That suggests it's a follow-up for the existing IdeaPad S540 and S740 lineups, with a slightly revamped design and a hardware update to 2020 platforms: 10th gen Intel Core with optional Nvidia MX/GTX graphics, as well as more affordable AMD Ryzen 4000 APU variants.
We're especially excited about those AMD Ryzen-U 4000 mobile builds, having recently reviewed the Ryzen 3000 based IdeaPad S540, are we're looking forward to test how their fare against the more expensive Intel models.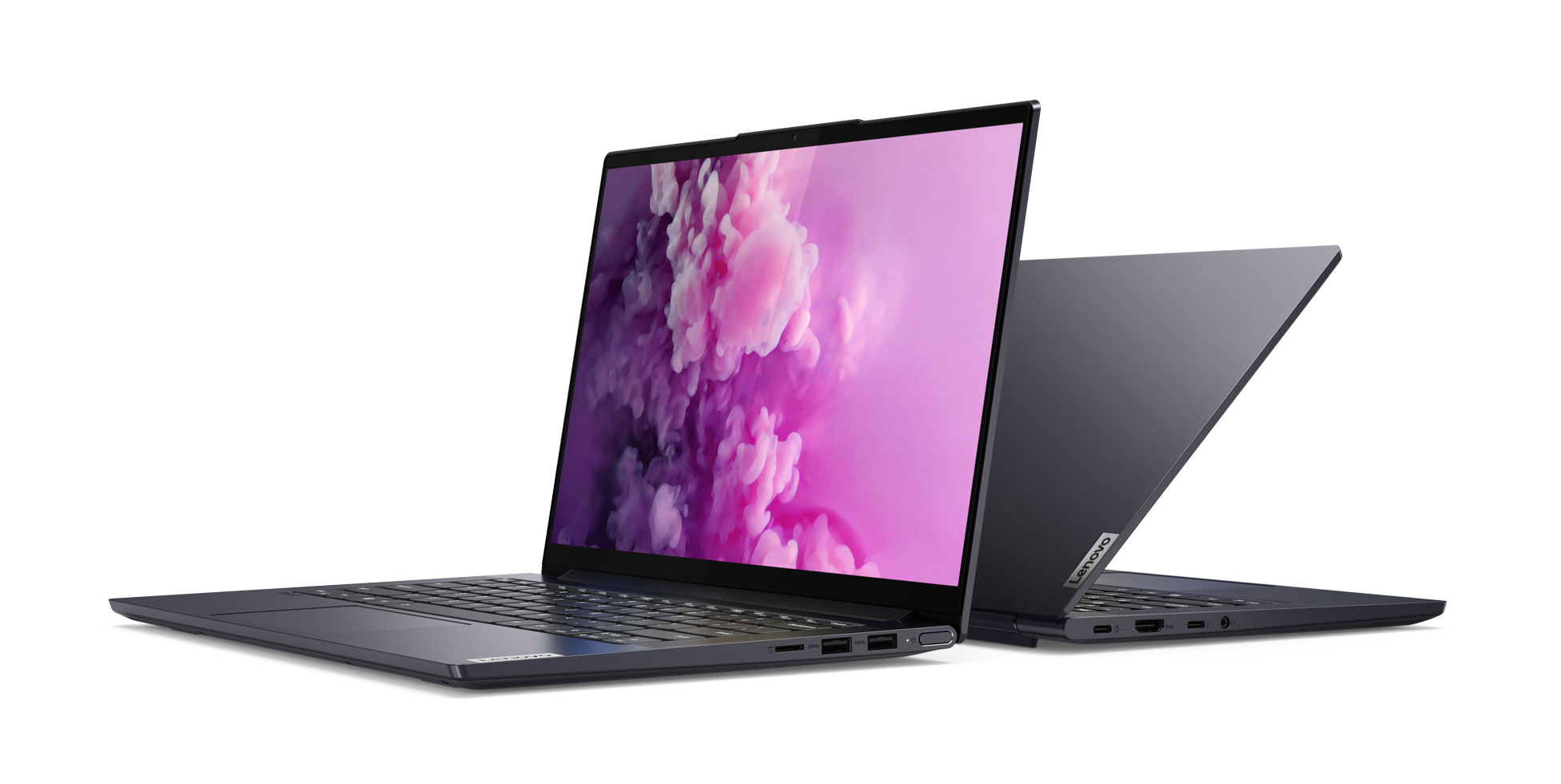 The entire Yoga Slim 7 and IdeaPad 14/15 lineup is expected in stores around April 2020, so we'll continue to update this preview as we get closer to launch. Here's what we know so far:
Lenovo Yoga Slim 7 14/ IdeaPad 14 – review
Lenovo Yoga Slim 7 15/ IdeaPad 15
Screen
14-inch FHD IPS touch or 4K HDR glass
15.6-inch FHD IPS glass
Hardware
Intel 10th Gen Core U with Iris Plus graphics, and optional Nvidia MX dGPU
AMD Ryzen-U 4000 Mobile APU with Radeon RX Graphics
Intel 10th Gen Core (??) with Iris Plus graphics and Nvidia GTX dGPU
Memory
up to 16 GB LPDDR4x
DDR4 (??)
Storage
up to 1 TB PCIe x4
up to 1 TB PCIe x4
Ports
2x USB-A, 2x USB-C, one with Thunderbolt 3 (on Intel version), HDMI, microSD card reader, mic/earphone
2x USB-A, 1x USB-C with Thunderbolt 3, HDMI, SD card reader, mic/earphone
Connectivity
optional WiFi 6, Bluetooth 5
WiFi 6, Bluetooth 5
Battery
61 Wh, with Rapid Charge, USB-C charging
69 Wh (??), with Rapid Charge, Lenovo rectangular plug charger
Size
~14.9 mm or .58" (h)
–
Weight
~1.5 kg (3.3 lbs)
–
Others
available in Slate Gray, Orchid or Dark Moss, up-firing speakers, IR camera
available in Slate Gray, up-firing speakers, IR camera
Build and Design
Much like the previous S540/S740 lines, both these 14 and 15-inch Yoga Slim 7s are entirely made out of metal, so they'll feel premium to the touch and sturdy to use. Lenovo mentions three colors for the 14-inch variant, Gray, Orchid (Purple) and Dark Moss (Green). The pictures showcase the Gray versions. The 15-inch model, on the other hand, will only be available in Gray.
At the same time, these 2020 IdeaPads borrow design lines from the higher-tier Yoga C940 lineup, like the rounded back of the main-body and the reversed notch at the top of the screen that incorporates the webcam and IR cameras. As a result, they're slightly smaller and lighter than the previous generations.
The keyboards haven't changed on a first look, they're still the standard Lenovo chiclet layout and design, with an additional NumPad section on the 15-inch model. The 14-incher lacks the Numerical extension, and as a result, is able to incorporate front speakers that fire through those grills that flank the keyboard. The IdeaPad 15 gets front-firing speakers as well, but placed at the top of its keyboard.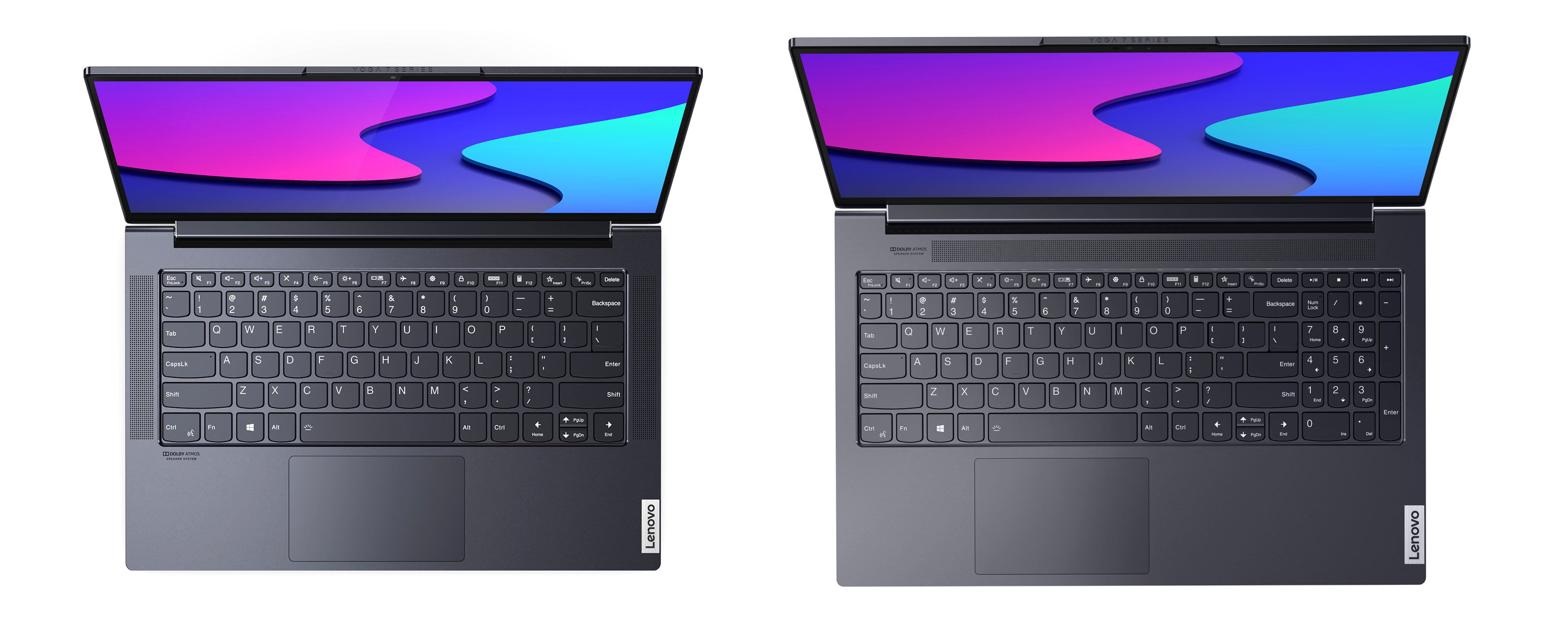 There's also a slight IO difference between the two. Both get 2x USB-A slots and HDMI, but the 14-inch variant gets 2x USB-C ports, one with Thunderbolt 3 support (on the Intel version) and another used for charging, as well a microSD card reader; the 15-inch model gets a single USB-C port with Thunderbolt 3, a full-size card-reader and charges via the standard Lenovo rectangular plug, most likely due to its need for a higher capacity charger required to cope with the more powerful components. No word on whether USB-C charging is supported on this 15-inch version.
Screens and hardware
The screen choices and hardware specs are the other important aspects that set the Yoga Slim 7 14 apart from the 15-inch version.
With the Slim 7 14, you can opt for FHD or UHD screens with or without touch, while the FHD version is only announced with a FHD glass screen, based on what we know so far.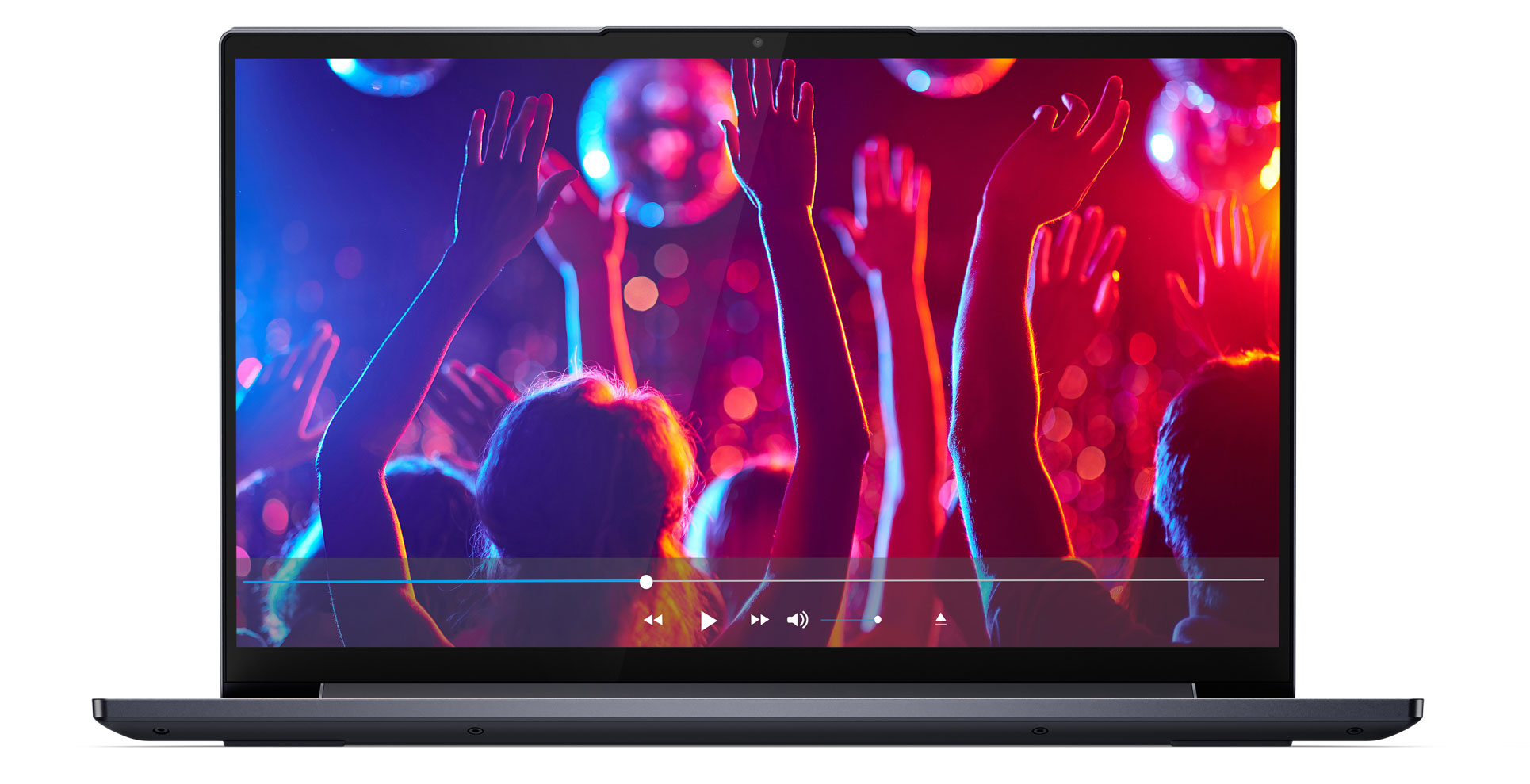 As for the hardware, the 15-inch IdeaPad 15 follows on the footsteps of the 15-inch IdeaPad S740, with Intel Core hardware and Nvidia GTX graphics (perhaps a GTX 1650 Super variation).
However, I'm not sure whether it continues with a 10th gen Core H platform or steps into one of the 10th gen Core U alternatives, so we'll need to update on that. This also gets a large capacity battery (~69 Wh, to be confirmed), and Lenovo mentions "a significant 30 percent boost in Battery life from the previous generation 15-inch size", which is what leads me to the possibility of an Intel Core U implementation. Or perhaps 10th gen Core H is that more efficient than Coffee Lake.
The 14-inch Yoga Slim 7  14 definitely gets a 10th gen Intel Core U hardware platform with either Intel Iris Plus or Nvidia MX250 graphics (follow-up of the existing MX250 chip, perhaps MS350 or MX250 Super ??), LPDDR4x support and PCIe x4 storage, as well as a fair-sized 54 Wh battery.
However, Lenovo will also offer an AMD version of this 14-inch variant, based on the Renoir AMD Ryzen-U 4000 APUs scheduled for later this year (up to Ryzen 7 4800U with 8 Cores and 8 Threads). This is expected to significantly improve on the performance and efficiency of the existing 3000-series APUs (here's our review of the AMD-based Ideapad S540, for reference), which could make this AMD IdeaPad 14 highly competitive in 2020. Here's our review of the latest generation IdeaPad 5 14 clamshell model, or the convertible Flex 5 14 variant.
Based on the existing leaks, the Ryzen 7 4700U outperforms the IceLake Intel core i-71065G7 in synthetic benchmarks but trails the 6C/12T Comet Lake Intel i7-10710U.
Pricing and availability
Especially since the AMD version is going to be much more affordable than the Intel variant. Lenovo hasn't yet announced the exact launch configuration, but the AMD-based models are scheduled to start at US$850, while the Intel-Based variants at a whopping US$1200. Even if the Intel version gets more RAM/storage and perhaps extra features like faster RAM and Thunderbolt 3 support out of the box, that's still nearly 50% more expensive at launch.
The 15-inch IdeaPad 15 is also expected to start at around $1200 in the US, with both size variants expected in stores around April 2020.
We'll update this preview of the Yoga Slim 7 series with more info and fill up the blanks. In the meantime, we'd love to hear your thoughts on these notebooks and let us know if you spot any errors or additional info that should be included here.
Disclaimer:
Our content is reader-supported. If you buy through some of the links on our site, we may earn a commission.
Terms
.