This article is our detailed review of the MSI GE75 Raider series, MSI's updated line of mid-range 17-inch gaming laptops.
We've spent a few weeks with several different versions of the GE75, and in this article, we're primarily talking about the GE75 Raider 8SE variant with Nvidia RTX 2060 graphics, while in a further post we'll also discuss the RTX 2070 variant.
The GE75 Raider updates on last year's GE73 series, with a cleaner design and more compact build, a 144 Hz IPS level screen and 2019-level hardware, while keeping the traits that made the GE73 popular: the competent cooling, the RGB Steelseries keyboard, the IO and the punchy speaker system.
We'll talk about all these aspects down below, in our quest to find out if the GE75 Raider is the update we've been waiting for, and if it's good enough to compete with rivals like the Asus ROG Strix GL704 and Scar III G731, the Lenovo Legion Y740, the Acer Predator Helios 300 or and the Alienware m17.
Specs as reviewed
| | |
| --- | --- |
| | MSI GE75 Raider 8SE |
| Screen | 17.3 inch, 1920 x 1080 px, IPS, 144 Hz, non-touch, matte |
| Processor | Intel Coffee Lake-H Core i7-8750H CPU |
| Video | Intel HD 630 + Nvidia RTX 2060 6 GB |
| Memory | 16 GB DDR4 2666 MHz (2x 8GB) |
| Storage | 256 GB SSD (Kingston RBU-SNS8154P3) + 1 TB 7200 rpm 2.5″ HDD (HGST Travelstar 7K1000) |
| Connectivity | Wireless AC (Killer 1550i) with Bluetooth 5.0, Gigabit Lan (Killer E2500) |
| Ports | 3x USB-A 3.1, 1x USB-C gen 2, HDMI 2.0, mini DP, LAN, SD card reader, mic/earphone, Kensington Lock |
| Battery | 51 Wh, 180 W brick |
| Size | 397 mm or 15.62" (w) x 269 mm or 10.59 (d) x 27.5 mm or 1.08" (h) |
| Weight | 5.62 lbs (2.55 kg) + 1.56 lbs (710 g) power brick, European model |
| Extras | per-key RGB backlit keyboard, HD webcam, 2x 3 W speakers and 2x 3W woofers |
MSI offers this laptop in a handful of other configurations, with the main difference between the available series being the graphics chip inside: RTX 2060 on the GE75 Raider 8SE, RTX 2070 on the GE75 Raider 8SF and RTX 2080 on the GE75 Raider 8SG. They share most of their traits, with a few exceptions: the RTX 2080 model gets a larger 65 W battery, and both the RTX 2080 and 2070 variants are paired with 280W power supplies.
Update: Here's our coverage of the updated 2023 MSI Raider GE78 series.
Design and build
In a few words, the GE75 Raider is pretty much a more compact and cleaner iteration of the GE73 line it replaces. The narrow bezels around the screen stand proof of the shrunk frame, and the GE75 is, in fact, both lighter and smaller than most of its rivals, including the Asus ROG GL704, Acer Predator Helios 300 and Lenovo Legion Y740 17-inch. However, the overall sturdiness and battery size were sacrificed in the process.
The GE75 is not poorly made by any means, but is not as strongly-built as the other options in its class either, and still gets a fair bit of flex in the main chassis and keyboard deck, as well as in the screen's frame. Thus, you should treat this well and I'd also advise on using a protective sleeve when carrying it in your backpack. Overall though the build quality is a small step forward from the GE73, as the updated model no longer creaks when grabbed and moved around, yet there's still room for improvement, especially on a gaming laptop that might get its fair share of abuse throughout its lifetime.
Rather thin sheets of brushed metal are used for the lid-cover and the interior, with a smooth plastic frame around the display and rougher kind of plastic on the underbelly and sides. There are also no light-bars on the hood anymore, but the panel-lit MSI shield is still there and might make this a hard-pass in stricter environments. For the most part, though, this is a fairly subtle computer, with few obtrusive design accents and no RGB elements or pesky lights. Well, except for the oversized red plastic framing around the trackpad, which sticks out once you peel off all those pesky stickers plastered on the palm-rest.
Design and build aside, the GE75 Raider is a practical computer. You'll need both hands to lift up the screen, but the stiff hinges will keep it firmly in place as set-up and allow it to lean back to about 160 degrees. Hopefully, MSI also re-engineered the hinges' mechanism to make it sturdier, as broken hinges have been a reported issue with past generations. Nonetheless, I'd be careful when operating the screen and try not to lift it up from the corners, especially when also considering the flexible frame, as mentioned earlier.
The ports are conveniently lined on the sides, with the most commonly used ones on the left side, away from your mouse area. There's almost everything you'll need on this laptop, except for Thunderbolt 3 support.
The status LEDs are conveniently tucked on the front lip, out of the way, there are no sharp lips and corners that might dig into your wrists with daily use, and the rubber feet on the bottom keep this well anchored on a flat desk. MSI still ads a few plastic support feet on the underbelly, yet these are not as aggressive as on the older Raider version and don't come in contact with the surface during normal use. Down here you'll also notice the massive air-intake grills and large cuts for the speakers and subwoofers, as the GE75 inherits the capable and massive sound system of the GE73. We'll talk about it in a further section.
All in all, the GE75 Raider is a breath of fresh air and aligns MSI's mid-range gaming series with today's design trends and compact form-factor. I'd just wish they would have invested more effort into reinforcing the screen and main-chassis in order to make them sturdier. There's an improvement from the previous GE73, but the build is still not as strong as in the competition.
Keyboard and trackpad
The GE75 Raider gets the Steelseries chiclet keyboard that MSI puts on most of their gaming notebooks. It looks identical to the one on the GE73, but for some reason, it types differently.
The layout is mostly fine, with a full-sized main deck of keys, full-sized arrows, and a smaller NumPad section. What I absolutely hate is the fact that MSI moved the Windows key towards the right side, where they also implemented the \ key, which I find completely non-intuitive. There is however an option to switch the FN and Windows keys in the included Dragon Center app. The Delete key is also oddly placed at the top of the NumPad.
The keys feel soft to the touch and offer good feedback, however, the deeper stroke and the fact that you need to press them firmly in order to register properly makes them rather unforgiving. For me, this translated in below average typing speed and accuracy. I especially struggled when capitalizing letters with the left Shift key or when hitting the space key. In fact, you actually have to hit these hard and towards their middle to be sure they register properly, something I don't have to do on shallower keyboards, and actually something I didn't have to on the GE73 I've reviewed a while ago.
On the other hand, this keyboard is still one of the quietest in the market, except for the Space key, which clicks louder than the others.
MSI also implement per-key RGB illumination, with bright LEDs that cover both the main letter and the secondary function of each key. The included SteelSeries Engine app gives control over the illumination and allows to set custom profiles, effects, etc. I will also note that this keyboard offers a neat trick when pressing the FN key, turning off the keys that don't have an FN associated function and only lighting-up those that do.
For mouse, MSI went with a non-clickable touchpad with physical click buttons below. It's averagely sized, made out of plastic and gets Precision drivers, so it feels alright to the touch and handles swipes, taps, and gestures well. The surface no longer rattles when tapped firmer, like on the GE73, but the mechanical click buttons are still stiff and clunky, so you will definitely get a nicer experience with an external mouse.
There's no finger sensor or set of IR cameras on this laptop, thus no bio-metric login options.
Screen
MSI offers the GE75 Raider with one of the new generation FHD 144 Hz IPS matte screens, without GSync, the same AU Optronics panel that Asus puts inside the ROG TUF FX705 and ROG Strix GL704 series.
That's an update over the 120 Hz TN panel inside the older GE73 Raider in terms of viewing angles, contrast, refresh rate and response times, but at the same time a downgrade at color reproduction. Nonetheless, this is one of the better screen options available for 17-inch gaming laptops these days.
Keep in mind that there's going to be a variation between implementations. We actually reviewed two versions of the GE75 Raider and got slightly different results in each case, as you can see below (measured with a Spyder4):
Panel HardwareID: AU Optronics AUO409D (B173HAN04.0);
Coverage: 97% sRGB, 70% NTSC, 75% AdobeRGB;
Measured gamma: 2.0 / 2.2;
Max brightness in the middle of the screen: 247 / 265 cd/m2 on power;
Contrast at max brightness: 800:1 / 640:1
White point: 8200 / 7900 K;
Black on max brightness: 0.31 / 0.41 cd/m2;
PWM: No.
Response time: 3 ms advertised, ~7 ms GtG measured.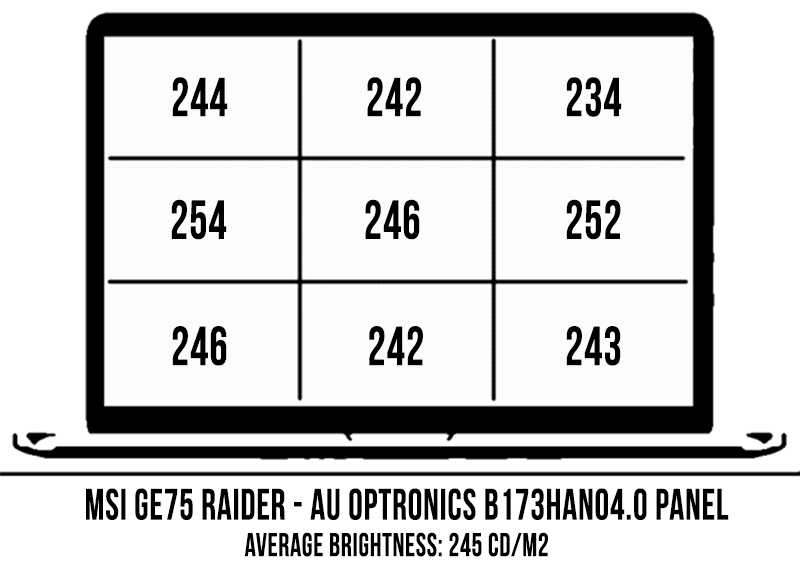 One of the variants came out better calibrated than the other, but even so, both can be tweaked with this calibrated profile.
Light bleeding and luminance uniformity were pretty good on both samples, yet one of them actually encountered some serious color-uniformity discrepancies towards the lower half, while the other did not. That's not something you would be able to see with the naked eye, though.
Hardware and performance
Our test unit is a mid-tier configuration of the MSI GE75 Raider 8SE, with a Core i7-8750H processor, 16 GB of DDR4 2666 MHz RAM, Nvidia RTX 2060 6 GB graphics and dual storage, with a 256 GB M.2 SSD and a 1 TB 2.5″ 7200 rpm HDD.
MSI opts for a 7200 rpm HDD for mass storage, while others opt for SSHDs these days, but at the same time, there's a PCIe x2 SSD on even this entry-level configuration, while others still put SATA SSDs at the lower end. These aside, the hardware configuration is fairly standard, with two M.2 slots and a 2.5″ bay for storage, and two memory DIMMs.
All of these are easily accessible inside, alongside the battery, Wi-Fi module, and speaker system. Getting to them is a bit tricky though, as it requires you to remove the plastic back panel, which is held in place by a handful of screws, all visible around the sides. However, you should be extra careful when popping it out around the HDMI/DP ports, as these are slotted into the plastic shell, so you need to start from the other part and somehow slide the panel laterally, out of the ports. You'll find clips for the GE73 and GE75 that explain the process, it's not complicated, just requires a bit more attention than with other laptops.
Of course, this laptop handles everyday tasks smoothly and mostly quietly, even if the fans are still active with light use.
Regardless, you're not going to get a GE75 Raider for browsing and movies, so let's talk about its performance in demanding chores and games.
The i7-8750H has been around for a while, but the RTX GPU is brand new and the significant update of the 2019 MSI Raider line. The GE75 Raider 8SE gets a full-power implementation of the RTX 2060 chip, with a stock Clock of 960 MHz, Turbo up to 1800-1900 MHz and a maximum TDP of around 85 W. As a result, it performs well out of the box and leaves room for further tweaking, which will discuss in a minute.
For starters, we're going to test the CPU's performance in demanding loads, and we do that by running Cinebench R15 for 10+ times in a loop, with 2-3 seconds delay between each run, with the laptop on the Sport Shift profile in the included Dragon Center control application and fans on Auto. As a side note, the Turbo Shift mode was not available on this configuration, but it probably is one yours. This mode has no impact on the CPU, but does raise the GPU's clock by 100 MHz out of the box, which the Sport profile does not.
Most implementations of this CPU return high-scores for the first Cinebench runs and then settle a little lower as the CPU heats-up and can no longer maintain its maximum Turbo speeds for more than a few seconds.
This one, however, performed differently and returned fairly poor scores from the beginning, eventually settling at only around 920 points, which translates in Turbo Boost speeds of only 2.8 GHz, a TDP of 45 W and temperatures of 78-80 degrees Celsius. Details below.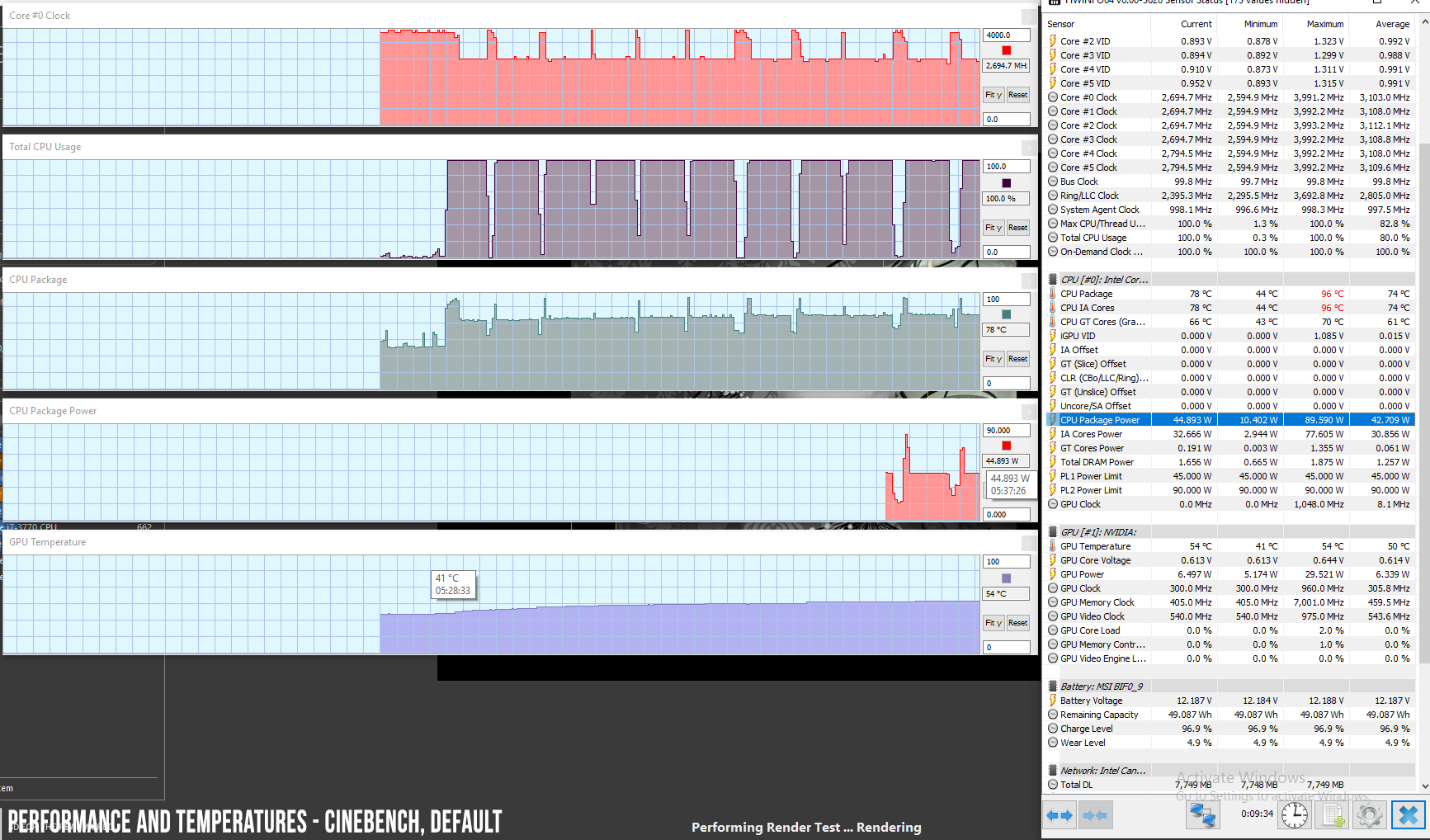 These are very low frequencies for a 45W TDP, as most other implementations of the i7-8750H, including the older GE73 Raider, settle at around 3.2-3.3 GHz or higher out-of-the-box and scores of around 1050 points. While investigating, I noticed that the CPU runs at abnormally high voltages of around 1.26 V (see the CPU-Z print screen above – should be around 1.15 V), however, those also drop to abnormally low levels of only .95 V (should be around 1.05 V) while running Cinebench. Strange, but I actually encounter this behavior on both GE75 Raider samples we've tested, both being early retail models.
Nonetheless, I proceeded to undervolt the CPU inside this i7-8750H / RTX 2060 model. It ended up being stable at -160 mV in real use, but not in some benchmarks, so we eventually reran the Cinebench loop test at -150 mV. In this case, the CPU settled for scores of around 1050 points, which translate in Turbo Boost speeds of 3.3 GHz, a TDP of 45 W and similar temperatures of 78-80 degrees Celsius. Details below.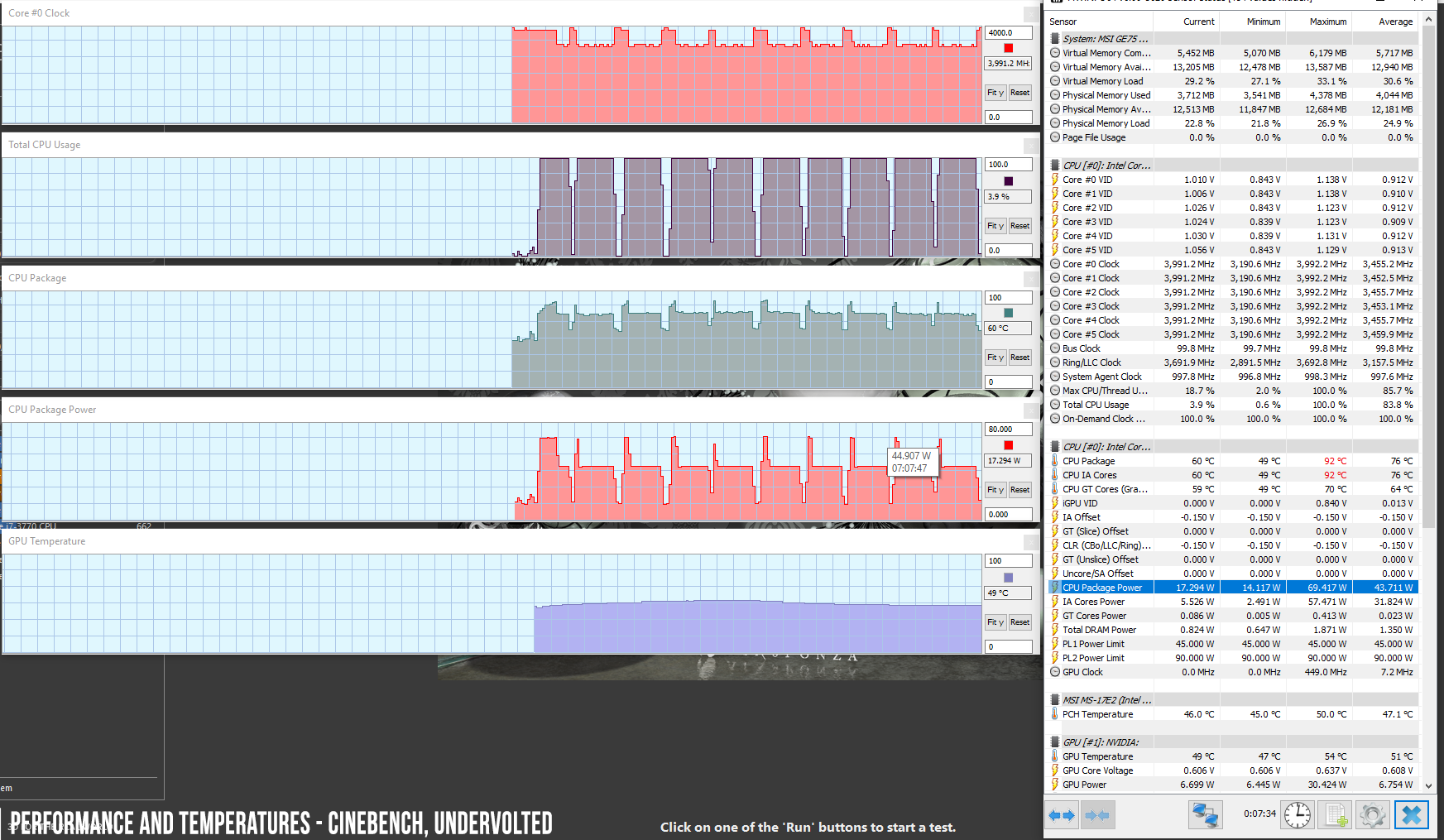 In other words, undervolting barely allowed us to achieve the CPU performance we would normally expect from i7-8750H implementations out of the box, leaving us at about 10-15% beneath this CPU's maximum potential achievable on other laptops. Further tweaking was not possible, as the CPU's TDP is locked and cannot be adjusted in XTU, and dropping the voltage lower lead to crashes and BSODs.
The CPU's performance on battery was also limited on our test model, as in this case the Turbo and Sport power profiles are inaccessible in the Dragon Center app, so we had to settle for the Comfort profile which limits the CPU's frequency at only 1.6 GHz. That resulted in Cinebench scores of only around 500 points.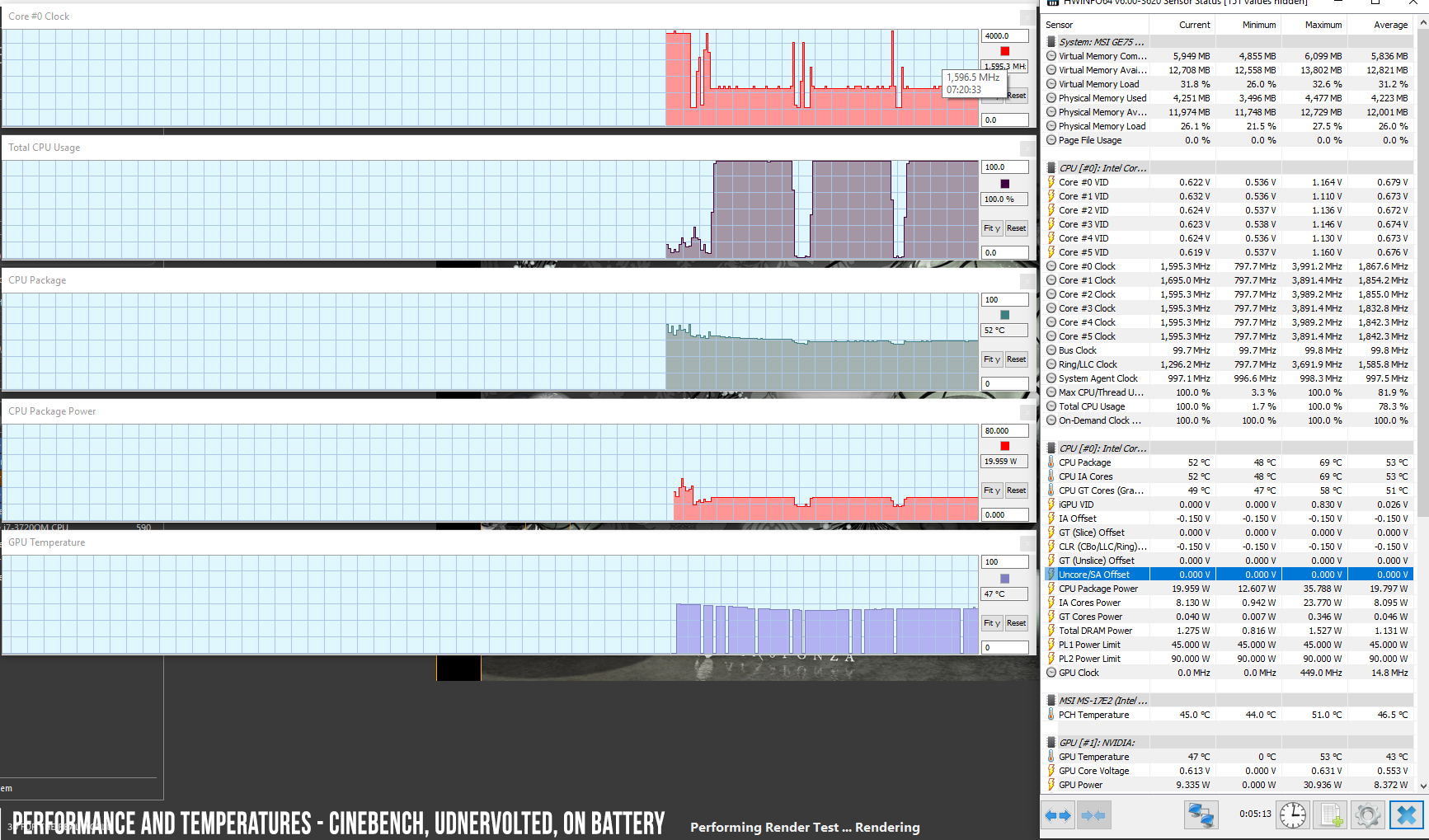 We also uninstalled Dragon Center and reran the Cinebench test, but without noticing any changes. However, despite this behavior documented during the Cinebench test, the CPU actually runs nearly spotless with games and benchmarks, especially once undervolted, as you'll see below.
Next, we ran our set of standard benchmarks on the default profile, and here's what we got:
3DMark 11: P17237 (Graphics: 20439, Physics: 11909);
3DMark 13 – Fire Strike: 14039 (Graphics – 15563, Physics – 15792);
3DMark 13 – Time Spy: 5886 (Graphics – 5898, CPU – 5822);
3DMark 13 – Port Royal: 3076;
Uniengine Superposition Extreme: 3545;
PCMark 08: Home Conventional – 4269;
PCMark 10: 5325;
PassMark: Rating: 5323, CPU mark: 12057, 3D Graphics Mark: 8608;
GeekBench 3.4.2 32-bit: Single-Core: 4000, Multi-core: 22435;
GeekBench 4.1.1 64-bit: Single-Core: 4966, Multi-core: 22231;
CineBench R15 (best run): OpenGL 96.50 fps, CPU 1026 cb, CPU Single Core 171 cb;
x264 HD Benchmark 4.0 32-bit: Pass 1 – 194.84 fps, Pass 2 – 59.4 fps.
We also ran some of them on the -150 mV undervolted profile:
3DMark 13 – Fire Strike: 15309 (Graphics – 17140, Physics – 16053);
3DMark 13 – Time Spy: 6073 (Graphics – 6000, CPU – 6527);
GeekBench 4 64-bit: Single-Core: 4967, Multi-core: 22341;
x264 HD Benchmark 4.0 32-bit: Pass 1 – 209.24 fps, Pass 2 – 69.43 fps.
Just as noticed during the Cinebench loop test, undervolting translates in improvements in those tests that put a taxing load on all the 6 cores of the i7-8750H CPU.
Next, we also ran some of the tests on what we call a Tweaked profile, with the CPU undervolted at -150 mV and the GPU overclocked with MSI Afterburner to + 100 MHz Core, + 200 MHz memory. We were able to run benchmarks at +130 MHz, but that configuration later crashed in games, that's why we dialed back to the settings above.
3DMark 13 – Fire Strike: 15214 (Graphics – 16980, Physics – 16061);
3DMark 13 – Time Spy: 6327 (Graphics – 6479, CPU – 5587);
3DMark 13 – Port Royal: 3411;
GeekBench 4 64-bit: Single-Core: 4974, Multi-core: 22164;
CineBench R15: OpenGL 99.11 fps, CPU 1150 cb, CPU Single Core 168 cb.
This translates in some Graphics gains in the more demanding tests, and also slightly higher GPU frequencies with actual games, as you'll see down below.
As far as gaming goes, we ran a couple of titles representative for DX11, DX12, and Vulkan architectures, on two different profiles:
FHD standard – Sport Shift in Dragon Center, fans on Auto, default settings
FHD Tweaked – Sport Shift in Dragon Center, -160 mV undervolt, fans on Cooler Boost, GPU overclock with MSI Afterburner: + 100 MHz Core, + 200 MHz memory
As with most other MSI laptops, the Auto fan profile is optimized for silent use and not for performance, which causes the components to heat up and eventually clock down. That's why we've switched the fans on Cooler Boost for our overclocked profile, in order to see what's the best you can get on this laptop in terms of gaming results, without caring for the noise levels. Keeping the laptop on Cooler Boost with actual use would be possible as long as you hook up a pair of good-quality headphones to cover up those fans, but the truth is you'll probably want to do that regardless, as even on Auto the fans hit 50-51 dB at head-level in the more demanding titles (ambient noise level measured at 34 dB).
| | | |
| --- | --- | --- |
| | FHD Standard | FHD Tweaked |
| Battlefield V (DX 12, Ultra Preset, Ray-Tracing OFF) | – fps | 94 fps |
| Battlefield V (DX 12, Ultra Preset, Ray-Tracing ON, DLSS ON) | – fps | 74 fps |
| Doom (Vulkan, Ultra Preset, TSSAA) | – fps | 140 fps |
| Far Cry 5 (DX 11, Ultra Preset, SMAA) | 86 fps | 93 fps |
| Middle Earth: Shadow of Mordor (DX 11, Ultra Preset) | 153 fps | 165 fps |
| Rise of Tomb Raider (DX 12, Very High Preset, FXAA) | 79 fps | 84 fps |
| Shadow of Tomb Raider (DX 12, Highest Preset, TAA) | 70 fps | 77 fps |
| The Witcher 3: Wild Hunt (DX 11, Ultra Preset, Hairworks On 4) | 90 fps | 98 fps |
Battlefield V, The Witcher 3, Doom – recorded with Fraps/in-game FPS counter in campaign mode;
Far Cry 5, Middle Earth, Tomb Raider games – recorded with the in
Battlefield V was tested with the latest update launched on Feb 13th, with DLSS support and improved RTX performance.
The HWinfo logs below show the CPU and GPU speeds in Shadow of Mordor, Farcry 5 and Witcher 3, with the fans on Auto (around 50-52 dB) and the CPU/GPU on default settings.
And here's how undervolting the CPU and Overclocking the GPU impacts the performance in several titles, with the fans on Auto (only around 46-48 dB in most titles case).
Then here's what happens when switching the fans to Cooler Boost (55-56 dB).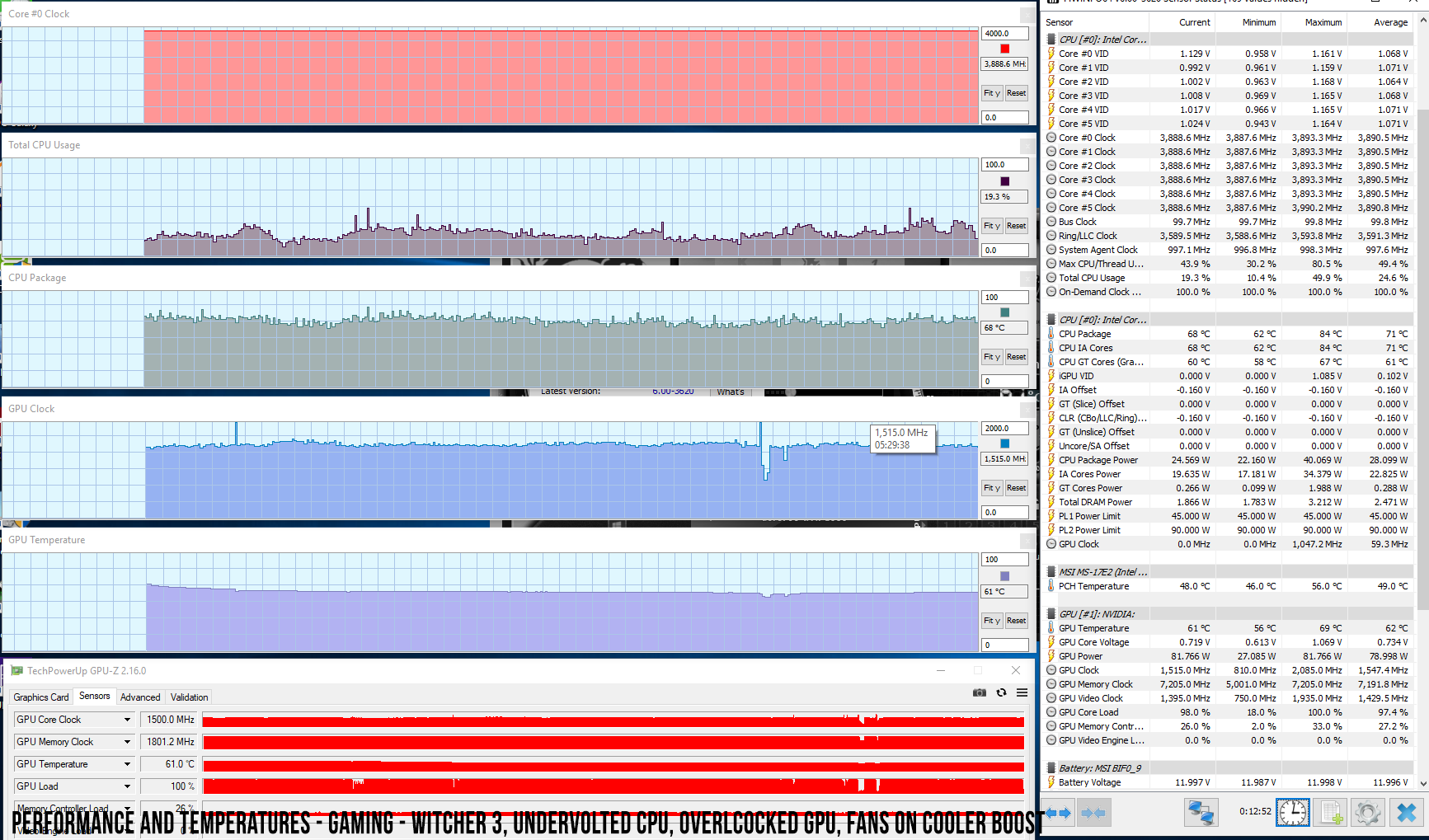 Lastly, this picture shows what happens when you only undervolt the CPU, without overclocking the GPU, and switch the fans to Cooler Boost.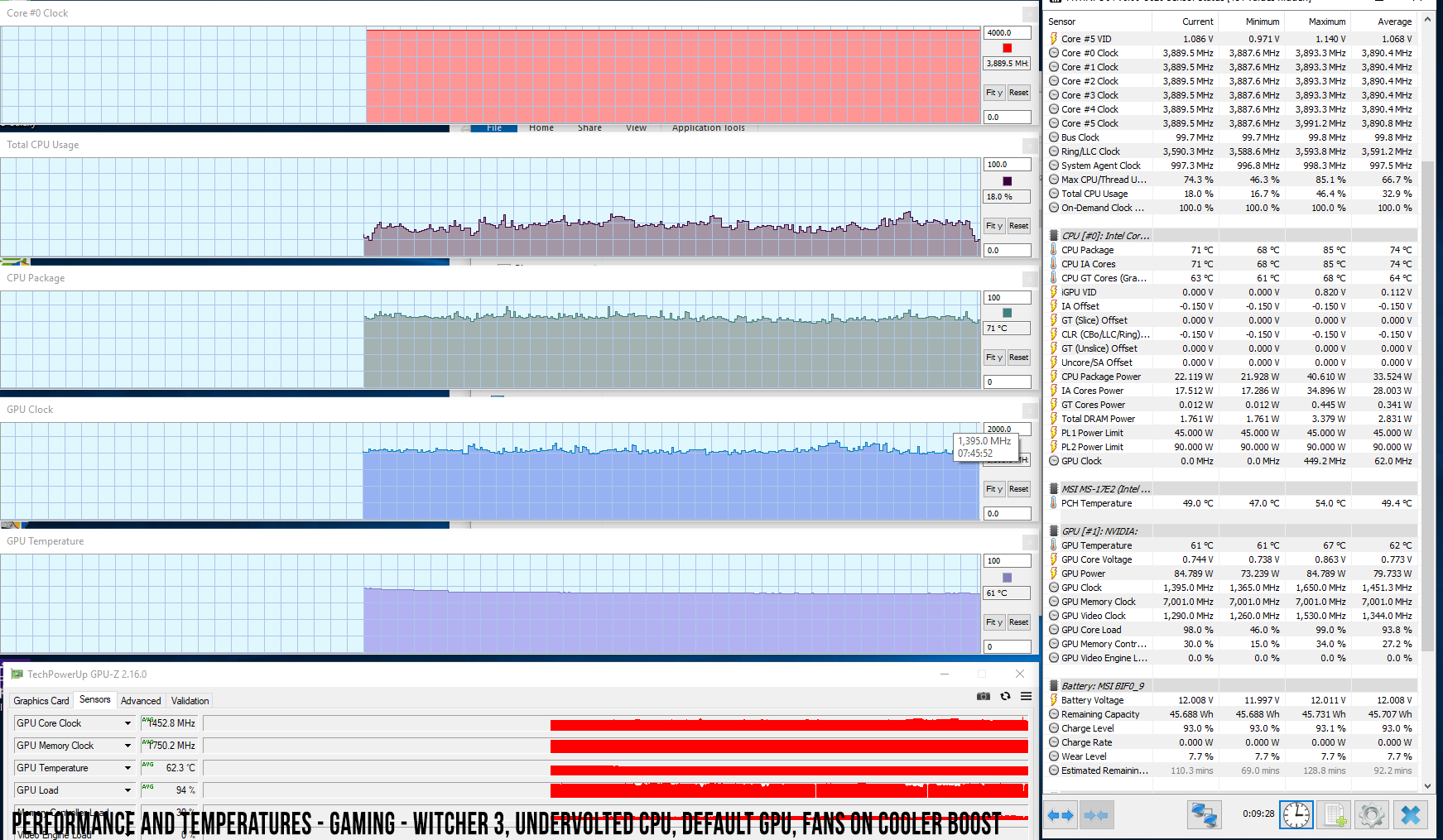 If you don't want to dig through the logs, this is what we got in Witcher 3:
Out of the box settings, fans on Auto (50-51 dB): CPU: ~3.8 GHz, 85 C; GPU: ~1.4 GHz, 67 C;
-160 mV undervolted CPU, +100 MHz Clock / +200 MHz Memory GPU, fans on Auto (47-48 dB): CPU: ~3.9 GHz, 79 C; GPU: ~1.5 GHz, 69 C;
-160 mV undervolted CPU, +100 MHz Clock / +200 MHz Memory GPU, fans on Cooler Boost (55-56 dB): CPU: ~3.9 GHz, 71 C; GPU: ~1.55 GHz, 62 C.
-150 mV undervolted CPU, default GPU, fans on Cooler Boost (55-56 dB): CPU: ~3.9 GHz, 74 C; GPU: ~1.45 GHz, 62 C;
Overall, tweaking this laptop allows a roughly 10% improvement in gaming performance, but also lower CPU/GPU temperatures once you turn the fans to Cooler Boost. Not much, but every bit helps.
On top of that, you should also keep in mind that each unit is going to overclock differently, and you might get better or worse results on yours, but there should be room for some tweaking with every sample.
Emissions (noise, heat), Connectivity and speakers
Most of the cooling inside the GE75 is inherited from the GE73 Raider, with a few differences due to the smaller size of the updated version. It still gets two high-cfm fans and a complex array of heatpipes, but some of them have been shortened and at least one has been cut out.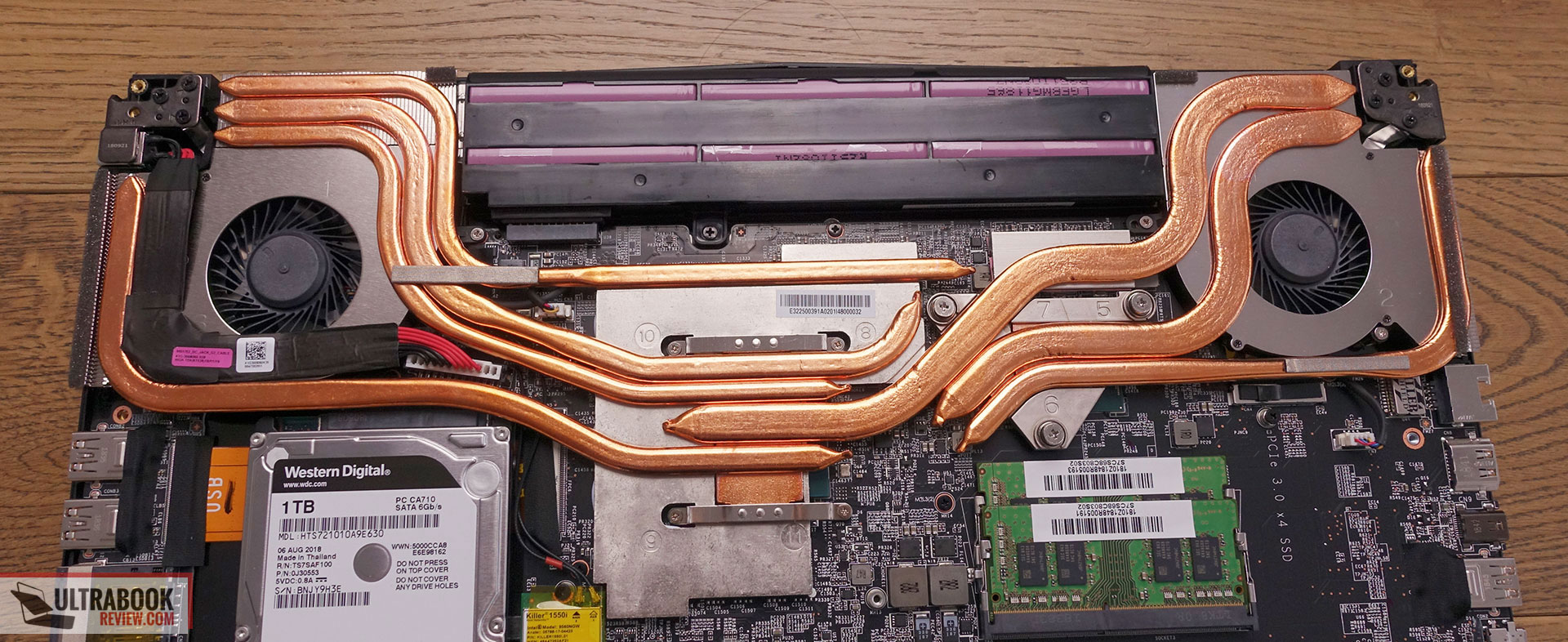 This implementation does a pretty good job at keeping the CPU and GPU at bay, just like on the previous GE73, the cooling remaining one of the Raider series' strong-points. It also allows the outer shell to run cool, with the hottest parts only hitting temperatures of around mid-40s on the default profile, and lower with the undervolted and overclocked settings.
On the other hand, the fans do get loud at up to 55-56 dB at head level in Far Cry 5 on the Overclocked profile with the fans on Cooler Boost, and around 46-48 dB on the same tweaked profile with the fans on Auto.
With daily use, the GPU fan rests idle and the CPU fan keeps spinning all the time, albeit at quiet levels of around 37 dB in a 34 dB environment. Their behavior can be tweaked in the Dragon Center app, which allows to actually switch off the CPU's fan as well, however that doesn't actually happen in real use, as the CPU fan slows down, but never switches off. Regardless, the Auto profile is adequate for daily use, albeit not that much during long gaming sessions, as you've seen above.
*Daily Use – Netflix clip in EDGE for 30 minutes
*Load Standard (fans ~50-51 dB) – playing FarCry 5 for approximately 30+ minutes on ultra FHD settings
*Load Tweaked (fans ~55-56 dB) – playing FarCry 5 for approximately 30+ minutes on ultra FHD settings
For connectivity, there's Wireless AC and Gigabit Lan on this laptop, and both work well. We've mostly used our review unit on wireless, and the Killer 1550i chip (with the latest drivers from MSI) proved reliable both near the router and at 30+ feet with obstacles in between. It wasn't as fast as other implementations (including the basic Intel 9560 chip inside the GE73 Raider) with our setup, though.
Just like its predecessor, the GE75 Raider aces the competition when it comes to audio quality. The entire area beneath the palm-rest is allocated to speakers, with two speakers and two subwoofers. As a result, these are loud for laptop speakers, at around 86 dB at head-level, and sound clean and rich, even on the lower end. They don't seem to be as loud as on the GE73, but that might be due to the fact that the Nahimic software, which can be used to further tweak the output, did not work on our sample.
The camera, on the other hand, is still mediocre at best, but at least MSI kept it at the top of the screen, where it should be.
Battery life
The GE75 still gets the small 51 W battery of the older GE73 model on the RTX 2060 and 2070 configurations, with only the RTX 2080 model getting a larger 65 Wh battery. That's mostly due to the internal design and the fact that the area beneath the palm-rest is used for the large speaker system, thus the battery is squeezed between the hinges. What I don't understand is why a 65 Wh battery was not included with all versions.
Nonetheless, you're not going to get much in terms of battery life with this laptop. Here's what we got with our sample, with the screen set at 40% brightness, which is roughly 120 nits.
31 W (~1 h 35 min of use) – text editing in Google Drive, Comfort Power Profile, screen at 40%, Wi-Fi ON;
16 W (~3 h of use) – 1080p Youtube fullscreen in Edge, Comfort Power Profile, screen at 40%, Wi-Fi ON;
13 W (~4 h of use) – 1080p Netflix fullscreen video in Edge, Comfort Power Profile, screen at 40%, Wi-Fi ON;
19.5 W (~2 h 30 min of use) – browsing in Edge, Comfort Power Profile, screen at 40%, Wi-Fi ON
We ran into some issues during the typing test, which caused abnormally high power spikes. They were not caused by the Nvidia dGPU being active, so I'd reckon the power profile in Dragon Center gets the blame, but I couldn't figure it out during my time with this test unit.
This configuration of the GE75 Raider comes with a fairly compact 180 W charger, which is barely sufficiently sized for the hardware inside, as our test model did not discharge while playing games.
The RTX 2070 and 2080 versions are bundled with bulkier and heavier, but at the same time higher capacity, 280W adapters.
Price and availability
All the MSI GE75 Raider variants are available in stores around the world as of February 2019.
The configuration reviewed here starts at $2000 in the US, mostly in a bundle that includes a few different accessories (backpack, mouse and mousepad, game controller).
The RTX 2070 models start at $2299, while the RTX 2080 versions start at $2799.
Follow this link for updated prices and configurations.
Final thoughts
The GE75 Raider is a significant update of last year's GE73 series, keeping its competitive aspects and addressing some of its quirks.
It's smaller now, and lighter than the competition, but without sacrificing ergonomics and usability: it gets a similar keyboard, IO and almost the same cooling, which does an excellent job at keeping this i7-8750H and RTX 2060 configuration at bay, especially once you perform the tweaks explained in the article. The fans are still going to get loud, there's no way around it, but that's a sacrifice worth taking for the performance and thermals you're getting.
However, when it comes to performance, our RTX 2060 configuration was not able to outmatch last year's GTX 1070 model in either benchmarks or actual games, although it came close. Of course, you do have to weigh in the potential benefits of RTX and DLSS offered by the new architecture, but even so, that's important, because the RTX 2060 versions of the GE75 don't come cheap at all. In fact, as of late February 2019, they're more expensive than GE75 models with GTX 1070 graphics and especially more expensive than most of the other RTX 2060 17-inch options, including the Alienware m17.
That's hard to justify when the GE75 Raider is still not as sturdily built as the competition and still gets a small 51 Wh battery on the 2060 and 2070 configurations. In fact, I just can't understand why MSI didn't put the 65W battery they're offering with the RTX 2080 models inside the entire line, and especially on the lower end versions that people will actually use unplugged more often.
At the end of the day, the GE75 Raider is nonetheless a pretty good laptop, but still struggles in the build and battery life departments, and still doesn't get a Thunderbolt 3 port. The competition does these better, and while the GE75 is still king of the castle at cooling, performance and audio quality, these might not be enough to justify the premium price. In fact, I'd find the GE75 Raider 8SE more competitive at around the $1800 price tag, where the other sit right now, and even at this point I'd still have to accept its lacks.
All in all, we're rating the GE75 Raider 8SE at 4 out of 5, but only if you can find it for the same price or cheaper than the competition, which right now sits at around $1800. At $2000 this is a clear NO though, as at this price-point you should get an RTX 2070 configuration instead, available from Asus and Lenovo (Max-Q though) in compact 17-inch laptops, or even consider the only slightly more expensive, but premium tier, GS75 Stealth Thin. MSI's GE75 Raider 8SF with RTX 2070 is another option to consider if you're interested in playing the latest games, but that comes with a premium over other RTX 2070 laptops as well.
That pretty much wraps up our review of the GE75 Raider. I'm curious to hear your take on it and your impressions in the comments section down below, so don't hesitate to get in touch if you have anything to add or any questions.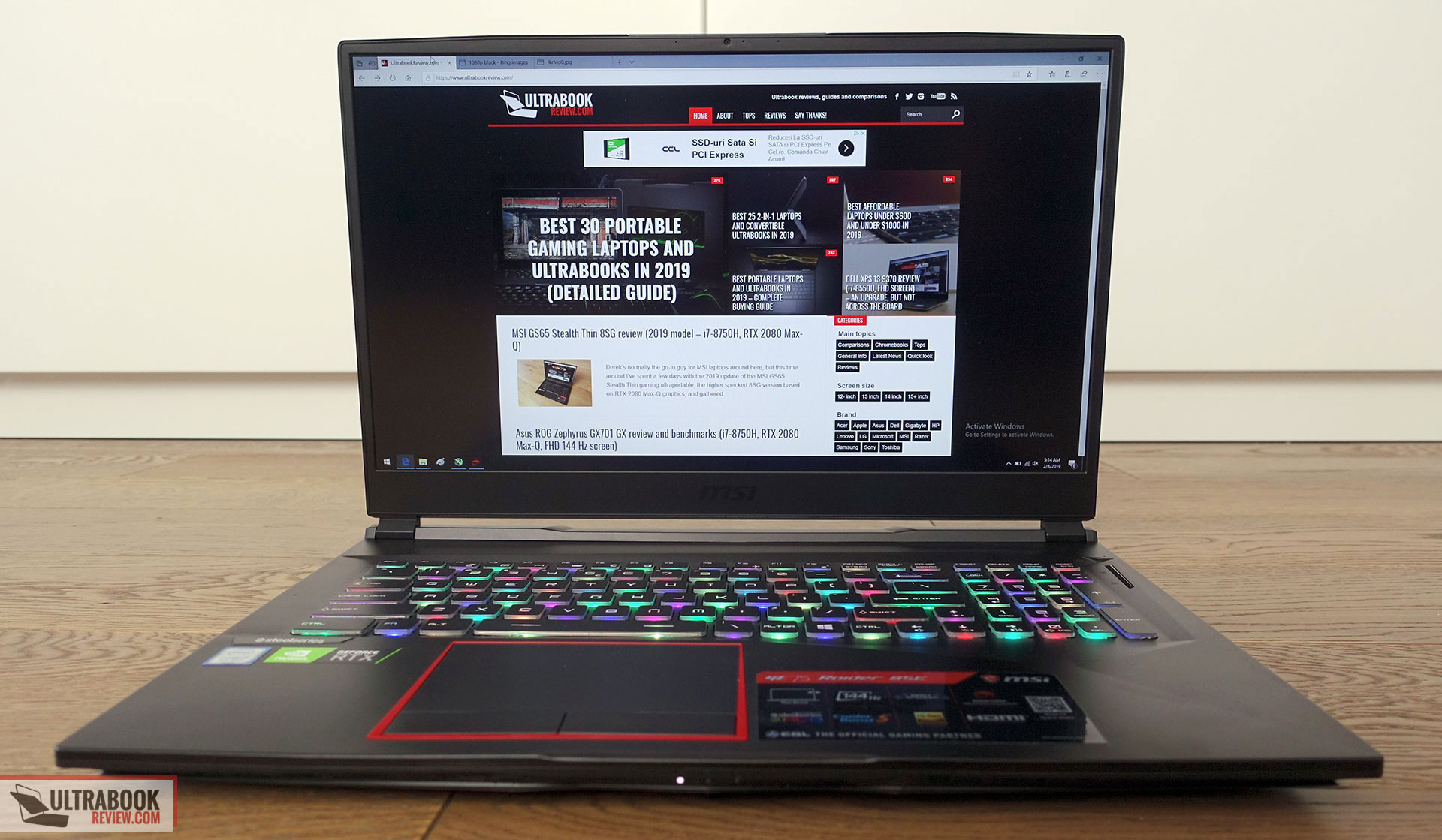 Disclaimer:
Our content is reader-supported. If you buy through some of the links on our site, we may earn a commission.
Terms
.