Probably one of the hottest topics lately has been the Nintendo Switch.
In case you've been living in a cave for the past few months, this is Nintendo's latest portable console that just hit the shelves.
What makes it unique is the ability to, not only use it as a handheld gaming device, but also dock it seamlessly into a station to use on your big screen.  It's a pretty cool concept that PC makers have toyed with in the past, such as the Razer Edge.  But this is the first time a major console developer has taken a stab with a polished design.
It's not a laptop or a PC, I know, but I still wanted to give it a proper review.  I got mine on launch day and have been spending quite a lot of time getting to know it better.
Here's what I think of it so far, after a couple weeks with it.
Pros:
Controller choices and flexibility is really nice
best looking screen Nintendo has released to date
lightweight with good build quality
switching from the big screen to handheld mode is quick and seamless
front and rear stereo speakers supply quality sound
Cons:
no Bluetooth headphone support
kickstand could be a little better
glare and low screen brightness make outdoor use not feasible
no multimedia apps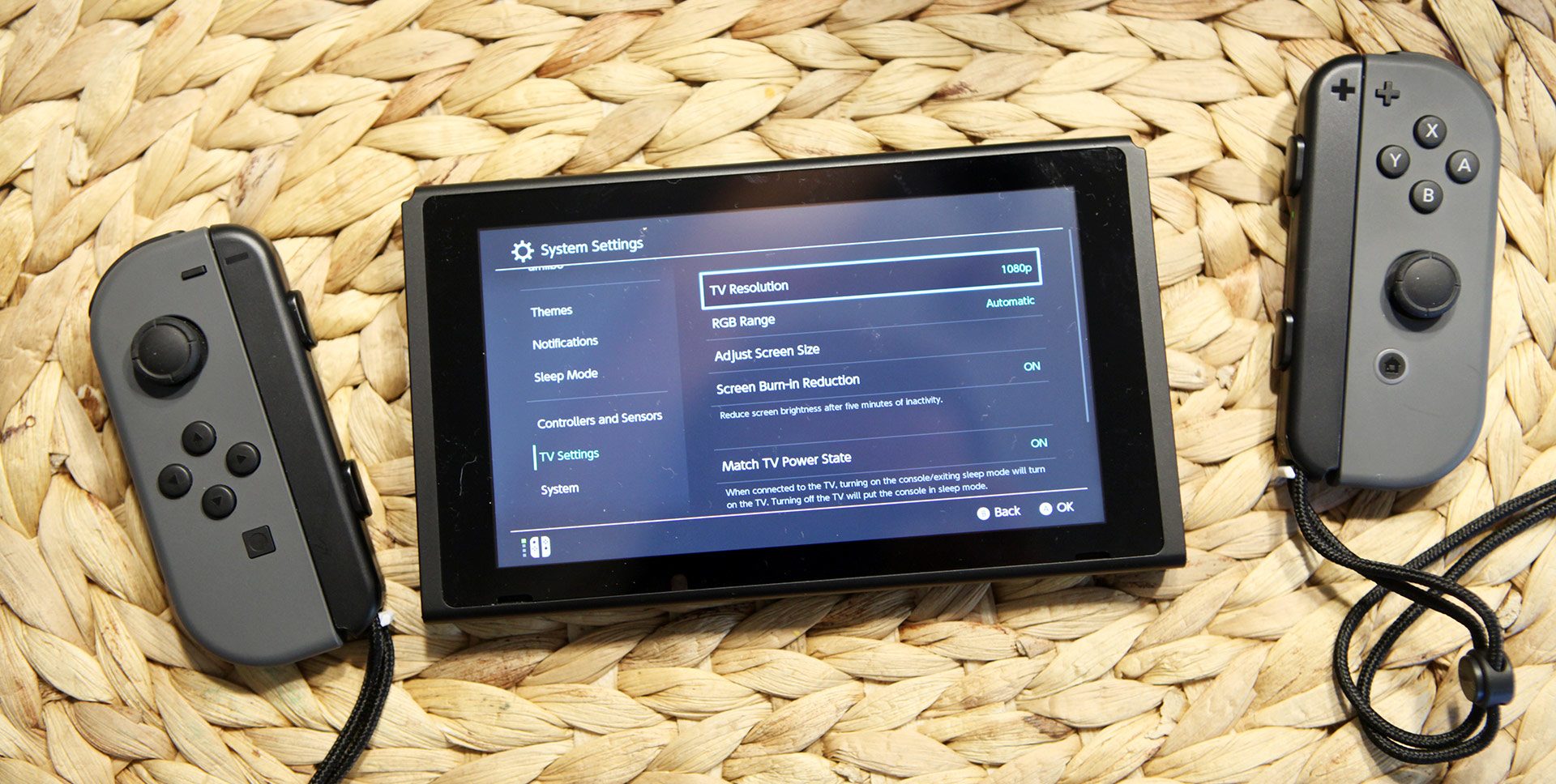 The specs sheet for the Nintendo Switch
| | |
| --- | --- |
| | Nintendo Switch |
| Screen | 6.2 inch, 1280×720 resolution, IPS touchscreen |
| Processor/Video | Custom Tegra, rumored Tegra X1 w/ 4x Cortex-A57 2Ghz |
| Memory | 4 GB LPDDR4 |
| Storage | 32GB flash memory |
| Connectivity | Wireless AC, Bluetooth 4.1(for controllers only) |
| Ports | 3.5mm earphone, 1x USB-C (on unit), 1x USB 3.0(on dock), 2x USB 2.0(on dock) |
| Battery | 4310mAh |
| Operating system | Nintendo Switch System Software |
| Size | Tablet only: 239mm or 9.41" (w) x 102mm or 4.02" (d) x 14mm or .55" (h) |
| Weight | 297kg or .66 lb |
| Extras | Connectable/wireless Joycon controllers, docking station, microSD up to 2TB, stereo speakers |
| | |
Build Quality and Design
Let's start by talking about the build quality.  It's actually very good!  Sure, it's made out of plastic, but it definitely feels solid and high quality.  The plastic has a smooth soft feel, which is nice, but it seems like it will scratch pretty easily in the long term (I already have a couple scratches on my right controller).  The Switch is not overly thick at all and weighs under a pound with the controllers attached, so it's not hard to handle for long periods.
I'm most impressed with how the Joycon controllers fit with the tablet – it really feels like they are securely attached, with no detectable play or gaps whatsoever.  Hopefully it stays this way over the coming years, but again, time will tell.  The rails on the tablet are made of metal while the Joycons are plastic, so it's obvious the Joycons will be the first to be replaced if necessary in the future – a good thing.
Moving on with the aesthetics, the Nintendo Switch comes off to me as a unique but subtle looking device.  I was originally worried about how it would look on my stand underneath the television, but after seeing it in person, I'm pretty pleased with how it doesn't stick out like a sore thumb.  I did get the grey version though, so that helps.  The Switch also comes in neon, which merely has bright red and blue joycon controllers.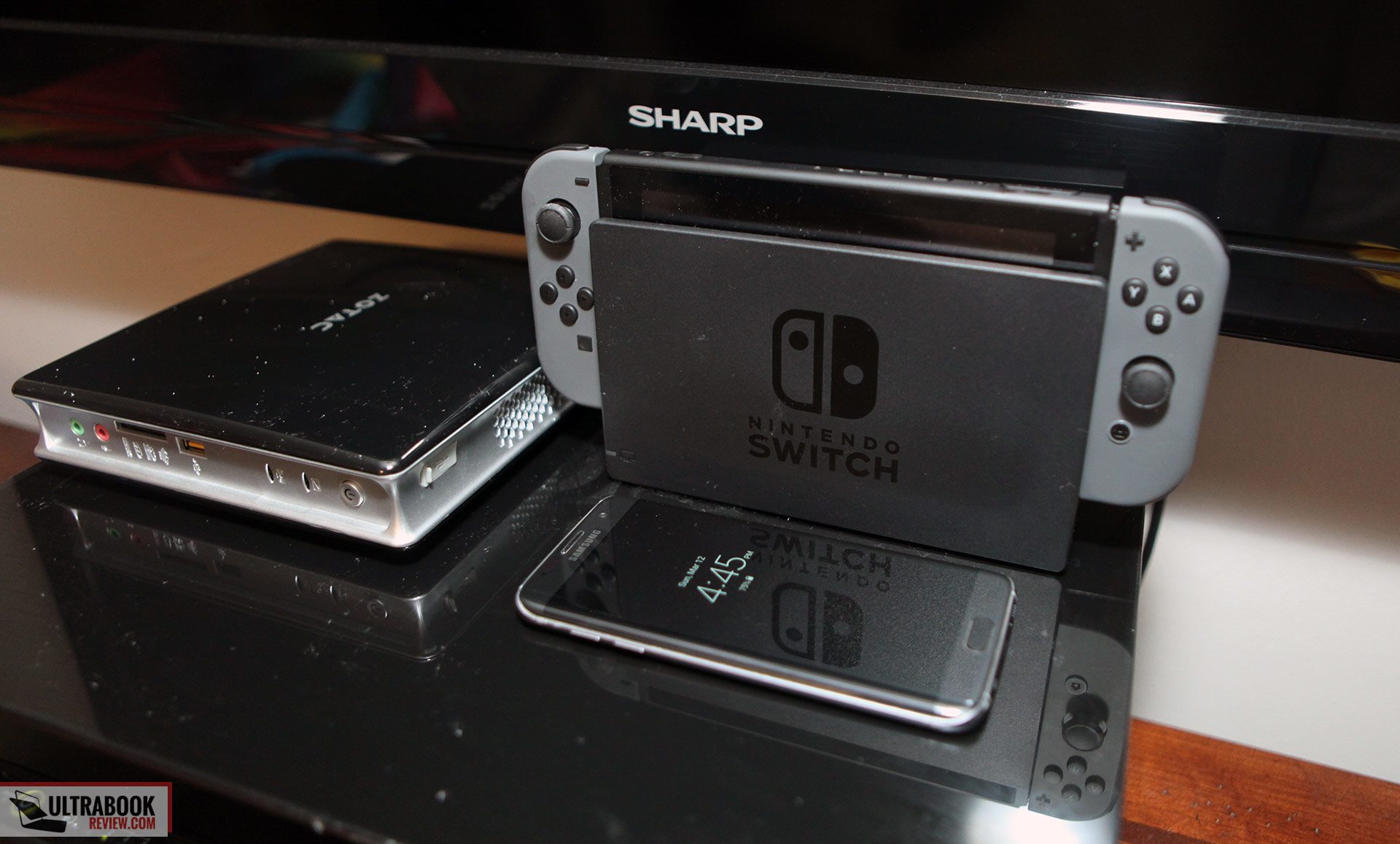 Like I just mentioned, the Switch has the ability to be used as a standalone handheld as well as being docked to be used on your TV.  What really makes it stand out, though, are the controller options in both of those modes.  So let's go over those in more detail.
The most common way to use the Switch (at least for me) is with the Joycon controllers docked in both sides of the tablet.  I'll go over the controllers themselves in more detail later, but it's a pretty comfortable device to use the device in this mode. Having the controllers spread out roughly a foot apart makes it less strenuous to hold and being only .88 lbs in the mode, it's reasonable to carry and handle.  They definitely were aiming to improve the Wii-U controller and they certainly did.
Sticking with the standalone options, you can remove the controllers from the sides and use the kickstand to prop up the tablet portion.  Taking the Joycon controllers off is a pretty simple task.  There's a single button on the back, up near the shoulder buttons.  Push this and slide the controller up to remove it from the tablet.
At this point, you have the choice to either use the Joycon controllers one in each hand or connect them together with the included controller dock to look like a somewhat traditional handheld controller.  I say somewhat because the handheld controller has somewhat of a strange resultant shape and feels a little cramped, so it takes a little getting used to.  They also sell a "Pro" controller which is more traditional feel, but I don't think I'm desperate enough to spend $70 on one.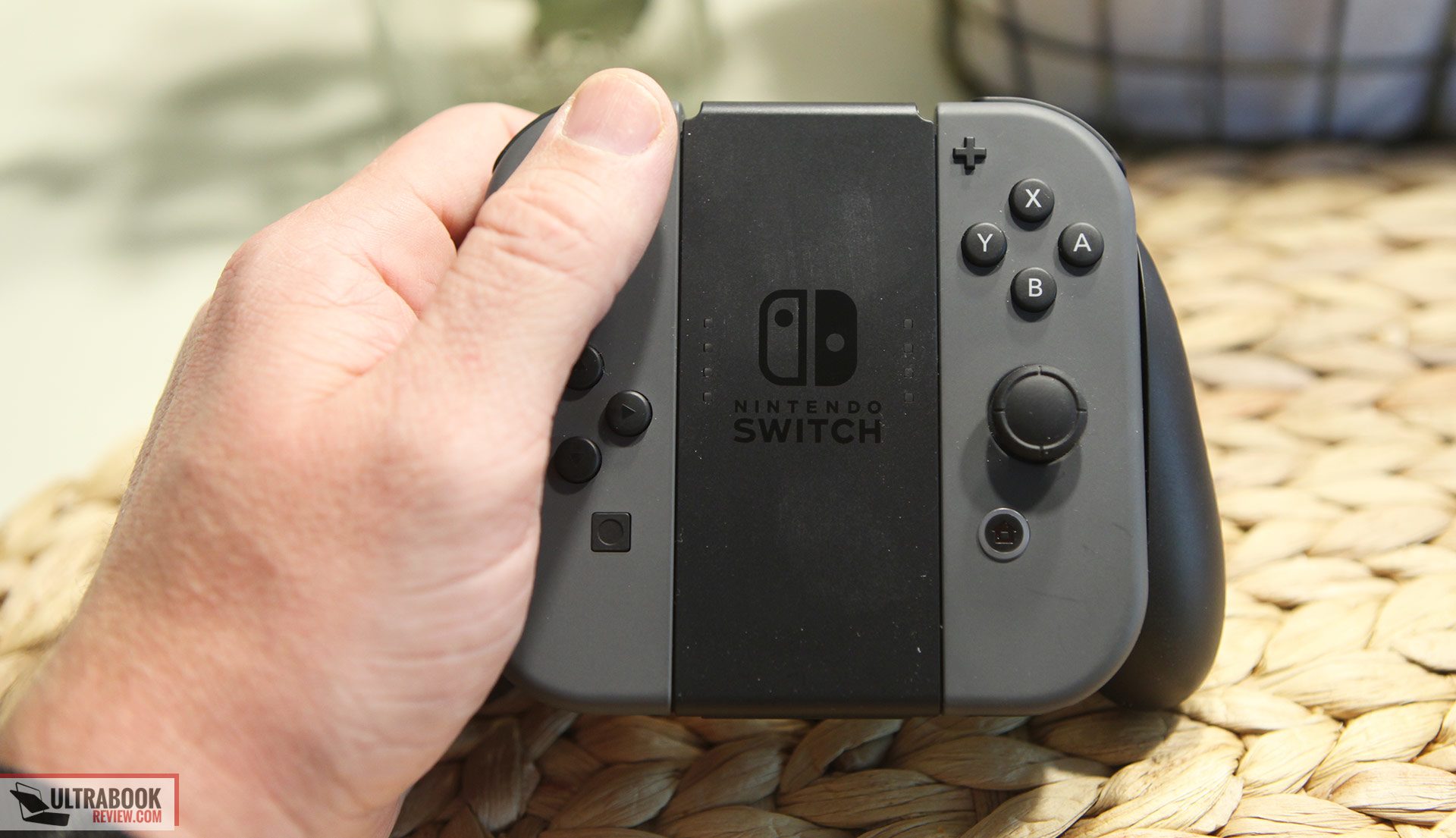 When not connected, I actually prefer to use the controllers separately anyways.  It feels very comfortable this way and allows you to put your hands pretty much wherever you want.  I typically use them as they are when you pop them off, but they also include some extra slides with wrist straps, that add two additional buttons to the controller and give it an even more comfortable grip.  I haven't used those for anything yet, but they are more necessary for the multiplayer games where you can use the single Joycons by themselves.
All of these remote controller options can also be used with the Switch docked into the docking station.  The included docking station connects to your TV with HDMI and has some discreet wiring connections in the back of the station itself.  Without the tablet, it blends in pretty well with my entertainment system.  It helps that it's relatively small and black in color.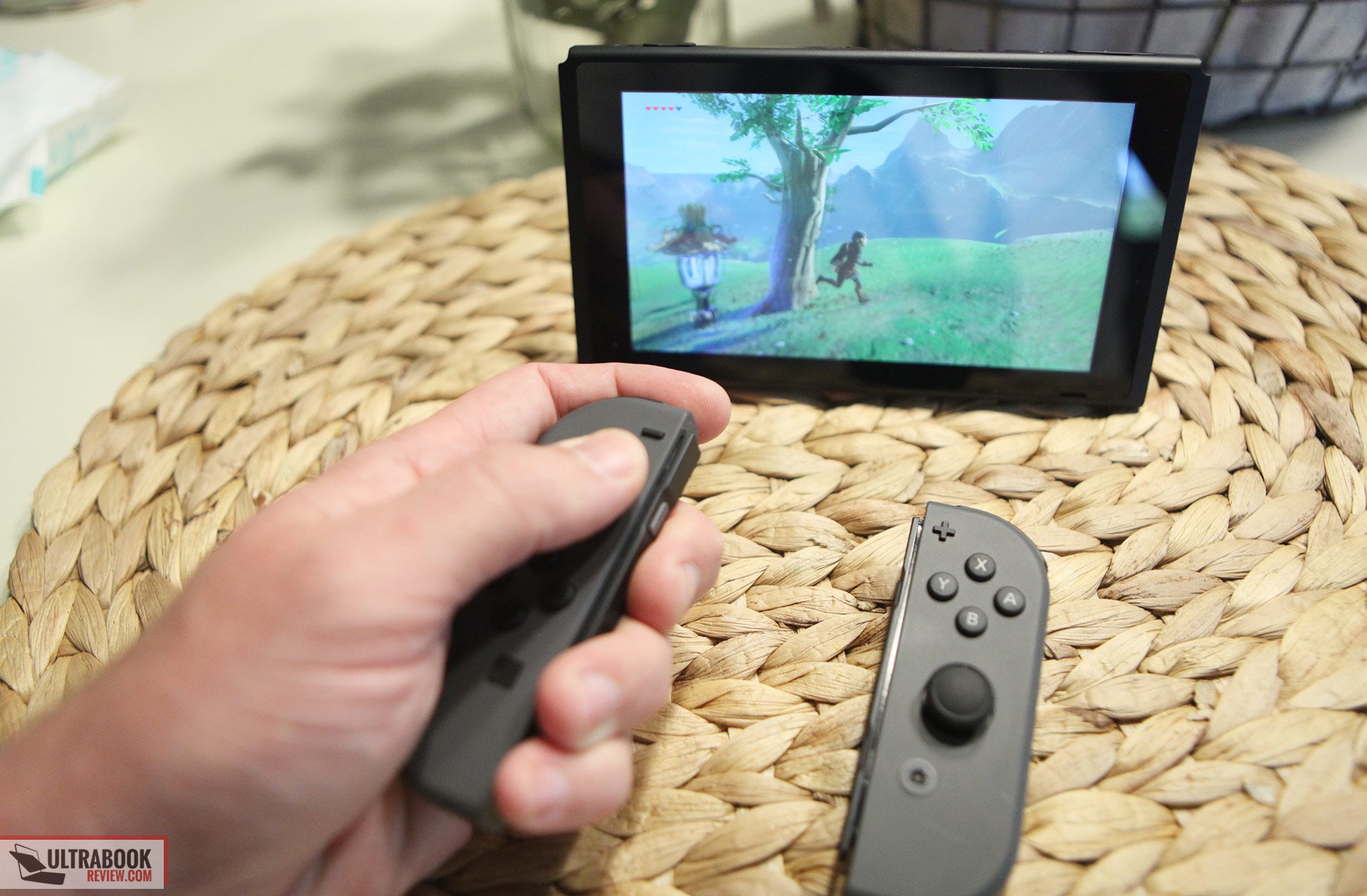 To dock the tablet, all you have to do is center it somewhat and slide it in.  I was a little taken back, at first, as to how little force it took to connect.  I've docked it dozens of times now and not once have I failed to do it properly.  Undocking it is just as easy as well – no sticking or friction on the way out.
Once connected, it's pretty seamless.  It takes only a couple seconds for the image on the tablet to be transferred to the television.  There's no reloading time or anything – it just works.  The same goes for undocking.  You have different resolution options in docked mode, which are set automatically by default but also can be set manually.  The same controller modes can also be used in this mode.
The tablet itself is a pretty nice build nut it lacks a little in the aesthetics department.  On the front there's the 6.2" HD screen.  Minus the bezels, that's pretty much all there is to see up front.  There are two small holes on the bottom for the front facing speakers.  The only other noticeable feature is the light sensor at the bottom edge.
The back of the tablet is not quite as pretty.  The assembly screws are clearly visible on the four corners.  Centered is a very large Nintendo Switch logo.  Towards the bottom is another pair of stereo speakers.  They are large enough and plenty loud, so it's ok with me that they are facing backwards.  Along the speakers is all the regulatory information.  At the very bottom center is a small cutout, likely a guide for the dock.  Finally, on the left side is the stand, and underneath is the microSD reader.
Speaking of the stand, it pulls outward to allow the tablet to sit on the tabletop, but it's not the sturdiest unfortunately.  It pulls out to about 45 degrees, which is ok but it's too long and not that wide.  So unless the surface is flat and level, it might not work all that well.  There's also no hard stop on the hinge, so if you bump it by accident, it's at risk of collapsing.  The angle the tablet rests at on an airplane tray is a little too upright if you ask me.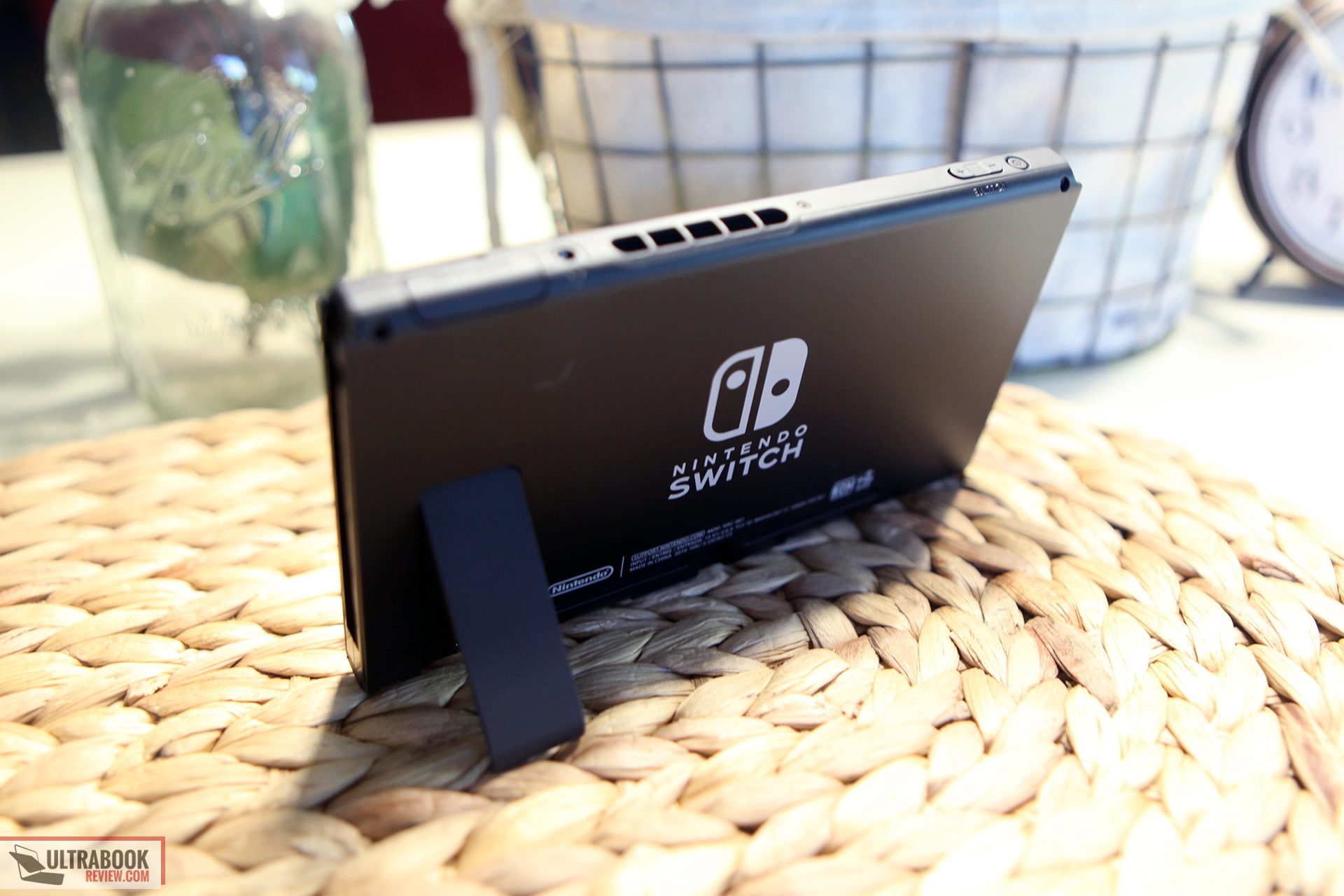 The top of the tablet accommodates the power and volume buttons.  Towards the other side is a connection for the headphones and the slot to put your game card.  At least that slot is enclosed with a flap, adding to the aesthetics some.  Those gamecards are tinyv too, so it's nice they put a little security in order to prevent them from falling out and getting lost.  There's another screw and a large exhaust vent tight next to the headphone jack.
The sides of the tablet are rails for the Joycon controllers, so they really couldn't do much to make them look smoother.  On those sides are yet some more assembly screws.  Finally, on the bottom, is the single USB-C connector, some docking holes, a couple more screws and the serial number sticker.
So yeah, the aesthetics aren't quite up to par, but they don't really need to be.  Considering this isn't really going to be used as a stand-alone tablet all that much, a lot of it can be forgiven, as it's necessary to have the design the way it is in order to function properly.  The good thing is the build quality is very good and it more than makes up for it.
Input Devices
As I said before, the Switch comes with dual Joycon controllers, one for each side.  They are similar but not identical, which makes it kind of strange considering some games will have separate players.  It's a good layout though, as the controls feel very natural once you know where everything is.  It only took me a day or two to memorize and utilize all the buttons without looking.
The buttons themselves are very tactile and easy to push.  There is a definite feeling that each button is pressed, including the shoulder buttons.  The analog sticks are also very high quality.  I don't have any issues with sensitivity and I've adjusted very well to the feel.  Overall, I consider the controls to be top notch.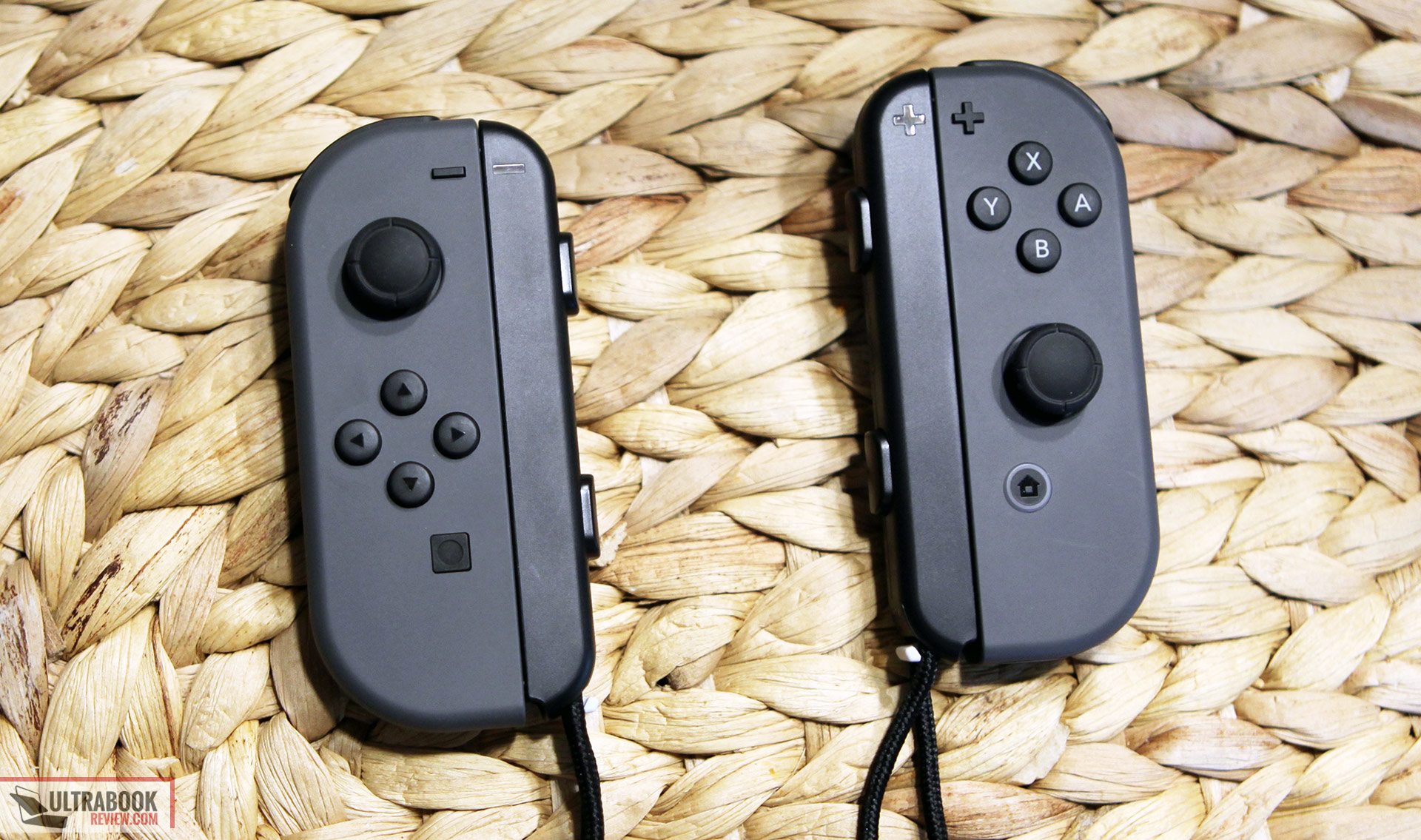 From the top, the left Joycon has two shoulder buttons, a minus button, an analog stick and 4 buttons underneath.  Beneath all that, there's a dedicated screenshot button.  On the side, integrated with the slider, is two extra buttons.  These buttons can be pushed, but they are flush with the slider.  Attaching the included wristbands makes those buttons more pronounced.
Speaking of those wristbands, there are two of them and they are interchangeable.  The thin you really need to pay attention though is that the minus and plus symbols MUST be matched, otherwise deal with a very bad fit (one that is very difficult to fix, mind you).  I'm not overly thrilled on the general fit of my wristband adapters anyways.  Even matched correctly, it seems too tight of a fit and doesn't slide as well as with the tablet.
The right Joycon has a similar layout as the left, only this one has the 4 buttons above the analog stick instead of below it.  There's a plus button instead of a minus and there's also the home button instead of screenshot.  The bottom edge has an infrared sensor, which is something the left one lacks.  The analog stick also doubles as an NFC reader, so this is the spot to stick Amiibos if you have them.
The Joycons aren't a mirror image though, so those games with separate players using different sides will mean they aren't holding the controllers the same way.  In general, when turned to the side, the only major differences are that the controls are shifter slightly to the right or left and the shoulder buttons are on opposite sides.
The Joycons seem to communicate together as one when docked, but when separated, they are independently connected by Bluetooth.  From what I've experienced so far, you have to pair them when disconnecting by hitting the L and R shoulder buttons at the same time – no big deal.  When docked with a tablet, this is not the case and when attached to the control pad, the systems seems to recognize that they are docked with it.
One thing I feel I should mention with the Joycons is some users(not myself) are experiencing major issues with their left Joycon.  The issues are mostly disconnections or lag with the controls.  Nintendo has addressed the issue, but there's no confirmed fix as of yet.  I haven't experienced either issue, so I consider myself lucky.
One thing that is missing from the Joycons is the ability to charge them without connecting them to the tablet.  Maybe not individually, but I would have at least liked to see the Joycon controller dock have a USB-C port to allow you to charge them both.  I haven't experienced dead batteries in them yet, but I think I'm going to be pretty annoyed when they abruptly disconnect one day and I have to dock them on the tablet in order to continue.
It's not included, but the only other controller option is the "Pro" controller.  It's a more traditional look and feel as far as controllers go and can be used without having to disconnect the Joycons.  It's a whopping $70 though – a little steep in my opinion, just to add a little more convenience.
In the end, I'm pretty impressed with the controls and buttons on the Switch.  It's a good layout and the buttons feel high quality.  If they can eliminate the Joycon issues people are having, I'm convinced everyone will be pleased.
Screen
The Nintendo Switch has a 6.2 inch 1280×720 touchscreen.  Unlike almost every other screen they have released lately, such as the Wii-U and the Nintendo 3DS, this screen is very high quality and is IPS.  The image is crisp, though only HD, and the viewing angles are stellar.  The colors are also very pleasing and natural.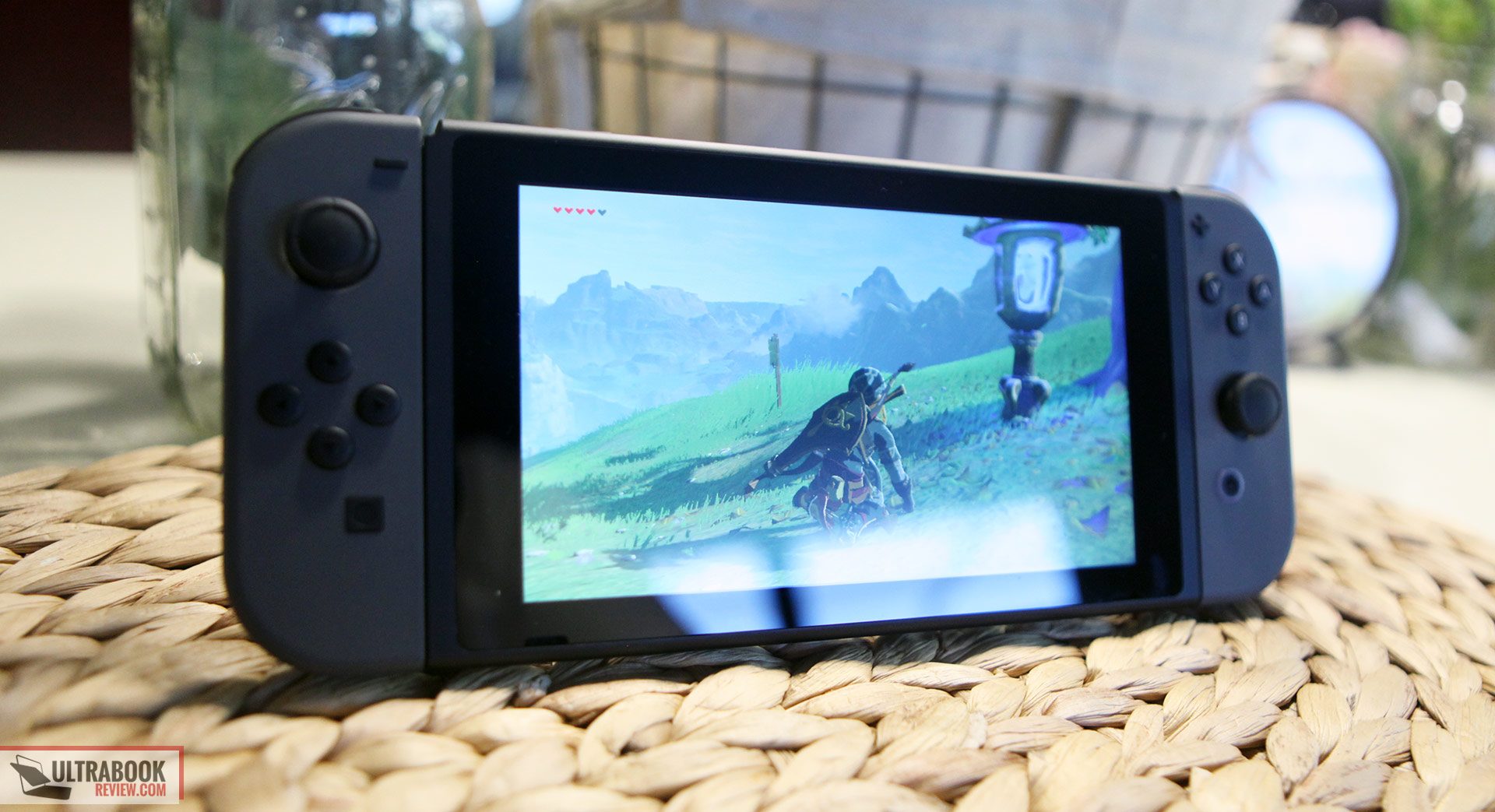 I'd love to give more info on the screen, but since it lacks a formal operating system, there's only so much testing I can do.  I can say definitively that the brightness ranges from 20 to 250 nits.  The minimum brightness is great for dark rooms, but the maximum could be a little better.  Using it outside with the glare really washes out the picture, making it a little difficult to see.
Compounding the problem is Nintendo's decision to use a glass panel on top of a matte screen.  There is an obvious gap between the two, which I could clearly see.  My experience with dual panels is the glass makes glare even worse.  The glass is necessary for touch, but it would have been nice for Nintendo to have used a fused LCD/touchscreen, such as those used on cell phones.
The touch controls are pretty nice to have though.  It makes typing inputs and navigating the UI a lot easier, for the most part.  I tend to stick to the controllers to avoid fingerprints, but that's just my preference.  I've only played one game and it didn't require touch, but that doesn't mean others won't utilize it.
All in all, I'm ok with the screen as it is.  It could have been better, but it would certainly have driven the price up.  There's also the argument about using a 1080p screen, which I get.  It would have been nice to have the option to just choose my resolution, like you can when it's docked.  Again, though, if cost was the issue it's understandable.
Games and performance
This section will remain pretty short for now because there isn't a whole lot I can report at the moment.  As it usually goes with brand new consoles, there just aren't a lot of games.  At the time of completing this review, there are a total of 22 games available on the Nintendo shop.  Of course, there will be plenty more coming in the future though.  In fact, I believe that number was about 12 when I first got the device, so the games are coming in slowly but surely.
Mind you, many of these games are not AAA titles.  In fact, I think we'll be seeing a mix of Indie and AAA titles coming out on the Switch in the near future, which is a very good thing in my opinion.  Older favorites such as World of Goo and Binding of Isaac are coming to the console very soon.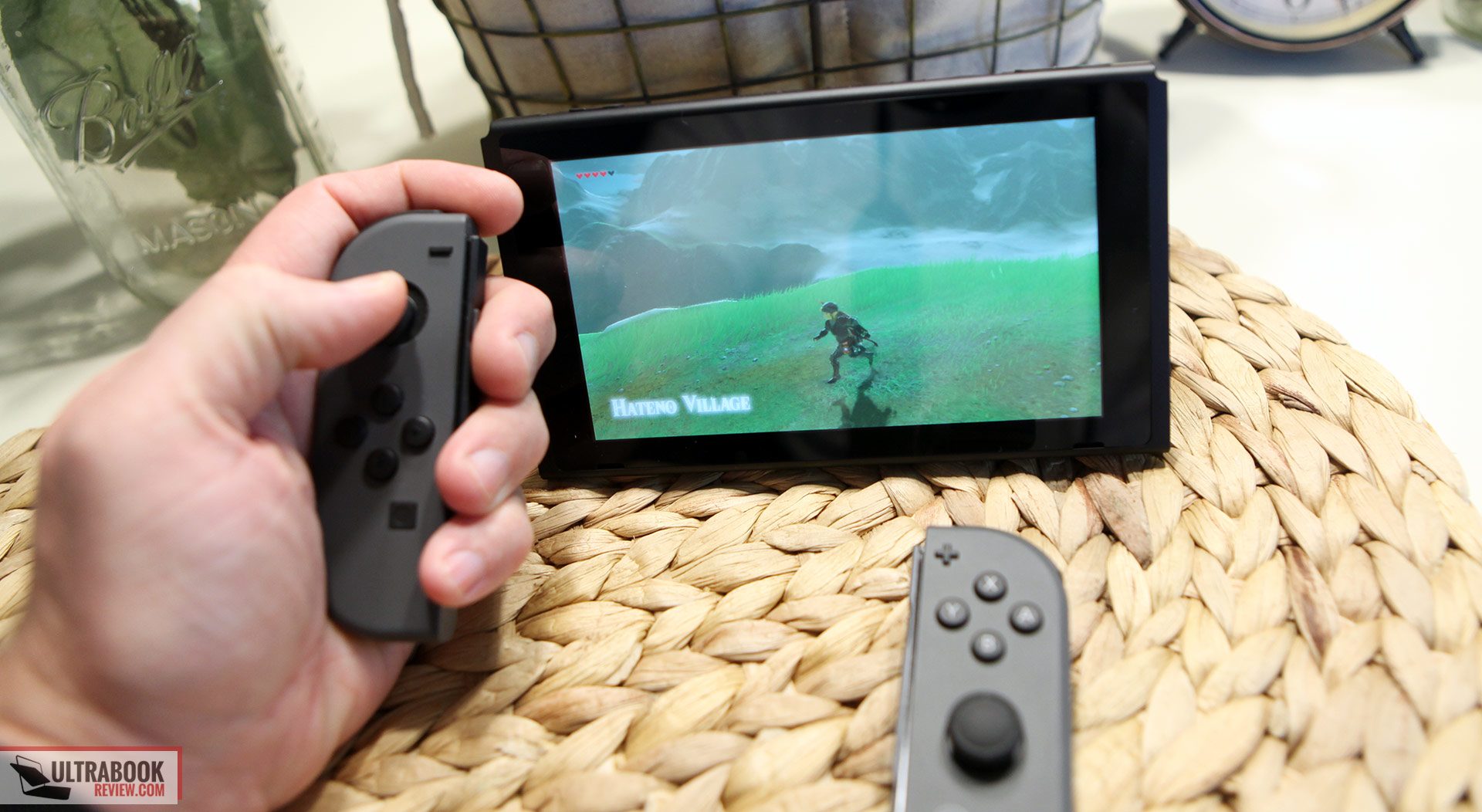 What's surprising though is the lack of flagship games available.  The only one available is the new Zelda game, which is great by the way.  But I wasn't expecting to see that the Mario game won't be coming out until Q4 2017.  Even Mario Kart isn't ready yet and from what I understand, it's merely a port of the Wii-U version.
So as far as performance goes, I can't comment on anything more than the only game I have for the Switch – Zelda: Breath of the Wild.  I've logged about 21 hours so far and I can tell you it's pretty darn fun.  Overall, the game performs pretty well but there are a couple things I think people need to be aware of before purchasing the console.
First, the graphics aren't exactly up to par.  In fact, I'd say everything is similar, if not only a little bit better than it is on the Wii U.  So if you're looking for incredible graphics like what you see on the PS4 or Xbox One, you might want to look elsewhere, because there's no way this console will hold a candle to either of them.
The other thing I wanted to mention is the default resolution is only 720p.  I fully expected this, going in, because I couldn't see how a tablet CPU was going to function properly driving 1080p graphics and higher.  When docked, you do get the option of running your game at 1080p, but there is an obvious framerate drop.  It's tolerable, but I've been keeping it at 720p for the game I've been playing.
This is all expected though.  It is a thin tablet after all, not a heavy console with a larger GPU inside.  It's also played while on battery, so it has to have a lightweight GPU in order not to throttle.  Even gaming laptops aren't capable of utilizing the top GPUs on battery, so it makes perfect sense why they are limited in the graphics department.
Even so, the graphics look really good and I think it'll open an opportunity for indie developers to break into the marker a lot easier.  Some of the best games of the past couple years have been from independent developers, so it would be great for them to have a decent console to port their apps to.
Speakers, headphones noise and heat
So there is a fan and heat sink on the unit and the good news is it's pretty quiet.  With all the use I've been giving it, I haven't noticed it being on at all.  Honestly though, any time I've used it, I've been using it, so it's kind of hard to notice a fan with all the sound from the game.
The back of the tablet gets a little warm, but it's nowhere near anything I'd ever worry about.  There was one spot on the right side that hit 35C but my fingers really didn't touch that area.  It's clear that Nintendo has chosen not to push the limits on the CPU, considering the handheld is locked at 720p.  I'm sure they had comfort and battery life in mind when they did that.
The speakers are pretty good, being in both the front and the rear.  For the most part I can distinguish the stereo sound by hearing noises coming from the proper direction.  The quality of the sound is very good as well.  I would have liked them to be a little louder though.  At max, the loudest I could measure was 70 dB, with typical readings being more around 60dB.
If you're on an airplane, you'll want to use headphones of course.  Within the past week I used it and it worked ok, although I'm not too much of a fan of the headphone jack location.  The max volume was also not as high as I liked though, either.  It was good enough for most situations, but not quite enough to overpower a loud environment such as an airplane.
My biggest disappointment became apparent on my recent plane ride, when I tried to pair my in-ear Bluetooth earbuds.  To my surprise, after 10 minutes of meddling through the settings, it appears that Bluetooth isn't supported.  Honestly, I don't know what Nintendo was thinking here because I can't remember the last device I've bought that doesn't support Bluetooth headphones.
Apparently there is a module on board, but it's reserved for the controllers only.  According to Nintendo, it's "impossible" to enable Bluetooth devices in the future, so don't hold your breath on a future firmware update.
Battery life
The battery life is another one of my minor disappointments.  I'm struggling to get more than 3 hours for the most part.  It's not horrible I suppose – 3 hours is plenty long enough to play a game.  But if you want more, you're going to have to tether yourself to a wall or dock the tablet and play on a TV.
This is gaming time, mind you.  If they ever release multimedia apps, the battery life will surely be better.  I just have no way to estimate since those apps do not exist.
The good news is USB-C is becoming a very common cable in my household, so charging the device while on the road was no hassle at all.  I was able to use my battery brick to charge it in my bag, just like I would with a phone.  Additionally, my laptop charger for the Spectre x2 was also compatible, so it's safe to assume other USB-C laptop chargers will work as well.
Being a Tegra processor, it's doubtful that Quickcharge is supported, but I could be wrong.  It doesn't take a long time to charge the battery though, considering the size of it isn't all that big, being 4310 mAh.
What's missing?
I wish I could say there were more uses for the Nintendo Switch, but there really aren't any just yet.  The only thing you can really do is play games.  It's internet capable, yes, but if you were thinking of using this device in place of a small tablet in order to stream movies or listen to music, think again.  As of yet, Nintendo hasn't added these features, so there's no way to do either.
The good news is Nintendo has mentioned that those features are coming soon, but there hasn't been any details as to what exact apps will be available.  It would be nice if there was a movie music and photo app to take advantage of the microSD slot.  Considering it's internet capable and it has a touchscreen, it would also be nice to see a browser.  Until they give more concrete info about their plans, it's probably best not to expect these apps anytime soon.
Another feature that is baffling that it's missing is the lack of a virtual console.  To me, this is a no brainer way to make some extra revenue, and it's clear from their previous consoles they have no problem emulating previous gen devices.  To have it missing sends more signals that this console was rushed to launch.
Price and availability
The Nintendo Switch has been pretty much sold out since it was put on preorder a couple months ago.  Most major retailers will carry it though, including Amazon.  You can also but it from third party sellers, such as on eBay, but you'll be paying a premium for it.  Prices are $299, which isn't that bad, considering the quality and versatility of the device.
Final thoughts
At the end of the day, I have to say I'm overall pretty impressed with the Switch, but there's certainly some room for improvement.  It has some minor faults, such as only average volumes through the speakers and headphones.  It would also be nice to have the screen be a bit brighter.  The kickstand could certainly be better, and yes, that battery life could also be improved.
But the pros are all there and really make this a pretty cool gadget to buy.  For example, the options with the controller really give the user some flexibility on how to use the console.  The fact that you can seamlessly dock and undock at will, without interrupting the game that you're currently using is a huge plus.  This really is a system that you can use at home on the big screen and on the road, wherever that may be.
I really feel that I need to be critical to them on their launch schedule though.  It really feels like they rushed this console out the door and that it wasn't fully finished yet.  The lack of games is only a minor red flag, but the lack of multimedia apps is pretty unacceptable, if you ask me.  I mean, seriously, there's a microSD card slot and there's literally nothing I can do with it right now.
The biggest thing I can ding them on is the lack of Bluetooth controls, for headphones.  That blows my mind how they thought that was an ok move on their part.  Yes, I've read you can attach a Bluetooth dongle to the dock, but you shouldn't have to so that.  I really hope they find some way to make the internal hardware support Bluetooth headphones, but if they're already saying it's impossible, I don't think it'll happen.
So do I recommend it?  The answer is yes, but only for some people.  If you want to play the latest Nintendo games, this is the obvious choice for you.  But if you already own a Wii U, you might want to hold off for a little while and see how things go – especially since the titles coming out for the Switch are also coming out for the Wii U for the time being.
The price isn't horrible but it's a lot to ask for if the only use is to play games.  A lot of value will be added when they add more apps for other uses.  But until then, a lot of you might want to wait and see if that actually happens.  I would hate to recommend this to people, saying it'll have uses in the future and then have Nintendo drop the ball.  They forgot Bluetooth, so anything's possible.
So there it is – that's how I feel about the Nintendo Switch.  I really like it but it certainly could be better.  Some of these things will be fixed in the future, but the other stuff is permanent, unfortunately.  I hope this helps you make an informed decision on whether or not to buy.
I'm keeping my unit, so I'll have it on hand to answer any questions anyone may have.  If you have a questions or want to share your opinion, please leave a comment in the section below.  I'll be keeping this article up to date as things change, including my opinions.
Disclaimer:
Our content is reader-supported. If you buy through some of the links on our site, we may earn a commission.
Terms
.