In this article, we're going to discuss the ASUS ROG Strix Flare II Animate, which is a full-size gaming mechanical keyboard with hot-swappable switches and an optional AniMe Matrix LED array slapped on top.
My name is John and I've been a techie for my entire life, as well as seriously custom/modded mechanical keyboards for the last several years. I'll be covering keyboards and accessories here on UBR from time to time.
ASUS ROG mechanical keyboards are getting better and better over the years, with some of their premium models adding a bunch of unique features that some might consider cool, and others gimmicky.
In a few words, this ASUS ROG Strix Flare II Animate is a sturdily-made keyboard, with a top metal plate and a bottom plastic chassis. It checks many of the right boxes if you compare it with custom mechanical keyboards: it's programmable, uses sound-dampening foam for better click sound, comes with hot-swappable switches (if you don't like the ASUS custom NX Red switches included by default, which are a bit lubed out of the factory), and uses double-shot PBT keycaps which are shine-through, so you can enjoy all that RGB goodness.
As for the AniMe Matrix implementation, unlike on the ASUS Zephyrus G14 laptop where it has limited practical functionality since it's on the lid and not visible to the user, on this Strix Flare II Animate keyboard it is visible in the top-right corner and used to display system stats, cool images, animations or notifications on certain keypresses (volume, play/pause, change brightness level and a few others).
But make no mistake, this is not a mechanical keyboard for purists. It's still a gamer-focused keyboard, which might appeal to non-gamers due to its design, build quality, and comprehensive features. It's also rather pricey, almost in custom keyboard territory (follow this link to get updated pricing in your region), which can affect its appeal and overall popularity.
I've gathered all my impressions down below, with the positives and the quirks that you should consider before jumping on this one.
Specs – ASUS ROG Strix Flare II Animate
Model
ASUS ROG Strix Flare II Animate
Format
Full-size ANSI layout (100%)
Color
Gunmetal
Switch options
several different variants to choose from, such as Cherry MX Red, Cherry MX Brown, Cherry MX Blue, ROG NX Red
PCB
Hot-swappable
Keycaps
PBT double-shot keycaps with shine through
Polling rate
up to 8000 Hz
Lighting
AniMe Matrix LED display
Per key RGB LEDs
Front lightbar
Dimensions
Keyboard: 435mm x 165mm x 38mm
Wrist rest: 435mm x 85mm x 27mm
Weight
1157 grams
Cable
Braided, 2 meters, non-removable
Connectivity
USB 2.0
USB Pass-through
USB 2.0
Accessories
included foam wrist rest, ROG keycap puller, ROG switch puller
Here's a quick summary of the pros and cons of this keyboard, and we'll continue further down.
The Good
Solid build quality for a prebuilt keyboard
Excellent multimedia keys
Hot-swappable switches
Included quality wrist-rest that attaches magnetically
You can adjust lighting at a basic level without installing software
The included sound-dampening foam helps (to some extent) with noise
Factory lubed switches (my guess)
Cool AniMe Matrix display
Clean looks for a gaming keyboard (except the legends font that I'm not a fan of)
USB Passthrough
On-board memory for up to six profiles
The Bad
Non-detachable and very thick USB cable
Not the thickest PBT keycaps, but at least they're double-shot
Wrist-rest is a bit too short, and too thick near the keys
Only one angle of adjustment besides completely flat
Secondary key functions are not backlit
Exposed switch housing might not appeal to everyone
Sounds a bit hollow and harsh on the rebound
Expensive, it's almost in custom keyboard territory
The software needed to customize the keyboard installs a lot of services
Design and Build Quality
Design and aesthetics are highly subjective, so you may not agree with all of my impressions.
There are a lot of things I like about the design of the ASUS ROG Strix Flare II Animate, but I'm not a fan of the gamery legends font used here. The letters are too big and the font looks childish to my eyes. That's probably my biggest gripe with this design.
The other is the aggressive branding, with the use of Republic of Gamers inscriptions in three spots: top of the keyboard, spacebar key, and the palm rest. One mention would have been enough if you ask me.
Other than that I like the flat boxy design without complicated angles and design lines. The top plate is made out of metal, including the multimedia dial and its cluster. There's basically no flex no matter how hard you press on the keyboard.
Because of the AniMe Matrix display, this keyboard is rather alrge. Add in the palm rest and this thing will take a lot of space on your desk, which could be an issue for some of you. I for one, coming from a 75% keyboard, I found this ASUS ROG Strix Flare huge in comparison, but I got used to it pretty quick. I just wish a TKL version was available.
Regarding thickness, mechanical keyboards tend to be thicker than rubber-dome implementations, but the ASUS ROG Strix Flare II Animate uses keycaps with a shorter profile than the standard Cherry units, so even if I wouldn't call it a slim keyboard, not by a stretch, it's pretty comfortable to type even without the palm-rest attached. I couldn't feel any wrist pain after a normal day of use.
The switch housing is exposed underneath the keycaps and it's something you may like, as it allows for the RGB light to spill out through the bottom and not just through the keycaps. Lighting is not discrete, even on the lowest setting, so in a low light environment the keyboard will lighten up the room. There's even a lightbar in front.
The PCB LEDs are north-facing. If they were south-facing you would get even more light. For most people, this detail might not matte, but it does to me.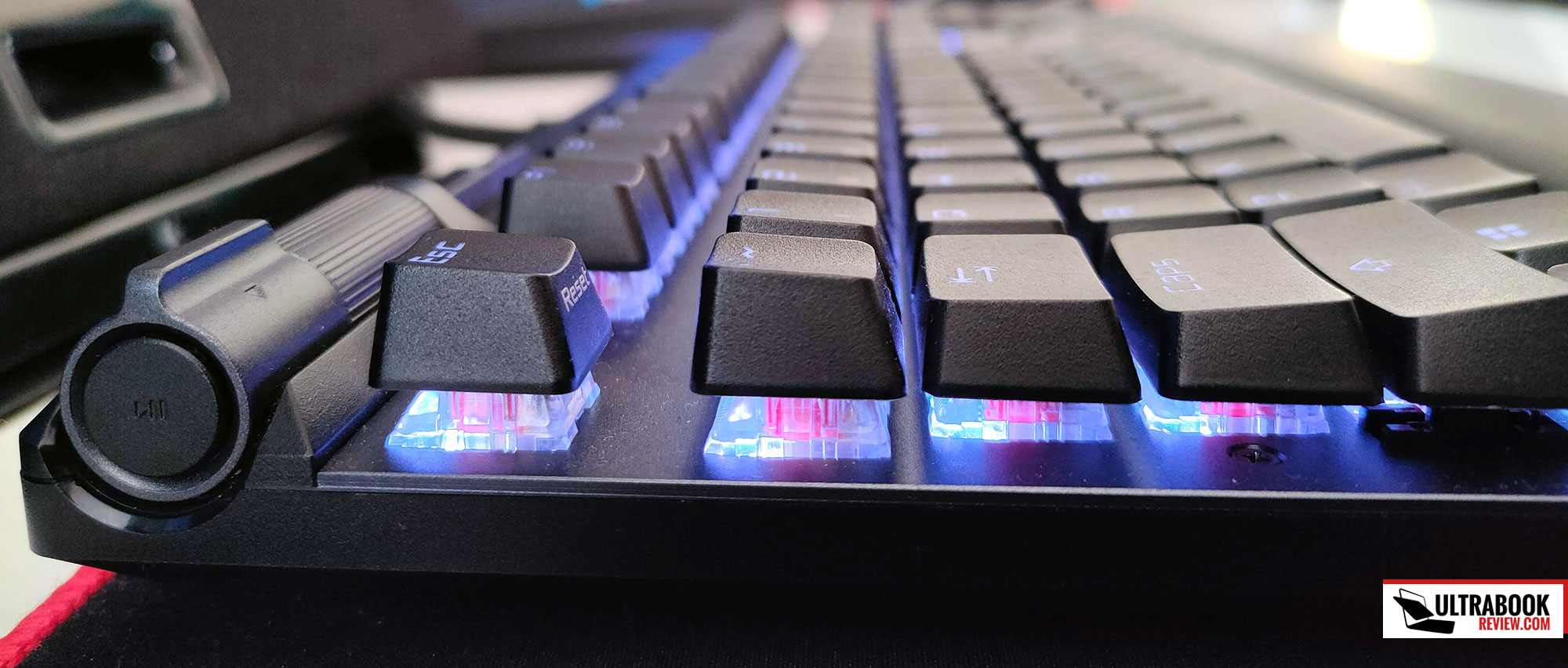 By default, the keyboard has a very slight incline, which helps with typing, but you can incline it further. There are two rubber feet that can raise the keyboard once opened. Some keyboards have one additional adjusting angle. Not this one. I found the default typing angle to work best for me.
Although the USB cable is not detachable, it is high quality, it's braided, but it's thick, very thick, thus hard to flex and route cleanly. That's due to the fact the keyboard has a USB pass-through port which you can use to connect a mouse, so on the computer end the cable splits in two. Yes, you'll need two free USB ports on your PC if you want the passthrough functionality.
Unfortunately, the USB port on the keyboard is placed on the left side of the keyboard, so a wired mouse will create a cable mess on your desk. Also, don't expect to use the port for connecting external storage units, since it's only USB 2.0, thus slow.
Features
Keyboards today are packed with features, even entry-level ones. The ASUS ROG Strix Flare II Animate being a premium product raises the stakes even further.
Probably the first thing that will catch your eyes is the RGB lighting. You don't need to install software to use the keyboard out of the box, which I like, but you'll get limited control over the lighting modes.
Fortunately, it's easy to set the keyboard to a white static light at a comfortable brightness level, which was the first thing I did. I'm not a big fan of RGB, as you probably figured out from my pictures. If you want advanced functionality and customization, you'll have to install the ASUS software. More on that later.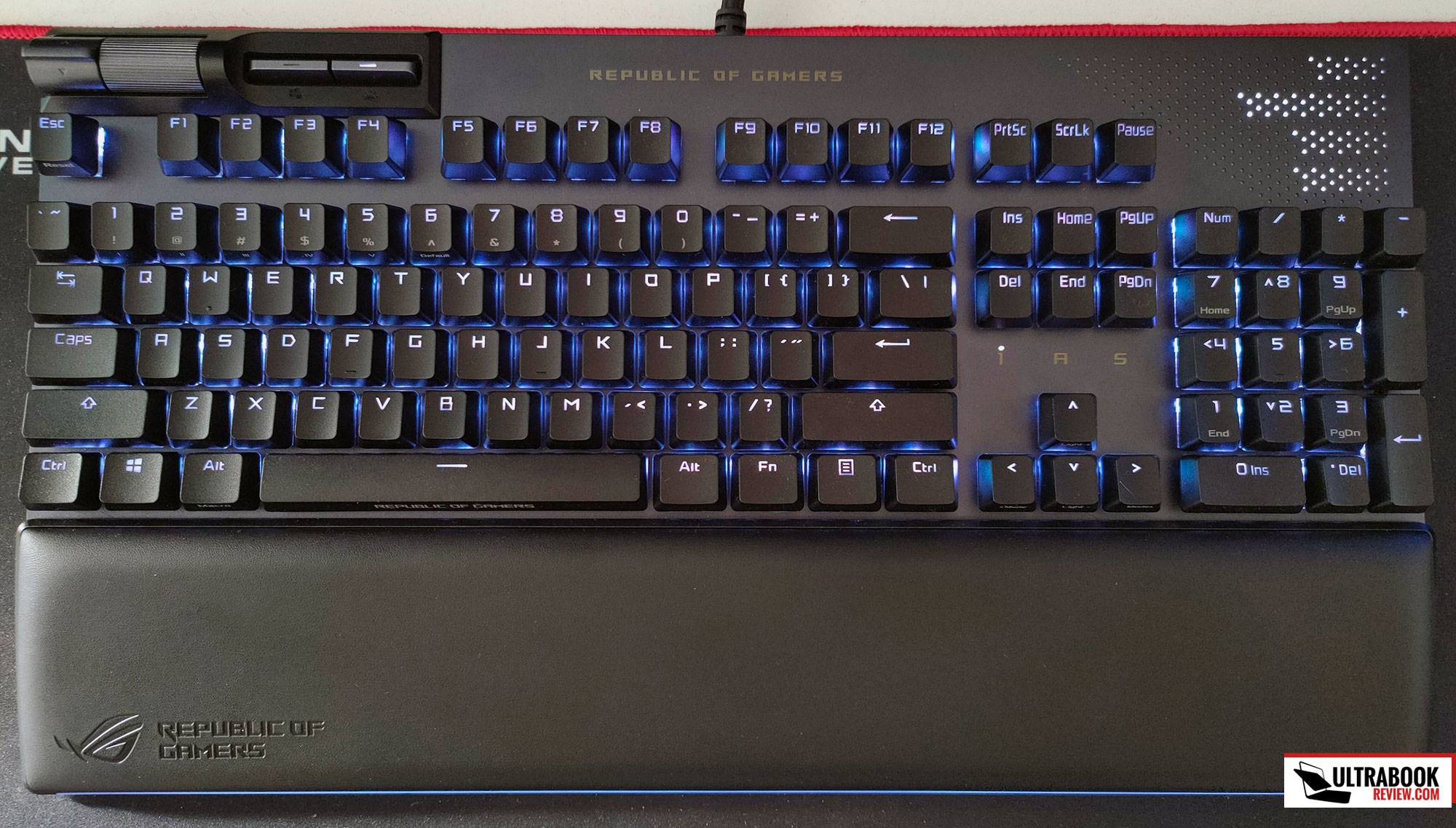 Second, there's the included palm rest. It attaches magnetically to the front of the keyboard, but you'll need to remove the light strip plastic cover first. There's a special compartment inside the palm-rest, also magnetic, where you can store it. This way the light from the front keyboard LEDs is sent via a Plexiglas piece to the front of the palm-rest. Nice.
The palm rest is made of soft foam covered with some sort of artificial leather. It's comfortable, but I find it a bit too short and too tall, almost at the level of the front row of keys. Also, I would have preferred it to be a bit wider than the keyboard, as my left palm almost falls off in a normal typing position. My OCD appreciates the fact the palm rest is the same width as the keyboard, but in practice that doesn't seem to be an advantage.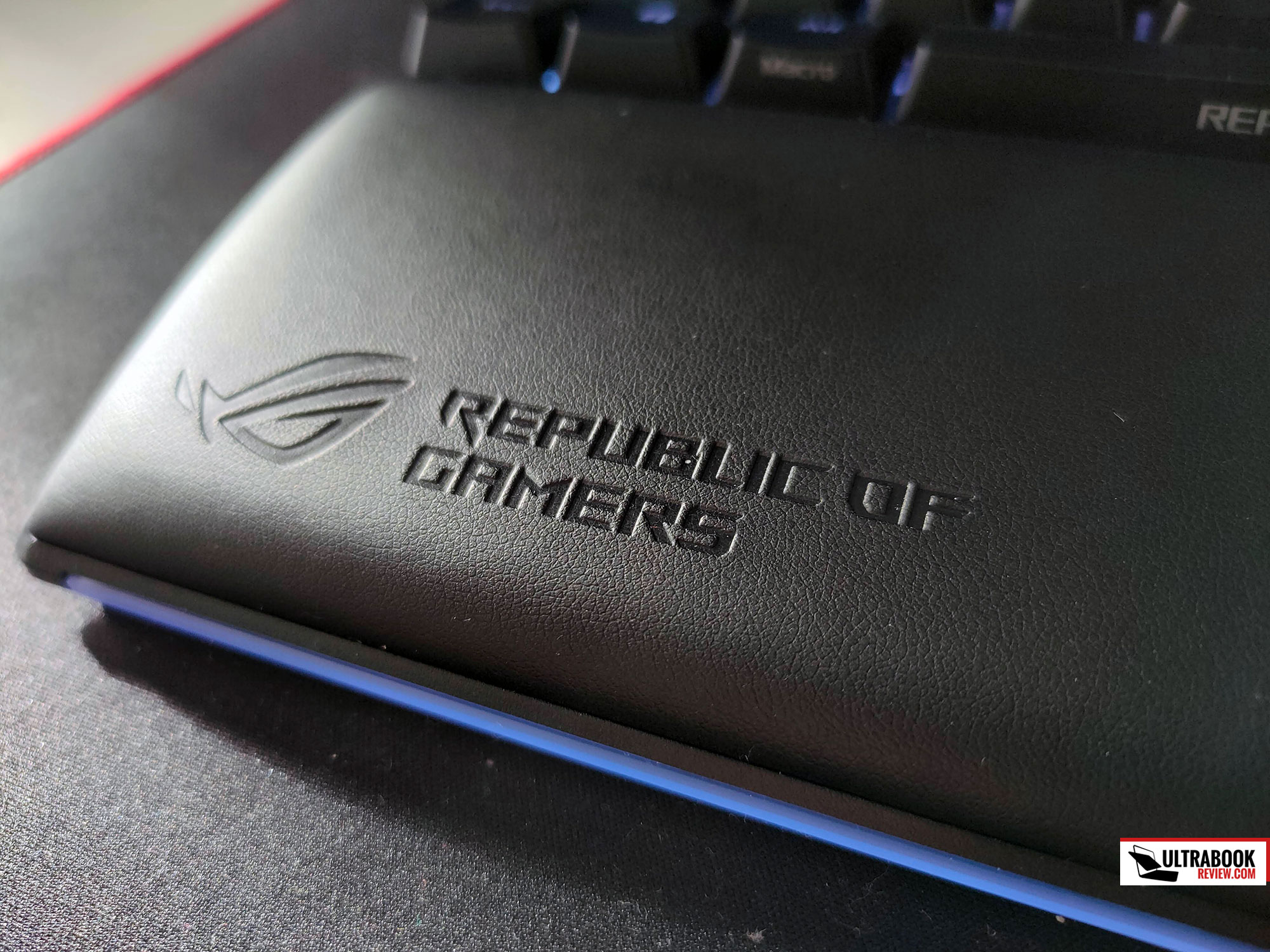 One of the most important features of the keyboard is probably the PCB with hot-swappable sockets.
This means you can change the mechanical switches with a different brand, as long as they're Cherry compatible. Most are, by the way. So you can switch to tactile or clicky at any time. You can even mix and match them if that's your thing. I see no reason why you would do that, but hey, you can if you want.
ASUS includes in the package a keycap puller and a switch puller, so you can remove them easily by yourself. No need to buy extra tools.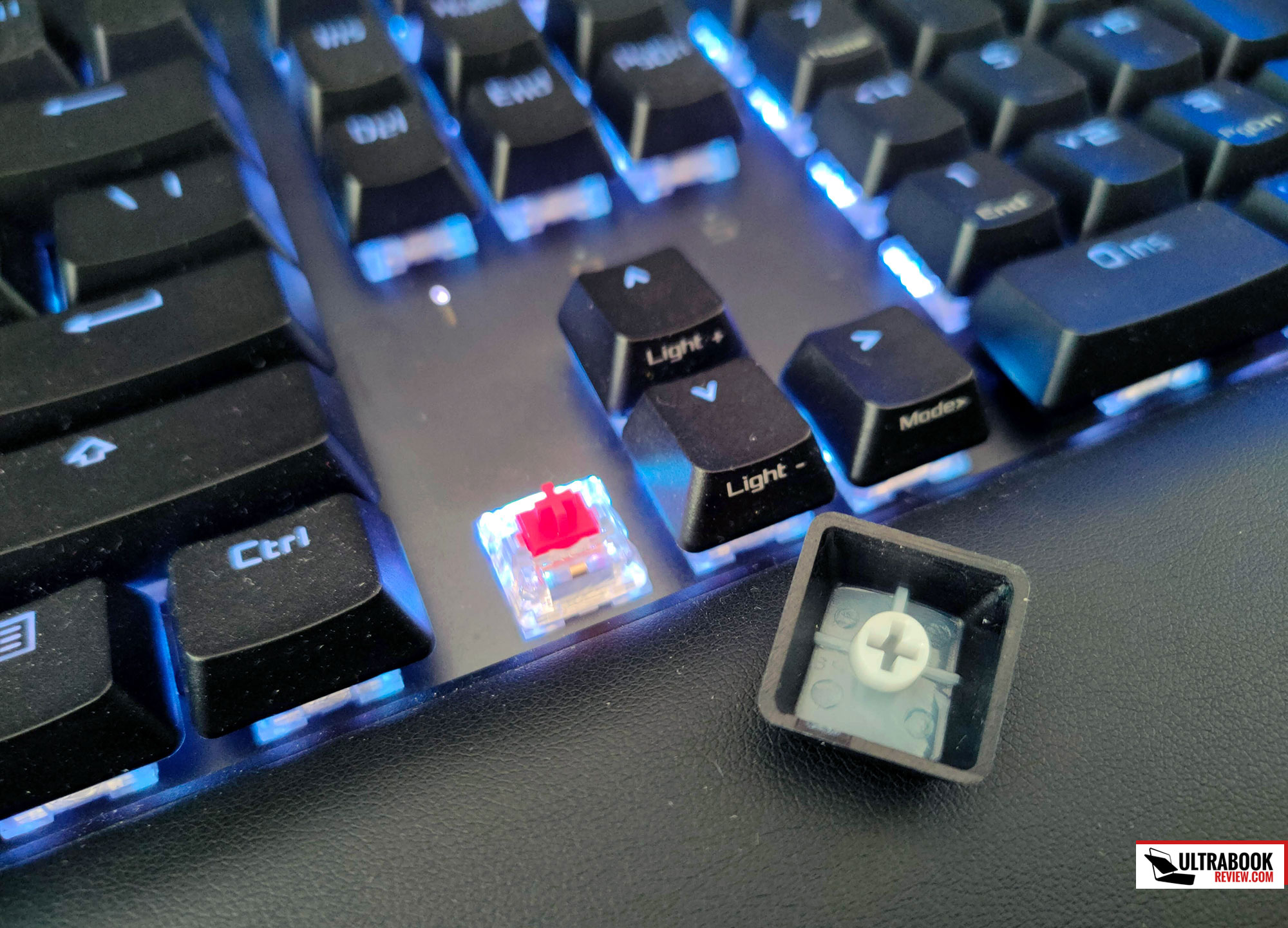 Another highlight, this time for gamers, is the 8000 Hz polling rate, which is meant to reduce lag. By default the keyboard is set to 1000 Hz, so you can only change the USB polling rate via software. I think 1000 Hz is already overkill, but maybe competitive gamers will feel the difference. For me, it makes no difference. 1 ms vs 0.125 ms is measurable, not noticeable. The same goes for the N-Key rollover. Even with two people smashing the same keyboard on a hot-seat Mortal Kombat game, a 20-key rollover would have been enough, but is good it's there.
The keycaps are made from PBT plastic, they are shine through and double shot, which means they will resist stains and finger oils better than ABS plastic. They also have a slightly rugged texture. They're not the thickest ones out there, so the typing feel and sound they produce is not quite the same as the one produced by thicker keycaps, like the ones made by GMK. For a prebuilt mechanical keyboard, they're OK, though.
Also, regarding keycaps, besides the gamery font, the second row of functions for the numeric top row is not backlit, so you'll struggle to find them in the dark. This is annoying.
On the other hand, you can tactily find the W key due to it having a little bump on it, making it easier to position your fingers on the WASD keys while gaming.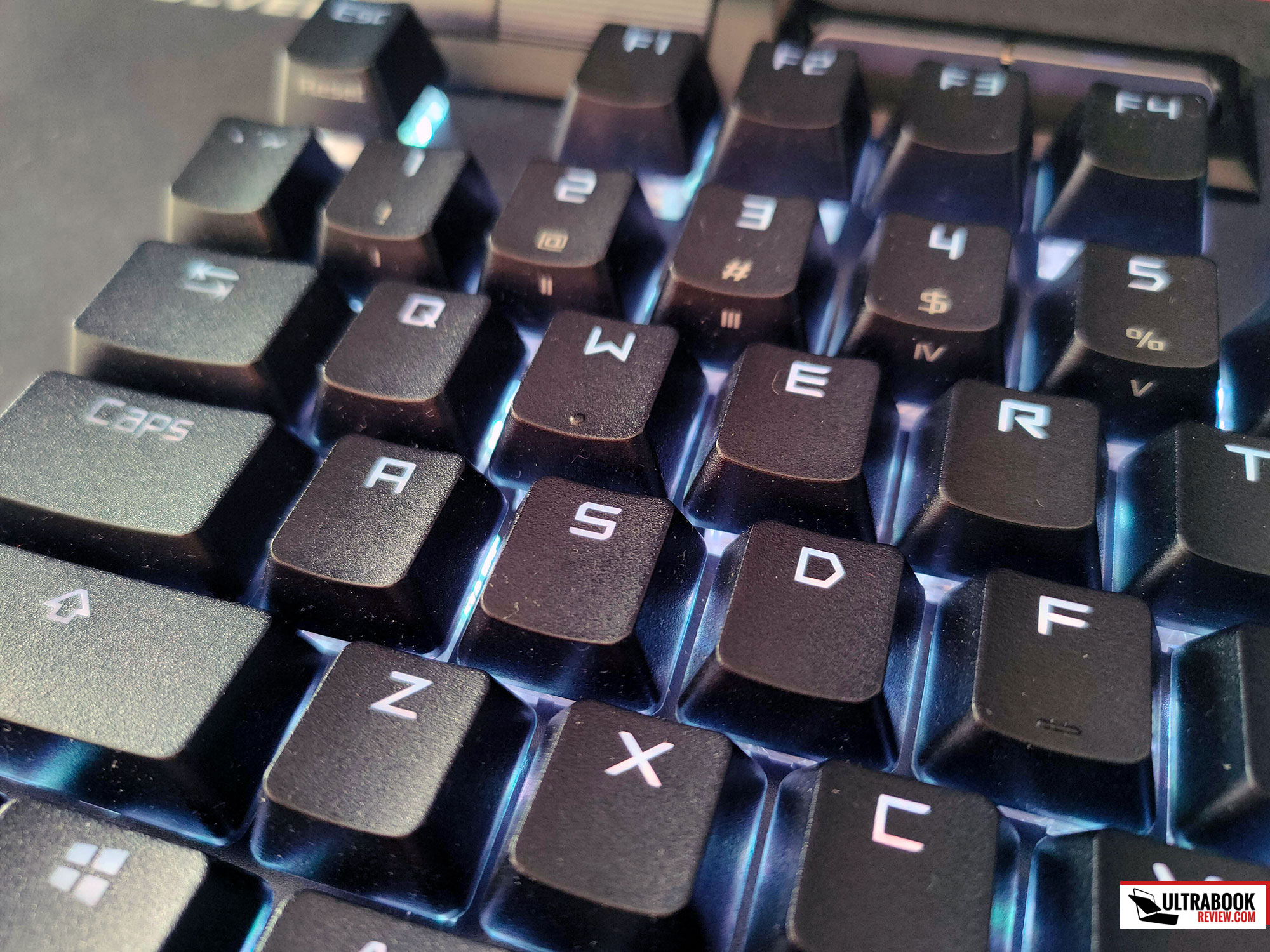 One of the other things I really enjoyed using on this keyboard is the multimedia cluster on the top left side. It looks good and feels good to touch. Usually, keyboards have these custom keys on the right side, but because of the AniMe display, there's no room there on this one. That's actually good since you don't need to move your hand from the mouse when adjusting volume, for example, you can do it with your left hand instead.
Volume adjustment can be done via the rotary controller. You can also press on the giant "scroll wheel" to mute/unmute. A switch-type controller allows you to skip to the next/prev track. There's also a button on the left to play/pause. The two visible buttons on the right side disable the Windows key and control the lighting intensity.
The ASUS ROG NX Switches
My test unit came with the ROG NX Red switches. As the name suggests, they mimic the Cherry MX Red switches, thus having a light, linear feel to them.
My daily driver keyboard has Gateron Reds on it, and I can't really feel the difference, with is a good thing. NX Reds are supposed to be even lighter to press, by about 5 grams, but I dare you to do a blind test.
What I really like about these switches is that I'm pretty sure some parts of them are lubed from the factory. I couldn't hear any spring noise or echo coming from them. My Gateron Reds needed lube to quiet them. ASUS did a good job here and buyers not wanting to spend hours lubing switches will be grateful. Don't know what lubing a mechanical switch is and why you should care? All you need to know is these switches are really OK.
How it Types
I can best describe the feeling when typing on the ASUS ROG Strix Flare II Animate as crisp. It feels almost uncivilized. I know, weird words, but it's hard to describe how typing feels. The important thing is that I got up to speed pretty quickly with this one. I'd say that in just a couple of hours I was typing just as on my previous keyboard.
One small touch regarding the typing noises is that ASUS used sound-dampening foam inside the case to remove echo and make the keyboard sound thockier, a term used by mechanical keyboard enthusiasts. I think more foam should have been used, or more layers, between base and PCB, between PCB and top casing. I say that because while I couldn't hear any echo on most keys, the keyboard sounds a bit hollow, especially the larger keys, the ones with more interior space, like the Spacebar, Enter, and Shift keys.
It also sounds harsh and thin on the rebound. That's probably due to the thinner PBT keycap material and lack of lubing on the switch stem (or not enough). The bottom-out sound is not particularly pleasant but can be dampened significantly with a set of cheap o-rings. Make sure you know what kind of feel you like, as softer o-rings will make the keyboard sound mushy.
If you're interested in hearing how the stock ASUS ROG Strix Flare II Animate sounds have a listen:
And this is what my Epomaker AK84S modded keyboard sounds like, for comparison:
AniMe Matrix: Gimmicky for Some, Cool for Others
This is probably the main reason some people will buy this keyboard. It's an array consisting of 312 white LEDs that can show static images, animations, system status, and settings indicators. ASUS went for a triangular shape with the bottom cut corner, to make it look cool, but this shape is a bit impractical.
By default, without any software installed, the AniMe Matrix will show volume changes, mute, play/pause, track, and brightness changes. Installing the software allows you to display pretty much anything you like, not just the preconfigured stuff. Here's the audio equalizer in action:
I like this AniMe Matrix implementation, but I wouldn't buy the keyboard just for that. It's definitely in the "why not" category for me.
The Armory Crate Software
If you have other ASUS devices in your system you're probably already familiar with their Armory Crate control software. Each device you add activates a menu inside the App. Everything integrates nicely, especially if you want to sync lighting effects via AURA Sync.
More advanced lighting options are accessible via another ASUS app, the Aura Creator.
Changes can be saved into one of the six profiles that can be stored on the keyboard memory, so you can uninstall the software if you don't plan on changing things all the time.
Personally, I don't like software that's needed to controls some hardware aspects, especially something that runs in the background. Upon checking the Control Panel section I was unpleasantly surprised to see about 10 programs and services installed together with Armory Crate. That's not right!
You can uninstall things after you're done, but the purist in me made sure to load a system image, to clean absolutely everything. That's a shame since the software is intuitive and worked without issues during my testing.
Price and Availability
All these features come at a cost. You expected that, right? That price is $220 MSRP at the time of this review. Before saying "ouch", remember that other gaming brands like Razer, Corsair, and Logitech have quite a few models in the $200 range as well.
Follow this link to get updated pricing in your region.
Final Thoughts – ASUS ROG Strix Flare II Animate
Overall, this ASUS ROG Strix Flare II Animate is packed with features and is an excellent keyboard, bridging the gap towards custom mechs better than many of the other A-brand options I've tried, with the excellent construction, upgradeable and partially lubed switches, and  the inclusion of sound dampening foam.
There are also a lot of mods you can go over if you're not entirely happy with what you got out of the box.
If you're not quite ready to spend $500 or more on a custom mechanical keyboard, you can start with one of these are add some o-rings, change the keycaps, add more dampening foam, tape mod the PCB, maybe even replace the switches, lube, and film them. You'd be surprised how much the typing feel and sound can change on a modded mechanical keyboard. They take a lot of time and patience, so you must enjoy that sort of tweaks, of course.
What's next for ASUS mechanical keyboards? I don't know, but maybe I can make a few suggestions: a gasket mount, VIA/QMK software support, and a more muted design.
What do you think? What would you like in your next mechanical keyboard? Join the discussion below.
Disclaimer:
Our content is reader-supported. If you buy through some of the links on our site, we may earn a commission.
Terms
.