Asus's TUF Gaming series is a bit of a conundrum. On one side, TUFs are the best selling mid-range gaming laptops in many markets, thanks to their solid specs and excellent prices, but on the other, most reviewers are complaining about their sub-par thermal design, which leads to high temperatures with demanding loads, somewhat reduced performance and possible long-term reliability concerns.
We rated the 2020 TUF models high in our reviews, considering what they offered for the price, but we also gave them heat for the limited cooling solution and hot running components on the higher-end configurations, and argued there's better value in the lower-power mid specced models.
As of early 2021, Asus have updated their 15 and 17 inch TUF models with Ryzen 5000 hardware and RTX 3000 graphics, raising the specs even higher than before to up to Ryzen 9 5900H/RTX 3070 MQ on the top models.
At the same time, though, they've revamped the cooling module, which now benefits from more open intakes on the back, over the fans, as well as an extra heat pipe that primarily handles the CPU VRMs, which were neglected with the previous generations.
Update: Here's our review of the 2021 Asus TUF A15 built on a Ryzen 7 5800H and RTX 3070 configuration, and here are my thoughts on the updated 2022 TUF Gaming A15/F15 lineup, and my detailed review of the 2022 TUF Gaming A15 series.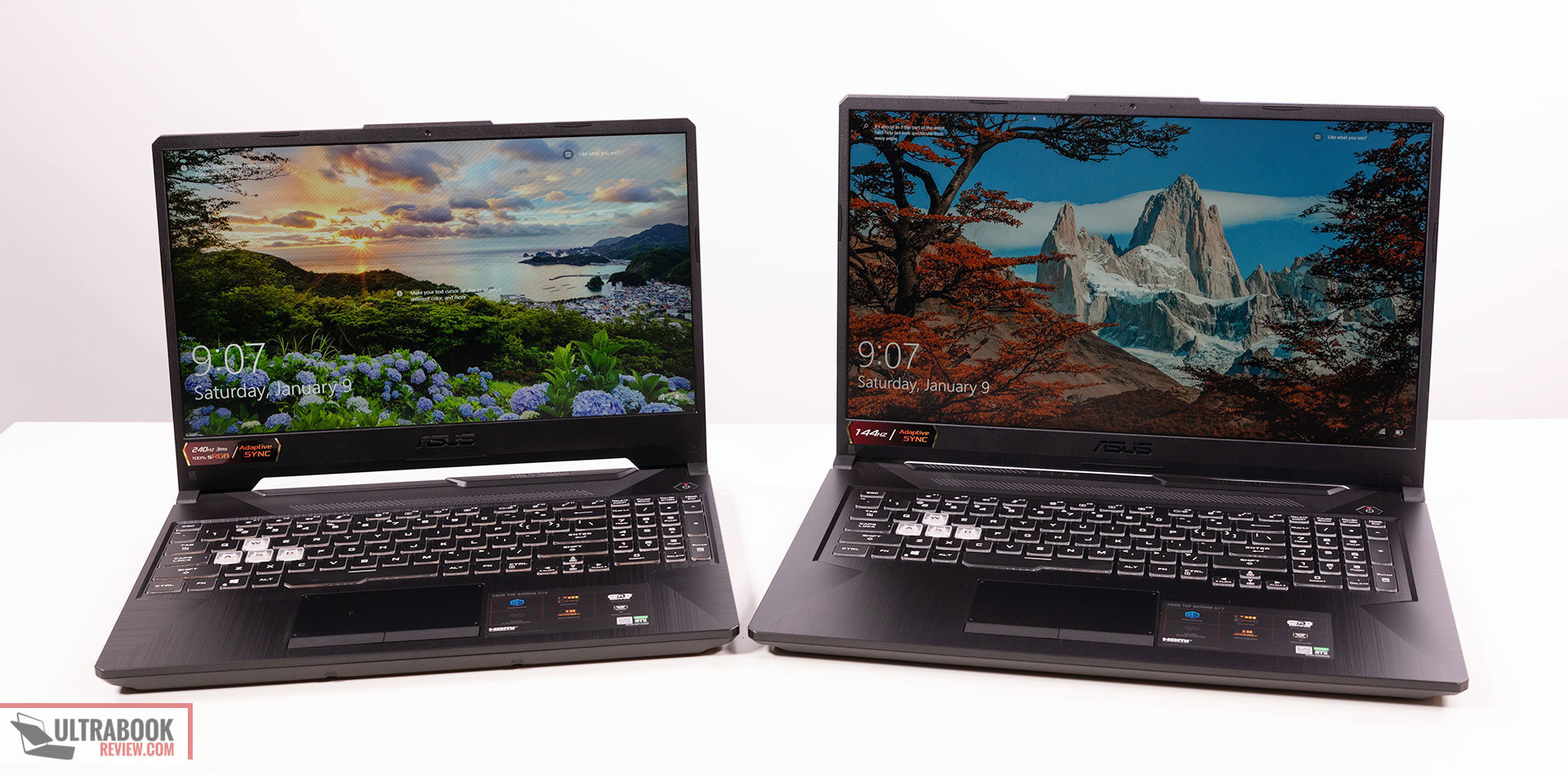 It's too early to tell whether these changes are enough to bring the 2021 TUF Gaming models more on par with the strong competition in the mid-range segment from the top-rated models of the previous year, such as the Lenovo Legion 5 and the HP Omen 15, since we can't run any benchmarks on these early samples illustrated here.
I find it encouraging that Asus were listening to the complaints and took steps in the right direction, I just hope those are enough to make a difference on what has been a thermally challenged series over the last years.
Here's a quick specs sheet of the 2021 TUFs, and we'll get in-depth on some of their important traits down below.
2021 ASUS TUF Gaming A15 FA506QR – review
ASUS TUF Gaming A17 FA706QR
Display
15.6-inch, 16:9, non-touch, matte, several panel options:
up to 1920 x 1080 px IPS 240 Hz 3ms with 100% sRGB
17.3-inch, 16:9, non-touch, matte, several panel options:
up to 1920 x 1080 px IPS 240 Hz 3ms with 100% sRGB
Processor
AMD Cezanne, up to Ryzen 7 5800H, 8C/16T
AMD Cezanne, up to Ryzen 7 5800H, 8C/16T
Video
AMD Radeon Vega + up to Nvidia RTX 3070 Laptop 8GB
AMD Radeon Vega + up to Nvidia RTX 3070 Laptop 8GB
Memory
up to 32 GB DDR4 3200 MHz (2x DIMMs)
up to 32 GB DDR4 3200 MHz (2x DIMMs)
Storage
2x M.2 PCI x4 slots
2x M.2 PCI x4 slots
Connectivity
Gigabit LAN, Wireless 6 2×2, Bluetooth 5.1
Ports
2x USB-A 3.2, 1x USB-A 2.0, 1x USB-C gen 2 with DP and data, HDMI 2.0b, LAN, headphone/mic, Kensington Lock
Battery
90 Wh, up to 230 W power adapter
Size
360 mm or 14.17" (w) x 256 mm or 10.079" (d) x 24.9 mm or .98" (h)
399 mm or 15.70" (w) x 269 mm or 10.59" (d) x 25.2 mm or .99" (h)
Weight
2.22 kg (4.9 lbs), .80 kg (1.76 lbs) power brick and cables, EU version
2.45 kg (5.4 lbs), .65 kg (1.1 lbs) power brick and cables, EU version
Extras
single-zone RGB backlit keyboard, webcam, stereo speakers
Design and construction-wise, little has changed on these 2021 models, which get the same textured plastic interiors, same formats, and IO on the sides, but this time around supporting USB-C charging from what I can tell, something that was missing on the previous gens. WiFi6 is also standard now on all 2021 TUF, another update from the previous gens.
Asus still offer these in two variants, one with a plastic black lid, on the lower-tier configurations, and another with a matte aluminum finishing. They did slightly tweak the designs and the TUF logos, replacing that weird bird-like logo with what now looks like a transformer robot head, a simpler and more modern branding element. I like it. Not a big fan of the TUF writing on the aluminum model, though, I would have preferred a plain design with just that muted logo in the corner.
On the inside, these 2021 TUFs get the same single-zone RGB lit keyboard with a NumPad Section on both size variants, and the same mid-sized fixed touchpad with physical click buttons. Asus also stuck to the red-lit power button in the top corner, status LEDs under the screen, and some air intakes on top of the keyboard.
As for the screens, our A15 sample gets the well-balanced 240 Hz 3ms panel with 100% sRGB colors and 300+ nits of brightness, previously offered only on the ROG Asus models, but I'd also expect the more washed out 144 Hz option to be available on lower-tier configurations. The A17 here gets the 144 Hz panel, and I'm not sure whether it will also be paired with the superior 240 Hz 3ms option, or that would remain exclusive to the A15.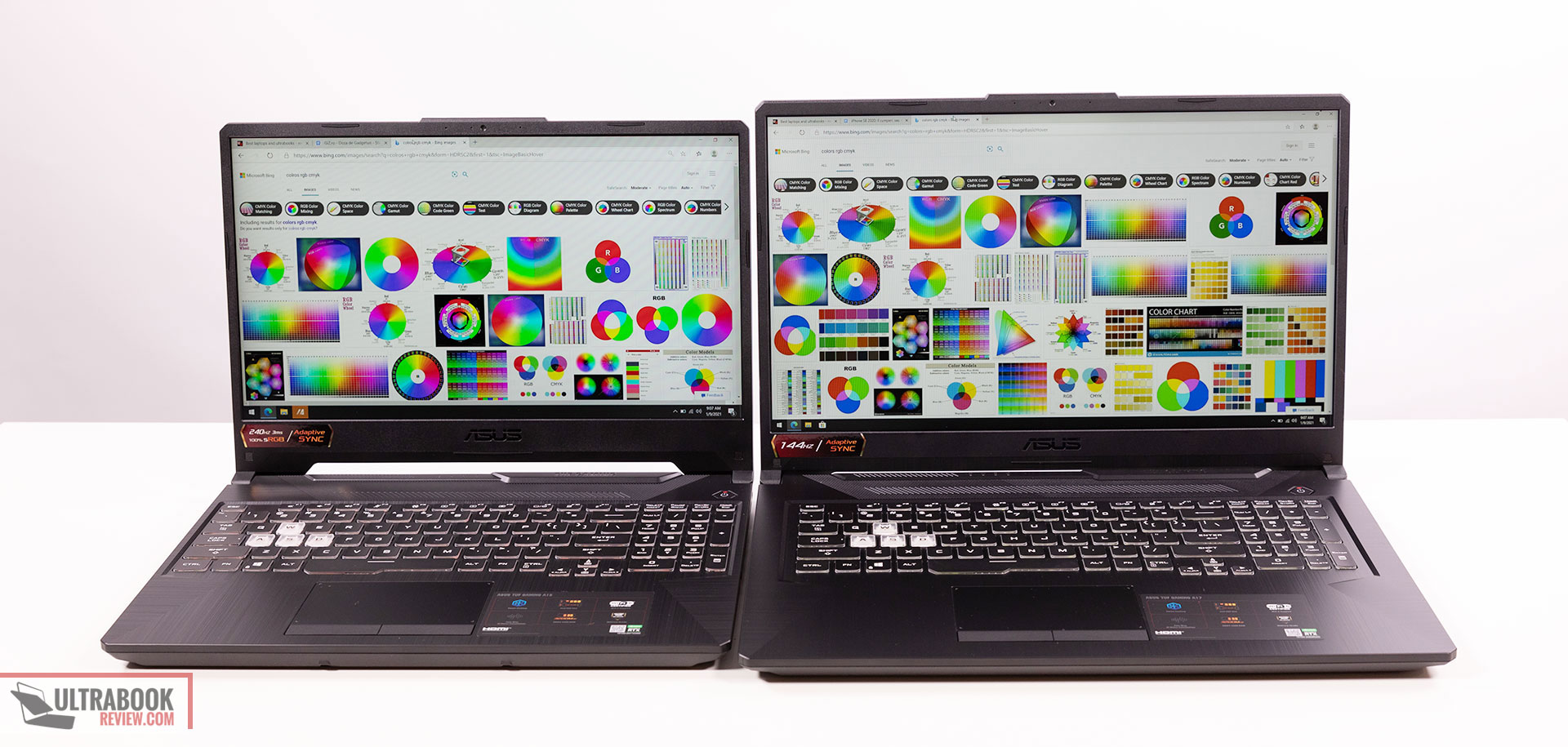 Flipping the laptops upside down and comparing them to the previous gens, you'll notice the redesigned intakes. The D-panel gets the same honeycomb design and structural format, but more of those combs allow for air to pass through now, especially around the fans. We're still not looking at a completely open back, as I reckon Asus are still trying to channel air in certain ways over the components and prevent too much dust from gathering inside. For what is worth, the competition is going the other way around with meshified open backs, and that seems to help their cause based on the previous models.

Internally, I wasn't allowed to open these up, but Mr. Dave Lee took one for all of us and opened his sample, so we can peek at the thermal module (picture at the left) and compare it to the previous gen (at the right). Note that since this is an engineering sample, that 2021 design might suffer some changes on the retail models.
Nonetheless, as far as I can tell based on this unit, we're looking at a couple of changes:
higher capacity fans
the secondary GPU heatpipe at the left  now linked to the CPU as well
the VRM heatpipe now goes over the CPU's VRMs as well and hook into the right radiator
still regular thermal compound applied on the CPU, and not liquid-metal as on the ROG models
Asus are still committed to a dual-fan 3-radiator design, and not the 4-radiator model used by the competition, so they're still at a disadvantage here. That was expected, given the 2021 and 2020 models get the same chassis and that extra side is reserved for the IO with this design. I do hope these changes are enough to make a significant difference, which we'll carefully test in the reviews.
While we're peeking at the insides, Asus ditched the small battery + 2.5″ storage bay configuration option for the 2021 TUFs, which now all get the 90 Wh battery and dual M.2 SSDs for storage. They've kept the accessible 2x DIMMs, the stereo speakers, as well as the fairly easy access for upgrades, which requires popping out the back panel hold in place by a handful of Philips screws.
Speaking of the specs, we're looking at Ryzen 5000 and RTX 3000 graphics on these 2021 TUF Gaming models.
Asus announced up to Ryzen 7 5800H CPU configurations and RTX 3060 90W and RTX 3070 MQ 95W graphics at this point, with 3000-series GTX variants most likely following in a few months. That means a 45W CPU envelope and up to 90W of graphics, just like on the previous generation. The performance definitely has significantly improved, based on what we know so far, but we can't get into any details based on these preview samples with immature drivers. Look for updates in the next few weeks.
One final aspect I'll mention is that Asus haven't announced the official prices and availability of these new TUFs, which were mostly a silent launch. Based on availability from other OEMs, I'd expect these in stores around March 2020, with the Ryzen 7 + RTX 3060 configurations probably starting at around $1200 =/- $100. We'll keep you posted, and in the meantime, I'd love to hear what you think about these 2021 Asus TUF Gaming models and their apparently small, but possibly major, updates, so get in touch in the comments section below.
Update: Here's our review of the 2021 Asus TUF A15 built on a Ryzen 7 5800H and RTX 3070 configuration.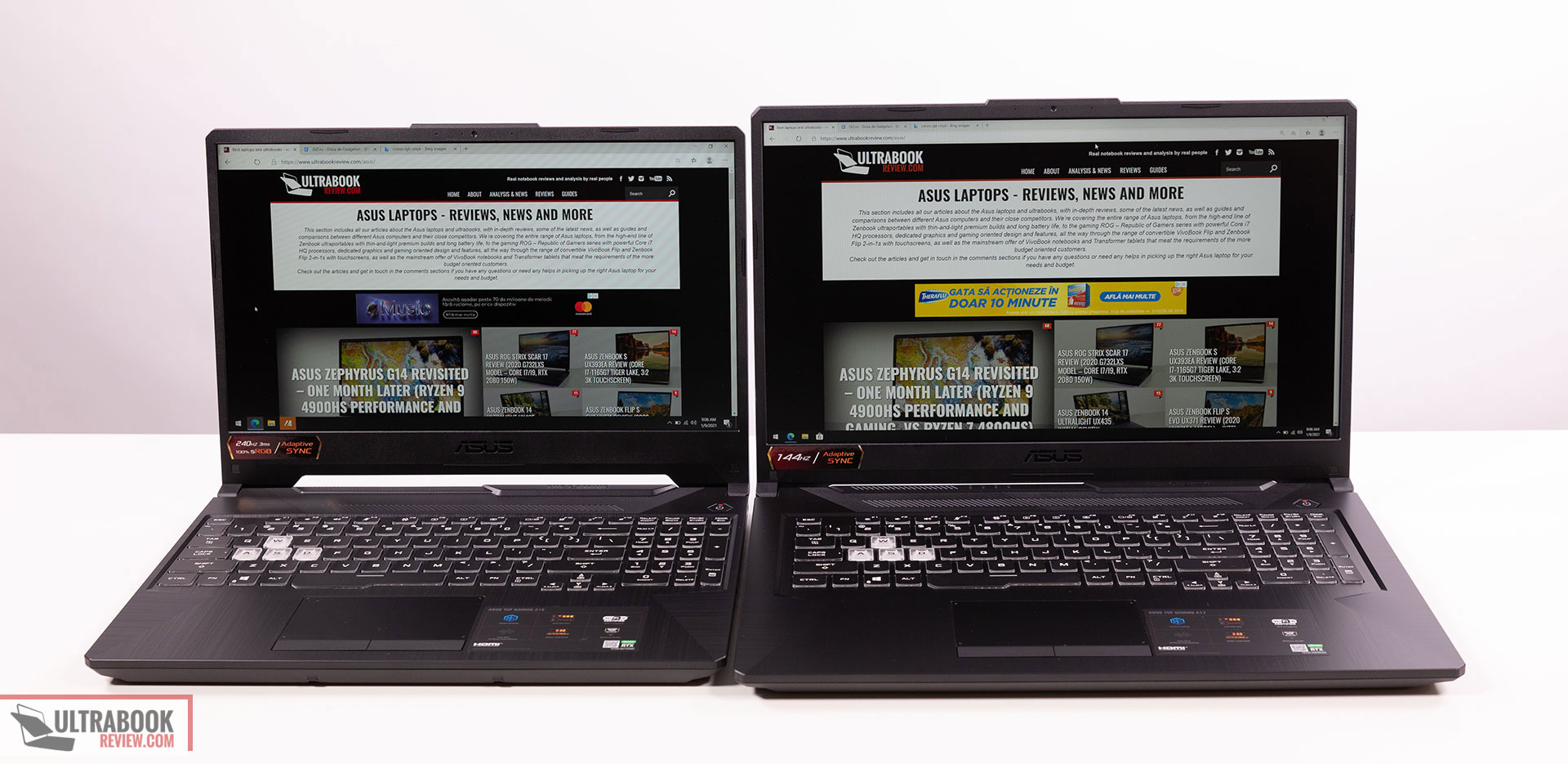 Disclaimer:
Our content is reader-supported. If you buy through some of the links on our site, we may earn a commission.
Terms
.