Lenovo are back at the detachable game with the 2021 Thinkpad X12 Gen 1, a Surface-Pro-style tablet with a keyboard folio accessory, following up on their now-defunct X1 Tablet from a couple of years ago.
I'm sure you're already familiar with the Microsoft Surface lineup of products, which are primarily stand-alone Windows tablets with competent performance, a touchscreen and pen-support, which can transform into a functional mini-laptop by attaching a keyboard folio.
That's exactly what Lenovo is offering with the Thinkpad X12, but unlike the Surface Pros, this has a couple of aces down its sleeve: it's built on the latest Intel Core U hardware, includes Thunderbolt 4 and LTE connectivity, and a 42 Wh battery, as well as the build quality and security suite buyers expect from a Thinkpad product.
The X12 Detachable is expected in stores this month, January 2021, starting for $1149. Hopefully, that also includes the keyboard by default.
Here's a quick specs sheet of the ThinkPad X12 detachable, and we'll further touch on the important details down below.
2021 Lenovo Thinkpad X12 (gen 1)
Screen
12.3 inch, 3:2 aspect ratio, FHD+ (1920 x 1280 px) resolution, touchscreen, 400-nits, 100% sRGB, with Gorilla Glass 5
Processor
up to Intel 11th-gen Core i7 (4 cores, 8 threads, 15W, vPro)
Video
Iris Xe Graphics (integrated)
Memory
up to 16GB LPDDR4x-4266 (soldered, dual-channel)
Storage
up to 1 TB NVMe
Connectivity
Intel WiFi 6 AX with Bluetooth 5.1, LTE – CAT9
Ports
1x USB-C with Thunderbolt 4, 1x USB-C 3.2, headphone/mic, 1x NanoSIM
Battery
42 Wh, 65W power adapter (USB Type-C)
Size
283 mm or 11.15″(W) x 204 mm or 8.01″(D) x 8.8 mm or 0.35″ (H)
24.5 mm or 0.57″ (H) with keyboard folio
Weight
from .76 kg / 1.67 lbs for the tablet (+ power supply)
1.1 kg / 2.42 lbs with keyboard folio
Extras
backlit detachable keyboard folio with clickpad and finger-sensor, dual-cameras + IR with ThinkShutter, stereo speakers and dual mics
Design wise, the X12 looks much like you'd expect from a ThinkPad: black, clean, sober, and with minimal branding elements.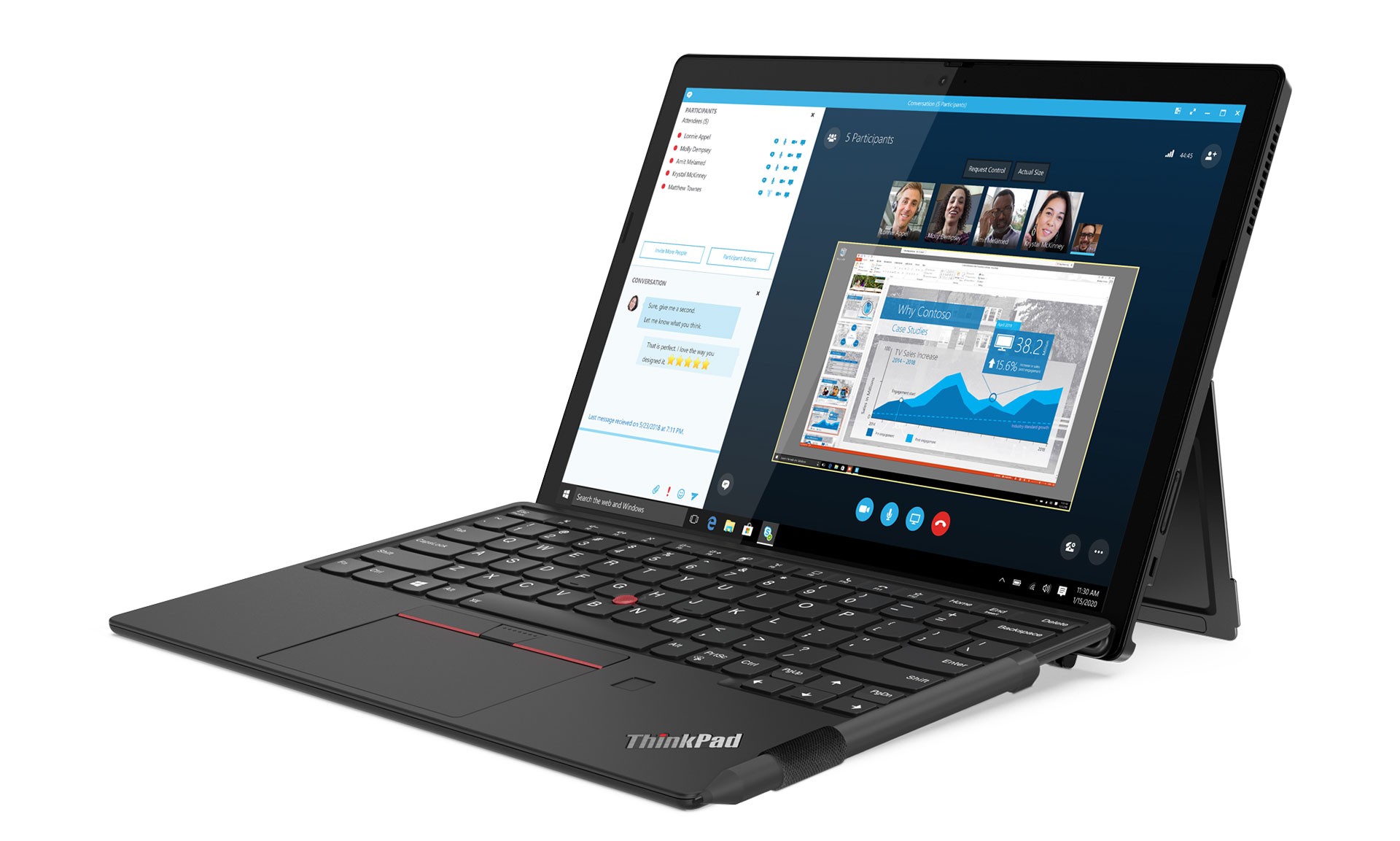 Magnesium alloys seem to be used for the construction, with the entire thing MIL-SPEC complaint, so durability should not be an issue. However, I'd reckon those of you actively using these sorts of computers in the field would have preferred a simpler rugged plastic build that can easier take a beating without fearing it would break or scratch. Magnesium does feel nicer, but you might want to pamper it and put a protective bumper on this thing.
Looks and build aside, the ThinkPad X12 is highly similar to the Surface Pro in terms of ergonomics. The front face is entirely occupied by a 12.3″ FHD+ display with a 3:2 400-nits panel and a layer of protective Gorilla Glass on top. The back gets an adjustable kickstand, while the sides include the Power button, the IO, speakers, and some vents for the hardware inside. Lenovo also put a dual-set of cameras on this tablet, a 5 MPx front shooter with IR, and an 8 MPx main camera on the back.
The IO consists of two USB-C ports, one of them with Thunderbolt 4 support, a headphone jack, and a nanoSIM for the baked-in LTE connectivity. If you need more ports, the ThinkPad X1 USB-C port replicator might come in handy; it's not included, though.
Speaking of accessories, the X12 Detachable ships with a keyboard folio that magnetically attaches to the bottom of the tablet. It's backlit and a full-size layout, plus includes the standard ThinkPad clickpad with physical buttons at the top and the Trackpoint, plus a finger sensor. You might also consider getting the Lenovo Pen with tilt-sensing detection and 4096 levels of pressure sensitivity. This hooks up to the tablet via Bluetooth and can magnetically attach to the side of the keyboard folio, as illustrated in some of the pictures in this article.
On its own, the ThinkPad X12 Detachable is a compact and lightweight product, at 9 mm thick and .76 kilos. The keyboard folio adds-up to around 1.1 kilos, or 2.4 lbs, which is still a portable package for a modern computer.
And don't forget this actually offers the full Windows experience and runs on the same kind of hardware currently available in regular portable laptops: 11th gen Intel Tiger Lake processors with Iris Xe graphics. The air-grills on the sides of the tablet suggest this is fan-cooled, but even so, I'd expect the implementation to be power-capped in order to keep thermals and noise levels at bay. The specs mention a 15W TDP, while the Tiger Lake platform can go up to 35W in some of the beefier products. At 15W, I'd expect this to perform similarly to the Asus ZenBook S UX371 we've reviewed a couple of weeks ago. We'll see once we get to test it.
I should also add that Lenovo didn't skimp on the battery with this product, squeezing in a 42 Wh battery, despite the compact and slim format.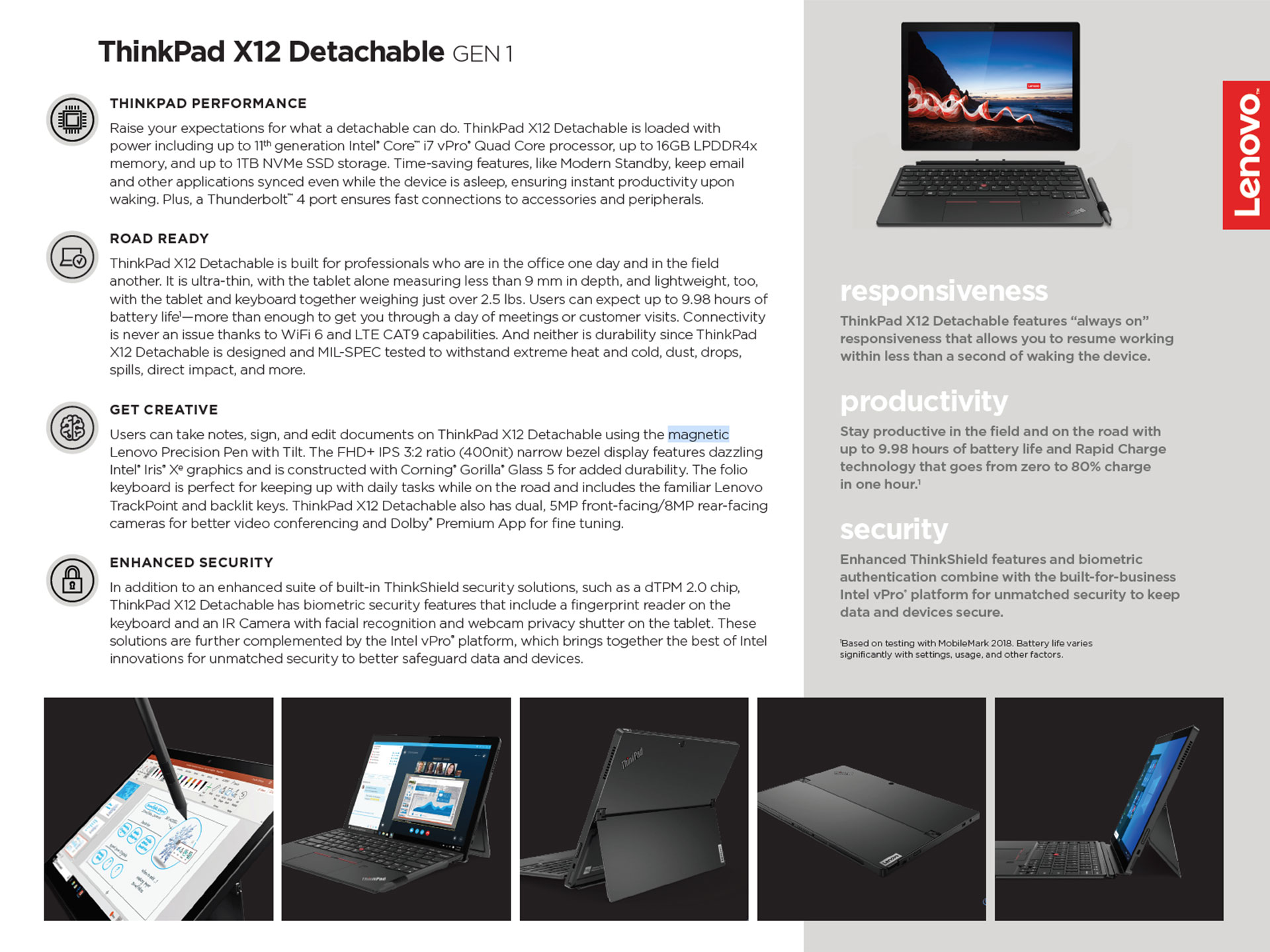 Overall, judging by the popularity of the Surface Pro lineups, there should be a fair market for this ThinkPad X12 detachable, even if the design and features rather cater to more specific professional demographics, and the price is a little steep, at $1149 at launch. I sure hope that includes the keyboard, and I'm curious about the exact specs of that entry model and how it will fare against the Microsoft models.
Stay close for more details in the weeks to come, and let me know what you think about this ThinkPad X12 detachable in the comments section down below.
Disclaimer:
Our content is reader-supported. If you buy through some of the links on our site, we may earn a commission.
Terms
.