The MSI Creator 17 is the first notebook to ship with this new generation mini LED IPS display, and I finally got to spend time with it in these last weeks.
This is 17-inch mobile workstation built on the latest 2020 Intel and Nvidia hardware platforms, backed up by clean design lines, a compact metallic chassis, a full keyboard with NumPad, good IO, and a fairly large battery. It's also available with a couple of different screen options, but the mini LED panel is the number one reason you would consider this over the many other 17-inch performance laptops out there, although it's an expensive upgrade.
At the same time, as far as I can tell this Creator 17 is mostly based on the same chassis previously used on the MSI GS75 Stealth, and that translates in a few quirks that you should be aware of, such as high thermals in demanding loads, difficult upgradeability, poor speakers and not the sturdiest build.
We'll get in-depth on all these, as well as all the other tiny aspects that could make or break this for you, in the detailed review below.
Specs as reviewed – MSI Creator 17
| | |
| --- | --- |
| | MSI Creator 17 A10SE |
| Screen | 17.3-inch 3840 x 2160 px IPS – mini LED 60 Hz, 16:9, non-touch, matte, AU Optronics B173ZAN05.0 panel |
| Processor | Intel Comet Lake-H Core i7-10875H CPU, 8C/16T |
| Video | Intel UHD + Nvidia RTX 2060 8 GB (60-80 W, GeForce 451.67) – Optimus mode |
| Memory | 16 GB DDR4 2666 MHz (2x DIMMs) |
| Storage | 1x 512 GB SSD (Samsung PM981) – 2x M.2 NVMe 80 mm slots |
| Connectivity | Wireless 6 (Intel AX201), Bluetooth 5.0, 2.5 Gigabit LAN (Intel I225-V) |
| Ports | 3x USB-A 3.2 gen1, 1x USB-C with Thunderbolt 3, 1x USB-C 3.2 gen2, HDMI 2.0, LAN, microSD card reader, mic/earphone, Lock |
| Battery | 82 Wh, 180 W power brick, USB-C charging support |
| Size | 396 mm or 15.59" (w) x 259 mm or 10.2 (d) x 20.2 mm or .79" (h) |
| Weight | 5.2 lbs (2.36 kg) + 1.34 lbs (.61 kg) power brick and cables, EU model |
| Extras | white backlit keyboard with NumPad, HD + IR webcam, fingerprint reader,  stereo 2x 2W bottom speakers |
Design and build
MSI went with a clean silver theme for the Creator 17, with few branding elements, but a multitude of stickers that you should peel off. I like the exterior design, but somehow the interior looks a bit bland and dated compared to most of the other 17-inch portable notebooks out there.
Metal sheets are used for the entire outer construction, but this is not a unibody design, and that's why it creaks and squeaks quite annoyingly. You'll notice these sounds often when you'll lift up the screen for the first time, when you'll pick this up from the desk, and sometimes even when placing your hands on the arm-rest during everyday use. In fact, these are the same kind of noises documented on the MSI GS65 and GS75 series. Are they deal-breakers? At first, I thought they could be, but I got used to them and ignore them after a little while.
Despite these creaking sounds, the laptop feels sturdily made, with a strong screen and little flex in the main-deck. MSI also made sure to blunt the front-lip and corners, put grippy rubber feet on the bottom, align a fair selection of ports on the sides, and implement a screen with strong hinges. They're still smooth enough to pick it up and adjust it with a single hand, and open up to about 165 degrees on the back.
This Creator 17 is also a compact and lightweight series, at a little over 5 lbs for a 17-inch notebook, so one of the more portable options in this niche.
There is, however, one more aspect that I will nit about. MSI reserves the top-part of this laptop for the thermal module, which draws fresh air through the grill above the keyboard and through the ample cuts underneath, and blows the hot air through the back and the laterals. However, this design sends the keyboard downwards, towards the middle of the laptop, and leaves for a short arm-rest (and a short clickpad), that's why typing on this feels a bit cramped for a 17-inch laptop, especially when you're not using it on an ample desk.
As for that IO, there's almost everything you'll need here, with the only exception being a full-size card-reader. The video outputs are placed on the right side, though, and hooking up multiple monitors will clutter your mouse area. MSI also put an IR camera at the top of the screen and a finger-sensor in the clickpad.
Keyboard and trackpad
There's a full-size set of main-keys on this Creator 17, plus a narrower NumPad section at the right.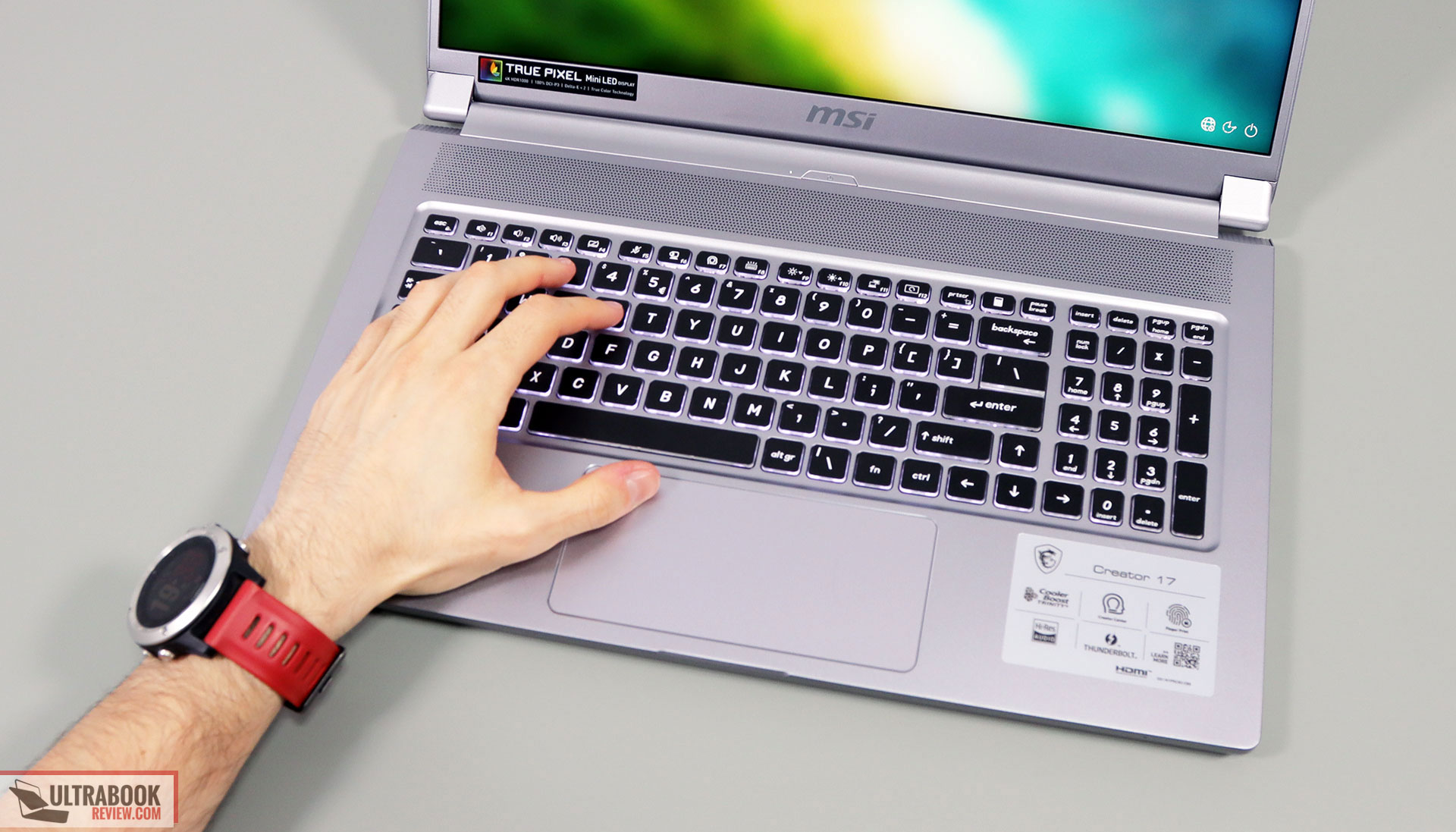 This keyboard feels different than what I've previously experienced on the MSI gaming units. The keys are slightly stiffer and travel deeper into the frame, thus to me, didn't feel as fast or as accurate as their other implementations. I especially struggled with their feedback in the beginning, and although I ended up adjusting after a while, I don't see myself typing on this for a living.
At the same time, this keyboard is very quick and quiet, and also backlit, with bright and uniformly lit white LEDs and three levels of brightness to choose from. There's also a physical CapsLock indicator on this design, but since MSI went with this type of clear keycaps, the light creeps out quite noticeably from underneath some of them.
The clickpad is a wide and short, but a smooth and responsive glass surface with Synaptics drivers. The wide-format and the fact that it's centered on the frame puts my right hand just on top of it while typing, but the palm-rejection seems to work well and I haven't noticed any unwanted clicks or touches with my typing style. The surface does rattle a bit with taps, but the physical clicks are smooth and quiet.
As for biometrics, MSI implemented both an IR camera and a finger-sensor on this laptop.
Screen
MSI offers this Creator 17 lineup with three different screen options, all 17.3-inches, matte and non-touch:
144 Hz IPS with ~300-nits of brightness and 100% sRGB color coverage;
60 Hz UHD IPS with ~400-nits of brightness and 100% AdobeRGB color coverage;
60 Hz UHD IPS miniLED with 1000+ nits of brightness, HDR 1000 support and 100% DCI-P3 color coverage.
The mini LED panel is the major novelty here, and the one on this test unit. This gets bright and punchy unlike any other screen I've seen on a laptop, and is also a very uniform implementation, with little brightness variation towards the corners and no noticeable light bleeding. However, blacks are washed out at maximum brightness, thus the contrast is lower than on a good-quality standard IPS panel. In fact, you'd have to lower the brightness to about 70%, which is about 500-nits, to get decent blacks, as you can see in some of the images below.
That aside, I doubt you could consistently use this panel at high-brightness anyway, it's just too bright for that. I might be biased here, though, I normally keep my screens at sub 100-nits levels with daily use, otherwise, my eyes start watering. I do agree that this screen is an excellent option if you plan to edit HDR content, or even watch HDR videos, although that's rare and I don't think paying the hundreds of dollars extra demanded by this mini LED panel is worth it for a glorified Netflix experience.
Anyway, here's what we got in our tests, with a X-Rite i1 Display Pro sensor:
Panel HardwareID: AU Optronics AUO278E (B173ZAN05.0);
Coverage: 99.8% sRGB, 84.3% AdobeRGB, 98.2% DCI P3;
Measured gamma: 2.22;
Max brightness in the middle of the screen: 1145.11 cd/m2 on power;
Min brightness in the middle of the screen: 72.47 cd/m2 on power;
Contrast at max brightness: 1202:1;
White point: 6200 K;
Black on max brightness: 0.95 cd/m2;
PWM: Yes, 26.6 KHz, < 83% (source);
Response: ~8.8 ms BtB (source).
Our sensor noticed some significant color variations towards some of the corners, not the kind I could see with the naked eye, but the kind you won't want as a graphics artist looking for color fidelity, so make sure to test your unit for any such flaws. After all, this miniLED is by far the main reason you should consider this Creator 17 lineup.
As for the fact that this panel uses PWM at <83% brightness levels according to Notebookcheck's measurements, flickering is not going to be something even the most sensible of you will notice in this case, given the high 26.6 KHz frequency.
I've also tried to pitch this mini LED panel against some of the alternatives out there, even if the images might no properly show the real differences. First off, this first set of pictures compares it to a 4K 400-nits panel with 100% AdobeRGB color coverage, the kind available on most other creator-type laptops. It's hard to tell the color differences between the two, but the mini LED does appear to be more vibrant due to its increased brightness and cleaner whites. At the same time, the blacks are a lot more washed out on this mini LED panel at the higher brightness settings, as already mentioned above.
Most of these also apply when comparing the mini LED panel to a more standard 17-inch FHD screen with 350+ nits of brightness and 100% sRGB color coverage. In this case, the brightness and color vibrance difference is even more notable, but the two are fairly similar in terms of contrast, with the FHD panel winning at blacks at maximum brightness.
Based on these findings, this miniLED panel doesn't seem ideal for watching movies or darker content in general, where you won't be able to benefit from its vibrant colors and peak brightness without having to accept the washed out blacks. For that alone, an OLED panel is a much nicer choice.
As for the other screen options available on the MSI Creator 17, the 144 Hz FHD is fine if you're looking for a multi-purpose laptop that can play some games on at the end of the day, although this Creator 17 won't necessarily be my first choice for a gaming notebook in the first place. That 2nd UHD screen, on the other hand, is a solid option for creators, more affordable than the miniLED panel and capable of higher contrast, but not as bright or uniform.
Hardware and performance
Our test model is a lower-specced configuration of the MSI Creator 17, with an Intel Core i7-10875H processor, 16 GB of DDR4 2666 MHz of memory, 512 GB of fast Samsung PM981 storage and dual graphics: the Nvidia RTX 2060 dGPU and the Intel UHD within the Intel platforms, with Optimus.
Before we proceed, keep in mind that our review unit was sent over by MSI, running on the software available as of Mid-July 2020 (BIOS E17G3IMS, Creator Center 2.0.54.0, GeForce Game Ready 446.57 drivers).
MSI offers this in a multitude of configurations, with 8Core Intel i7 or i9 processors and up to RTX 2080 Super graphics. Our test unit is the i7 with the standard RTX 2060 GPU, running at between 60 to 80 W between the performance modes.
The updated Intel platform supports up to 3200 MHz DDR4 memory, however, MSI only put 16 GB of DDR4 2666 MHz memory on this unit, in dual-channel, with 2x 8GB DIMMs. The two DIMMs aren't easily accessible inside for upgrades, as this laptop implements the inverted design from the previous GS75 lineup, which means that you'll have to remove the back panel and then take out the entire motherboard to get to the RAM slots and thermal module. The two M.2 storage slots, on the other hand, are accessible once you remove the back panel.
However, over here MSI still places a warranty sticker on one of the screws, so getting inside voids the warranty. I know that's not the case everywhere, but I sure wish these sorts of warranty stickers that prevent users from performing upgrades would stop existing. If someone at MSI is reading this, please stop it, you're among the last to implement this sort of limitation!
The control software on the Creator series differs from the one on the MSI gaming notebooks. It's a bit cleaner looking, but also more frugal in functionality, allowing control over a few power, color, and battery profiles, as well as updates, but no direct control over the fans. There's also no Discrete GPU mode, so the internal screen signal is always routed through the iGPU on this laptop.
Before we talk about real performance in demanding loads, I do have to mention that this Creator 17 is a fine everyday laptop for multitasking, browsing, and video. The CPU fan is always active, but barely audible with light use, while the GPU fans remain inactive in these cases.
On to more demanding loads, we start by testing the CPU's performance by running the Cinebench R15 test for 15+ times in a loop, with 2-3 seconds delay between each run.
The i7 processor stabilizes at around 65+W on the High Performance setting, which translates in frequencies of 3.5+ GHz and temperatures of 95+ C, with scores of 1500+ points, and the fans ramping up to 45-46 dB at head-level. The performance is thermally throttled, and you can see how it slowly degrades over the multiple runs.
Undervolting is disabled by default, and I couldn't figure out how to enable it in the advanced BIOS settings, which do not work in the same way as on the GS series. That's unfortunate, as undervolting would have surely helped here, since the performance is limited by the high CPU temperatures.
Switching over to the Balanced profile power limits the CPU at 50+W and allows it to run at temperatures of around 85 degrees, with slightly quieter fans, but reduced scores. The Silent profile further limits the fan noise and allows the CPU to run at around 50+W as well, but in this case, the performance is thermally limited, and not power capped. Finally, the CPU power is limited at 33+W on battery, with matching scores. Details below.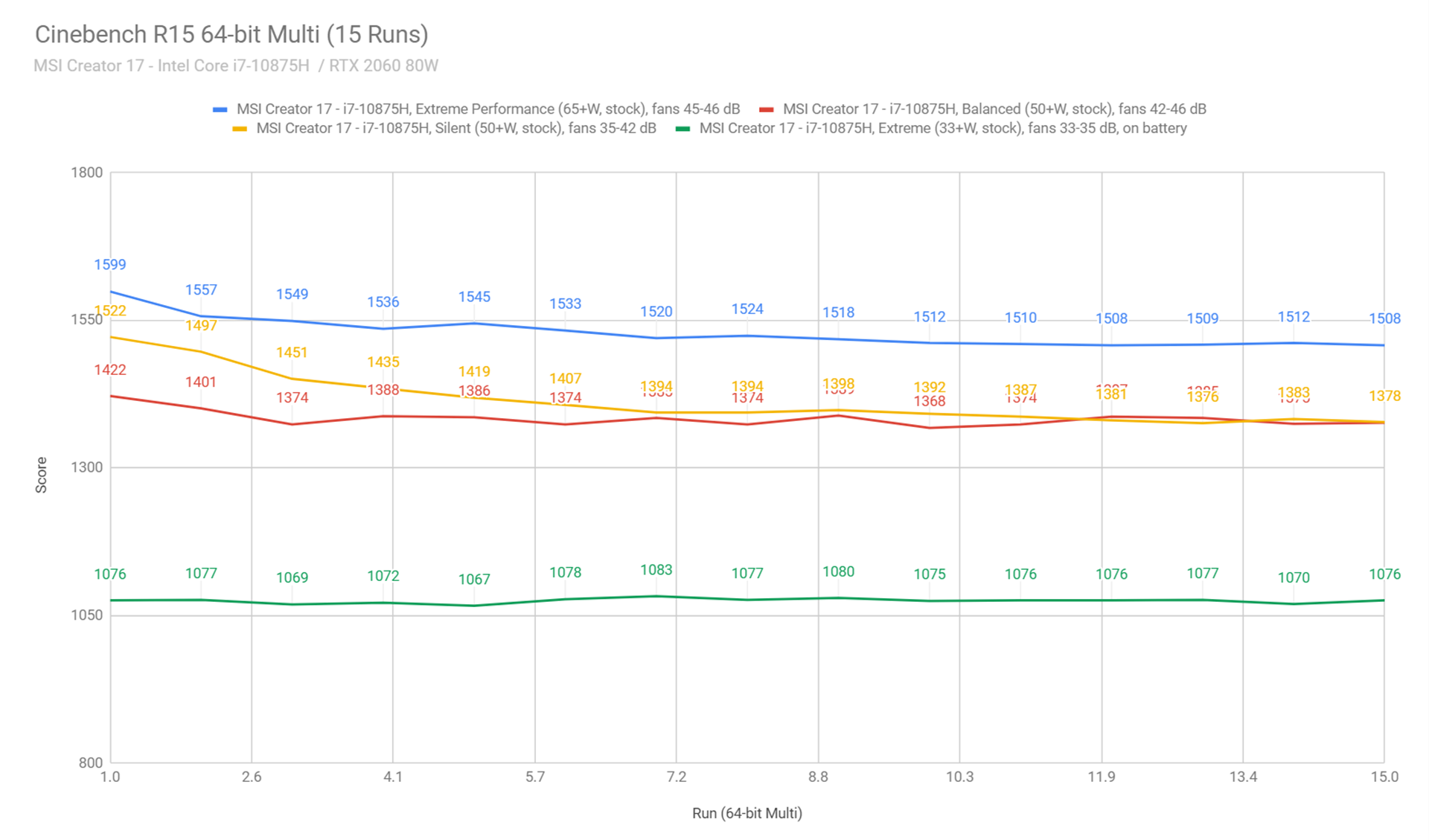 To put these findings in perspective, this Creator 17 performed poorer than the other 15 and 17-inch implementations of the i7-10875H platform that we've tested. The lack of undervolting support plays a big role in that, but I attribute most of the blame to the limited thermal design that's unable to properly cool the power-hungry i7 8Core processor, and thermally limits its performance, despite the fact that it averages very high temperatures of ~95 degrees C in this test.
With that out of the way, we then went ahead and further verified our findings with the longer Cinebench R20 loop test and the gruesome Prime 95, on the High Performance and Silent profiles. The CPU runs at 65+ W and high temperatures in both tests on the High Performance profile, but unlike on the R15 loop test, it stabilizes at only 30W in the more demanding Cinebench R20 loop test.
We also ran our combined CPU+GPU stress tests on this notebook. 3DMark stress runs the same test for 20 times in a loop and looks for performance variation and degradation over time, and this unit passed it fine. Luxmark 3.1 fully loads both the CPU and GPU at the same time. The CPU stabilizes at around 50W and 90+ degrees C, with the GPU running at around 80W and 80+ C.
Next, we ran the entire suite of tests and benchmarks on the stock High Performance profile in Creator Center.
3DMark 13 – Fire Strike: 14185 (Graphics – 15276, Physics – 18829, Combined – 7444);
3DMark 13 – Port Royal: 3329;
3DMark 13 – Time Spy: 6022 (Graphics – 5795, CPU – 7750);
Uniengine Superposition – 1080p Extreme: 3587;
Uniengine Superposition – 1080p Medium: 11456;
AIDA64 Memory test: Read: 38419 MB/s, Write: 37988 MB/s, Latency: 57.5 ns;
Handbrake 1.3.1 (4K to 1080p encode): 37.23 average fps;
PassMark: Rating: 5966 (CPU mark: 17522, 3D Graphics Mark: -, Disk Mark: 18842);
PCMark 10: 5416 (Essentials – 8912, Productivity – 7152, Digital Content Creation – 6768);
GeekBench 4.4.2 64-bit: Single-Core: 5629, Multi-core: 29494;
GeekBench 5.0.1 64-bit: Single-Core: 1228, Multi-core: 7194;
CineBench R15 (best run): CPU 1600 cb, CPU Single Core 193 cb;
CineBench R20 (best run): CPU 3640 cb, CPU Single Core 462 cb;
x264 HD Benchmark 4.0 32-bit: Pass 1 – 224.02 fps, Pass 2 – 85.80 fps;
x265 HD Benchmark 64-bit: 39.56 s.
We also reran some of these tests on the Silent profile, just in case you're interested in how the laptop performs while keeping the fan noise beneath 40 dB. Here's what we got in this case:
3DMark 13 – Fire Strike: 13822 (Graphics – 15229, Physics – 16586, Combined – 7116);
3DMark 13 – Time Spy: 5867 (Graphics – 5697, CPU – 7063);
Handbrake 1.3.1 (4K to 1080p encode): 30.94 average fps;
PCMark 10: 5287 (Essentials – 8976, Productivity – 7101, Digital Content Creation – 6293);
GeekBench 5.0.1 64-bit: Single-Core: 1251, Multi-core: 6050;
CineBench R15 (best run): CPU 1276 cb, CPU Single Core 196 cb;
CineBench R20 (best run): CPU 2425 cb, CPU Single Core 443 cb;
x265 HD Benchmark 64-bit: 39.78 s.
The performance is fairly similar in short burst loads, but it degrades by a fair bit in longer-duration CPU tests.
We also ran some Workstation related loads, on the High Performance profile:
Blender 2.82 – BMW Car scene- CPU Compute: 3m 48s (High Perf);
Blender 2.82 – BMW Car scene- GPU Compute: 1m 32s (CUDA), 44s (Optix);
Blender 2.82 – Classroom scene – CPU Compute: 12m 7s (High Perf);
Blender 2.82 – Classroom scene – GPU Compute: 5m 33s (CUDA), 2m 59s (Optix);
Luxmark 3.1 – Luxball HDR – OpenCL CPUs + GPUs score: 21834;
SPECviewerf 13 – 3DSMax: 143.15 (High Perf);
SPECviewerf 13 – Catia: 95.65 (High Perf);
SPECviewerf 13 – Creo: 146.83 (High Perf);
SPECviewerf 13 – Energy: 13.91 (High Perf);
SPECviewerf 13 – Maya: 180.29 (High Perf);
SPECviewerf 13 – Medical: 42.32 (High Perf);
SPECviewerf 13 – Showcase: 77.32 (High Perf);
SPECviewerf 13 – SNX: 14.64 (High Perf);
SPECviewerf 13 – SW: 76.27 (High Perf).
Finally, here's how this i7-10875H + RTX 2060 configuration of the MSI Creator 17 compares to a few other devices in the same niche.
— to be updated
With these out of the way, let's look at some games. We ran a couple of DX11, DX12, and Vulkan titles on the stock High Performance and Balanced profiles. Here's what we got:
Battlefield V, The Witcher 3 – recorded with Fraps/in-game FPS counter in campaign mode;
Far Cry 5, Middle Earth, Strange Brigade, Red Dead Redemption 2, Tomb Raider games – recorded with the included Benchmark utilities;
Red Dead Redemption 2 Optimized profile based on these settings.
The HWinfo logs below show the CPU and GPU speeds and temperatures in Farcry 5, Red Dead Redemptions 2, and Witcher 3 on the stock High Performance profile.
Both the CPU and the GPU run at high temperatures, averaging 93-97 degrees for the CPU and 77-80 degrees for the GPU between the tested titles. At the same time, the fans spin at around 45-46 dB at head-level, which is not bad for a performance laptop.
Despite these temperatures, this Creator 17 performs fine. The CPU is slightly thermally throttled, but still runs at high frequencies, while the GPU constantly runs at its designed power of 80W.
Raising the laptop from the desk doesn't make any significant difference in performance or temperatures here. Judging by our past experience with similarly designed MSI laptops, undervolting the CPU would have helped, but we couldn't find a way to do it on this laptop.
Unlike on the MSI gaming laptops, there's no Cooler Boost fan profile available in Creator Center, so no way to force the fans to spin faster in order to reduce the temperatures and improve performance.
Switching over to the Balanced profile lowers the fan noise to about 39-40 dB, but also thermally limits both the CPU and GPU. The GPU quickly reaches 86 degrees Celsius in this case, and then it powers down to about 58-65 W between the tested titles. Thus, while the fps results above might suggest little difference between the High and Balanced profiles, in reality, the laptop ends up 10-20% slower in games on Balanced, and also runs hotter.
As for gaming on Silent, that's not possible here, as the GPU rapidly goes above 86 degrees and switches the laptop in this sort of protection mode that limits the GPU and spins the fans at their max speeds. Restarting the laptop was the only way to get it back to normal, or at least the only method that I could figure out.
In conclusion, this Creator 17 works fine on the High Performance mode, but the components (and especially the CPU) inside run at high temperatures, which could have a negative impact on their long-term reliability, and is something I'd consider in the buying decision.
Noise, Heat, Connectivity, speakers, and others
While I haven't opened this sample because of that pesky warranty sticker, the Creator 17 shares its thermal design with the MSI GS75 Stealth notebook, with three fans and a couple of heatpipes, but most of them in charge of cooling the GPU, and only a limited part targeted towards the processor.

That's a problem when you put a power-hungry Intel 10th gen i7 (or i9) inside, which requires a lot of power and proper cooling to run at its best. Hence, the findings above.
However, I'm not that happy with those GPU thermals either. This cooling solution barely copes with this 80W RTX 2060 implementation on the High Performance profile, but MSI also offers RTX 2070/2080 Super configurations on this chassis. Those can go up to 105W in the better implementations, and I don't think this thermal design can properly cope with that, so you should definitely look into some detailed reviews if you're interested in those variants.
MSI also chose to implement a fairly quiet fan profile for this laptop, with the fans only ramping to about 45-46 dB at head-level on the High Performance profile, and sub 40 dB levels on the Balanced profile. They're even quieter on Silent, but gaming and other demanding combined chores aren't an option on this profile. Here's a quick roundup.
High Performance – 45-46 dB with games, 45-46 dB with Cinebench loop test;
Balanced – 39-40 dB with games, 42-46 dB with Cinebench loop test, 33-37 dB with Daily use.
As for those external temperatures, this Creator 17 runs cooly with daily use, but heats-up a fair bit with games. Longer gaming sessions are mostly fine on the High Performance profile, although even in this case the chassis heats-up to almost 60 degrees around the I and O keys, but the WASD and arrows regions stay within fairly comfortable 40-45 degrees. The chassis heats-up by an extra 5 degrees on Balanced, though, which is one more reason why gaming on Balanced isn't ideal on this laptop, alongside the limited performance documented above.
Keep in mind we're performing our tests in a controlled environment with the AC set on 24 degrees C, and these temperatures might rise further in a hotter room.
*Daily Use – streaming Netflix in EDGE for 30 minutes, Balanced profile,  fans at 33-37 dB
*Gaming – Balanced – playing Far Cry 5 for 30 minutes, fans at 39-40 dB
*Gaming – High Performance – playing Far Cry 5 for 30 minutes, fans at 45-476 dB
For connectivity, there's Wireless 6 and Bluetooth 5 through an Intel AX201 chip on this unit, as well as 2.5 Gigabit Lan. Our sample performed well in all our tests, both near the router and slightly further away.
Audio is handled by a pair of punchy speakers that fire through cuts on the underbelly. These get very loud, at about 90 dB at head-level at maximum volumes, but the quality severely lacks at the lower end. A pair of headphones is a must with this laptop if you care about sound quality.
The webcam is placed at the top of the screen flanked by microphones. The image quality isn't much, but OK for occasional use.
Battery life
There's an 82 Wh battery inside the Creator 17, a fair size for a laptop of this type. Optimus helps the runtimes, but the mini LED panel will take its toll if you plan to use it at higher brightness settings.
Here's what we got on our unit, with the screen's brightness set at around 120-nits (30%):
18 W (~4-5 h of use) – text editing in Google Drive, Silent Mode, screen at 30%, Wi-Fi ON;
16 W (~5-6 h of use) – 1080p fullscreen video on Youtube in Edge, Silent Mode, screen at 30%, Wi-Fi ON;
13 W (~6+ h of use) – Netflix fullscreen in Edge, Silent Mode, screen at 30%, Wi-Fi ON;
25 W (~3-4 h of use) – browsing in Edge, Balanced Mode, screen at 30%, Wi-Fi ON.
MSI pairs this configuration with a generic and fairly-compact 180W power-brick that weighs .61 kilos with the included cables in this EU version. Refilling the battery takes 2+ hours, and up to 100W of USB-C charging is also supported through the Thunderbolt 3 port with a compatible charger (not included).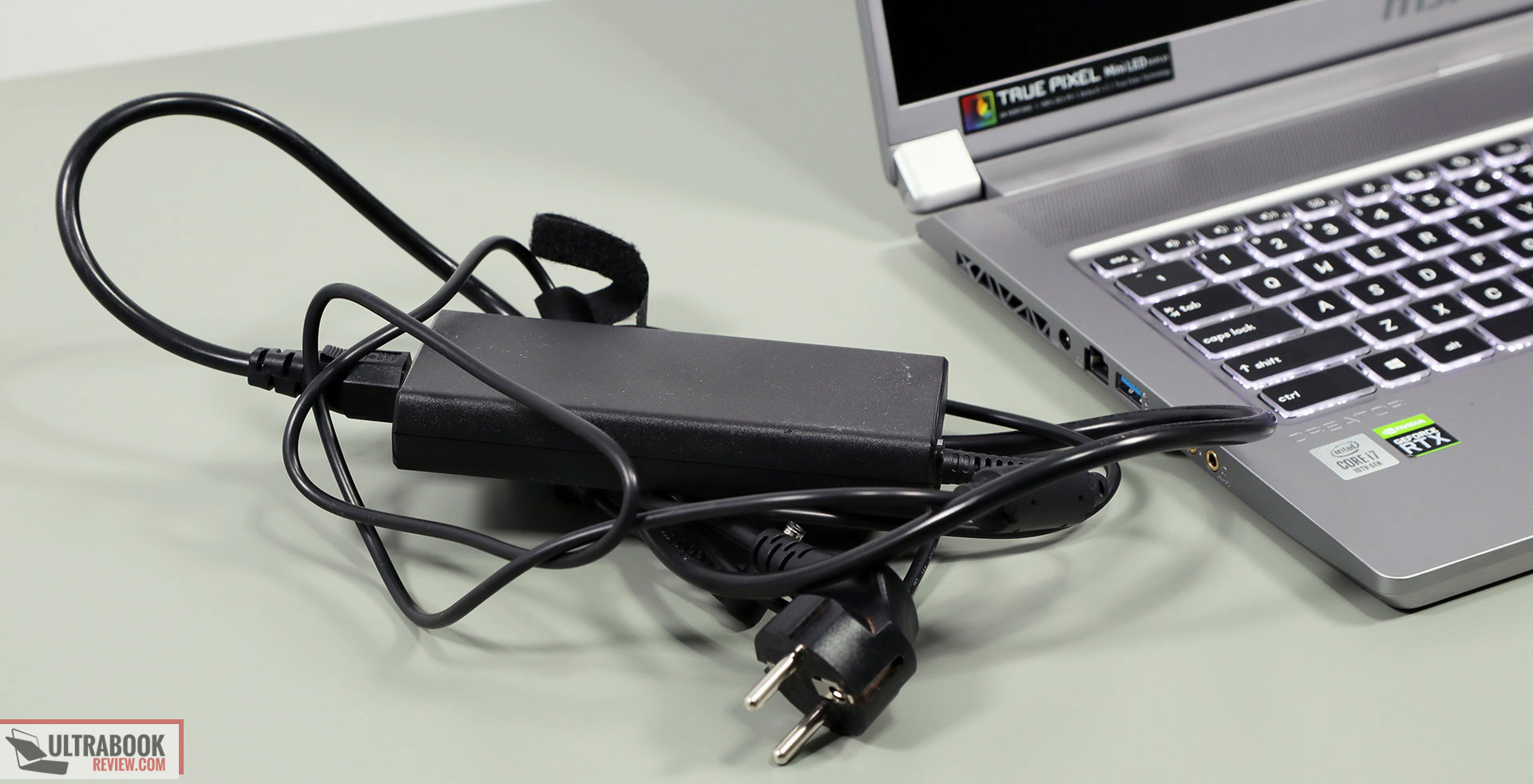 Price and availability
The 2020 MSI Creator 17 is available from select retailers around the world in a bunch of different configurations.
Right now, the base configurations start at $1799 in the US, with a 144 Hz display and RTX 2060 GPU. However, the mini LED 4K models are a lot more expensive, starting at $3000 in the US for an RTX 2070 Super configuration, and around 2700 EUR here in Europe for the RTX 2060 model with less RAM and storage, the model we've reviewed here. That's expensive, very expensive!
Follow this link for updated configurations and prices in your region at the time you're reading this article.
Final thoughts
This MSI Creator 17 is right now the only notebook available with a mini LED display, with 1000+ nits of maximum brightness, HDR 1000 support, and excellent colors and uniformity. So, if this sort of screen is something that you need for your work as of the summer of 2020, well, this notebook is the one for you.
Of course, this Creator 17 is not just about the screen, it's also a fairly well-rounded product, with a minimalist and lightweight metallic build, alright IO and inputs, latest-generation hardware, and a fair-sized battery.
At the same time, though, I feel that this is compromised in a couple of ways. Some of my complaints are minor, such as the creaking noises produced by the chassis with daily use, the rather uncomfortable narrow arm-rest, and the annoying placment on the video output connectors on the right side, which I'd expect you'll use often on this sort of a workstation laptop. Others bother me even more, such as the very poor audio and especially the fact that the thermal module can barely handle this basic hardware configuration in demanding loads, with the 8Core CPU being thermally limited in the more taxing chores.
And then there's the pricing. This is a very expensive laptop, starting at 3000 USD for an RTX 2070 Super model and 3600 USD for the RTX 2080 Super with extra RAM and storage. It's almost as expensive as the Razer Blade Pro or the Gigabyte Aero 17 OLED, and most of that is due to the mini LED screen. For comparison, a similarly specced MSI GS75 with the 300 Hz FHD screen is 600-700 USD cheaper, for arguably the same product and more interesting design lines.
So, is that mini LED display worth that kind of money? And if your answer is YES, is it worth it on this Creator 17? I'll leave that to each of you to decide, but there are definitely better value mobile workstations out there.
That wraps up our review of the MSI Creator 17, but I'd love to hear your thoughts and feedback down below.