We've already reviewed both the 13 and the 14-inch ZenBooks here on the site, and in this short article and video I'm just going to quickly summarize how they fare against each other and which is the one I'd pick.
The all-metal construction, the matte screen options, a large battery with USB-C charging, the Thunderbolt 3 support, the good inputs, and the snappy everyday experience are what recommend these notebooks, alongside their competitive pricing, especially for the 13-inch model listed right now from as low as $799 in the US (follow this link for updates).
At the same time, they could have been sturdily made, they don't include a headphone jack (that's a bold move from Asus) and they are powered by Intel Ice Lake hardware and set to favor low noise and thermals over performance, thus struggle with demanding tasks.
AMD Ryzen variants will also be available in the next months, at least for the 14-inch model, and we'll talk about them in a future article.
Update: Our coverage of the updated ZenBook S13 and ZenBook 14 lineups are available via these links.
First, here's the video review, and we'll get further in-depth down below.
Design and build quality
OK, so these two ZenBooks are identical in most ways, with the 13-inch model being roughly 15 mm shorter, 4 mm narrower, the same height and merely 60 grams lighter than the 14-inch variant. In fact, you can barely tell the size difference even when having them side by side.
To put them in perspective, both are about the same size as my older generation Dell XPS 13, but lighter, and both are smaller and lighter than an Apple MacBook Pro 13, so perfectly suitable to grab along to school or work.
They're also fairly well made, with an all-metal exterior casing that feels nice and premium to the touch. Asus offers them in two variants, a darker gray model with gray keys, and a lighter variant called Lilac Mist. That's going to hide smudges better, but I'd stay away from it because of its hard to read silver keyboard with white writing and illumination.
However, these ZenBooks are not unibody designs, so I did notice some flex in the keyboard deck and some creaking sounds when grabbing these firmer and picking them up from the desk.
Having used them for the last weeks, I don't think those creaking sounds would be a deal-breaker for me, even if I would have preferred a tougher chassis, the kind offered by the previous ZenBooks and other available premium ultrabooks, albeit most of them at a higher cost. I'd also expect them to age well, since they meet a couple of Mil-grade stress tests, like most other Asus notebooks.
I sure don't like these laptops not having a headphone jack, though. Asus ditched it, as they claim that more and more people use wireless headphones these days, and the limited internal space left no room for the jack. That's bold on their part, but I don't use earbuds, so perhaps you can share your thoughts on this matter in the comments section down below, especially if you are an earbuds user. They do include an USB-C to 3.5 mm adapter in the pack, so you can still use your existing headphones, at least until you end up loosing it.
If something had to be axed, I would have preferred a design without that HDMI port instead, since that's only HDMI 1.4b and can only output FHD signal at 60 Hz. That means that you'll still end up using one of the USB-C ports with DisplayPort support if you plan to hook up a 4K screen at 60 Hz.
For that matter, both the USB-C slots on the left edge support Thunderbolt 3, with data, video, and charging. Asus also includes a microSD card reader and a full-size USB-A on the right, although that's a slow gen1 variant, and these are complemented by fast Wireless 6 and Bluetooth n5 connections.
As for those practicality details that make a difference when using the laptop every day, Asus includes a combined IR+webcam combo at the top of the screen, flanked by microphones, they put fairly grippy rubber feet on the bottom of the laptop, where you'll also find the speaker cuts, firing through those cuts on the laterals, and they implemented smooth hinges that allow to pick up and adjust the screen with a single hand.
The speakers are rather on the quiet side, with volumes of up to 72 dB on these samples on the Music profile in AudioWizard, but decent audio quality.
At the same time, the screen doesn't lean back flat as on the ExpertBook lineup, the hinges are a bit weaker than I'd like, and those sharp interior edges still bite into the wrists. They do look cool and edgy, but a softer front-lip is more comfortable with daily use.
Before we move on, I should also mention the slightly tweaked thermal design here.
These ZenBooks still implement Asus's Ergolift hinge, which raises the main body on two small rubber feet at the bottom of the screen part, for a slightly inclined typing position and improved airflow underneath. This design, however, puts the exhaust just under the screen, so the hot air is blown into the screen. Compared to the previous ZenBooks, though, these 2020 models get a slightly thicker chin, and that puts the panel further away from the exhaust, allowing for that chin to take in most of the heat and keeping the panel within safe temperatures. This might seem like a small detail, but it's actually a major update that will prevent potential long-term display issues.
Inputs
The typing experience is what primarily sets the 13-inch ZenBook UX325 apart from its 14-inch kin. And that's because the design did not leave room for the same full-size layout implemented in the UX425, but for one with shorter keys.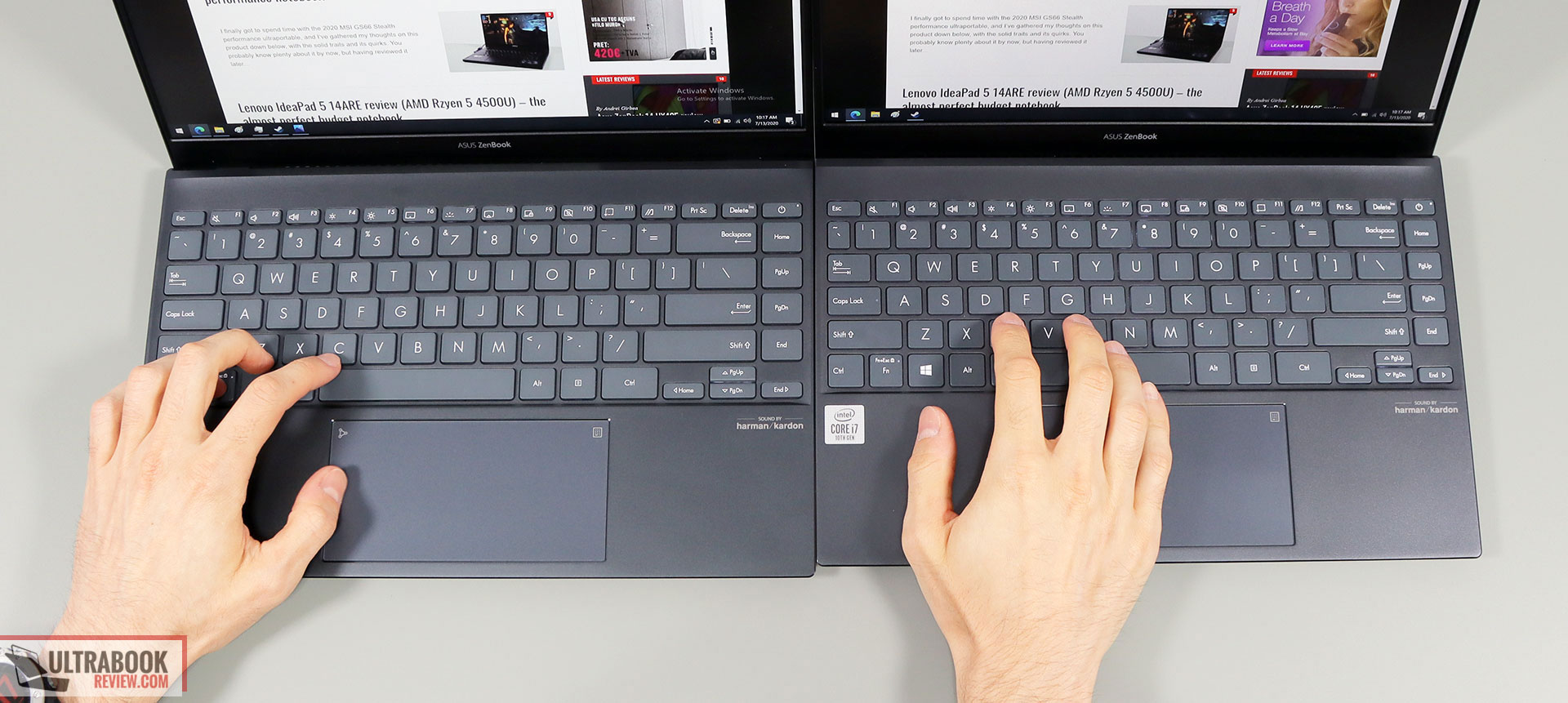 While the UX425 gets a main set of 16 x 15 mm keys, this only gets 16 x 13 mm keys, which cramps up the layout and makes this more prone to mistypes. In fact, while the UX425 turned out to be one of my favorite Asus keyboards ever experienced, I could not reach the same speed and accuracy results on this 13-inch model, with felt more in line with the average ultrabook.
However, having not tested the UX425 side by side with this 13-inch model, I would have considered this to be a fine keyboard, and it still is one that those of you with smaller or averagely-sized hands should get along alright with.
The layouts are otherwise similar between the two, with flat directional keys and an extra column on Function keys at the right, plus the Power button incorporated as a key in the top right-corner.
These two keyboards are also backlit, with bright white LEDs and a dedicated Caps Lock indicator. The illumination is slightly brighter on the 13-inch model, but not as uniform, at least on this unit.
Down beneath, centered on the chassis, Asus implement the same spacious glass clickpad with Precision drivers on both these laptops. It's a smooth, reliable, and sturdy surface, with good gesture support and palm-rejection. This also doubles as a virtual NumberPad.
Screens
Asus offers two screen options for both these lineups. They are all matte non-touch IPS panels with FHD resolution, but one is a standard option with 300-nits of max brightness, and the other is this newer generation and more efficient 1W panel with 400+ nits of brightness.
Both our 13 and 14-inch variants got the standard panels, but I'd expect most retail variants to ship with the 1W screen instead.
Even these base panels are fine for everyday use, though, with almost 100% sRGB color coverage, wide viewing angles, and slightly better brightness and contrast on the 13-inch variant. However, we noticed less light bleeding on the 14-inch model, although there's a fair bit of randomness in panel quality these days.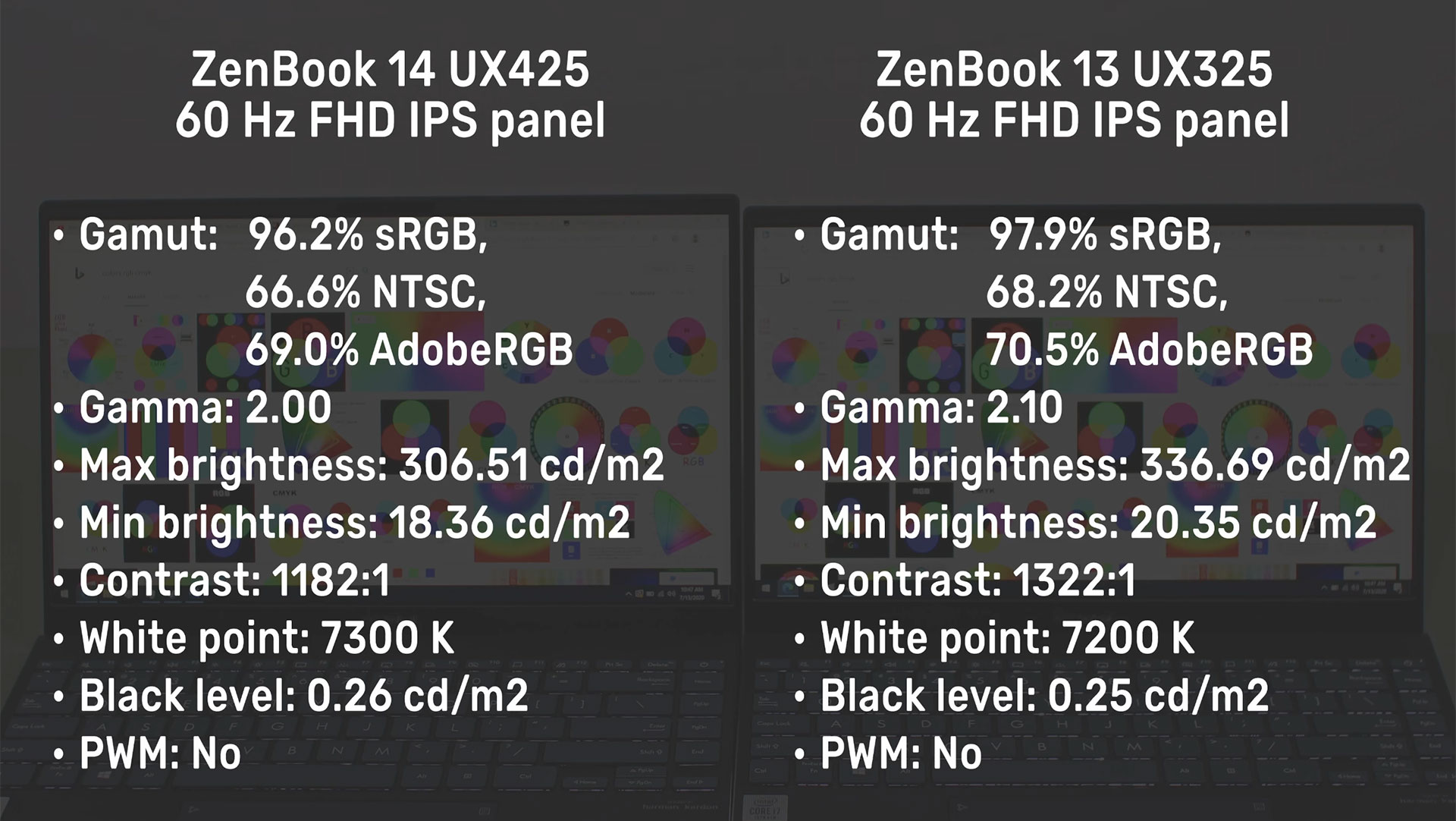 Specs and performance
OK, so we've tested two versions of the ZenBook 14 UX425 and one of the ZenBook 13 UX325, all top configurations with the Intel Core i7-1065G7 processor and Intel Iris Pro graphics, 16 GB of LPDDR4x memory and a fast 1 TB Samsung SSD.
Asus ZenBook 13 UX325JA
Asus ZenBook 14 UX425JA
Screen
13.3 inch, 1920 x 1080 px, IPS, matte, non-touch
2.5W 300-nits (Chi Mei N133HCE-EN2) or 1W 450-nits panel options
14.0 inch, 1920 x 1080 px, IPS, matte, non-touch
2.5W 300-nits (Chi Mei N140HCE-EN2) or 1W 400-nits panel options
Processor
up to Intel Ice Lake, up to Core i7-1065G7, 4C/8T
Video
up to Intel Iris Pro G7, 64EUs
Memory
up to 32 GB LPDDR4X 3200 MHz (soldered)
Storage
1 TB M.2 PCIe x4 SSD (Samsung PM981), Intel Optane H10 variants also available
Connectivity
Wireless 6 (Intel AX201), Bluetooth 5.0
Ports
1x USB-A 3.2 gen1, 2x USB-C 3.2 with Thunderbolt 3(data, video, and power), HDMI 1.4b, microSD card reader, 3.5 mm jack with USB-C adapter
Battery
67 Wh, 65W USB-C charger with quick-charging
Size
304 mm or 11.9" (w) x 203 mm or 7.99" (d) x 13.9 mm or 0.54" (h)
319 mm or 12.5" (w) x 208 mm or 8.18" (d) x 13.9 mm or 0.54" (h)
Weight
2.49 lbs (1.13 kg) + .45 lbs (.21 kg) charger, US version
2.62 lbs (1.19 kg)+ .45 lbs (.21 kg) charger, US version
Extras
white backlit keyboard, glass NumberPad, HD+IR webcam with Hello, stereo bottom speakers, optional sleeve, available in Pine Grey and Lilac Mist
Everything is soldered on the motherboard, with the exception of the single storage drive. Accessing the components requires removing the back panel, and be careful that there are two extra screws hidden behind the rear-rubber feet. Inside you'll notice that the storage is placed right next to the CPU, but it has a thermal radiator on top that helps keep the temperatures at bay. The drive still reaches temperatures in the mid-50s with daily use and mid-60s with storage tests, but without any performance impact on our units.

These laptops are based on the same Intel Ice Lake hardware implemented by a multitude of other ultrabooks these days. Both the i5 and i7 models are 4C/8T processors, snappy in single-core tasks, and averagely competent in multitasking when allowed to run at higher TDP settings. By default, this is a 15W platform, but it can stably run at 25+W in some designs. Not in these ZenBooks, though, whose power profiles are designed to favor low noise and reduced thermals, and not sustained performance.
We ran a couple of different tests on the Dynamic power profile available in the MyAsus control app, and this is how these ZenBooks compare to a couple of other ultrabooks we've tested lately, based on Intel IceLake and Comet Lake hardware, but also on the newer AMD Renoir platform, which is a significantly more competent option for multi-threaded loads.
However, while these are pretty good benchmarks results for an IceLake platform, these ZenBooks cannot sustain these scores in longer duration loads. With our Cinebench R15 stress tests, the CPU stabilizes at 20+W, which still puts it at the bottom of the chart compared to some of the other ultrabooks tested lately.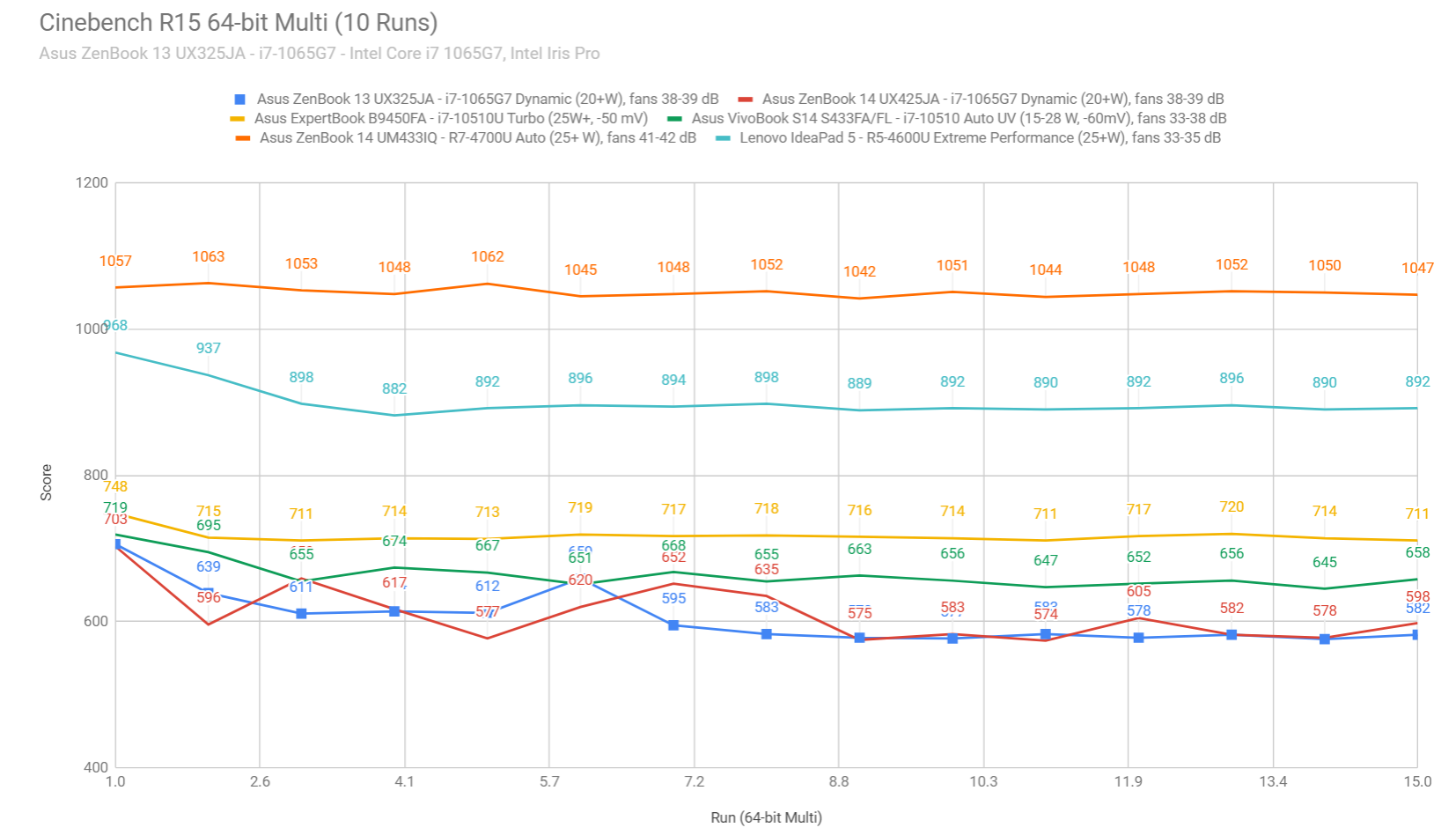 Furthermore, it drops to 15+W with the more demanding Cinebench R20 and the performance is further limited with combined CPU+GPU loads, such as games, which you might want to run on the i7 configurations with the Iris Pro graphics.
With a TDP limit of 15W for the entire CPU package and aggressive thermal limits, these platforms can barely cope with simpler or older titles such as Minecraft, Dota 2 or Bioshock Infinite, running at 30+ framerates on FHD resolution and low graphics settings.
| | | |
| --- | --- | --- |
| | UX325 – Intel i7 + Iris Pro | UX425 – Intel i7 + Iris Pro |
| Bioshock Infinite (DX 11, Low Preset) | 33 fps (18 fps – 1% low) | 40 fps (22 fps – 1% low) |
| Dota 2 (DX 11, Best Looking Preset) | 18 fps (12 fps – 1% low) | 34 fps (20 fps – 1% low) |
| Far Cry 5 (DX 11, Low Preset, no AA) | 12 fps (10 fps – 1% low) | 12 fps (10 fps – 1% low) |
| Middle Earth: Shadow of Mordor (DX 11, Lowest Preset) | 28 fps (20 fps – 1% low) | 32 fps (22 fps – 1% low) |
| Need for Speed: Most Wanted (DX 11, Lowest Preset) | 44 fps (22 fps – 1% low) | 42 fps (25 fps – 1% low) |
| Rise of the Tomb Raider (DX 12, Lowest Preset, no AA) | 14 fps (2 fps – 1% low) | 16 fps (3 fps – 1% low) |
| Shadow of Tomb Raider (Vulkan, Lowest Preset, no AA) | 11 fps (2 fps – 1% low) | 17 fps (12 fps – 1% low) |
| Strange Brigade (Vulkan, Low Preset) | 21 fps (3 fps – 1% low) | 21 fps (7 fps – 1% low) |
Dota 2 – recorded with MSI Afterburner in game mode;
Bioshock Far Cry 5, Middle Earth, Strange Brigade, Red Dead Redemption 2, Tomb Raider games – recorded with the included Benchmark utilities;
In conclusion, expect a snappy everyday experience with these ZenBooks in everyday tasks such as browsing, Office use, video and music streaming, light photo editing, and the likes, but look elsewhere if you need something that can cope with demanding software or games. For that reason, I'd primarily look into the Intel i5 configurations with the more basic graphics, as you'll hardly benefit from the Iris Pro iGPU here, at least based on our experience with these early samples.
Cooling, thermals and fan noise
As mentioned already, the software is designed to minimize fan-noise on these notebooks, and not to favor performance.

Asus went with a basic thermal design, with a single fan and heatpipe, and this mostly keeps the fan idle and completely silent with everyday use on battery, and barely active with heavier multitasking with the laptop plugged in, on both the 13 and the 14 inch models. The laptops' exteriors run a bit warm in this case, but that's fine considering the mostly passive cooling.
The fan remains quiet with gaming as well, at up to 40 dB at head-level, and we measured temperatures in the mid-40s on the keyboard deck and high-40s on the bottom, but also high-40s on the screen's chin, right next to the exhaust. The display rests in the mid to high-30s, which are safe temperatures.
Battery life
You might have noticed already that a big chunk of the interior is reserved for the battery on these ZenBooks. Asus put a a 67 Wh battery inside both these lineups, significantly larger than what you'd normally get in these classes.
We haven't tested the 1W screen options on any of these, which should help increase their runtimes, but with the standard panels we got about 5-6 hours of real-life multitasking, 7-8 hours of light office use and 9-10 hours of Netflix and Youtube streaming.
The laptops ship with a 65W charger that plugs-in via USB-C. It's a single-piece design with a compact brick and a long and good quality cable, and a full charge takes about 2 hours. However, quick-charging allows to fill-up to 60% of it in less than an hour.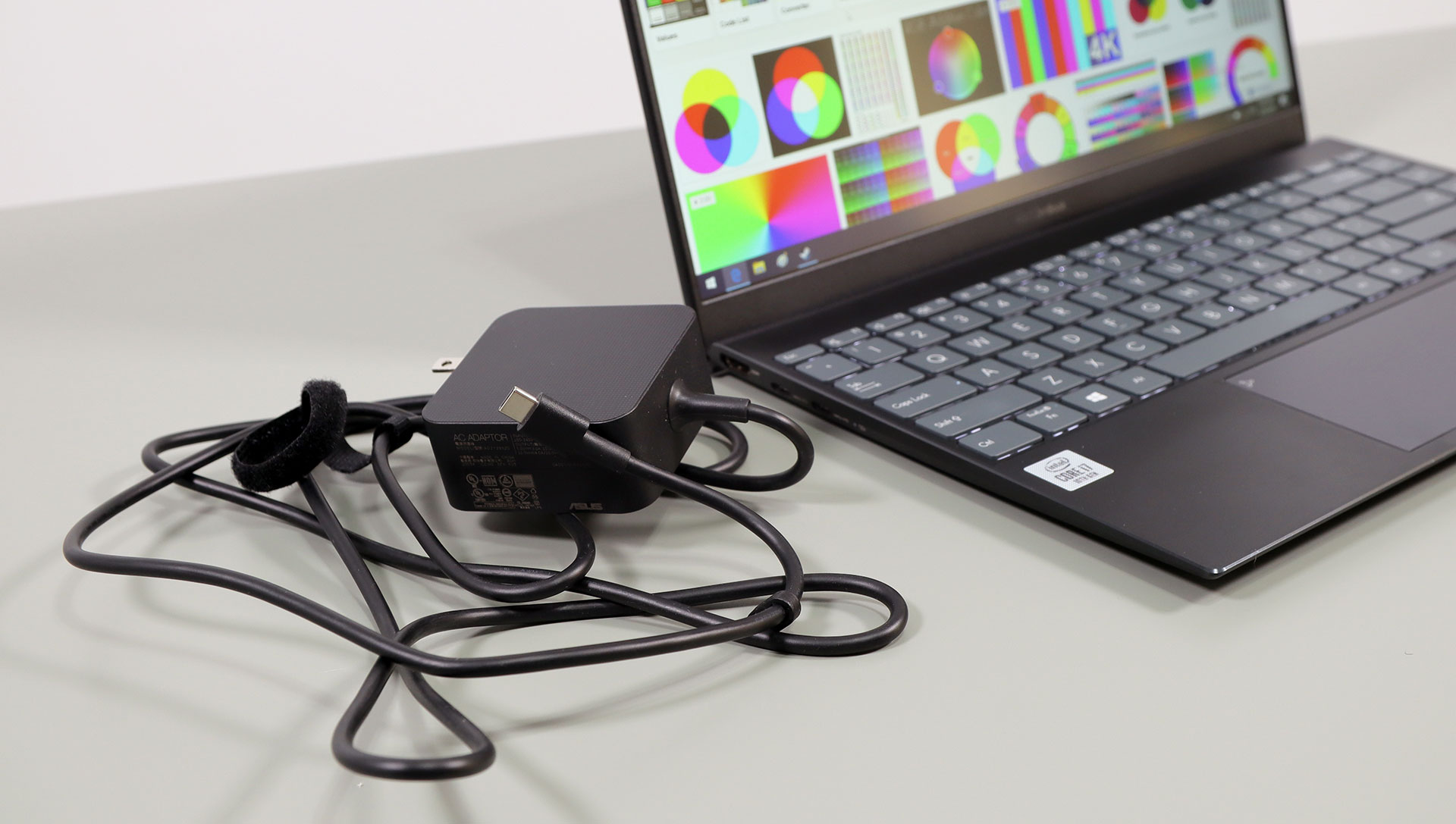 Price and availability
Both these ZenBooks are available in stores around the world.
Right now, the start around 1100 EUR in Germany or 899 GBP in the UK for the i5 models with 8 GB of RAM, 512 GB of storage, and the 1W screen.
However, only the 13-inch model seems to be available in the US at this moment, with the i7 model listed at $899 and the i5 at $799.
We'll update when we know more, and in the meantime, follow this link for updated prices and configurations in your region: ZenBook 13 UX325 and ZenBook 14 UX325.
Final thoughts
Ok, let's draw the line on these two.
The squashed keyboard is what primarily sets the ZenBook 13 UX325 apart from the marginally larger 14-inch UX425 version. That's still fine for those of you with smaller hands, but the UX425 is a more reliable and more accurate typer.
With that out of the way, both these laptops are fairly well made and lightweight, offer good screen options, decent IO, and larger batteries than most other options in their niches, with very few exceptions, such as the LG Grams.
They are also competitively priced, with both the 13 and 14-inch variants starting at around 1100 EUR here in Europe and under $1000 in the US. However, the 13-inch ZenBook seems to be more widespread and more affordable as of right now, and that alone might be enough to steer you in its direction. Still, if the two sizes are available for the same kind of money in your region, I'd opt for the UX425.
At the same time, these struggle with demanding loads, so unless you plan to only use them for everyday multitasking, browsing, office apps, and video streaming, I'd look into something more powerful, perhaps one of those competent Ryzen 4000 notebooks or even beefier implementations of the Intel Core U hardware with Nvidia MX250 or MX350 graphics. There are plenty of good options out there, and we've covered many of those here on the site, including the Asus ZenBook 14X series.
That mostly sums up our thoughts on these ZenBook series. Thanks for watching, and I'd also love to hear your thoughts on these two in the comment sections down below.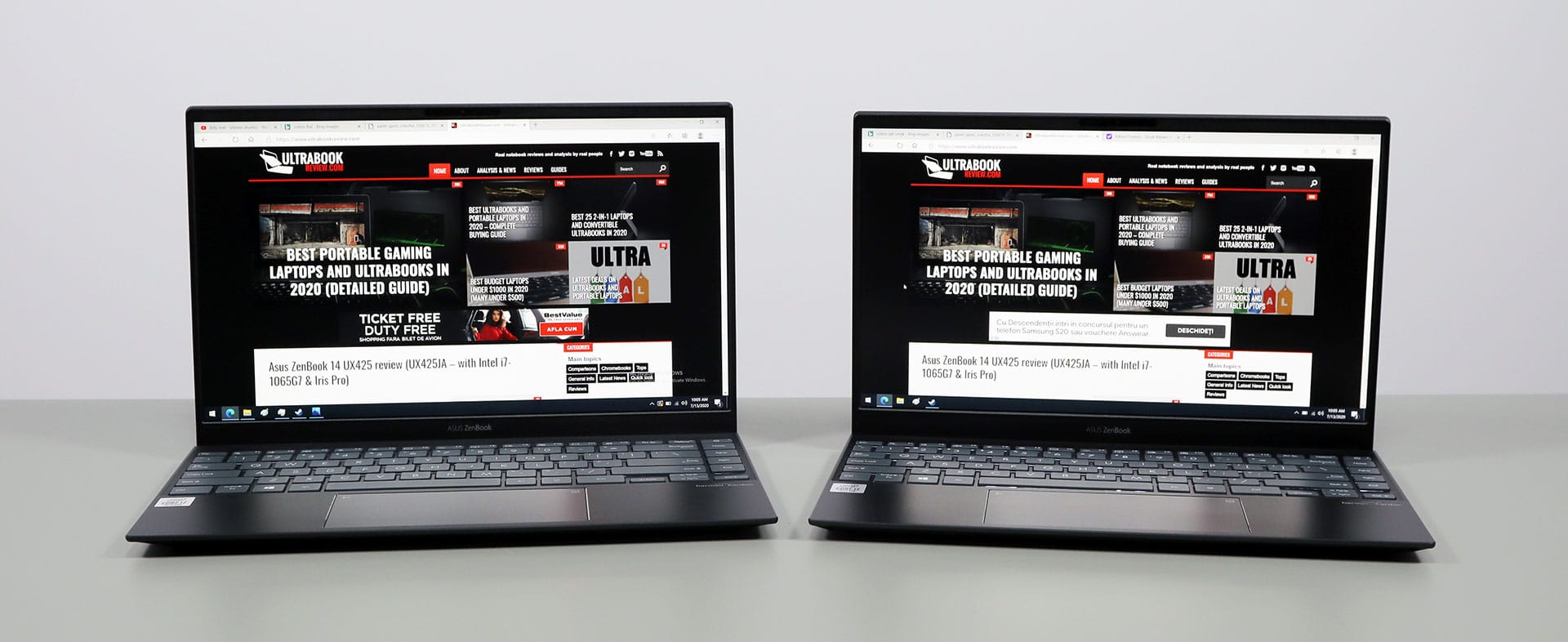 Disclaimer:
Our content is reader-supported. If you buy through some of the links on our site, we may earn a commission.
Terms
.