I've noticed this ZenBook 14 Q407IQ model that's exclusively available in the US at Best Buy a while ago, and have been meaning to tell you guys about it. Well, this laptop is on sale for $549 right now, down from its normal list price of $699, and that makes it even more interesting as one of the most affordable Ryzen U models of the moment.
That kind of money gets you a Ryzen 5 4500U + Nvidia MX350 configuration, 8 GB of LPDDR4x memory, and 256 GB of storage, plus a 50Wh battery and a 300-nits 80% sRGB matte screen.
In fact, the Q407IQ is pretty much a Best-Buy exclusive variant of the ZenBook UM433IQ that we've reviewed a while ago, which is available in stores over here in Europe.
However, it's more affordable. In fact, at $549, this is a steal.
AMD did an excellent job with their Ryzen 4000 hardware, providing a faster and more efficient alternative to the wide-spread Intel Core U platforms of this generation. And even if this only gets the 6Core/6Thread Ryzen 5 processor and not the 8Core Ryzen 7, that's still plenty fast for everyday use and some multitasking or medium-intensity work-loads. At just under 1000 points in Cinebenh R15, this is 25-30% faster than a Core i5-10210U.
Sure, Asus bundles the ZenBook Q407IQ with a small capacity and middling-performance SK Hynix SSD, but you can easily upgrade it. Accessing the internals requires removing the back panel, and careful that there are some screws hidden behind the rear rubber feet.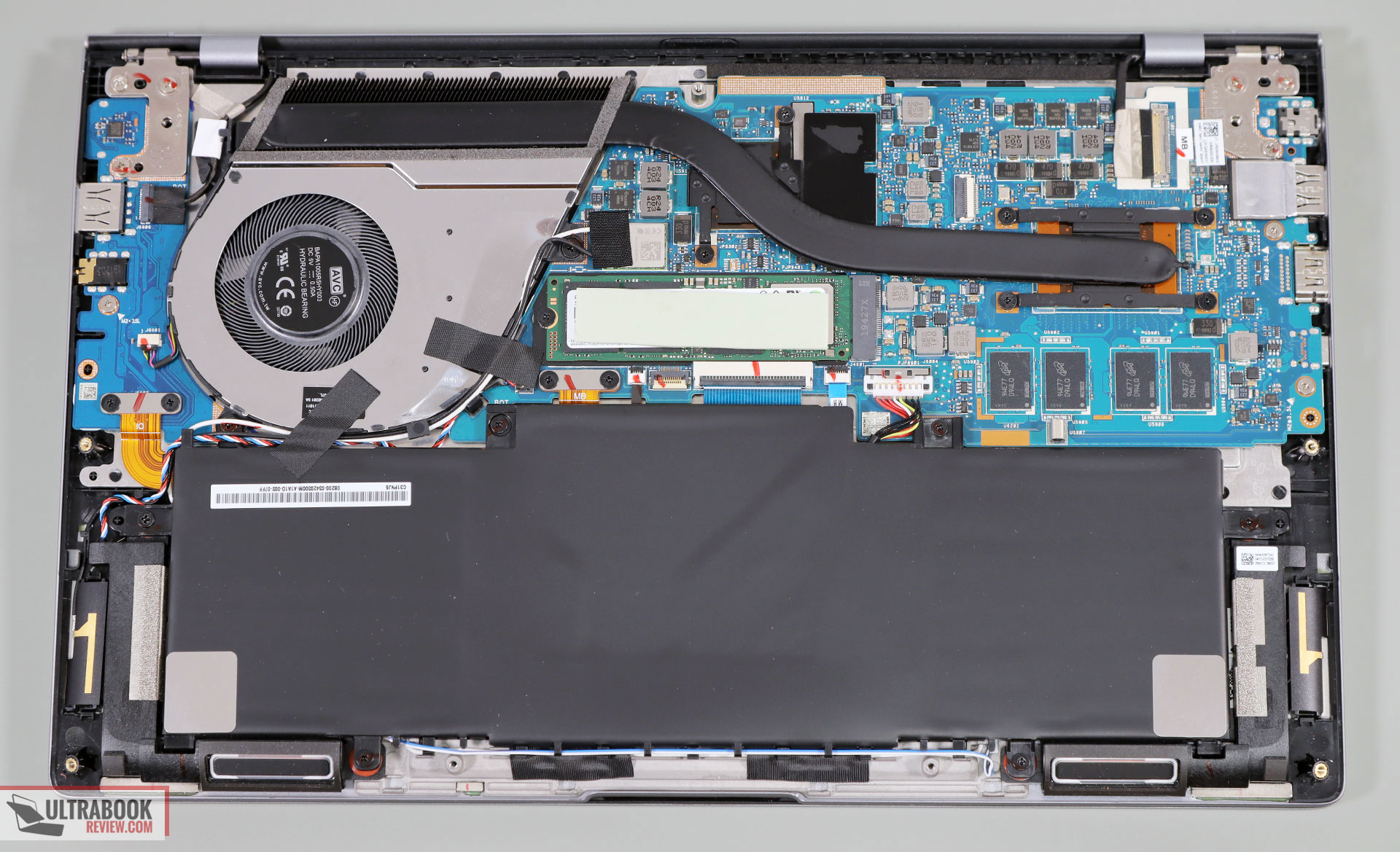 There's no way to upgrade the RAM, though, which is a potential deal-breaker for this configuration. 8 GB are OK for daily use, but more demanding loads and heavier multitasking would benefit from 16 GB. Up to you.
As for the GPU, that's the 10W efficient implementation of the Nvidia MX350 chip, a significantly faster follow-up of the MX250 lineup previously included in this sort of a form-factor. We've reviewed the exact same chip on the UM433IQ. This can handle older or casual games at FHD resolution and lower graphics details, but it's not the most capable implementation of this hardware, as the minimalistic thermal design limits the performance in games and combined CPU+GPU tasks in order to keep temperatures and noise levels down.
Nonetheless, I find this Q407IQ competitive even at its list price of $699, not to mention at $549. And that's because there's more than just the hardware to consider here.
The laptop is fairly well built and nice looking, with a silver metallic exterior, includes most of the required ports you'd expect from a 14-incher (not USB-C video or SD card reader, though), includes an IR camera with Hello support at the top of the screen, and a pretty good display. It's FHD and matte, with 300+ nits of brightness, 1000:1 contrast, and alright color coverage, at 80% sRGB. That's not amazing by any means, but better than you'd normally find on other laptops in this price-range.
For comparison, the Acer Swift 3 or the Lenovo IdeaPad 5 both get more washed out sub 60% sRGB colors. And if you're wondering if you'll notice the difference from 60 to 80%, the answer is a big yes. Pretty much all the colors are skewed and muted on those sub-60s panels, while on this one they're OK, almost natural, albeit still not as rich as on a 100+ sRGB implementation, the kind you'll find on more expensive laptops.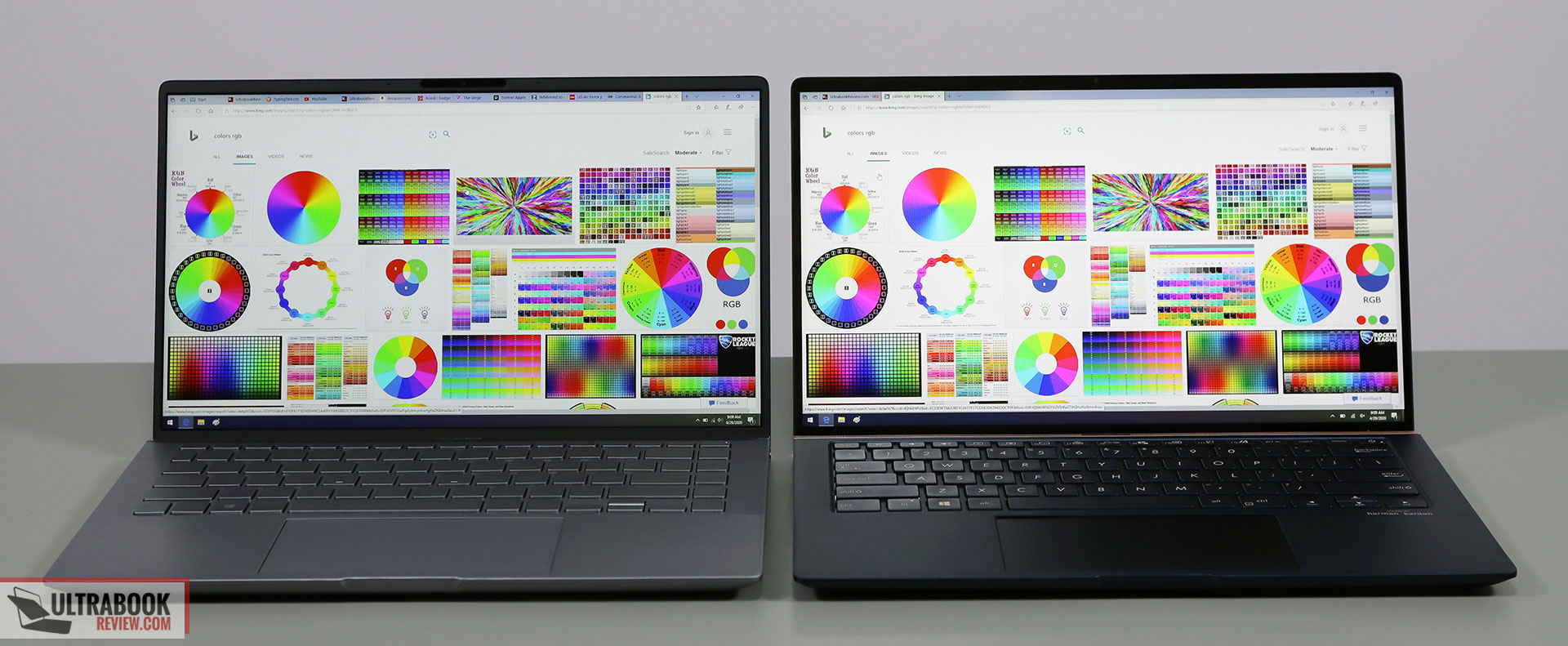 Screen aside, Asus also put a backlit keyboard on this laptop, but the difficult to read kind with silver keys, white writing, and white illumination. Down beneath there's a reliable and spacious plastic-made clickpad, and on the inside, a big chunk is reserved for the 50 Wh battery that allows this to last for 5-7 hours of daily use and 7-9 hours of video. As a side note, this ZenBook does not charge via USB-C, again, something you'll get with the higher tier devices.
All in all, while not without its quirks, this ZenBook 14 Q407IQ is an interesting pick, especially at $549. This deal might not last for long, but it might also periodically resurface, so I'd keep this on your shortlist in the near future if you miss it this time around.
The major deal-breaker remains the only 8 GB of non-upgradeable RAM, 16 GB would have made this a clear recommendation for school and everyday use. However, if you don't plan to run demanding applications on your notebook, 8 GB should suffice. Barely. What do you think?
Disclaimer:
Our content is reader-supported. If you buy through some of the links on our site, we may earn a commission.
Terms
.