While highly controversial for a couple of reasons, Asus's TUF A15/A17 entry-level gaming laptops caught a lot of interest in the last year, due to their competitive price/features ratio in most regions.
Aside from the AMD based TUF models, Asus also offered some Intel TUF F15s during 2020, yet those flew under the radar, as they were both less powerful and more expensive than the AMD models.
Knowing that, Asus decided to change the game with the 2021 TUFs: the main 2021 TUF A15/A17 models are built on AMD Ryzen 5000 hardware and updated RTX 3000 graphics, with some updates in the thermal designs, while the Intel variant mutated into a brand new subseries, the TUF Dash F15 FX516.
We've spent the last few days with an early sample of the Asus TUF Dash F15, enough to gather some first-hand early impressions on the series. We're not touching on anything related to performance, efficiency, or thermals at this point, those are coming in the future review, once we get our hands on the final products.
Update: Our full review of the Dash F15 series (RTX 3070 configuration) is available over here, while our review of the 3050Ti Dash F15 FX516PE configuration is available here.
Update: Our review of the updated 2022 Dash F15 FX517 series is also available here. This offer better screens, faster processors and graphics, and a MUX.
 Asus TUF Dash F15 FX516P – review
Display
15.6-inch, 16:9 format, non-touch, matte, 3 panel options:
FHD 1920 x 1200 px IPS 240 Hz 3ms, 300-nits, 100% sRGB, with AdaptiveSync
FHD 1920 x 1200 px IPS 144 Hz 3ms, 300-nits, ~70% sRGB
FHD 1920 x 1200 px IPS 60 Hz, 250-nits, ~70% sRGB
Processor
Intel Tiger Lake H 35W, up to Core i7-11375H, 4C/8T
Video
Iris Xe + Nvidia GeForce RTX 3060 Laptop 6 GB (on FX516PE model)
Iris Xe + Nvidia GeForce RTX 3060 Laptop 6 GB (on FX516PM model)
Iris Xe + Nvidia GeForce RTX 3070 Laptop 8 GB (on FX516PR model)
Memory
up to 48 GB DDR4 3200 MHz (16 GB soldered, + 1x DIMM)
Storage
2x M.2 2280 NVMe slots
Connectivity
Wireless 6 (Intel AX201) 2×2, Bluetooth 5.1
Ports
3x USB-A 3.2 gen1, 1x USB-C with Thunderbolt 4, HDMI 2.0, LAN, headphone/mic, Kensignton lock
Battery
76 Wh, 180W barrel-plug charger and USB-C charging
Size
360 mm or 14.17" (w) x 252 mm or 9.92" (d) x 19.9 mm or .78" (h)
Weight
2.1 kg (2.95 lbs) + charger
Extras
single-zone RGB backlit keyboard, no webcam, stereo speakers and 2x mics
In a few words, the TUF Dash F15 is a smaller and lighter alternative for the regular TUF models, sharing some construction aspects with the 2020 Zephyrus G lineup. It is built on Intel's Tiger Lake H 35W chips, paired with mid-range RTX 3050Ti, 3060, and RTX 3070 80W Max-Q graphics, with DDR4 memory, dual SSD storage, and a 76 Wh battery.
Asus markets this line as a competitively priced portable gaming laptop meant for those who prefer a more compact and lightweight chassis with middling gaming performance, but don't need the most powerful CPU for heavy multi-threaded loads. Instead, those interested in a more powerful CPU and GPU within roughly the same price range should turn their attention towards the larger full-size TUF A15s built on Ryzen 5000 platforms.
As it is, this Dash F15 series is highly dependant on where the 35W Intel Tiger Lake H platform ends-up. Given that's pretty much a higher-power and clocked variant of the 28W Tiger Lake U platform already tested in a couple of different models, I'd expect this should be snappy and efficient with everyday use and middling multitasking, as well as competent with games, where 4 Cores are still enough in most titles, and the high frequencies make a difference.
Of course, that's as long as this Dash F15 proves to be a fast-performing implementation, which we can't conclude for now based on this early sample.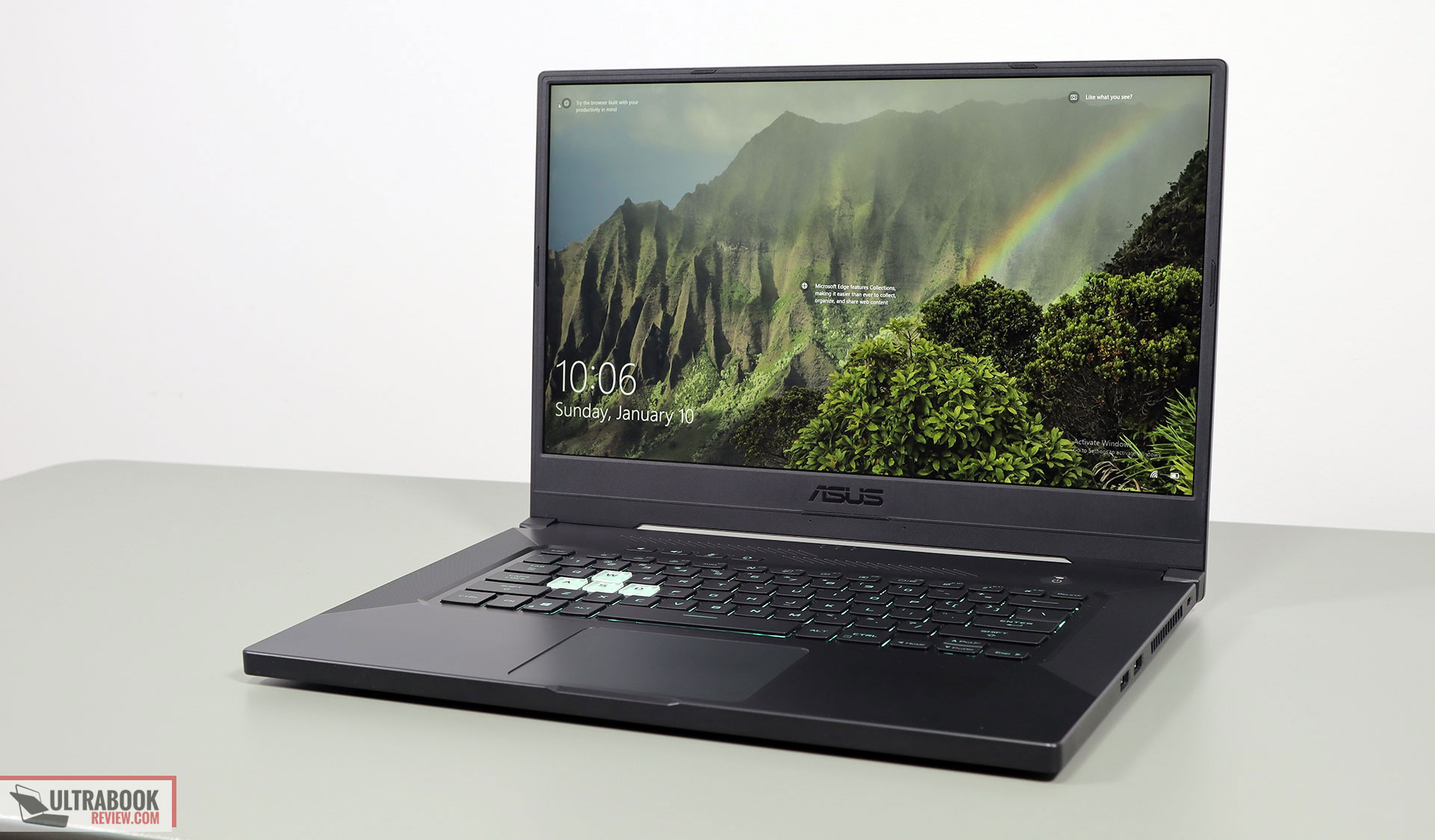 I do have some concerns, given the similarities between this Dash F15's chassis and last year's Zephyrus G15. That one struggled with a 35W CPU and up to 60W graphics, while this one needs to cope with a 35W processor and up to 80W graphics. For what is worth, though, Asus seem to have tweaked the thermal design, with now unobstructed intakes on the D-panel, as well as updated fans and internal cooling module, with extra heatpipes and four radiators, at least on the 3070 model that we have here. Nonetheless, it's safer to hold on buying this laptop before proper reviews come out, either from us or from other good sources.
Specs aside, this laptop is a weird mix of TUF and Zephyrus elements. It borrows the single-zone RGB backlit keyboard and the metallic lid-design from the TUF models, but the plastic main-chassis and rectangular design from the Zephyrus G. This allows for a compact and lightweight design, at around 2.1 kilos, and a fair selection of ports on the sides, with USB-As, USB-C with Thunderbolt 4 support, HDMI and LAN.
At the same time, the plastic interior still feels rather cheap to the touch and shows smudges and fingerprints easily, which means this will be complicated to keep clean. I'm also not a big fan of the limited screen angle or the lack of an included webcam.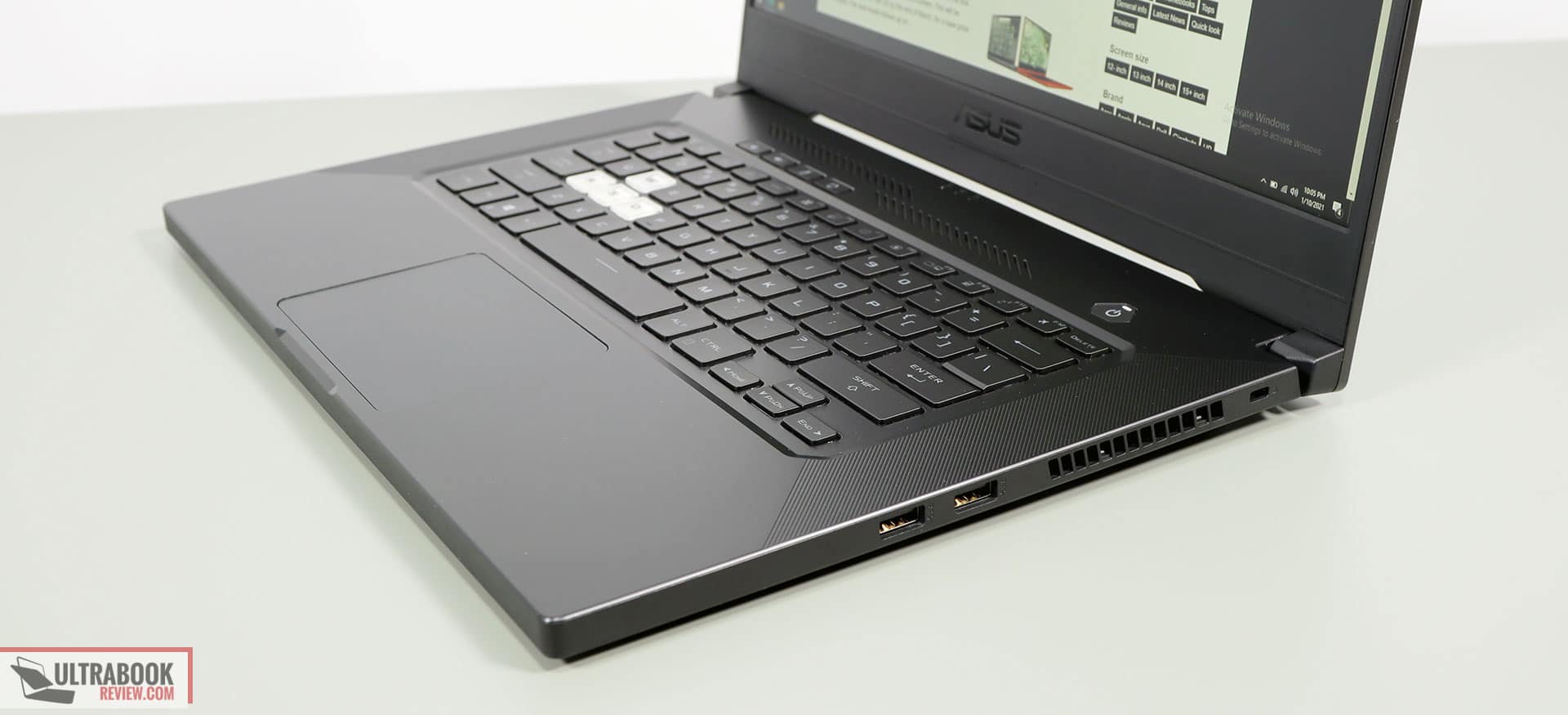 Speaking of the screens, looks like these are also borrowed from the Zephyrus G and TUF models, with a well-balanced 240 Hz 3ms options with 100% sRGB colors and fast response times as the top options, but poorer-quality 144/60 Hz options with washed-out colors and slower response for the mid and lower-level configurations. Given Asus's approach in previous years, I fear the 240 Hz screen will only be paired with the 3070 configurations in most regions, in a higher price range than most customers would be willing to shop. Hopefully, this will also make it to the mid-tier 3060 configurations, as otherwise, those would be a hard sell with that 144 Hz panel.
As you can tell by now, we're throwing a fair bit of assumptions here, but I'd say it's wiser this way given the past struggles with the TUF/Zephyrus G models with whom this 2021 Asus TUF Dash F15 shares many in common. I should have a proper review up in the following weeks and hopefully, fill up all the blanks and answer all the questions. In the meantime, I'd love to hear your thoughts on it in the comments section down below.
Update: Our full review of the Dash F15 series is available over here, while our review of the 3050Ti Dash F15 FX516PE configuration is available here.
Disclaimer:
Our content is reader-supported. If you buy through some of the links on our site, we may earn a commission.
Terms
.