Asus make some of the best-buy Chromebooks on the market, and they've just announced a brand new Chromebook Flip C436 FA model for 2020.
This is a direct follow-up of the highly appreciated Chromebook C434TA, which topped most recommendations lists throughout 2019 alongside the more expensive clamshell Google PixelBook Go.
Down below we'll tell you what to expect from the Asus Chromebook Flip C436, what's changed and how it compares to Asus's other available convertible Chromebooks, such as the Flip C434, the budget Flip C433 and the smaller Flip C302 (an older option, but still a fair buy with discounts).
In a few words, the Flip C436FA updates the build, hardware, battery and speakers of the previous C434. We'll get in-depth down below, but first, here's a quick look at the specs sheet, next to the other premium Asus Chromebooks.

| | | | |
| --- | --- | --- | --- |
| | Asus Chromebook Flip C436FA | Asus Chromebook Flip C434TA | Asus Chromebook Flip C302CA |
| Screen | 14 inch, FHD 1920 x 1080 px, 16:9, IPS, touch with 4.9mm bezel and 85% screen-to-body ratio, 100% sRGB | 14 inch, FHD 1920 x 1080 px, 16:9, IPS, touch with 5mm bezel and 87% screen-to-body ratio, 100% sRGB | 12.5 inch, FHD 1920 x 1080 px, 16:9, IPS, touch, 70% sRGB |
| Processor | Intel Comet Lake Core U, up to Core i7-10510U 4C/8T | Intel Amber Lake Core Y, up to Core i7-8500Y 4C/8T | Intel Skylake Core Y, up to Core m5-6Y54 2C/4T |
| Video | Intel UHD | Intel UHD 615 | Intel UHD 515 |
| Memory | 8/16 GB LPDDR3 2133 MHz (soldered) | up to 8 GB LPDDR3 1867 MHz (soldered) | up to 8 GB LPDDR3 1867 MHz (soldered) |
| Storage | up to 512 GB PCIe x2 on M.2 2280 | up to 128 GB eMMC, non-upgradeable | up to 128 GB eMMC, non-upgradeable |
| Connectivity | Wireless AX 2×2, Bluetooth 5.0 | Wireless AC, Bluetooth 4.2 | Wireless AC, Bluetooth 4.1 |
| Ports | 2x USB-C gen2 (with video, data, charging), microSD card-reader, mic/headphone | 1x USB-A, 2x USB-C gen1 (with video, data, charging), microSD card-reader, mic/headphone | 2x USB-C gen1 (with video, data, charging), microSD card-reader, mic/headphone |
| Battery | 42 Wh, 45 W USB-C charger with USB-C | 48 Wh, 45 W USB-C charger with USB-C | 39 Wh, 45 W USB-C charger with USB-C |
| Size | 320 mm or 12.6" (w) x 206 mm or 8.11" (d) x 13.8 mm or 0.54" (h) | 321 mm or 12.64" (w) x 202 mm or 7.95" (d) x 15.7 mm or 0.62" (h) | 305 mm or 12.00" (w) x 211 mm or 8.30" (d) x 12.7 mm or 0.5" (h) |
| Weight | ~2.45 lbs (1.1 kg) | ~3.2 lbs (1.45 kg) | ~2.65 lbs (1.18 kg) |
| Extras | backlit keyboard, HD webcam, quad-speaker system, finger sensor, available in Aerogel White and Transparent Silver | backlit keyboard, HD webcam, stereo down-firing speakers | backlit keyboard, HD webcam, stereo side-firing speakers |
We've left the Chromebook Flip C433 out of this, simply because it's a lower-tier device with a mostly plastic construction and a dim, washed-out display, so overall just something we would not recommend given its pricing and the multitude of better value options.
We have however included the older Flip C302CA as a budget option. That's an older product, but still, a solid choice if you can find it for $400 and don't necessarily need the latest hardware specs or more than a 12.5″ display, 4 GB of RAM and 64 GB storage. Follow this link for our detailed review of the Chromebook Flip C302.
Smaller, lighter and more powerful
Ok, so back to the 2020 C436 and its 2019 C434 predecessor.
Design-wise, the updated version is thinner and a bit more aggressive, with a boxier profile and straighter cut edges. it also available in two colors this time, either Transparent Silver or Aerogel White, and the only differences are in the lid-cover as far as I can tell.
The C436 is also significantly lighter, at only 2.45 lbs (1.1 kg). It's still a 14-inch Chromebook with a similar footprint and screen bezels, so the loss in weight is mostly because lighter magnesium alloys are now used for the entire construction.
Hopefully, that won't have an impact on the chassis's rigidity and premium feel. We've seen flimsy magnesium notebooks in the past, but also a fair bit of excellently crafted options, such as the Google PixelBook, PixelBook Go, Samsung Galaxy Chromebook and even the Samsung Chromebook Flip v2. For what is worth, though, the redesign did leave the full-size USB-A slot out, as the C436 only gets USB-C ports and a headphone jack this time around.

The implementation of a smaller 42 Wh battery, down from the 48 Wh battery on the C434, also had its take on the decrease in weight. That's especially important since Asus have also updated the hardware on the 2020 Chromebook Flip C436, opting for an Intel Comet Lake Core U 10th gen platform, the kind they also offer on their current ZenBook and VivoBook lines of Windows laptops.
Core U is a peculiar choice for a Chromebook. On one hand, it's significantly faster than the Amber Lake Core Y CPUs on the C434 and adds support for more and faster memory, alongside faster M.2 PCIe SSD storage. On the other, it's a more power-hungry platform and requires a fan-based cooling system to keep at bay.
I can't confirm whether there's definitely a fan inside every version of the Flip C436, perhaps they at least implemented passive cooling on the base Core i3 configurations, but you can see intake and output air grills between the hinges, which suggest the fan-based cooling on at least some of the options. That being the case, I can only hope Asus nailed the fan profile and made sure it will never spin unnecessarily, as their quietness is one of the aspects I appreciate about Chromebooks. Look for our review for more details on thermals, performance, and acoustics.
These changes suggest that the Chromebook Flip C436 will mostly cater to power-users this time, those who need a faster Core U processor, up to 16 GB of RAM and SSD storage for heavy multitasking and perhaps Linux and Windows apps, as much as curently supported on Chromebooks. That's going to pitch the C436 against the other similarly specced Chromebooks out there, such as the Acer Chromebook Spin 13, the HP Chromebook 14 x360, or the larger 15-inch Lenovo Chromebook C630. None are portable or as light as the C436.
Finally, the bump to Comet Lake and cut in battery size will most likely translate into shorter battery life on the Flip C436, as well as a price increase, due to the more expensive components and the suite of other changes and updates. Asus claims up to 12 hours of casual use on this notebook, and haven't announced clear details on pricing and availability yet, so look for updates shortly.
Updated screen, keyboard, and speakers
Hardware aside, there are also a couple of other changes you should be aware of.
First off, the Flip C436 still gets a 14-inch touchscreen with 300-nits panel and 100% sRGB coverage, so a fair choice for everyday use, but still not as bright to make up for the glare and reflections in bright light environments or outdoors. The novelty is the addition of support for USI-compatible styluses for inking, drawing, and note-taking in tablet mode. Previously, the C434 only worked with less-accurate capacitive styluses. No word on whether the Pen is bundled with the default package or you'd have to get one on the side.
Asus also implemented an updated keyboard on the Flip C436, with a slightly redesigned layout and shorter 1.2 mm travel. Hopefully, they didn't mess up the typing experience, the previous C434 was one of the better typers in this class.
The layout change consists of slightly narrower Function keys in the top row, to accommodate a finer-sensor in the top-right spot. Not necessarily a big fan of this sort of implementation, but a fingerprint reader is nonetheless a much-welcomed update.
There's also an updated clickpad on the C436, wider than before. Not sure whether the surface is plastic or glass, so I'm rooting for glass.
Finally, the Chromebook Flip C436 also addresses one of the C434 most vocal complaints: audio quality. With tiny down-firing speakers, the C434 struggled with music and videos, and that's going to change on the 2020 Chromebook which now gets a quad-set of speakers, two of them firing through the side cuts, and two more integrated in the sound-bar between the hinges, a design we've previously seen on the Lenovo C930/C940 premium ultrabooks. This piece rotates with the screen, making sure the sound fire towards you both in laptop and tablet mode. Of course, we need to spend some time with this laptop to conclude the audio quality and how it compares to the better piers in the niche, such as the PixelBooks, but I'm pretty sure the experience is night-and-day from the previous Flip C434.
Some early thoughts
There's no doubt the Chromebook Flip C436 is a significant update of last year's Flip C434. It's much more portable, more powerful and gets a suite of upgrades that push into the high-end Chromebook league, with the quad-speakers, pen-compatible screen, and finger-sensor, as well as with the beefy hardware specs.
Based on what we know so far, this is the fastest Chromebook announced to date, with Comet Lake processors, up to 16 GB of LPDDR3 memory and SSD storage. It's also one of the very few Chromebooks to meet Intel's Project Athena specifications for performance, responsiveness, and portability.
At the same time, Comet Lake needs a fan-based thermal module, so fan noise could be an issue to account for with daily use, and also requires more power than the Core Y options, which will translate in a drop in battery life.
Last, but not least, the Chromebook Flip C436 is a more expensive product than the 2019 C434. Asus haven't announced pricing and availability info yet, so look for updates in the near future.
We'll further touch on the Chromebook Flip C436FA in the weeks to come, and we look forward to getting our hands on it for a proper review, if Asus decides to bring it over to our side of the world. In the meantime, let us know what you think about this update and whether a Comet Lake Chromebook such as this one is worth it over the existing alternatives.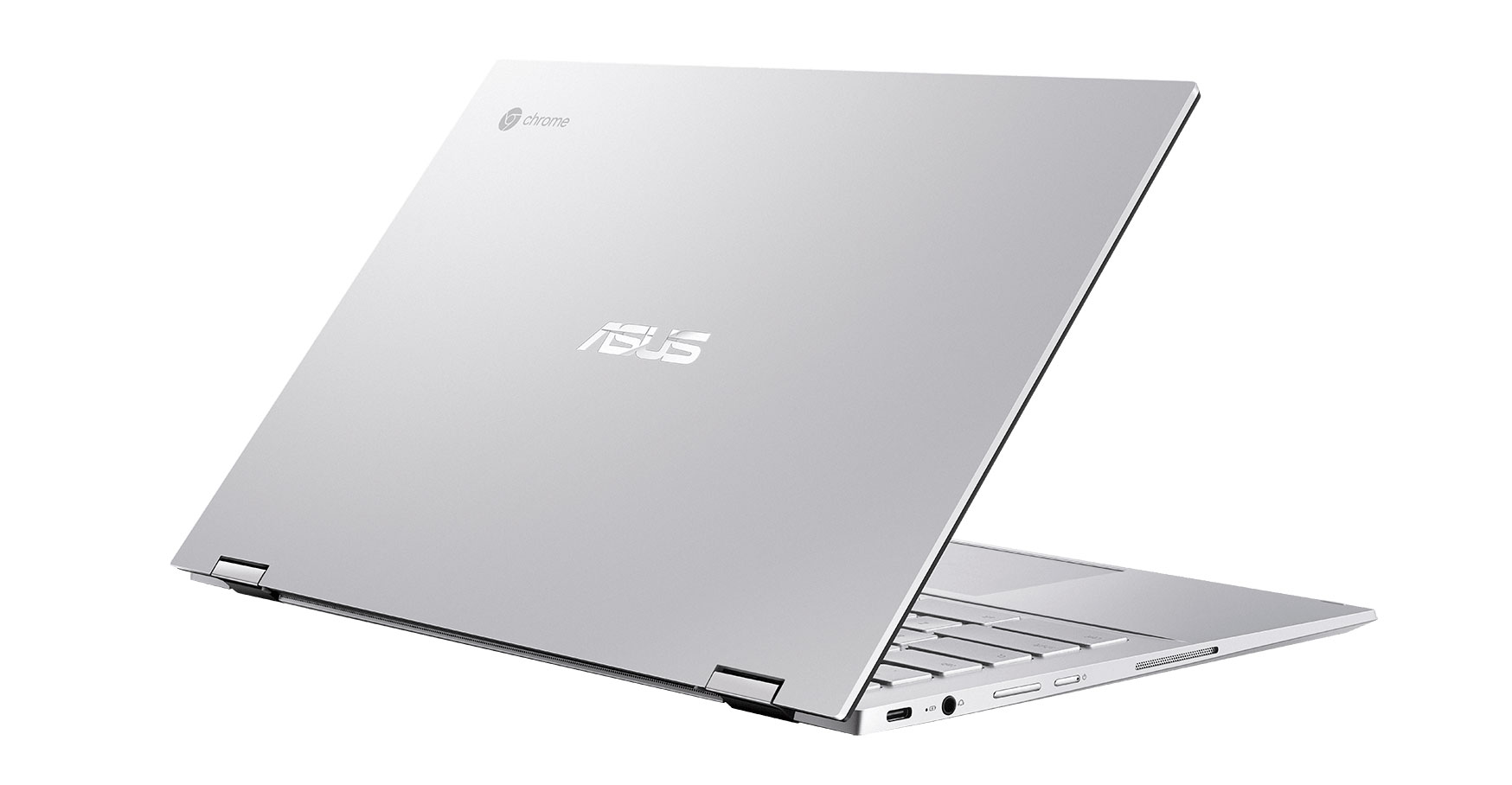 Disclaimer:
Our content is reader-supported. If you buy through some of the links on our site, we may earn a commission.
Terms
.