This article gathers impressions and the overall feedback from reviewers and regular buyers on the Asus ChromeBook C425.
The C425 is a mid-range 14-inch ChromeBook that sells for roughly $400 at the time of this post (follow this link for updated pricing at the time you're reading the article), and which has been available in store for about a month now. Given the fact that it's an Asus ChromeBook, and Asus are known for making some of the most popular products in this niche over the years, quite a few have already bought one and shared their thoughts on it online.
If you don't want to go through the whole post, here's the quick summary: the ChromeBook C425 is a very competitive option at its current discounted price. It's compact, light and nicely built, it types and performs better than most other models in its class, and lasts for 8-10 hours of daily use. It also gets pretty good speakers and standard IO for a 2019 ChromeBook.
However, potential buyers should pitch this against Asus's highly-popular ChromeBook Flip C434, which sells for about $620 for a similar configuration, but offers a more premium all-metal construction, a 2-in-1 convertible form-factor, and a brighter and nicer-looking touchscreen.
You can also watch the video-review down below, from Robby Payne at Chromeunboxed.com. He's one of the most knowledgeable persons out there when it comes to ChromeBooks and has a lot of experience with them over the years, that's why I trust his feedback and encourage you to subscribe to his channel.
Anyway, further down we'll analyze the C425 and often compare it to the Flip C434, but also some of the other alternatives out there, like the brand new Flip C433, the older Asus Chromebook Flip C302 and the larger Acer ChromeBook Spin 15.
Specs Sheet
| | |
| --- | --- |
| | Asus ChromeBook C425 C425-TA |
| Screen | 14 inch, 1920 x 1080 px, 16:9 aspect ratio, IPS, non-touch, matte (optional touchscreen) |
| Processor | Intel Amber Lake Core m3-8100Y |
| Video | Intel UHD 615 |
| Memory | 8 GB LPDDR3 (soldered) |
| Storage | 64 GB eMMC (32 or 128 GB options) |
| Connectivity | Wireless AC 2×2, Bluetooth 5.0 |
| Ports | 1x USB-A, 2x USB-C, microSD card-reader, mic/headphone, Kensignton Lock |
| Battery | 48 Wh, 45 W charger |
| Size | 322 mm or 12.67" (w) x 208 mm or 8.18" (d) x 16.9 mm or 0.66" (h) |
| Weight | ~2.8 lbs (1.3 kg) |
| Extras | backlit keyboard, webcam, stereo bottom-firing speakers |
Asus offers this in a few other configurations, with different processors, amounts of RAM and storage, as well as an optional touchscreen. This, however, is the best-value option and the one currently available in stores.
Design and build quality
The C425 is a compact and light 14-inch ChromeBook. It's about 17 mm in thickness, 2.8 lbs in weight and rather small, which you can tell from the narrow bezels around the screen.
The laptop looks nice, with a silver theme that does a good job at hiding smudges and fingerprints. However, unlike the C434, this is not an all-metal computer: the top is made of aluminum, like on the Flip C434, but the main-chassis and underside are plastic and feel rather cheap in comparison.
Asus has been using this same approach on quite a few of their products in the Windows space in the past, but have moved to metal inner-decks on the newer mid-range VivoBooks this year.
Personally, I don't mind a plastic bottom. In fact, there are advantages to having a plastic bottom, as plastic is lighter and less heat-conductive than metal. However, a plastic main-deck might be enough of a reason to pay extra for the C434. I mean, the plastic on the C425 is not the poor-quality we've used to see on entry-level laptops in the past, but it's still plastic nonetheless, and doesn't feel as nice or as sturdy as metal.
You should also know that the ChromeBook C425 is a clamshell laptop, so it comes with a matte non-touch screen and lacks the ability to fully convert to tablet mode. The hinges are pretty tough and smooth though, and they allow the display to fall flat to 180 degrees, something I for one look for in a thin-and-light notebook. It's worth adding that Asus mentions a touchscreen option on their page, but the variants available at this point only come with the matte display.
That aside, we should also touch on the IO, which is pretty standard for a 2019 ChromeBook: 2x USB-C ports with video and charging, 1x USB-A slot, a microSD card-reader, a headphone jack and a headphone jack. You'll still need the right cable to send video to a TV (by wire), but that aside, there's not much to complain about here.
Keyboard and trackpad
The keyboard is a standard chiclet Asus design, with a regular layout, flat plastic keycaps, and overall good feedback.
Buyers tend to agree on this laptop being a very good typer, and Robby Payne goes one step-forward and claims that he loves this keyboard. In fact, he taunts the C425 and the C434, which both get the same keyboards, are the best typers in the Chromebook world. Based on my experience with VivoBooks and ZenBooks, which get a very similar keyboard, I do expect this to be a fast, quiet and reliable typer and it comes to no surprise that most buyers appreciate it.
This is also a backlit keyboard, with adjustable white LEDs shining from behind the keycaps. And as I've complained countless times in my past reviews, using white illumination on a silver keyboard is a bad idea, as this implementation lacks contrast and causes the writing on the keys to fade-in and become illegible when the LEDs are switched on. For the regular user, that means you'll have to disable the illumination in order to see the writing.
The C425 gets a lager clickpad than the C434, which is a nice upgrade. It's still plastic and not as smooth as some of the glass-options out there, but it actually works fine with daily use. Clicks are also smooth and quiet.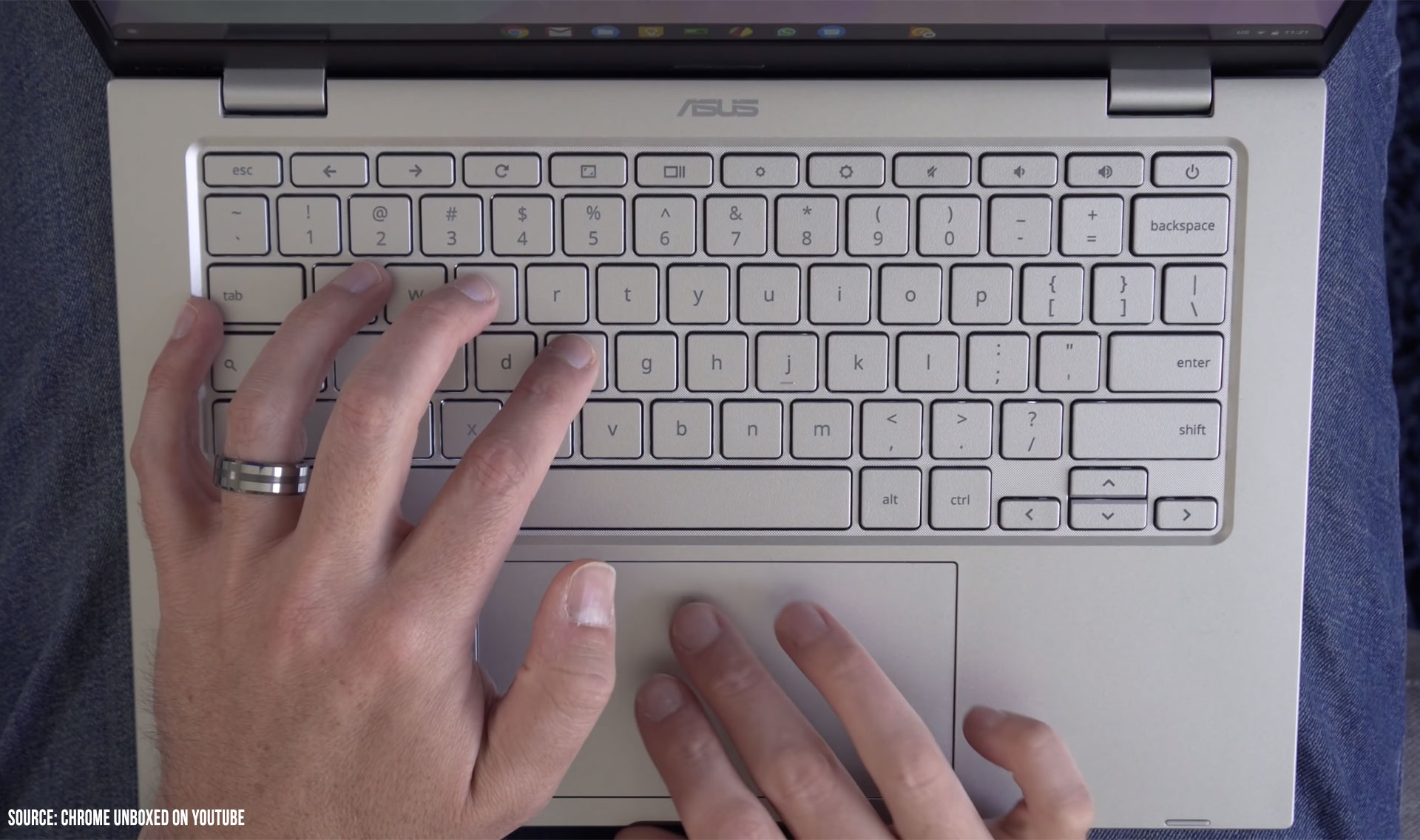 Screen
The ChromeBook C425 gets a 14-inch display with narrow plastic bezels around the sides. The configurations available in stores come in a matte non-touch variant, and a touchscreen option is also mentioned on Asus's website and might be available at some point.
I'm a fan of matte panels and that's usually good news for someone looking for a versatile computer that could be used both indoors and outdoors, in bright environments. However, Asus skimped on the panel-quality here: it's IPS and 1920 x 1080 px in resolution, so it's sharp and offers decent images and wide viewing angles. On the other hand, the brightness only reaches 170-180 nits according to the reviewer, and colors are rather washed out, due to the below 50% NTSC gamut coverage.
We don't know which exact panel Asus went with here, but it's definitely not the one from the C434, which is both brighter (around 300-nits) and richer (wider color coverage at above 70% NTSC).
That being said, this is about on par with the screens you'll find on other entry-level laptops and ChromeBooks, so it's still OK for indoor use in dimmer environments. Nonetheless, this panel is the C425's biggest culprit in my opinion and perhaps the main-reason you might want to consider the C434 instead.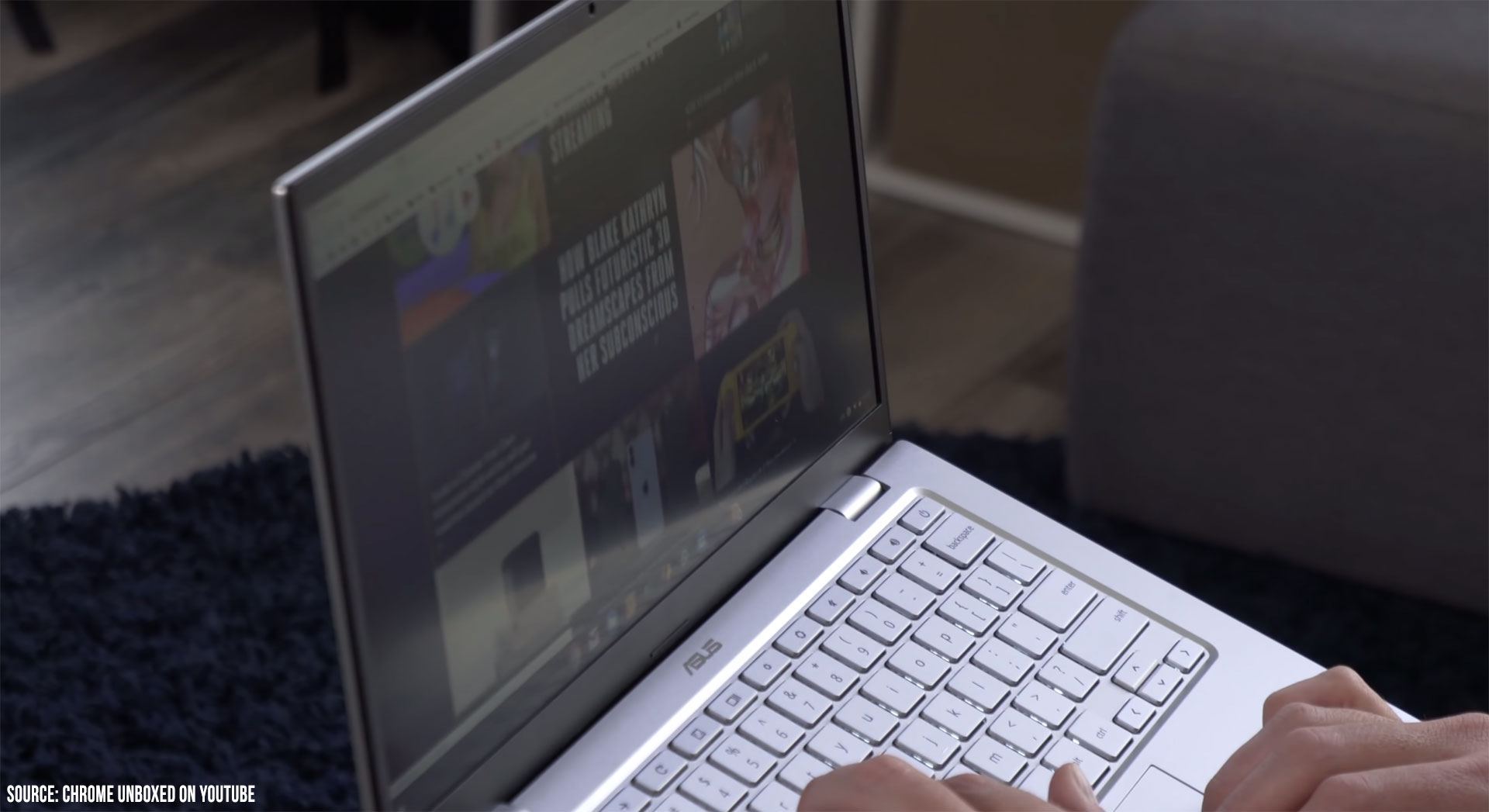 Performance and daily-use
There's no argue with the fact that this ChromeBook C425 offers excellent specs for its price. The best-value configuration gets a Core m3-8100Y processor, 8 GB of RAM and 64 GB of eMMC storage, and higher end units with the Core m5 processor and more storage might also be available down the line.
To put this in perspective, this hardware is similar to the one powering the much more expensive MacBook Air. And given the optimized Chrome OS and the FHD screen resolution, which means it doesn't have to push as many pixels as on a PixelBook, for instance, there's no surprise this laptop offers a buttery smooth and reliable experience with everyday use. This also supports the entire suite of Google software, as well as Android and Linux apps, so you're getting the platform's full capabilities in a fast-performing computer here.
Having fast and reliable wireless also helps. In fact, this seems to get the exact Wi-Fi AC 2×2 implementation from the C434, and I've only heard good stuff on the Wi-Fi experience on that one.
The C425 also gets the same bottom-firing set of speakers, which are fairly loud and actually sound quite OK for Chromebook speakers. Robby Payne positions these as some of the better speakers you can get on a ChromeBook, yet still not as good as those on the Google Pixel Slate (and most likely those on the newer Google PixelBook Go).
Asus also packs a 48 Wh battery inside this laptop, which translates in roughly 8-10 hours of use on a charge, even with the screen's brightness pushed to 80-90% in order to compensate for the dimness. The laptop charges via USB-C and a compact charger is included in the box. However, this charger is the two-piece cable design and not the variant that integrates the plug into the brick, as on the C434.
Price, availability and competition
The Asus Chromebook C425TA is pretty much available in a single-variant at the time of this article, the one analyzed in this article, with the Core m3 processor, 8 GB of RAM, 64 GB of storage and the matte-screen. However, that might change in the future, so you should follow this link for updated configurations and prices later on.
Asus initially listed this variant at $499, but quickly dropped it to $399 after just a few days and kept it there for the last few weeks.
The thing is, this would make little sense at $499. The Chromebook Flip C434 is available these days for $550 with 4 GB of RAM, or around $625 with 8 GB of RAM, but with the nicer metal build, the 2-in-1 form-factor and the superior quality touchscreen.
At $399 on the other hand, this is competitive. Yes, the C434 is clearly the better product here, but it's also $225 more expensive. Personally, I can take the plastic build and the clamshell format, but that sub-200 nits screen is a hard-sell in 2019 and I sure wish Asus didn't skim on the panel quality.
There are also a few other alternatives you could consider instead. The popular Chromebook Flip C302 (reviewed here) for instance, with its smaller footprint, excellent build, keyboard and display is available for around $450 these days (follow this link for more details). Although it comes with just 4 GB of RAM at that price, it could be a great option for those looking for an even lighter and more compact mini-laptop. As for those looking for a bigger workspace, perhaps the Acer Chromebook Spin 15 could be an alternative, also selling for around $450, but with lower-tier specs (more details here).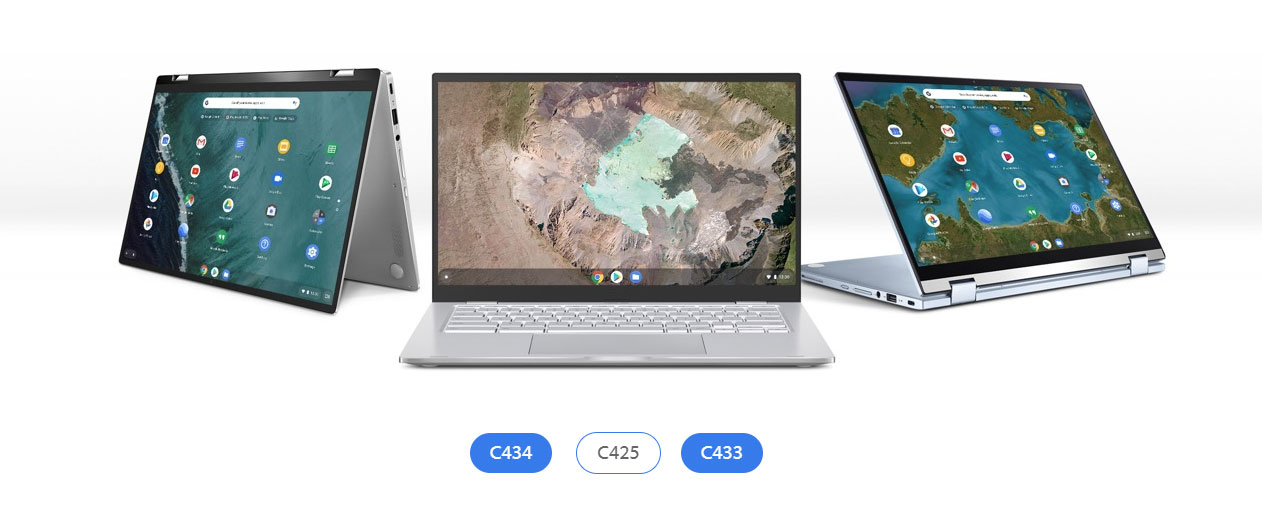 Final thoughts
Buyers rate the ChromeBook C425 at around 4 out 5. That's fair and probably where I'd rate it as well. But hear me out before jumping on one.
There's no doubt this is competitively priced and you're getting plenty for your money here. It's compact and light, performs very well, can go for a full day on a single charge, and checks most of the required features and modern expectations. Except for two, or perhaps three.
First, there's the fact that plastic is used for most of its construction, specifically for the main-chassis, underside, and the bezels around the screen. I don't mind it that much, it's something I could live with. But if you plan to keep this for a while, you might want to reach for the nicer C434 instead.
Then there's the fact that this lacks touch, but I don't mind that either. In fact, I'm a sucker for matte non-glare screens, so that's actually a pro in my book, even if it might not be for you.
But then there's the screen, which is just not good enough for this day and age. Asus went with a sub-200 nits panel with fairly washed-out colors, the kind of screen you can get on sub-$300 Chromebooks, like the HP ChromeBook 14, for instance. Remember the Acer ChromeBook 14 back in 2016? Well, that one got a similar screen as well. So yeah, in all fairness this will do fine as long as you don't have great expectations, but if you're used to good-quality displays from other devices or perhaps want to use this outdoors or a bright school/office space, you'll struggle with it.
That being said, I think there's better value in the $550 Chromebook C434 than in this $399 ChromeBook C425, even with less RAM. And if you're on a tight budget, perhaps consider that ChromeBook C302 first, see if you can live with a smaller screen, but without compromising on the build and the screen. The C425 comes as a third option, if those other two failed to meet your mark due to their higher price or smaller display.
Now, you might think I'm exaggerating and drawing conclusions without even having touched the thing, and that's true. But my conclusions come from experience. Don't forget I've been reviewing tens of Asus laptops over the last years, and don't forget that my single knit with this Chromebook is with the poor-quality panel, the kind I've experienced countless times in the past and the kind I cannot accept in a mid-tier Chromebook launched in late-2019.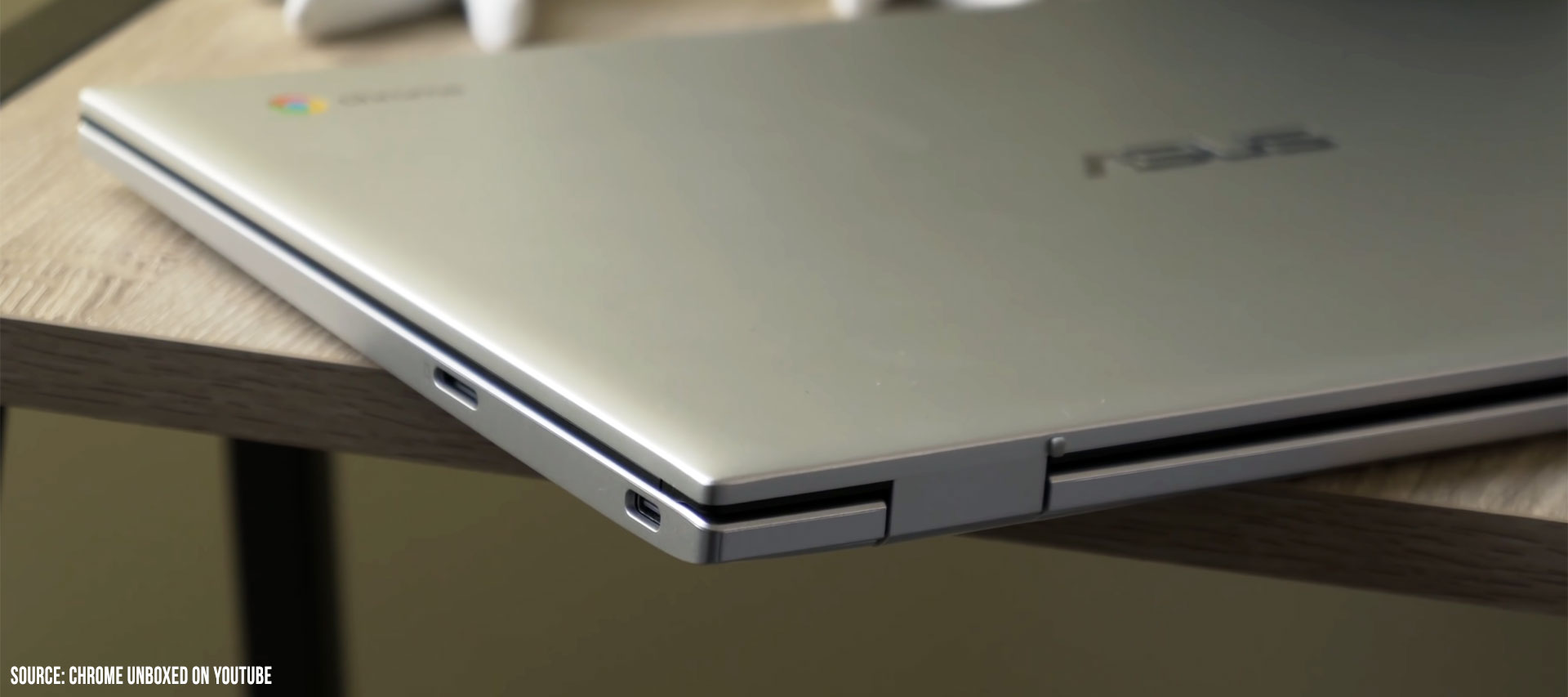 Disclaimer:
Our content is reader-supported. If you buy through some of the links on our site, we may earn a commission.
Terms
.