Since the capability existed, I've been hooked on using dual monitors in order to be more productive.
Of course, using a laptop, you pretty much have to give up that luxury, unless you want to be tied to a desk.  But I've always been interested in having a potable screen to be able to use, when the time called for it.
That's why I immediately got interested in Asus's Zenscreen when they announced it at Computex.  Not only is it a 15.6" FHD screen, but it's also portable and looks fantastic.
My concerns before buying it were if it's worth the sticker price, though.  After a few days, here's what I think.
The specs sheet
| | |
| --- | --- |
| | Asus Zenscreen MB16AC |
| Screen | 15.6" 1920 x 1080 px resolution, IPS, glare, non-touch |
| IO | USB-C on tablet.  Connects to USB-C or USB on device |
| Size | 14.16" x 8.91" x 0.31" (360 x 226 x 7.9 mm) |
| Weight | 1.72 lbs ( 0.78 kg) |
| Power | <8W |
Design
The overall design is fantastic.  It feels very high quality in the hand and has it where it counts.  I was actually very worried about the weight at first because the shipping box was pretty darned heavy.  Luckily it was mostly packaging materials because the screen by itself is actually pretty light, being only 1.7 lbs.  The bezels are very small as well, which helps with the portability and aesthetic appeal.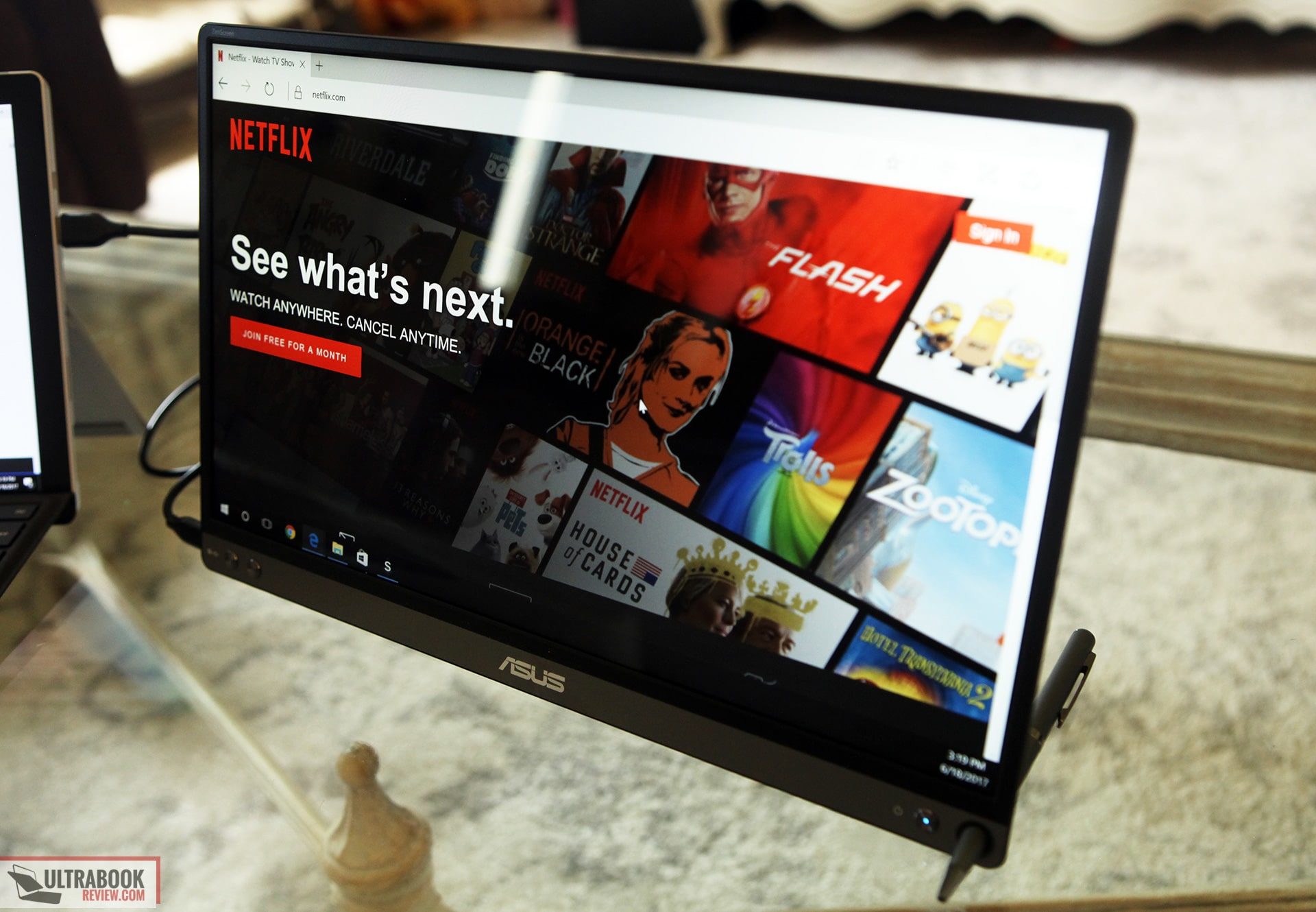 The front panel is mostly the screen, with small plastic bezels surrounding it.  On the bottom there's a small strip that likely houses the PCB and the rest of the circuitry.  The power button is on the right hand side and the menu buttons are on the left.  An Asus logo adorns the bottom center, while a small Zenscreen logo is at the upper right.  Looking good so far.
On the back, it looks very similar to how metallic Asus laptops look – a silver central logo with circular brush marks all around.  The metal is a dark grey anodized aluminum.  Along the bottom is a sticker with all the regulatory info.
There's nothing to note on the edges, except a single USB-C port at the bottom left corner.  This is probably the perfect spot for that port in order to keep the wiring as out of the way as possible.
So how does it stand up?  Well, there's two ways – the first one having to do with that small hole on the lower right hand corner.  That's where you put the pen.  Yes, a pen…  Asus actually ships a ball point pen in the package, which also doubles as a stand for the screen.  I poke a little fun at it but it's actually a really nice touch, to be honest with you.  Not only does it look nice, it also works very well for both portrait and landscape views.  And if for whatever reason you forget your cool Asus pen, you can just use a cheap plastic one and it'll work just as well.
The alternative to the pen is the sleeve that they ship in the box.  Rather than a hard case, like many tablets have these days, this sleeve is all magnetic.  I'm pretty impressed with its design, because the magnets pretty much only work when you put the sleeve on correctly.  In other words, it's hard to put this on wrong.  Once attached, you can fold part of the front flap onto itself and the screen will rest nicely on your folio style screen cover.
Both of the stand options work well, but I think the folio is the more practical option for most people.  Especially if you plan on travelling with the Zenscreen a lot – it's also nice to have an added layer of protection when carrying it around in a bag.  All in all, Asus did a great job designing an external screen that's portable, versatile and nice to look at.
Setup
Setup is pretty simple, but I wanted to make this its own section because there is something very important to say about it. There's an USB-C to USB-C cable included in the box, as well as an USB-C to A converter, which goes on one end if you don't have a type-C port on your computer.  Connecting the screen to your PC is all too easy.  It's very tempting to just hook it up right when you open the box.  But don't do that just yet!
Also in the box are some instructions that say to download and install the Displaylink drivers from Asus's website.  Needless to say, I ignored those instructions and paid a heavy price for it.  For some reason my computer had a BSOD and I ended up in a bootloop that left me stuck.  I couldn't do safe mode, system restore or anything to recover.  Luckily it was with a test machine and I didn't lose any data, because I ultimately had to reinstall Windows to get it back up and running.  So there's your warning. :)
Once I followed directions the second time around, the Zenscreen worked perfectly.  It defaults to mirror your current screen, but it was easily changed and optimized by using the Windows display settings.  At this point, it works just like any other monitor would.
It powers on by default when plugging it in, but you can use the power button to turn it off, if need.  The menu buttons are needed to adjust any of the settings, which include but are not limited to brightness, contrast, blue light filter and power savings mode.  There are also some color presets, but I'd recommend sticking to the standard profile, as the others seem to reduce overall brightness.
Screen
Looking good so far, right?  So, now onto the most important part – the actual screen.  Like I mentioned in the specs, even though it looks like one, this is not a touchscreen.  I have a feeling that many people will mistake this for a touchscreen considering it's glossy and comes with a pen, but I assure you that is not the case.  It's just a plain glossy panel.
The screen itself measures 15.6-inches and has a maximum resolution of only 1920 x 1080 px.  This isn't high dpi like many of the laptop screens out there, but should be good enough for most people.  Considering the data connection is through USB, the resolution would probably be limited anyways.
The panel is IPS so the viewing angles are pretty decent.  At extreme angles, the colors stay pretty true and text stays legible.  There is a slight brightness drop at the horizontal angles though.  It's not terrible, but it's noticeable and not quite up to par with the top IPS panels out there on the market.  The contrast ratio is excellent, measuring 800:1.  Also to note, the refresh rate of the screen is 60Hz, with a response time of 5 ms.
The good stuff stops here though, unfortunately.  I was able to calibrate the colors using my Spyder4Pro.  While I found the colors to be pretty much true (i.e. calibrating didn't change the colors a whole lot), the color space on the panel was a little lacking.  I measured 69% sRGB, 50% NTSC and 52% aRGB.  What's strange is it actually looks better than I measured, but that could be because of the brightness being so low.
Which ties into the next thing wrong with this screen, being the overall brightness.  The fine print says it's 220 nits, but I actually couldn't measure anything over 150 nits on this thing.  This is adequate to use in a normal lit room, but it's very difficult to use in a bright office space with a lot of lighting.  The brightness distribution isn't bad, but at low levels like that, it's pretty hard for it to be.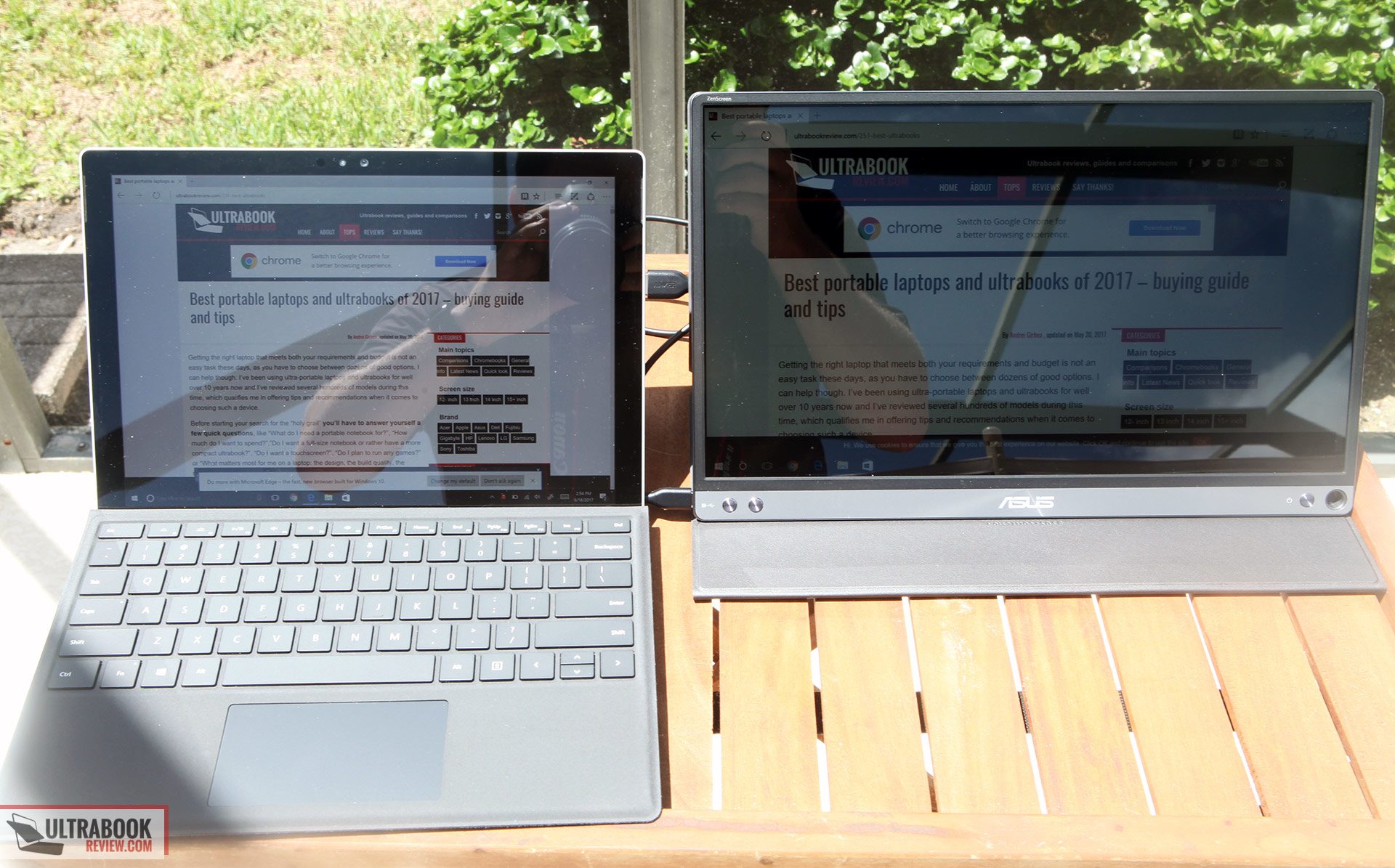 I almost didn't even bother to bring it outside, but I'm kind of glad I did.  Surprisingly, it's still viewable, albeit more difficult to read than the Surface Pro I had it paired with.  My hunch is the glass panel might have a filter or something that cuts down on the glare or something.  There has to be something assisting it, because 150 nits on any other panel is almost impossible to read on a sunny day, where I live.
| | | |
| --- | --- | --- |
| 145 | 150 | 140 |
| 140 | 147 | 138 |
| 135 | 140 | 135 |
Really though, without dedicated power, this is about what you can expect for a USB port to power, I suppose.  For those that need to have a solution like this, I think you'd probably be able to accept it and work around it, especially given there are almost no other portable alternatives.  But for most others, I think this(and the price) would probably be a deal breaker.
Price and availability
The Zenscreen can be purchased at a number of retailers, including Amazon, for $249 at the time of this article, but you should follow this link for updated prices at the time you're reading it.
It's a pretty steep price, considering it's just a screen.  Really, most of the money appears to have gone into the build quality and the design.  There are cheaper alternatives out there, but you're going to be sacrificing either more wires, a bulkier design or lower resolution.
Final thoughts
Like I mentioned before, there are plenty of other options out there for portable screens.  But I don't think any of them look anywhere near as nice as this one.  With the polished look, tiny bezels and such a thin form factor, the Zenscreen really stands out against the competition.  But is it enough to warrant the high price tag?
My thoughts are that if you really need a second screen on the road and want something that looks really nice, the Zenscreen might be a viable solution for you.  It's certainly easy to use, granted you follow the directions and get the driver set up correctly.  It's also nice to know that there are a lot of options to prop it up, without sacrifice carrying around something bulky.
The only downfalls to the Zenscreen are the limited color reproduction and the low overall brightness.  I do think many will be able to overlook this though, especially since you are indeed taking this on the road with you, you probably aren't taking it to the beach or into your office space (where there are probably monitors anyways).  You're most likely using it in a hotel room or even a coffee shop, both of which would be just fine.
So in the end, it ultimately comes down to that $250 sticker price and if it's worth it for you.  For me, it's a no for now, but I'm interested to see if anyone out there has the need for something like this and what they think of it.  If that's you, please feel free to leave a comment below.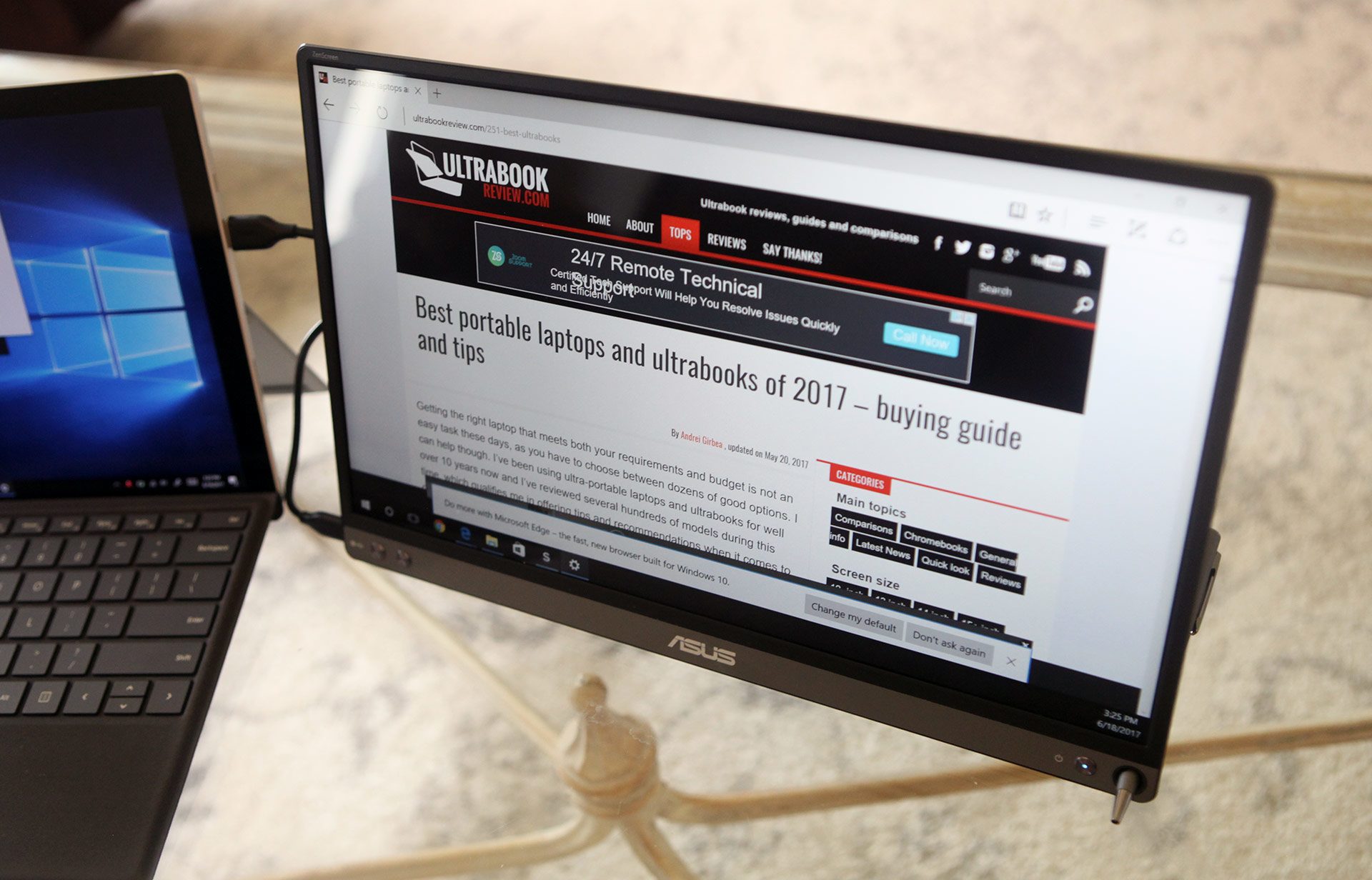 Pros:
Fantastic build quality and design
About as portable as a 15" panel can get
Clever options to stand the panel up
Only one wire to connect
Cons:
Not installing drivers can cause severe PC crashes
Dim panel
Low gamut coverage
Disclaimer:
Our content is reader-supported. If you buy through some of the links on our site, we may earn a commission.
Terms
.