Summary:
If you only have about $1300 to spend on a powerful multimedia/gaming computer with modern specs and features, the Asus G551JM should be towards the top of your list. This laptop isn't perfect, but its strong points clearly outweighs its numerous, but less important, flaws.
Hi everyone, Mike here and this is my review of the Asus G551JM laptop.
It's a 15.6 inch laptop, member of Asus's ROG line of gaming machines. However, Asus offers a couple of different G551 versions across the world. The one we have here includes an IPS display and Nvidia GTX 860M 4GB graphics, but except for a few configuration options, most models are pretty much the same, so you should read the article even if you're interested in any of the other variants.
At the time of this review, the G551 series is only available in a few areas around the world. Asus also offers a GL551JM model in the US, identical to the the G551JM, except for two important differences: that one comes with a TN display, this one with an IPS panel, and that one comes with Nvidia GTX 860M 2 GB graphics, while this one includes the Nvidia GTX 860M 4GB solution.
Anyway, go through the detailed article if you're interested in this laptop and you'll find how it performs, where it exceeds and where it falls short, or watch the video presentation below.
Asus G551JM video review
The specs sheet for the Asus G551
| | |
| --- | --- |
| | Asus G551JM |
| Screen | 15.6 inch, 1920 x 1080 px resolution, IPS, matte |
| Processor | Intel Haswell Core i7-4710HQ CPU |
| Chipset | Intel HM87 |
| Video | integrated Intel 4600 HD + Nvidia GeForce GTX 860M 4GB GDDR5 |
| Memory | 16 GB DDR3 |
| Storage | 256 GB SSD (2.5″ 9.5 mm storage bay) |
| Connectivity | Wireless N, Bluetooth, Gigabit Lan |
| Ports | 3xUSB 3.0, SD card reader, HDMI, mini-DisplayPort, RJ45, Kensington Lock |
| Battery | 6 Cell 56 Wh 5200 mAh |
| Operating system | Windows 8.1 |
| Size | 383 mm or 15.07 in (L) x 255 mm or 10 in (W) x 31.5 mm or 1.24 in (H) |
| Weight | about 2.7 kg (5.95 pounds) |
| Extras | red backlit keyboard, stereo speakers, Blu-Ray combo |
Design and exterior
Aesthetically, the G551 is a mix of black and red elements. The hood is covered in a sheet of brushed aluminum, the interior is cast from a single piece of metal, while the underbelly is made from plastic. All these pieces are black, and the metallic parts will show smudges and finger oil extremely easy and will be a big pain to keep clean.
The case is decorated with a few red details sprinkled here and there, like the chamfered edge around the laptop's interior, the Republic of Gamers engraving on top of the keyboard, the cooling system's fins, visible through the exhaust grill on the left side, the red bordered WASD keys, and last but not least, the ROG logo on the hood, which is backlit, but not too bright, so it won't bother you or anyone around, if you're using the computer in a dim room.
So overall, while it lacks the aggressive lines of the higher-end Asus G series laptops (and their ergonomics, for that matter), the G551 is a fairly nice looking laptop as well. And it's also sturdy built, but at the same time rather massive and heavy (32 mm thick and weighs 2.7 kilos), which might be a problem for those of you looking for something easy to lug around every day.
These aside though, I mostly enjoyed using the G551. It comes with a spacious trackpad, the two hinges are stiff and can hold the screen in place exactly how you set it up, there's a removable battery on the back and a quick tray that lets you access the memory and the storage drive, and you also get a fair selection of ports on the sides, with 3 USBs, HDMI and mini-DisplayPort, Ethernet and an optical drive, plus a Kensington Lock that should come in handy at LAN parties or at school.
I'm not a big fan of all the ports crammed towards the front on the left edge, which will lead to a rather cluttered side if you'll connect many peripherals. And at the same time, the laptop's tall front lip can get a bit uncomfortable when having it on a desk, but at least it's not sharp and won't cut into your wrist. Last but not least, Asus put a few status LEDs on the front lip, just beneath the trackpad, and they are just too bright and annoying when trying to watch a video with the lights turned off.
Keyboard and trackpad
The keyboard sits in the middle on this device and I found it mostly comfortable to use. The keys travel deep inside the frame and offer proper feedback. They are also rigid, so will register commands even if you'll press them in the corners.
At the same time, the layout needs tweaking. The directional keys and the entire NumPad Area is cramped, with rectangular keys that are narrower than the others, and on top of that, the top-right key is actually the power button, which you'll surely end up pressing by mistake at least a few times and thus put the computer to sleep.
The keyboard is backlit and the Red illumination on black keys looks nice. However, using black keys on a black background is perhaps not the smartest decision (Contrast, Asus!) and means that you'll have to keep the illumination activated pretty much all the time if you want to distinguish anything on the keys (thus eat through the battery faster).
The trackpad isn't bad either and it responded accurately to my swipes, taps and gestures. However, performing actual physical clicks is awkward, as the surface is stiff and clunky. But since the G551 is a gaming machine and you're probably going to use it with a mouse anyway, these particular aspects shouldn't bother you much.
Screen
Moving on, let's turn our attention onto the screen. There's a Samsung made IPS panel on this particular model, with 1920 x 1080 px resolution. And that translates is sharp content, solid contrast, accurate color reproduction and excellent viewing angles.
However, you should know that out of the box, the laptop comes with the Vivid mode pre-checked in Asus's Splendid Utility, and that will cause colors to look blown out, over-saturated. Make sure you switch to Normal.
The display is matte and lacks touch. It's also not very bright, just shy of 300 nits, which is adequate for indoor use, but might not be enough for very bright environments. The panel has a cool tint (Blueish) out of the box, so you might want to calibrate it if you're planning on using this computer for color-dependent work.
Panel HardwareID: Samsung SDC324C;
Coverage: 100% sRGB, 72% NTSC, 77% Adobe RGB;
measured gamma: 2.4 ;
max brightness in the middle of the screen: 299 cd/m2;
contrast at max brightness: 740:1;
white point: 8200 K;
black on max brightness: 0.41 cd/m2;
average DeltaE: 5.59 uncalibrated, 2.22 calibrated .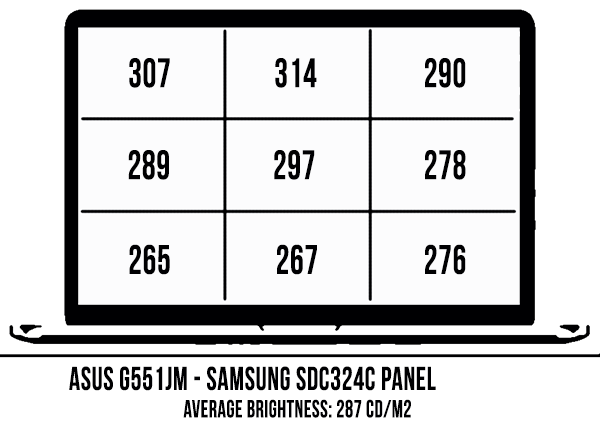 Hardware, performance and upgrade options
With all these out of the way, let's see what this laptop can do for you. I have a top-tier G551JM configuration here, with an Intel Core i7-4710HQ processor, 16 GB of RAM, Nvidia GTX 860M graphics with 4 GB of video memory, and last but not least, a 256 GB SSD (fast, but not as fast as the modern PCIe storage solutions).
All these allow the laptop to fly in any basic everyday tasks, but also deal with demanding activities quite well. It can play all sort of video content, including 4K, it can run software like Photoshop or Eclipse and it can handle games.
I've tested a few of them and most managed to run smoothly on the default Full HD resolutions with Very High details. Certain titles did require me to drop the details a bit, but that was somewhat expected, as the GTX 860M is not a high-end chip right now. You can find the exact numbers in the following table.
| | | | |
| --- | --- | --- | --- |
| | 19 x 10 Medium | 19 x 10 Medium on battery | 19 x 10 Ultra / Very High |
| Dirt 3 | 91 fps | – | 44 fps |
| Grid 2 | 94 fps | – | 47 fps |
| Tomb Raider | 60 fps | – | 44 fps |
| NFS Most Wanted | 59 fps | – | 35 fps |
| Bioshock Infinite | 71 fps | 39 fps | 42 fps |
| Metro Last Light | 52 fps | 26 fps | 30 fps |
The good part is I haven't encountered any stuttering, any lag, not even when playing some of these titles for hours. And that's because the hardware implementation is not as aggressively thermal limited as the one inside the G771 I reviewed a while ago. In other words, the hardware is allowed to reach higher temperatures. And that has a positive impact on performance. More about that in a sec.
Let's talk about the stress tests.
stress testing the CPU for 15 minutes with Prime95 results in an average CPU frequency of about 2900 Mhz, with low spikes of 2700 Mhz. The Core temperatures rise to about 90-95 C.
stress testing the GPU for 15 minutes with Furmark results in an average GPU Core Clock frequency of 1100 Mhz, with temperatures of about 70 C.
Stress testing both with Prime and Furmark for 15 minutes causes the CPU to average about 2.5 Mhz, with occasional drops to 800 Mhz (throttling). CPU temperatures reach 94-96 C. The GPU averages a frequency of 1000 Mhz, with occasional dips to 300 Mhz and temperatures of 0ver 80 C.
That translates in some throttling at maximum load, but the CPU's frequency remains mostly above the nominal rate of 2.5 GHz. On the other hand, throttling is not an issue in daily use, not even when running demanding games and apps.
The performance drops significantly when using the laptop on battery, as both the CPU and GPU run below their nominal frequencies in this case. The pictures below show you the difference between running the same game with the computer plugged in and on battery (BTW, make sure the Nvidia GeForce Experience is not affecting your gaming performance on battery, by default is set to cap everything to 30 fps).
I also ran a few benchmarks on this G551, and here's how it scored.
3DMark 11: P4964;
3DMark 13: Ice Storm – 98468, Cloud Gate –15672, Sky Driver – 11231, Fire Strike – 3594;
PCMark 08: Home Conventional – 3226;
CineBench 11.5: OpenGL 58.35 fps, CPU 6.94 pts;
CineBench R15: OpenGL 97.35 fps, CPU 638 cb.
All these were performed with Nvidia's 333.37 driver installed.
You should know that the memory and the storage drive are easily upgradeable on this computer (make sure to disconnect the battery before proceeding). You need to take apart the tray on the belly, hold in place by two standard Philips screws, and you'll be able to access the two RAM modules (can take an up-to 8 GB DIMM each) and the 2.5 inch bay, able to accommodate 9.5 mm drives. Unlike the G771 though, the G551 no longer boosts a M.2 slot, so you can't easily create an SSD + HDD combo if you need both the speed and the storage space.
However, there is an mSATA port on this laptop, but it can only take half-size mSATA sticks which are rather slow and expensive. Plus, in order to get to the slot, you'll have to take apart the laptop's entire back panel and that's not as easy as it might sound.
Software wise, the G551 runs Windows 8.1, with a few Asus preinstalled applications, like the Audio Wizard, their Cloud storage app, the Splendid Utility, the McAfeee antivirus, a trial version of Office and a few others. The Audio Wizard might be somewhat useful, as it allows to tweaks the sound coming out of the speakers, but I find all the other pretty much useless.
Noise, Heat, Connectivity, speakers and others
Ok, so performance wise, this G551 no longer throttles as badly as the G771 did, and that's because the internals are allowed to run hotter. Inner components reach temperatures of 95 degrees Celsius (the CPU, 80+ for the GPU) under heavy load and you'll feel the heat on the outside as well, especially when running games for hours and other demanding programs. Check out the images below for details.
*Daily Use – 1080p Youtube video in IE for 30 minutes;
*Load – Prime 95 + Furmark for 30 minutes
There's a fan inside this laptop, placed towards the top-left side, where you'll also find the exhaust grill. Hot air is pushed trough it, so you'd better not have anything heat-sensitive nearby when forging this thing. With light use, the cooling system runs quiet. The fan does not switch completely OFF, but you'll barely hear it at the normal use distance. However, you'll hear an occasional Coil Whine coming from the laptop's same top-right corner and I for one found it very annoying. It's present even when the computer lies idle and it's more intense if you keep the laptop on the High Performance mode.
Besides that, the device gets fairly loud under load (47 dB at 50 cm), but that was expected and the fan's noise will be mostly covered by the speakers. Those are placed on top of the keyboard, facing up, and are loud and punchy, but they do lack bass ( and an external subwoofer is not included with this series. If you want it, you'll have to check out the multimedia version of this laptop, the Asus N551 series). Connecting a pair of proper headphones will fix both the noise and the tiny sound issues and that's probably what most gamers will do anyway.
Asus put a Qualcomm Atheros AR9485 wireless module on this laptop, which lacks support for AC speeds, but proved a solid performer. It easily maximized my connection near the router and was able to deliver fast-enough download and upload speeds even at 30 feet away with 3 walls in between. So nothing to complain here, unless you really need the faster speeds potentially provided by WiFi AC modules. In which case, you can actually replace the Wi-Fi card with a different one, it's easily accessible through that same tray on the laptop's belly that hides the memory and the storage bay. Or you can just use the wired Gigabit Lan connection.
Battery life
Asus only put a 56 Wh 5200 mAh battery on this computer, so there's no surprise the autonomy is rather poor. Here's what to expect:
7 Wh (~8 h of use) – idle, Power Saving Mode, screen at 0%, Wi-Fi ON, keyboard's back-lightning OFF;
11 Wh (~5 h of use) – browsing, Balanced Mode, screen at 40%, Wi-Fi ON, keyboard's back-lightning ON;
12 Wh (~4 h 40 min of use) – 1080p video on Youtube in Internet Explorer, Balanced Mode, screen at 40%, Wi-Fi ON, keyboard's back-lightning OFF;
15 Wh (~3 h 45 min of use) – 1080p .mkv video on VLC Player, Balanced Mode, screen at 40%, Wi-Fi ON, keyboard's back-lightning OFF;
46 Wh (~1 h 10 min of use) – Gaming, High Performance Mode, screen at 40%, Wi-Fi ON, keyboard's back-lightning ON.
Setting the screen's brightness at 40% equals roughly 120 nits, which is imh adequate for indoors use. It's worth noting that browsing and streaming from Youtube in Chrome eats through the battery significantly faster, that's why I'm running my tests in IE.
That aside, the battery is easily removable, for those of you that like to take it out when having the computer plugged in. The laptop comes with a 120 W power brick and requires about 2 hours and 15 minutes for a full recharge (10 to 100%).
Price and availability
The Asus G551JM already sells for between 1000 and 1300 euro here in Europe, based on configuration.
In the US, Asus offers the GL551JM version and a similar config to the one tested here, but with a TN FHD display and a slightly slower Nvidia GTX 860M 2GB graphics chip, sells for around $1200. See this link for more details and potential discounts.
I can't say for sure whether the G551JM model will also reach the States, but I will update this section once/if it does.
Wrap-up
Ok, so the wrap this up, is the Asus G551JM worth the 1300 euro Asus asks for the configuration tested here? Well, I'd say yes, mostly because there's nothing majorly wrong with this computer. It looks alright and it feels well built, it packs a good screen, keyboard and trackpad, and on top of these, it performs well.
I should also mention that the G551JM is not primarily a gaming machine, despite getting the ROG branding. The mid-level Nvidia graphics and even the cooling system are not exactly what you'd expecting from a top gaming rig. As an all-round performer and multimedia laptop, still capable of handling games fairly well when needed, the G551 excels though and that's what you should expect from it if you decide to get it.
On the other hand, it is nonetheless far from perfect. There are minor aspects to complain about its keyboard, trackpad, ports placement, noise, temperatures and even overall size and weight. But there's no such thing as the perfect laptop, and with this one, the pros outweigh the issues.
The G551 is not without rivals though and those include the Asus N551 and Zenbook GX500 models, the Lenovo Y50 or the Acer Aspire V15 Nitro. And then you get the bigger 17 inch machines, like the Asus G771 (a larger version of the unit tested here, which I reviewed a while ago) or the G751 series, but also the much sleeker gaming ultrabooks, including the MSI GS60 Ghost Pro, for instance. Make sure to check them out before deciding what's best for you.
Anyway, this wraps it up for now, those were my impressions of the Asus G551JM gaming laptop. If you have anything to add or any questions, the comments section below is open and I'm around to reply.