Chuwi keep on launching interesting budget laptops, and their latest HeroLook Pro+ is even more affordable than most of their other lineups, starting at $269 at debut.
This kind of money buys you a full Windows laptop with a 13-inch 3K 3200 x 1800 px screen, the kind available in premium laptops such as the Dell XPS 13 or Samsung Notebook Spin 9 a couple of years ago.
That's a Samsung-made panel with a resolution of 3200 x 1800 px, but Chuwi haven't communicated the exact panelID, so I can't tell you much about brightness, contrast, or colors. Looking for clarification and will update once I know more.
In all fairness, I must add that including a 3K screen on this sort of affordable laptop is a double-edged sword. Sure, you're getting the increased sharpness and hopefully an overall good-quality panel, but the whole thing runs on lower-tier hardware, the kind you should expect at sub $300: an Intel Apollo Lake Celeron J3455 processor, paired with 8 GB of RAM and 128 GB of eMMC storage.
The eMMC storage is fast-enough for this class and 8 GB of LPDDR4 memory is even better than I expected at this level. However, the CPU is quad-core, but designed with efficiency in mind and not a top-performer, so you should not get this laptop for multitasking or heavier tasks, especially when it has to push 3K pixels. Instead, this is only meant for basic everyday use such as light browsing, text editing, or video streaming.
Chuwi also put a mid-sized 38Wh battery on this laptop (which should be enough for between 4-7 hours of use on a charge), WiFi connectivity, and a fair set of ports on the sides: 2x USB-As, mini HDMI, a microSD card-reader and an audio jack. You'll need an adapter for that miniaturized HDMI to hook up an external screen.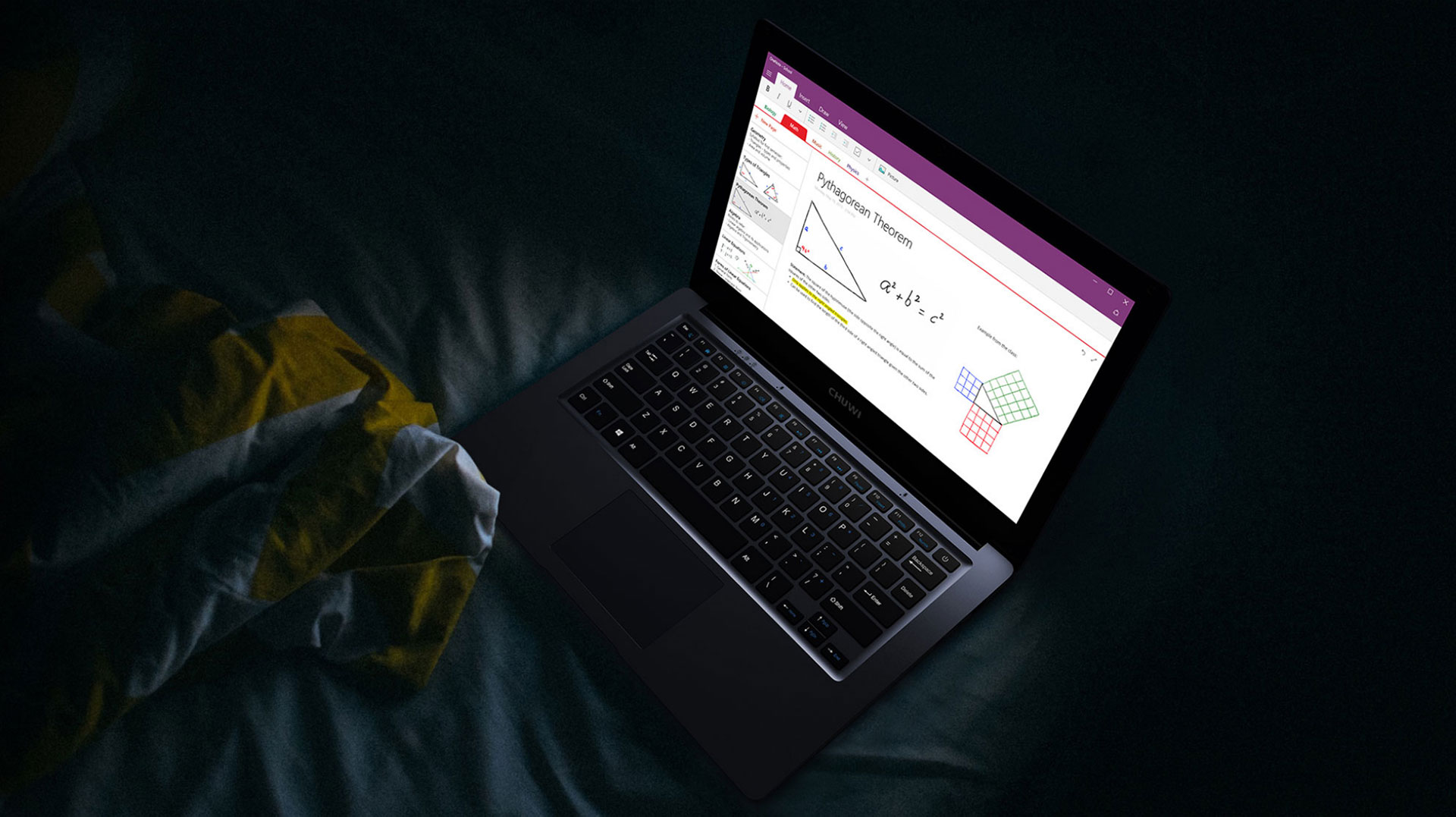 Spec aside, the HeroLook Pro+ looks and feels like a budget laptop, with standard plastic construction, silver color scheme, and standard inputs: a full-size non-backlit keyboard and mid-sized plastic clickpad. The keyboard looks similar to the one I'm currently testing on the LarkBook series, which is a solid typer.
The laptop is also fairly lightweight, at around 1.2 kilos, but not a very compact build, as you can tell by the hefty bezels around the screen. In a way, this looks and feels much like an Acer Swift 3 series from a couple of years ago, and that's fine, you can't expect else at sub $300.
You'll find more about the HeroLook Pro+ on the Chuwi website, where you'll also have the option to buy this for $269. BTW, you're also getting a Windows 10 Home license included, alongside the hardware explained above.
From what I can tell without having touched this, the HeroLook Pro+ looks like a competitive option in the sub-$300 price segment of Windows laptops. Just make sure you understand what the hardware is capable of, especially when paired with a 3K screen, and don't expect this to be a fast multitasker. Perhaps it could feel snappier with a light Linux distro, if that's something you'd be interested in.
We've partnered with Chuwi for this series of articles.
Disclaimer:
Our content is reader-supported. If you buy through some of the links on our site, we may earn a commission.
Terms
.