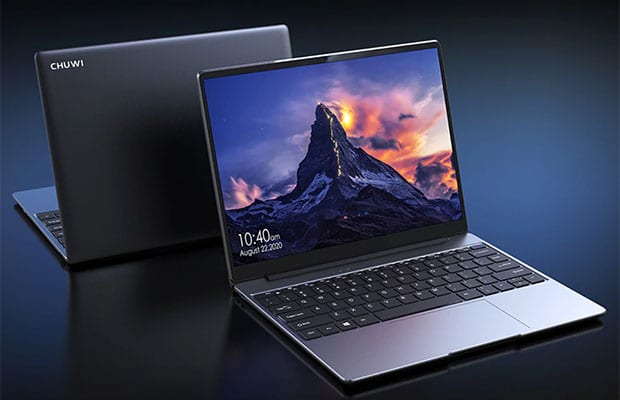 Chuwi, a company specialized in offering affordable computing options, will be holding their periodical Brand Fest sale-event on Aliexpress on September 15th and 16th 2020. That means most of their products will be available at up to 40% OFF, including their most recent launches such as the LarkBox mini PC, the HiPad X tablet, and especially the GemiBook compact notebook.
Aside from the limited-time discounts on these series, the promotion also includes an up to $10 extra price cut on products above $299, as well as a $20 rebate on the HiPad X tablet when applying the coupon code BRANDFEST20, plus a couple of other perks and giveaways.
All the details are available via this link.
Since we've rarely covered Chuwi products here on the site before, here are a couple of words on their important lineups.
The LarkBox is an ultra-compact miniPC measuring 61 x 61 x 43 mm and weighing just under 130 grams (.28 lbs). That's without the power brick though, as this uses an external adapter, the kind you normally get with laptops.
Specs wise, the LarkBox is built on an Intel J4115 Gemini Lake hardware platform, with 6 GB of RAM and 128 GB of eMMC storage, but also gets an M.2 SATA 2242 slot for storage upgrades. It also offers Wireless AC and Bluetooth connectivity, USB-A 3.0 and HDMI 2.0 ports, as well as a USB-C connector that's only used to power the whole thing.
The LarkBox is priced at $169, making for an affordable mini PC that can drive your casual everyday experience and video streaming.

The HiPad X is a 10-inch Android tablet priced at $199, but benefits from that extra $20 coupon. The whole thing is made out of metal, weighs under 600 grams, and measures less than 10 mm in thickness, and the front is mostly reserved to the 16:10 1920 x 1200 px IPS touchscreen.
Specs-wise, the HiPad X is a dual-SIM 4G tablet powered by a Mediatek Helio 8-Core processor, with 6 GB of RAM, fairly fast 128 GB of UFS2 storage, and a 7000 mAh battery.
You should also check out this separate article here on the site if you're interested in tiny 10-inch laptops.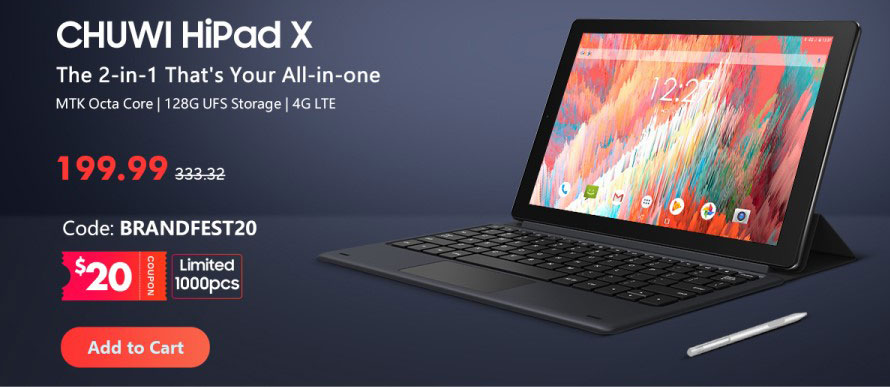 Finally, the GemiBook is an affordable 13-inch laptop with a 13-inch 2K 3:2 high-res display and a price-tag of only $299, before any further discounts and coupons.
Surprisingly, Chuwi didn't skimp on the screen-quality on this product, which is extremely rare at this price point. They also crafted an all-metal chassis that weighs about 2.8 lbs, included a backlit keyboard and a decent selection of ports, with USB-A/C slots, a headphone jack,  and a microSD card reader.
The hardware is where the GemiBook justifies its pricing, as it's built on an Intel J4115 platform with 12 GB of LPPDR4x memory and a 256 GB SSD, but the storage can be expanded, as the laptop includes two M.2 2280 slots inside. A 38 Wh battery and wireless AC + Bluetooth connectivity finish up the specs sheet.
While I haven't reviewed the GemiBook, I'm intrigued by the potential value in this sub-$300 laptop with this sort of a build, inputs, and display. Nonetheless, you should only expect this to cope with lightweight everyday use and video/music streaming, and not provide the multitasking power you'd get with the more competent hardware platforms available these days. Hopefully, we'll get to review this and further share our thoughts with you.
Again, more details on these products and the Brand Fest sales event are available via this link, including the option to buy these Chuwi devices.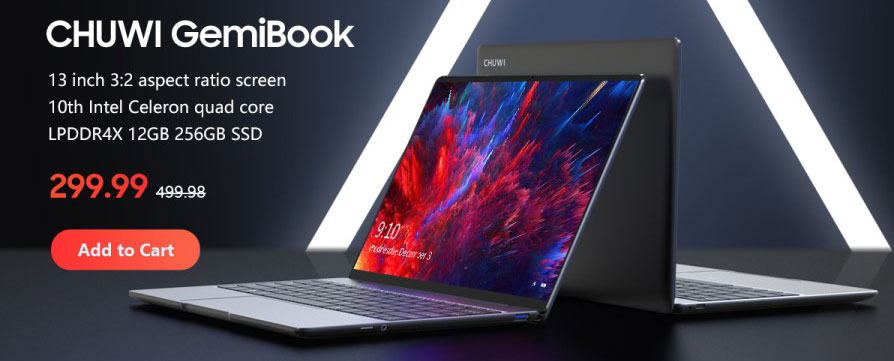 We've partnered with Chuwi for this series of articles.
Disclaimer:
Our content is reader-supported. If you buy through some of the links on our site, we may earn an affiliate commission.
Learn more.