Chromebooks are great budget devices or individual consumers to use. Google's connected computers have also found success in the education market due to their ease of setup and light maintenance requirements. But what about traditional businesses?
HP seems to think Chromebooks have potential in the enterprise market; the OEM has just announced the Chromebook Enterprise x360 14E G1 and the Chromebook Enterprise 14A G5, two Chrome OS notebooks aimed squarely at businesses.
Chromebook Enterprise 14A G5 – AMD Chromebook on a budget
The Chromebook Enterprise 14A G5 (which we'll refer to as the 14A for brevity) looks like the budget device of the duo. Interestingly, the 14A opts or AMD APUs over the Intel Celeron CPUs typical to Chromebooks. Users can opt for an AMD A4-9120C with Radeon R4 graphics or an AMD A6-9220C with Radeon R5 graphics. Both variants will have 8 GB of DDR4-1866 RAM and up to 64 GB of eMMC 5.0 storage. The 14A is 18.3 mm (0.72 in) thick and weighs 1.57 kg (3.46 lbs).
Connection options are fairly good, especially for a Chromebook. The 14A has two USB 3.1 Gen 1 Type-A ports, two USB 3.1 Gen 1 Type-C ports, a microSD card reader, a 3.5 mm headphone jack, and support for WiFi 5 and Bluetooth 4.2. Additionally, the 14A has a 720p webcam, microphones, and a spill-resistant keyboard, which is a nice touch for a business device. Powering everything is a 47 Wh battery that HP estimates will last 9 hours. This battery can be charged through either of the USB-C ports.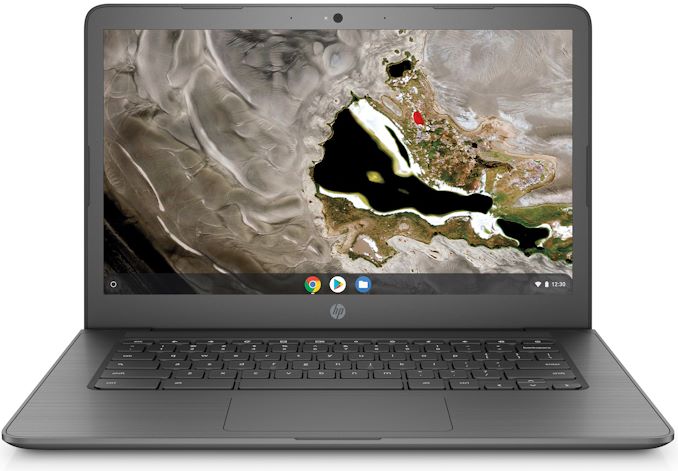 The Chromebook Enterprise x360 14E G1 (which we'll call the 14E for this rest of this piece) is a decidedly more premium device. Instead of plastic, the 14E is wrapped in metal. The 14E is a convertible (hence the "x360" moniker) with a 14-inch Full HD (1920×1080) IPs display. Unlike the cheaper 14A, the 14E packs an Intel Pentium or 8th Gen ULV Core CPU (up to a core i7-8650U), depending on the SKU. The machine can be configured with up to 16 GB of DDR4-2133 RAM and up to 64 GB of eMMC 5.0 storage. The 14E is 16 mm (0.63 in) thick and weighs 1.61 kg (3.7 lbs).
Connectivity is the same as on the cheaper 14A, save for one USB 3.1 Gen 1 Type-A port fewer on the 14E. Otherwise, the 14E offers the same WiFi 5, Bluetooth 4.2, and all the other physical ports mentioned for the 14E. The USB Type-C ports on both machines also support DisplayPort and power delivery. The 14E has a larger 61 Wh battery estimated at 13 hours.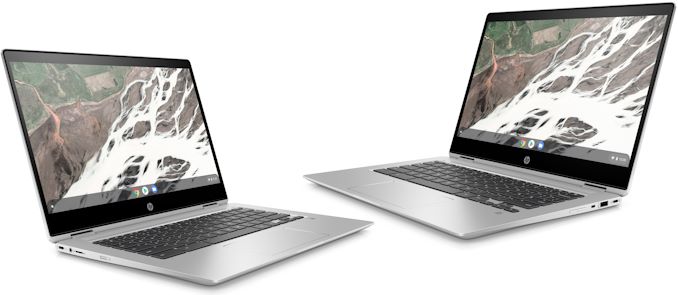 Google's H1 security chip – Enterprise-level security in a Chromebook?
Since these Chromebooks are geared toward business customers, they both include Google's new H1 security chip. The H1 chip enables some new security features in Chrome OS (some of which are still to come), including verified boot, guaranteed reset, and battery cutoff. Both machines will also have a Chrome Enterprise Upgrade available at launch.
Conclusion
The Chromebook Enterprise x30 14E G1 and the Chromebook Enterprise 14A G5 will both be available later in October. Pricing is still up in the air, but it's likely the 14A will be aimed at the budget market (sub-$300) while the 14E seems more in line with premium Chromebooks ($500-800 range).
What do you think of HP's new Chromebooks? Do they offer enough enterprise features to entice businesses to ditch Windows for the simplicity of Chrome OS, or is Google's laptop-focused OS still too anemic for enterprise-level work? Let us know in the comments below.
Disclaimer:
Our content is reader-supported. If you buy through some of the links on our site, we may earn a commission.
Terms
.