MSI just announced the Alpha 15 gaming notebook, an entry-level series built entirely on an AMD hardware, with the already existing Ryzen 7 3750H processor and a brand new Radeon RX 5500M graphics chip based on the Navi 7-nm architecture.
This Alpha 15 is a direct alternative for MSI's GL65 laptop built on Intel and Nvidia hardware, which is, in fact, a direct follow-up of the popular MSI GL63 we've reviewed here on the site a while ago. It's going to be more affordable, though, starting at $999 (MSRP) in the US, thus targeting configurations built on Intel Core i5 processors and GTX 1650 graphics, but with a performance boost in games. We'll get to that in a bit.
The laptop seems to retain most of the standard features we've seen on MSI laptops lately. Among them, there's the Steelseries keyboard, the very capable and complex thermal module (with 2 fans 7 heat-pipes and 3 exhausts) that normally allows for very good performance and temperatures, the small 51 Wh battery, and the larger and punchy speakers accompanied by high-res audio output via the 3.5 mm jack.
The design hasn't changed much from other MSI laptops either, based on the few preview pictures available right now. The Alpha 15 shares the same chassis and design-lines with the GL65, but with a green bird logo (supposedly a Thunderbird) on the lid, instead of the classical MSI Dragon Shield. That means you should expect a compact form-factor with small bezels around the screen, but only average build-quality and fairly cramped ports.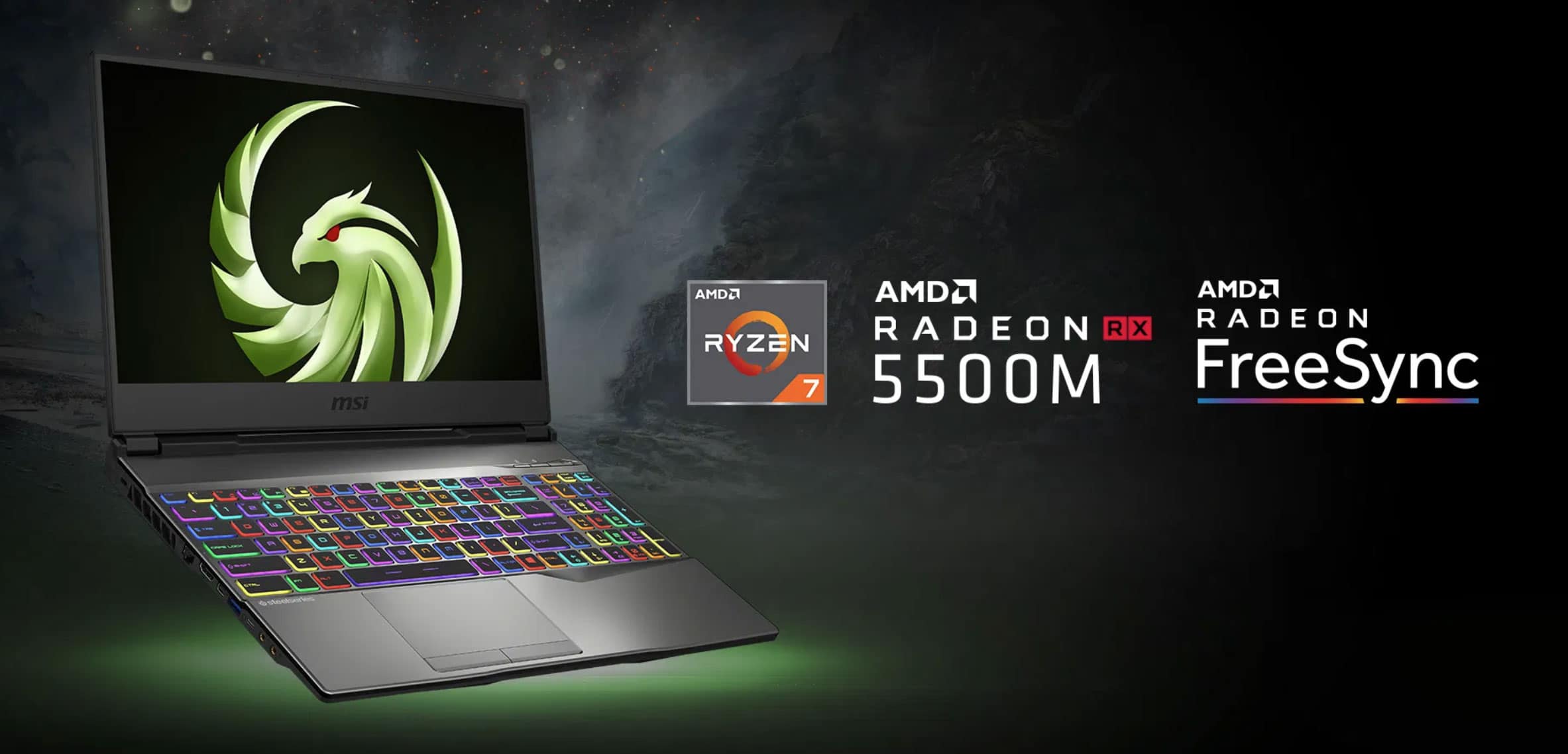 Of course, the hardware is this line's main selling point, and here's a quick specs sheet, so you'll know what you're going to get here.
| | |
| --- | --- |
| | MSI Alpha 15 |
| Screen | 15.6 inch, 1920 x 1080 px, 120 or 144 Hz, IPS, non-touch, matte, Freesync support |
| Processor | AMD Ryzen 7 3750H, quad-core |
| Vide0 | Radeon RX Vega 10 + AMD Radeon™ RX 5500M 4GB GDDR6 |
| Memory | 8 or 16 GB DDR4 2400 Mhz (2x DIMMs) |
| Storage | M.2 PCIe x4 and 2.5″ bay |
| Connectivity | Gigabit LAN, Wireless AC, Bluetooth 5.0 |
| Ports | 1 x USB-A 2.0, 2 x USB-A 3.1, HDMI 2.0, LAN, mic/headphone, Kensington Lock |
| Battery | 51 Wh, 135W charger |
| Size | 357 mm or 14.08" (w) x 248 mm or 9.76" (d) x 27 mm or 1.08" (h) |
| Weight | ~5.1 lbs (2.3 kg) |
| Extras | optional per-key RGB Steelseries keyboard, webcam, 2x 2W stereo speakers and hifi audio output |
The base-version listed at $999 gets a 120 Hz TN panel and 8 GB of RAM, while $1099 will get you the 144 Hz IPS screen and 16 GB of RAM. Most configurations will also bundle a copy of either Borderlands 3 or Tom Clancy's Ghost Recon Breakpoint, until the end of 2019.
Now, as far as performance goes, we already know plenty about the quad-core Ryzen 7 3750H processor, which sits close to the Intel Core i5-9300H (also quad-core), with a lower TDP at the top (35W vs 45W) and less-efficient use with everyday activities. Both are good options for daily use, with some aspects favoring the Intel chip, and the price somewhat compensating in favor of the AMD option. On the other hand, this cannot match the six-core Intel Core i7 8750H/9750H in demanding loads.
The RX 5500M GPU is the elephant in the room. According to AMD, the RX5500 in meant for 1080p AAA gaming and eSports titles. It should handle 90+ fps in games like PUGB and Apex Legends, and 60+ fps in recent AAA titles (Battlefield 5, Civilisation 6, Borderlands 3), which slots it somewhere between Nvidia's 1650 and 1660Ti chips.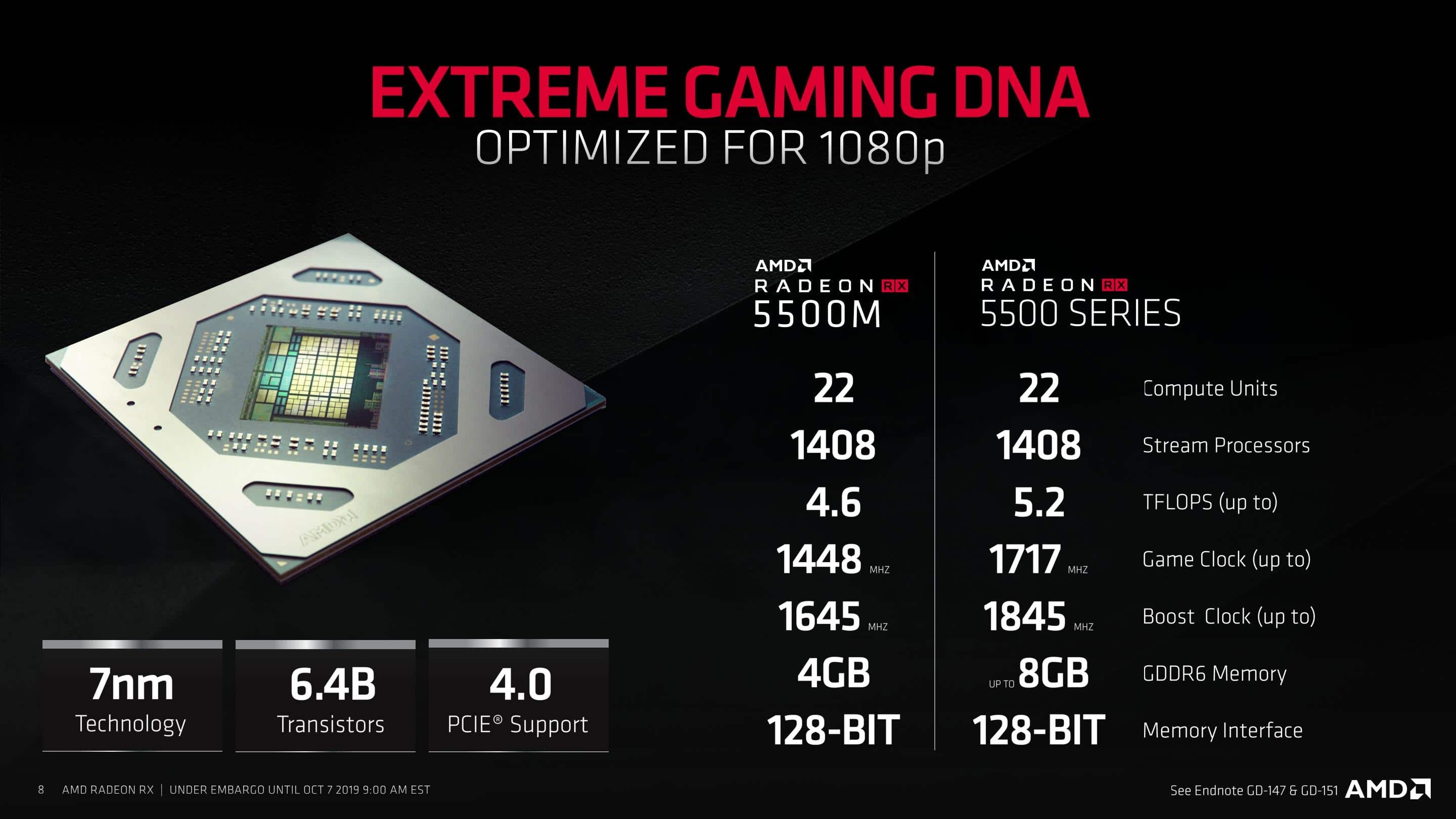 Down below we've added some specs for the RX 5500M chip meant for notebooks, next to the 1650 and 1660 Ti mobile GPUs from Nvidia.
| Specs | Radeon RX 5500M | GTX 1650 | GTX 1660 Ti |
| --- | --- | --- | --- |
| Clock speed | up to 1448MHz | Up to 1485 MHz | 1455 MHz |
| Boost clock | up to 1645MHz | up to 1665 MHz | up to 1590 MHz |
| FP32 Throughput | 4.6 TFLOPS | 2.98 TFLOPS | 4.9 TFLOPS |
| Memory | 4GB GDDR6 | 4GB GDDR5 | 6GB GDDR6 |
| Shaders | 1408 | 1024 | 1536 |
| ROPs | 32 | 32 | 48 |
| Texture Units | 88 | 56 | 96 |
| Memory Interface | 128-bit | 128-bit | 192-bit |
| TDP | 85W | 50W | 80W |
There's very little market-share for AMD mobile graphics at this time, aside from the Apple MacBooks, but I'd expect some RX5500M SKUs by the end of this year. They're not going to compete in the mid and high-tier categories, but could be worthy picks for mainstream gaming-laptop buyers.
Based on the specs above, the Navi chip has some advantages over the GTX 1650 in terms of performance and computing power, as well as the support for GDDR6 memory. Unlike the desktop RX5500, the mobile variant is only available with up to 4 GB of VRAM though, most likely a cost-cutting measure that could translate in a memory-bottleneck in some of the modern AAA games. The mobile version also runs at lower clocks and with a lower TDP, so it's not going to perform the same as the desktop model.
At 85W TDP, though, this is significantly more power-hungry than the 1650 and even the 1660Ti chips, which might prove problematic on laptops with more basic thermal designs. It's not the case of the MSI Alpha 15, though, which inherits the complex design that does a great job cooling the i7-9750H and 1660Ti configurations of the MSI GL65. AMD will, however, offer customizable TDP options, so we'll most likely see implementations with lower TDPs on those basic laptops.
Pricing and competitiveness
As mentioned earlier, the MSI Alpha 15 is scheduled for $999 MSRP from late-October 2019 in a configuration with the Ryzen 7 processor, Radeon RX5500M 85W graphics, 8 GB of RAM, 256 GB of SSD storage and a 120 Hz screen (most likely the one also available in the MSI GP65 and the older MSI GL63 Raider). $100 extra will get you 16 GB of RAM and a better-quality 144 Hz display, as well as a per-key RGB keyboard (the base one is red-backlit), which are upgrades worth paying for.
The overall value of this MSI Alpha 15 AMD configuration remains to be determined in a future review, though, but potential buyers should know that $1099 and even less can actually get them Core i5 and even i7 gaming-laptops with 1660Ti graphics these days, so the big question is how will the RX 5500M fair against the 1660Ti, and not against the 1650, as suggested in AMD's presentation.
From what I can tell right now, I'd expect it will fair beneath, which will drive the retail prices for these AMD configurations down quite quickly, in order for them to remain competitive.
Disclaimer:
Our content is reader-supported. If you buy through some of the links on our site, we may earn a commission.
Terms
.